Last week's debut episode of Lion's Break Collision was a success. With a battle of the Young Lions and also some veterans in the business. This week was slightly different consisting of two singles matches and, for a majority of New Japan fans, some unfamiliar faces. As always, this event is streamed via NJPWWorld.
Lion's Break Collision Episode 2
The show started with an interview between Kevin Kelly and Jeff Cobb. After the shocking events after last week's main event match where Karl Frederick's attacked Jeff, Cobb spoke about what he thinks is the best way to deal with it with the phrase 'Actions speak louder than words'.
Rust Taylor vs The DKC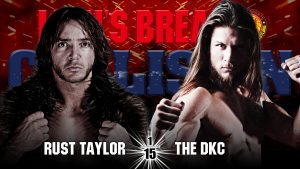 The opening contest of the show was between Rust Taylor and The DKC who were both making their New Japan debut. It was also their debut for many of the fans who may not be aware of the two competitors who are known more amongst the US independent scene rather than New Japan fans, especially the 16-year veteran Taylor.
From the onset, both men had a very similar build with the perfect combination of strength, speed, and athleticism with their frames and height. Both also know each other well having competed against one another in previous matches.
The match started with some basic wrestling from wrist locks, reversals, and takedowns showing the various styles both wrestlers are well versed in. From there, it seemed to initially be a very ground-based offense for a few minutes based on submissions and targeting various body parts. This was especially evident from Taylor with an intensive catch wrestling background and who's experience was evident against The DKC.
It was at around the 5-minute mark where The DKC finally got his opportunity to gain some offense in the match with some shots. This is where the style of the match changed with some huge dropkicks and an attempted inside cradle from the less experienced of the two.
However, in the end, the veteran came out on top with a beautiful Gaia Lock to get the win. It was a great showing for both men in their debut man, but Taylor really shone and has a great future ahead of him in the company.
The next match featured both a new and familiar face to New Japan fans across the world. After last week's match, TJP was in singles action against the less known Danny Limelight.
TJP vs Danny Limelight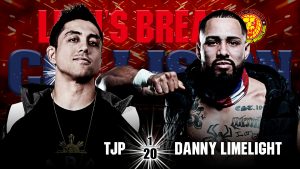 Going into the match, Limelight was at a huge disadvantage. He only has 5 years of experience compared to TJP with over 20 years. However, the commentary said that both have similar styles mixing Lucha Libre and submission style wrestling.
Like the previous match, this bout started very slowly. A simple lockup and a series of reversals. Both men seem to be getting a feel for each other. After that, we saw a diverse style of TJP. Combining that submission style with the flair we've come to see from this veteran. However, for everything TJP had, Limelight had an equally impressive and flashy counter or escape, including some impressive aerial offense.
Unlike the opening match, this was a lot more diverse and dynamic with changes of speed and pace throughout. We saw dropkicks, some magnificent rope walking followed by a springboard from Danny Limelight. Plus an impressive muta lock from TJP.
However, like the first match, the veteran TJP got the win in the end with his Mamba Splash. Within this 10-minute match, Limelight put on an amazing show. He made sure that New Japan fans knew who he was and wanted to see more.
Once again, Lion's Break Collision produced an amazing show. Next week is set to be as good with more debuts and the return of some familiar faces.