Last night saw we witnessed the first episode of New Japan's Lions Break Collision show air on NJPWWorld.
Due to the recent pandemic, all of the New Japan wrestlers based in the United States have been unable to compete for the company since February. As well as showcasing some of the freshest and brightest talent on the wrestling scene, it is also a chance to see your favorite New Japan stars in action every Friday for the next month.
The show started with an interview between Karl Fredericks and Kevin Kelly from New Japan World and it emphasized the fact that this show is for the future talent of the company. In this video, Frederick's explained that, after winning the Young Lion Cup last year, he is no longer one of the Young Lions and has branched out with the support and backing of LA Dojo coach Katsuyori Shibata.
Lions Break Collision Episode 1
The first match of the show was between LA Dojo Young Lions Clark Connors and Alex Coughlin. As well as having previous wrestling backgrounds before joining the dojo, both men have fought and trained with each other extensively over the past year. This meant that going into the match, they knew each other very well.
Clark Connors vs Alex Coughlin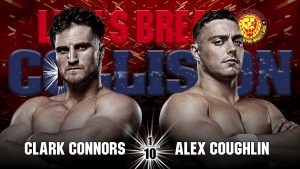 As expected, the match started very traditionally with a lock up and a series of reversals including takedowns, waist locks, and escapes. But, very quickly, Connors showed his experience by identifying the leg of Coughlin as the part of his body that he wanted to target and then going after the arm as well. Both of which would help when applying the Single Leg Boston Crab submission. However, Coughlin used his bigger size and found a way to reverse the momentum to his advantage. Like Connors, he still maintained a more mat-based offense throughout which is very common for Young Lions as their move set focuses on the basics rather than being flashy.
Despite the obvious size and power difference between the two, both were on equal footing for most of the bout and either could have easily picked up the win.
In the end, with the traditional Young Lion's 10-minute time limit, the match went to a time limit draw despite a series of chops, attempted spear from Connors, and a gut wrench suplex from Coughlin. It was a great showing from both wrestlers and show just how well they are both progressing under Shibata and there was no sign of ring rust! It was an amazing start to the series.
Lions Break Collision Episode 1
The next match had bigger names in New Japan and the wrestling industry in the form of Karl Fredericks & TJP v Rocky Romero and Jeff Cobb.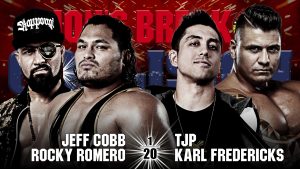 Jeff Cobb and Rocky Romero vs TJP and Karl Fredricks
The first person to make their entrance was Karl Fredericks. The first thing fans would have noticed is Karl Fredericks' new look without the constraints of the generic Young Lion style. Fredericks now sports a new haircut, gold earring, and red ring gear. We then saw his partner TJP come out and both have teamed together before which will make this team very effective.
Their opponents were the next to enter with the King of Sneaky Style Rocky Romero and the powerhouse Jeff Cobb! Going into the match, this team would be expected to have the advantage with the more combined experience and the perfect combination of strength and speed.
Junior Heavyweights Battle It Out!
The match started with the two Jr Heavyweights in the form of Rocky Romero and TJP, two men who both trained in the original LA Dojo. The opening minutes of the match was even Stephens with both men combining their talent of speedy and agile offense but also their submission skills.
However, it was then time for Karl Fredericks to shine as he was tagged in. From the minute he stepped into the ring, you could see the determination on his face from the way he held himself to going straight to Jeff Cobb and knocking him off the ring. However, this might have backfired as Romero hit a knee strikes and tagged Cobb in. This exchange started with a series of strikes and strength from Cobb, but Fredericks didn't back down trying to fight back against the much bigger man.
Although not used to tagging with each other, the team of Romero and Cobb worked very effectively and this could be put down to the expertise of Rocky when it comes to tag team wrestling. Despite the very different wrestling styles, they worked very cohesively blocking off the ring for Fredericks so that he couldn't tag in TJP.
However, with a spinebuster from Fredericks to Romero, he was finally able to get to his corner to make a tag. This then changed the complexion of the match to a much quicker and agility-based offense fans expect from Jr Heavyweights. We saw hurricanrana, rewind kicks, and even a series of Forever Clotheslines from Romero.
An amazing series of events!
What was great was that, even though Karl Fredericks and Jeff Cobb are heavyweights, for their sizes, both men are very agile. We saw them both pull off moves associated with Jr's like a perfectly formed dropkick and the signature Gachimuchi-sault.
In the end, the result was shocking with the newest Dojo graduate Karl Fredericks getting the win over the veteran Rocky Romero with a backslide pin. However, it shows that Fredericks is well and truly a graduate of the system and is set for a bright future. What was even more surprising was that Fredericks then went on to attack Cobb after the match. This will be something to take into consideration in the future, especially as the topic of New Japan factions becomes a talking point.
It was a dynamic match with a great mix of wrestling styles and a showcase of the past, present and future of New Japan Pro Wrestling.
As well as some amazing wrestling, the show was made even better with commentary from Kevin Kelly, Gino Gambino and Chris Charlton. With their experience and knowledge, the show had that authentic New Japan feeling and made it even more enjoyable to watch.
ONE HOUR AWAY!

A brand new concept on @njpwworld!

Lion's Break Collision debuts!https://t.co/vsUgLXs2Ua#NJoA #njcollision pic.twitter.com/LqB4ITvBR1

— NJPW Global (@njpwglobal) July 4, 2020
With more matches and wrestlers to come over the next few weeks, this was a great start for Lion's Break Collision and it will be exciting to see what is next to come.