Randy Orton, Cody Rhodes, and Ted Dibiase Jr, as a trio, became one of the biggest factions of WWE in the last 20 years with Legacy. With Randy Orton, a former WWE Champion, and Rhodes and Dibiase, the former WWE tag team champions, the group were a formidable stable.
The beginning of the group goes back to when Cody Rhodes was a tag team champion with Hardcore Holly. They were scheduled to defend their tag team championships against Ted Dibiase Jr and a mystery partner. The son of the Million Dollar Man revealed that his partner was Cody Rhodes, who turned on Holly to become Tag Team Champion with Dibiase.
Legacy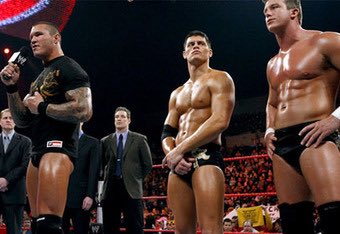 Rhodes and Dibiase soon introduced another second-generation star in Manu to their group, Manu is the nephew of Sika the Wild Samoan and the cousin of Roman Reigns.
Randy Orton made his return to WWE Raw after being out injured, in his returning promo, he insulted Rhodes and Dibiase, who in return, looked to gain the respect of the Viper. At Unforgiven 2008, before CM Punk could defend his World Heavyweight championship, Dibiase, Rhodes and Manu attacked him backstage.
This allowed Orton to hit the punt kick on Punk, costing him the opportunity to defend his championship. This also began a test for Dibiase, Rhodes, and Manu to prove themselves. Randy Orton faced CM Punk on an episode of Raw, and Punk picked up the win via disqualification, but only after Dibiase attacked Punk.
Legacy – Refining The Faction

Furious with costing him the match, Orton attacked Dibiase delivering a punk kick. Sim Snuka, the son of Jimmy Snuka, then looked to earn the respect of the viper. Like the others, they were put through tests, thanks to Orton, to see who was worthy of his respect and place in his group called Legacy.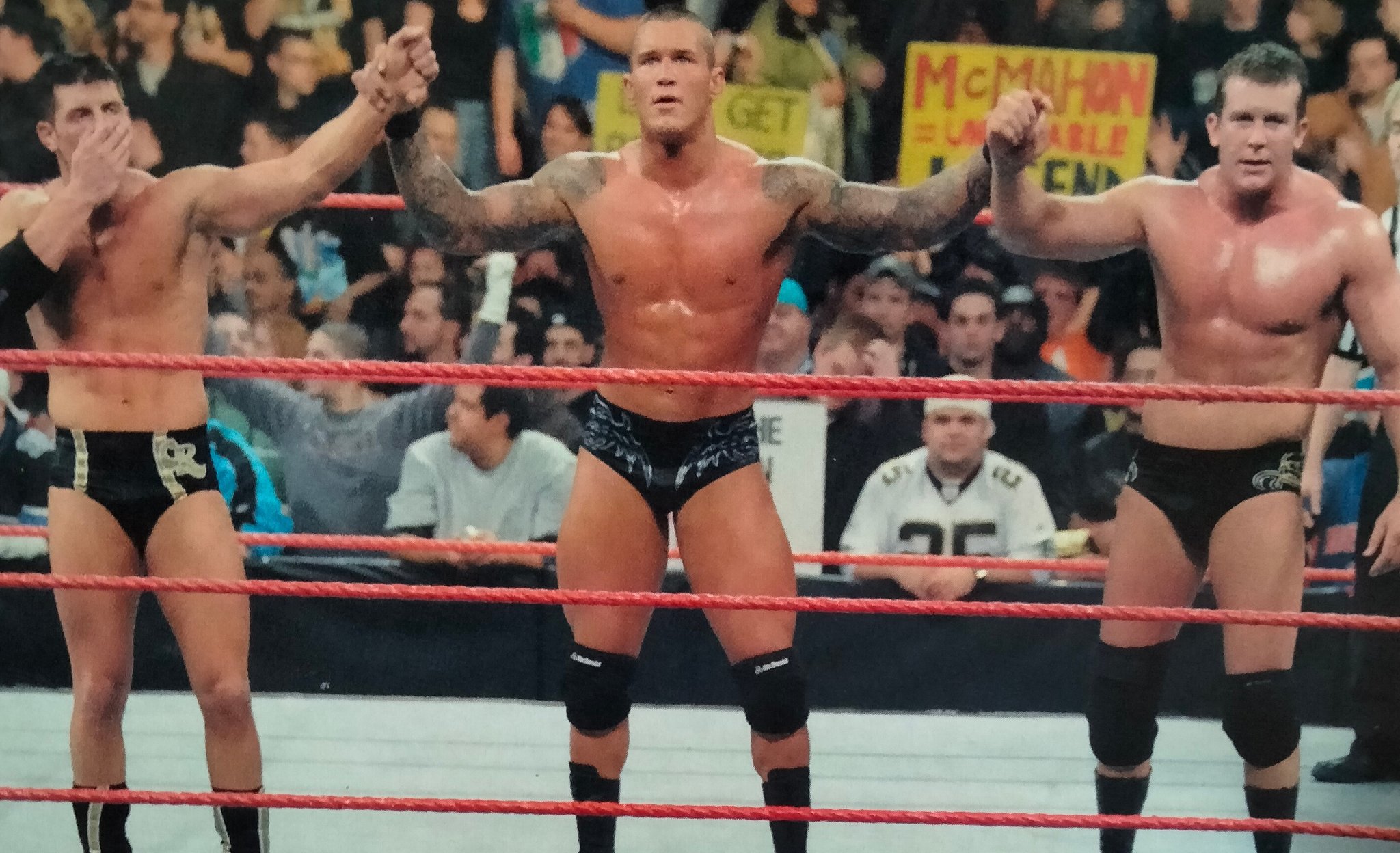 Orton banished Manu and Snuka after failing to prove themselves worthy, and with a returning Dibiase, the trio planned to take out Randy Orton. They attempted to recruit Cody Rhodes and as all 5 were in the ring together, Rhodes and Dibiase attacked Manu and Snuka, showing their alliance to Orton and forming the Legacy we know.
With Legacy formed as a trio, Orton had worries that Manu and Snuka would try and get Orton fired, so he went to Raw General Manager Stephane McMahon to speak about the situation. The conversation turned into an argument, and Orton felt he was due an apology from Stephanie.
With Mr. McMahon returning, Orton confronted him, demanding an apology from the McMahon family overall. Mr. McMahon, unhappy with Orton, went to fire him but before McMahon could, Orton slapped McMahon. With McMahon down, Orton delivered a devastating punt kick to McMahon, hospitalizing him.
Generations United
At the Royal Rumble, Legacy was 3 of the last 4 remaining superstars in the ring along with Triple H. Triple H managed to eliminate Rhodes and Dibiase but Orton eliminated the Game to win the Royal Rumble and book his place in the main event of WrestleMania.
The night after Royal Rumble, Shane McMahon returned to television and attacked Legacy for their actions against his father. Orton was later booked into a match at No Way Out against Shane with No Holds Barred rules. Orton won the match and in doing so delivered a punt kick to Shane.
Orton would also deliver an RKO to Stephanie which led to Triple H standing up for his wife's family and defend his WWE Championship against Orton in the main event of WrestleMania 25.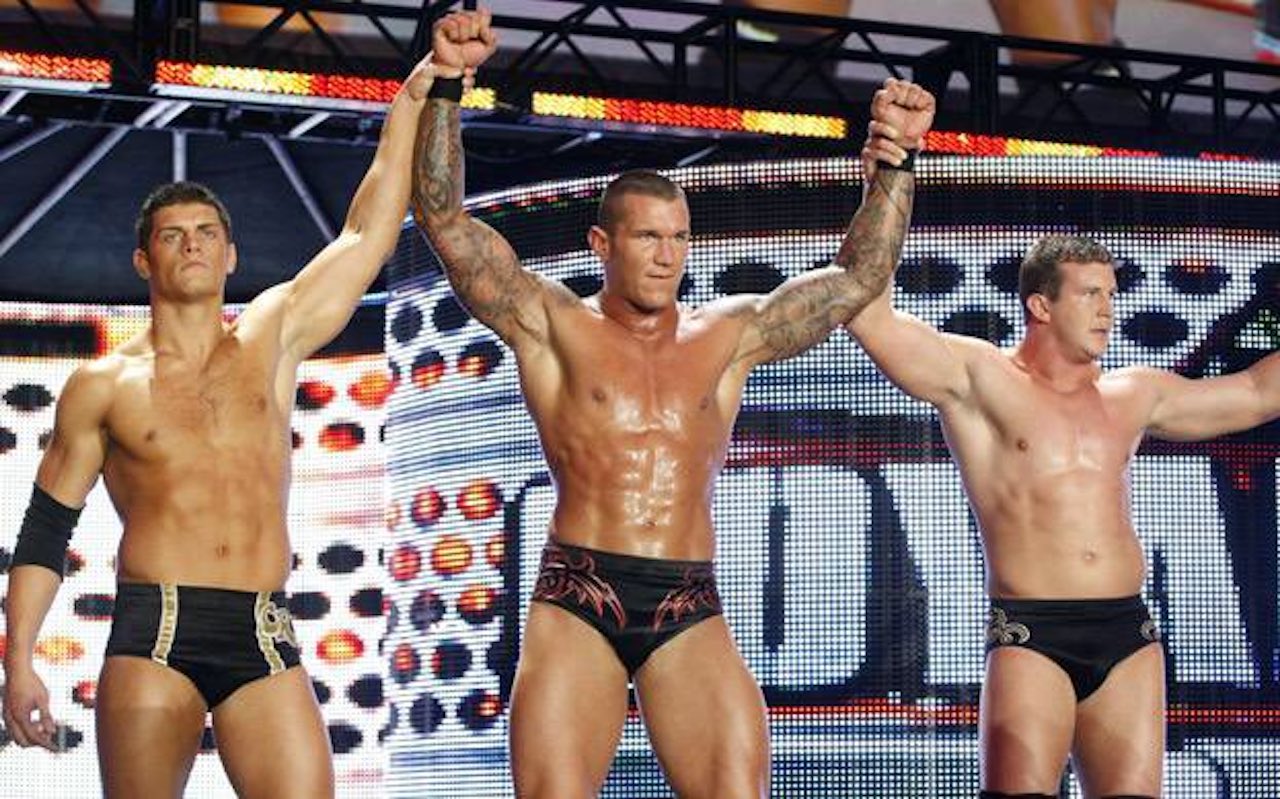 Randy Orton's feud with Triple H
Triple H defeated Orton at WrestleMania, but the feud between the McMahons and Legacy continued throughout the spring of 2009. Legacy would break the ankle of Shane McMahon with the steel steps. At Backlash, in a 6-man tag team match, Orton won the WWE Championship and, in the process, hit Triple H with the punt kick, leaving him hospitalized.
With Randy Orton as WWE Champion and leaving a path of destruction with his punt kick, Legacy seemed unstoppable even with the threat of Bastia challenging Orton. Legacy would injure Batista, and Orton defended his WWE Championship once again against Triple H, this time defeating him.
Triple H became fixed with revenge on Rhodes and Dibiase after they had cost him a chance at the WWE Championship once again. Triple H reformed D-Generation X with his best friend and the returning Shawn Michaels. They took on Ted Dibiase and Cody Rhodes at Summerslam, pinning them but lost in the rematch at Breaking Point.
The third match would take place inside Hell in a Cell at the Hell in a Cell pay-per-view. D-X would beat Legacy to gain revenge and end their bitter and brutal rivalry
Randy Orton, the WWE Champion within Legacy
Randy Orton, as WWE Champion, would retain his WWE Championship with the help of Legacy at Summerslam, defeating John Cena. He would then lose the championship to Cena the following month in a 'I Quit Match' but later regained the championship when he beat Cena inside Hell in a Cell Match.
Orton and Cena to end their rivalry went toe to toe in a 60-minute falls count anywhere Iron Man Match at Bragging rights where Cena overcame Orton thanks to help from Kofi Kingston, who stopped Dibiase and Rhodes from interfering. This led to a match at Survivor Series where Team Legacy lost to Team Kingston.
Randy Orton won a number one contender's match on Raw against Kofi Kingston and John Cena, thanks to help from Legacy. This allowed Orton to face champion Sheamus at Royal Rumble but Rhodes interfered, costing Orton the match by disqualification. Irate, Orton attacked Rhodes and Dibiase after the match.
Tensions within Legacy
With tensions high between the group, Randy Orton and Ted Dibiase both entered the Elimination Chamber. Rhodes passed Dibiase a pipe, which he used on Orton, and eliminated Orton. This all led to a triple-threat match at WrestleMania XXVI, where neither Rhodes nor Dibiase wanted Orton to win. Randy Orton did pick up the win, ending Legacy's reign as a group.
Legacy was a faction that elevated Randy Orton in his WWE Championship reign but not devaluing Rhodes and Dibiase. Both participated in big matches and solidified themselves as threats with their feud against D-X. It also helped give Rhodes a platform to become the superstar he is today.