A few days removed as history was made. At New South's 2021 HOSS Tournament, Lee Moriarty captures the IWTV Championship. After winning IWTV's Masked Wrestler series, the man known as Genkai revealed himself to be the Apex of Combat. Lee Moriarty defeated the likes of Joshua Bishop (competing as Skid), Wheeler Yuta (as the masked Wyldkat and Logan Easton Laroux (who wrestled as Barf) in order to win the tournament. Moriarty is unlike any other wrestler that claims to be the best in the world. He is able to back it up each and every time he steps into the ring.
________________
On this night, he stood across the ring from the man that RULES A**, WARHORSE. The win wasn't just a culmination of everything Moriarty has done at this point but where he is considered to be in the future. The win was monumental because he didn't just capture the IWTV championship. Lee Moriarty defeated WARHORSE, who had held the title for an incredible 532 days. At a time when longstanding reigns aren't the norm, WARHORSE defended the title and, in the process, raised not only his value but the value of the title. When the dust settled, it only made sense for one person to dethrone WARHORSE for the title. As the Apex of Combat, Moriarty has built a massive following all over North America, particularly as part of promotions such as Game Changer Wrestling and New South.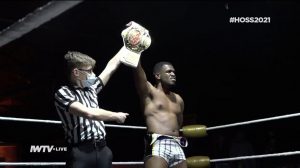 Lee Moriarty captures the IWTV Championship.
It was a hard-hitting battle between both champion and challenger. It said as much about the desire to capture the title as it was to retain it. WARHORSE threw everything he had at Moriarty, and in the end, it was the challenger that would now become the champion. With Moriarty's win, he becomes the seventh IWTV champion in the history of the title. Previous champions include the likes of; Orange Cassidy (on two separate occasions), Kris Statlander, Erick Stevens, Tracy Williams, and Jonathan Gresham. The age of the Apex of Combat is upon us as Lee Moriarty is the winner AND NEW IWTV champion.
*****
Be sure to stay tuned to the Pro Wrestling Post for this and additional stories from the wrestling world. Readers can rely on Pro Wrestling Post to be their daily source for all things inside the squared circle. As a result, readers can expect daily news, history, and so much more. Please visit Independent Wrestling Television's official website here for news and information on the streaming service and upcoming events.