Their story goes beyond their Unsanctioned match at NXT TakeOver: Stand and Deliver. Kyle O'Reilly and Adam Cole are joined at the hip with one another. Fans are encouraged to look beyond this recent betrayal and beyond the Undisputed Era's narrative because their story goes back twelve years.
______________________
During their time in Combat Zone Wrestling (CZW), the two-faced one another as part of the Twelfth Anniversary show. Cole had defeated future rival Johnny Gargano and then O'Reilly, thus moving him into the Best of the Best X tournament's semi-finals. Cole ultimately won this tournament, but even that wasn't the first time they faced each other.
As part of Gabe Sapolsky's Dragon Gate USA Open The Freedom Gate show, in a dark match, Kyle O'Reilly defeated Adam Cole in their first documented match against one another. Cole has said of this match:
The first time I ever met Kyle was 20 minutes before I ever stepped into the ring with Kyle. It was at a Dragon Gate USA pre-show for Gabe Sapolsky in the ECW Arena in Philadelphia.
Kyle and I had instant chemistry. I knew when I wrestled Kyle at that point this was a guy I clicked with more so than anyone else that I've ever clicked with before, and then I thought, ah, this is really cool.
They have either faced one another or teamed with each other all over the world, whether as part of CHIKARA, Ring of Honor, Fight Club: Pro (in the United Kingdom), IPW: UK, or Pro Wrestling Guerilla. Their careers have consistently been intertwined with one another, and from a working relationship came a friendship, trust, and camaraderie.
Their battles against one another have been some of the bloodiest on the independent scene. However, before one can isolate where they are headed, it is important to look back at their most memorable battles, either with or against one another.
During their time together in Ring of Honor, Cole and were known as Future Shock. Whether or not the term 'shock the system' was inspired by this alliance's name can't be confirmed. What can be confirmed is they were part of several tag team title matches against some of wrestling's elite during the 2010s; The American Wolves, The Young Bucks, The Briscoes, and the Kings of Wrestling were some of the names that stood across the ring from O'Reilly and Cole.
When it came to singles action, Adam Cole and Kyle O'Reilly had tremendous chemistry in the ring. On one occasion, Cole defeated O'Reilly while defending the Ring of Honor World Television Championship. There was never a way of determining a clear-cut better man between them, for each match told a different story.
Simply because Cole would win one match did not mean he would win the following one.  If any one match could be said to have put both men on the map, it would be their hybrid fighting rules match at Ring of Honor's Best in the World 2012. Cole recalls their battle with one another and what made it so memorable:
Then I went on to have what I thought was myself and Kyle's breakout performance not only in Ring of Honor but in pro wrestling. We had a hybrid fighting rules match in New York City where I think Kyle punched me in the face, and my face exploded.
There was blood everywhere. It was a total battle for the ages. In many ways, Kyle and I compare it, to a lesser extent, to, like, a Stone Cold vs. Bret Hart, with the blood being so vital to that match.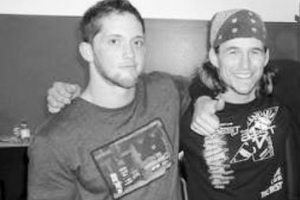 Their battle was intense and brutal. This was when fans first became aware of how ferocious O'Reilly's strikes could be, well before he dislocated Finn Balor's jaw. With each strike, O'Reilly proved he hits and hits hard.
In Cole's case, he proved that he could wear the crimson mask and still continues to be the toughest man to come out of Panama City, Florida. The argument that he was simply a 'pretty boy' was quickly put to rest as he ultimately came out victorious, bloodied but unbowed.
The narrative of O'Reilly never winning the 'big one' against Cole can't be used either. In fact, on May 23rd, 2014, it was he that defeated Cole at Pro Wrestling Guerilla's Sold Our Souls for Rock N'Roll event in a Submission or Knockout Match at for the PWG World Title. Their match went just short of twenty-three minutes.
O'Reilly also defeated Adam Cole for the ROH World Championship at Final Battle 2016. Despite all he could do, some tended to downplay his overall ability, but not O'Reilly himself. The win over Cole affirmed what he could do in the ring, including against his alternating best friend and bitter rival, Adam Cole.
Kyle O'Reilly and Adam Cole –
Keep Your Enemies Close & Your Friends Closer
As the story was told leading up to their match, it was a case of what appeared to be a rekindled friendship that was all for naught. Both had been on their own separate journeys at the time, Cole as a member of The Kingdom along with Mike Bennett and Matt Taven.
In contrast, O'Reilly had mainly been a tag team competitor, and with Bobby Fish, their duo named reDragon had won many titles in Ring of Honor and New Japan Pro Wrestling. This team carried over into WWE's NXT brand. However, with Fish currently absent, seeds were planted that Cole and O'Reilly would once again face each other.
The team of Future Shock wasn't well known during their earlier days, but today's fans who saw them back then could see what all the hype was about; they were certainly privy to what the team could do. However, when it appeared as though O'Reilly came into conflict with The Kingdom, that was when Cole's betrayal took place. After a double-cross, he picked his Kingdom brethren.
When the time came for O'Reilly to challenge for Cole's Ring of Honor World Championship, it was to a moment he won't forget. In his own words, he recalls the night he defeated Cole for the Ring of Honor World Championship:
It was a huge moment for me. It was my seven years in Ring of Honor, finally reaching that moment that I worked so hard for. When I first broke into wrestling, I was a huge fan of Ring of Honor.
The guys I was watching, like Joe, Punk, Bryan Danielson, those were the guys who I looked up to, even more than mainstream wrestlers at that time. It was always my goal to get into Ring of Honor.
The battles that raged between them were some of the hardest-hitting and most feverish ones ever. In an era where it is crucial to preserve the veil, O'Reilly and Cole would strike each other with everything they had. Accidents can and do tend to happen in wrestling, but when these two have faced one another, any battle scars have been all about convincing their audience.
During their time in Ring of Honor, each man can claim to have defeated the other for the World Title. One of those matches was as part of NJPW's Wrestle Kingdom 11 when Cole captured the title in the Tokyo Dome. That match, from four years ago, remains their last singles match against one another.
As time passed, their paths would once again cross when they were reunited as part of NXT. It would be at NXT TakeOver: Chicago when O'Reilly and Fish would appear on the apron after Drew McIntyre captured the NXT Championship, and as a massive cheer roared out from the crowd, Adam Cole came out of the audience, reunited with his former foes, and, now once again allies, beat down the new champion.
The Undisputed Era's birth meant Cole was now leading a faction that his long-time friend was a part of. Together they have been massive heels in NXT and captured singles and tag team championships.
O'Reilly was always quick to show his admiration for his friend as he became the NXT North American and NXT Champion. However, betrayal in a relationship removes any feelings of trust and support, and this rekindled rivalry has laid the groundwork for O'Reilly to be pushed to the forefront.
From Future Shock To An Undisputed Eruption
Fans are witnessing two men that have embraced and now want to tear each other apart. As noted, they once fought one another in a Hybrid Rules match that saw Cole's face become a bloody mess. In their upcoming match at NXT TakeOver: Stand and Deliver, the two men will look to recapture that same energy they had years ago. The ferocious nature with which O'Reilly can strike his opposition is a major factor here.
Among the events leading to this match, Adam Cole super kicked an unsuspecting Kyle O'Reilly. He followed this up by dropping O'Reilly onto steel steps, the narrative being that Cole wanted not only to end their alliance but end O'Reilly's career. Since then, they have brawled in the Capitol Wrestling Centre, in the streets, and at the jiu-jitsu dojo where O'Reilly trains.
Their story is far from over. Together they have seen the greatest of heights, either as part of a team or individually. At the contract signing for this match, the animosity towards one another was at an all-time high. But that is to be expected considering the events that preceded it. Adam Cole and Kyle O'Reilly are as tied together as any pair can be. And their rivalry sparks tremendous intrigue.
"Our paths are intertwined, and I wouldn't have it any other way. We were talking after watching Payback, Kevin Owens, and Sami Zayn having a match at WrestleMania, and their feud goes back to their Indy days. You can't help but to think we're on the same path, and if we are, we're very lucky."

– Kyle O'Reilly