Koko B Ware | The Flight, The Myth & The Legend of The Birdman. There is a false honor attached to being "on the right side of history." It has an ambiguous meaning that changes from person to person. Even if you are someone who helped make history for the right reasons, it does not guarantee that you will be remembered kindly by future generations. Such is the fate of Koko B. Ware.
Like many of his critics today, promoters didn't see the appeal in James Ware when he first started out. He was short and had the physique of any regular man you would pass on the street. The more brutal comments compared him to a random fan pulled out of the crowd. He simply did not look like a guy who should ever hold a championship belt.
Yet he had a drive that was stronger than most wrestlers he ever stepped into the ring with. He knew that before he would be booked to win matches, he must first win over management and the boys in the back. It was going to take years of hard work and paying dues, and Ware was willing to do it.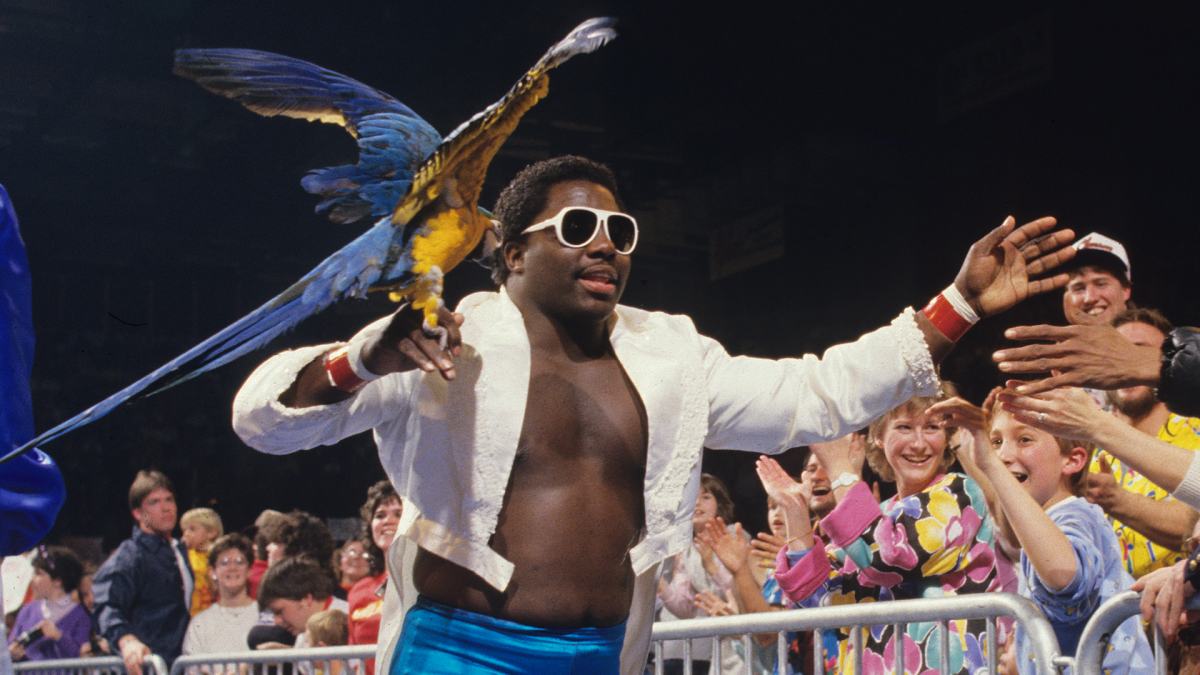 Ware was paid to make his opponents look good, and he had a talent for doing it. He spent the first several years of his career putting others over. He never let the disappointments deter him from training or honing his craft. His skills reached a point where opponents who had a good showing against him were unable to recreate those performances again. Realizing that Ware was the common denominator in so many good matches, promoter Jerry Jarrett was finally willing to give him a shot.
"I think that sometimes people looked at Koko as a smaller or shorter in stature, but he more than made up for his toughness. So, I just think that Koko was the kind of guy, from my experience, that he had to get pushed pretty damn far to fight. But when he did, you better look out because he will whip you're a*s."
– Bruce Pritchard on Ware's patience and toughness
The Continental Wrestling Association introduced its Mid-South Television Championship in 1980. The winner of a battle royal would have the honor of being the first champion. Fans were in an uproar when Jimmy Valiant, the fans' choice to win the match, was "mistakenly" eliminated after an incident caused by Ware. Ware then made good on this moment by winning the match and the title.
Valiant attacked the young man after the match to launch their feud. Ware's low standing made the scripted spot more effective. The moment would not last long, however. Dutch Mantel was one of their bigger draws, and he was on his way back into the company. They theorized that they would produce more money by putting the TV title on him. Ware's reign was so short that his haters were convinced that he really did botch and cost Valiant the first run with the belt.
Koko B Ware
In 1981, Ware was booked as the referee in a title match between The Dream Machine (Troy Graham) and defending Southern Heavyweight Champion Jerry Lawler. A scripted botch saw Ware declare a title change when it should not have been so. The hate that he immediately received cause Ware to snap. He developed a new heel attitude and renamed himself "Sweet Brown Sugar".
He cemented the turn by joining the First Family stable. While he never truly defeated Lawler in their clashes, he proved himself to be a dominant figure in tag team divisions.
His partnership with Bobby Eaton turned into a feud when a disgruntled Ware quit the stable. He lost his place on the roster after taking the fall in a "Loser Leaves Town" match. At that point, a masked wrestler called "Stagger Lee" debuted. Lee was identical to Ware in both appearance and ring style. The key difference, aside from his mask, was that Lee was an instant fan favorite.
Fans loved seeing him foil the heels who attempted to unmask him. Eaton would also turn face and aligned himself with Lee. He also formed an alliance with Norvell Austin before he lost his mask. Reverting back to his heel nature, Ware and Austin became the tag team "Pretty Young Things" (later renamed the "P.Y.T. Express"). They split when Austin left for another promotion in 1985.
The Flight, The Myth & The Legend of The Birdman
"The Birdman" Koko B. Ware then made his presence felt in Bill Watts' various territories. The nickname was inspired by one of his favorite songs that would also become his theme song. He lived up to the name by adding a lot of high-flying moves to his arsenal. Every time Ware left his feet, his opponents were sure to be taken off theirs. He dazzled them and fans alike with monkey flips and diving attacks from the top rope.
He was particularly known for a dangerous missile dropkick where he would land on his own feet after striking his target. If flying unto his opponents did not get the job done, then the "Ghostbuster" would. In a feat of strength that was uncommon for someone of his stature, Ware would deliver a brainbuster that kept the opponent fully upside down throughout the drop.
The Birdman was a perfect fit for the World Wrestling Federation in 1986. His flamboyant ring gear and electric personality won fans over just as much as his aerial expertise did. Fans would be whipped into a frenzy with his dancing and singing. He began doing a simple arm-flapping gesture which was often imitated by kids in the audience. He soon adopted a mascot called Frankie. Frankie was a colorful macaw that Ware carried down to the ring during his entrances.
When Vince McMahon took over the World Wrestling Federation, he had the ambition to blend wrestling with other forms of entertainment. This experiment culminated in the first WrestleMania event in 1985. With the success that he had from such cross-promotion, he was keen to keep trying more ventures. The idea of making a music album performed by wrestlers was a laughable concept. Particularly as their debut LP was so poorly received.
Showing record labels footage of Ware singing in his pre-match promos made the idea of a second album more believable. Koko B Ware would solo the title track for the 'Piledriver: The Wrestling Album II' LP. The song would become so popular that it became his theme song for much of the rest of his WWF career.
While Ware was as popular as some of the WWF's biggest stars, he usually lost whenever he stepped out of the mid-card. In 1987, he became the company's highest-ranking enhancement talent. He was often the guy that heels had to beat before they could be considered serious contenders for a strong push. Ware has the unique distinctions of being the first man to be pinned by Mr. Perfect's Perfect-plex and Undertaker's Tombstone Piledriver.
In 1988, the world was shocked when Bobby Heenan somehow picked up a victory at WrestleMania IV. He was forced to compete with his tag team, The Islanders (Haku and Tama), against the temporary alliance of Ware and the British Bulldogs (Davey Boy Smith and Dynamite Kid). The match had a startling finish when Heenan hit a diving cross-body block on Ware and scored the pin.
Ware was briefly fired after an incident on the 1989 European Tour. An executive allegedly used a racial slur towards Ware. Any opponent who attempted that in the past would discover how stiff he could be in the ring. The unnamed executive would also learn just how hard Ware could punch. Ware would be reinstated after the executive resigned.
His new tag team, "High Energy," reflected much of his career. Highly energetic performances, bright colors, and strong popularity among children. He and
Owen Hart
mainly used fast-paced offensive and diving assaults to combat larger competition. Like so often happened, Ware's popularity did not equate into many wins. The defining moment of the tag team's run was when Ware was squashed by Yokozuna on the first-ever episode of WWF Raw. The group quietly disbanded after Hart suffered a knee injury.
Ware began competing more for the United States Wrestling Association as part of a talent exchange with the WWF. He would enjoy much greater success there. Ware was beating big-name opponents and titleholders almost every time he stepped into the USWA ring. When he returned to the WWF properly, he managed to translate his winning ways into his old battlegrounds. Yet, none of these wins did anything to elevate his position. Ware parted ways with the WWF in 1994.
The next phase of Ware's career took place in both the USWA and the American Wrestling Federation. He chose not to become a regular in either company.
He made a very brief return to the WWF in 1999. Koko B Ware was added to the ongoing storyline where Hart was trying to dupe people into thinking that he was not the Blue Blazer. His tag team partner Jeff Jarrett would sometimes don the costume so that Hart could be seen in the same place as the hapless hero. Ware's role was similar in that he wore the costume to move suspicion away from Hart and Jarrett.
The point was that Ware's skin tone and larger body shape gave away that he was not the actual Blazer. Hart then lost his life in a freak accident at the Over The Edge pay-per-view. It was reported that Hart had come to hate the Blue Blazer character, which he was portraying at the time of the incident. The WWF abandoned the storyline and all future references to the character out of respect to Owen. Now that the storyline was done with, they had no other plans for Ware.
Before returning to the WWF, Koko B Ware had participated in the 'Beyond the Mat' documentary. When he was being interviewed, he refused to say anything critical about any person or promotion he had worked within the past. They were sure that Ware would be critical of the WWF after it had become public knowledge that he was underpaid. Because he refused to cause drama, the documentary crew chose to paint him as a fallen star who was still trying to cling desperately to fame.
While Koko B Ware was no longer at the highest point in his career, he wasn't physically done yet either. He wasn't ready to retire from something that had been a lifelong passion for him. Without knowing how he would be portrayed, he announced his retirement once he finished up with the WWF, several months before the documentary would be finished.
"It was a good living, but I wish I could've made a good lick. I wish I was up there & I was up there with Hogan, but I just didn't make money. I don't mind people knowing what I made, and I've talked to my other partner about it.
It's no big secret now, it's water under the bridge now, but it's still history. I still love the business; I still love WWE and all that stuff anyway. Nothing bad I'm going to say about them at all."
– Koko B. Ware on his low WWE pay.
He did make a couple more appearances post-retirement. He did not have any serious intentions of returning to wrestling properly. Koko B Ware worked a one-off television match against Rob Conway in October 2005 on 'WWE Heat.'
Ware was a hot favorite almost everywhere he went throughout his career. However, his legacy has been tarnished by overly critical fans and columnists who did not experience him in his heyday. When he was inducted into the WWE's Hall of Fame in 2009, he became the unofficial benchmark for the unspecified "minimum" for inductees. This impossible-to-quantify status was based on his win-loss record in the WWF alone.
It did not take into consideration his impact on the company or anything he achieved outside of it. Nor does it acknowledge his role in popularizing the high-flying styles used by most smaller wrestlers today, or even the importance of enhancement talents in the sport today.
The same social media that put his career under a negative filter is slowly maturing. Fans are discovering footage from his pre-WWF days. They show off skills that many modern fans had no idea he had. His surprising strength for his small frame and his outstanding agility for his size. And his ability to legitimately beat up opponents who disrespect him.