The height of Japanese professional wrestling is the early to mid-2000s NOAH was special with KENTA and Naomichi Marufuji. One can argue 90's AJPW or even modern-day NJPW, but what started it all for me was NOAH. Specifically, two proteges of two of the biggest names in the history of the sport, This is the storied rivalry of KENTA and Naomichi Marufuji.
KENTA (real name Kenta Kobayashi) had always looked up to Kenta Kobashi and knew he was destined for greatness. Just because his favorite wrestler's name only differed from his by one letter. Kobashi took a liking to KENTA and began to train and tutor him in 2000 at All Japan Pro Wrestling.
This was before the mass exodus led by Mitsuharu Misawa and the formation of Pro Wrestling NOAH. Marufuji followed a similar path, as Misawa took interest in him in 1998, also in AJPW.
But that's where the similarities stop, however…
KENTA and Naomichi Marufuji –
Two Sides of The Same Coin

KENTA is a pure striker, mean and ruthless. Marufuji is a technician and high flyer, graceful and composed. In June of 2000, due to political issues stemming from Giant Baba's death and subsequent takeover of All Japan by his wife, Misawa decided to leave the company. He formed his own – Pro Wrestling NOAH.
Most of the big names in AJPW, including KENTA and Marufuji, left the company to join Misawa's startup. The one consistent complaint that plagued AJPW that Misawa seemed determined to change was their unwillingness to feature the junior heavyweight division. Which was a staple across all other popular Japanese promotions.
Being two junior heavyweights, KENTA and Marufuji decided a change of scenery would be the best thing for their careers. KENTA's (still going by his real name, Kenta Kobayashi) first match for NOAH was an unsuccessful challenge for Marufuji's GHC Jr. Heavyweight Championship. The two would wrestle a few more times early in their career, but nothing of note. That is, until 2003, where the future rivals would form a very successful tag team.
GHC Jr Heavyweight Tag Team Champions
By 2003, Naomichi Marufuji and KENTA were two of the most exciting stars in NOAH. Marufuji was a frequent GHC Jr Heavyweight Champ, putting on incredible matches. KENTA was teaming with Kobashi as a part of his Burning faction. On March 1, 2003, KENTA and Marufuji teamed for the first time, defeating Makoto Hashi and Yoshinobu Kanemaru.
There was no storyline why the team was formed, it was just simply putting two budding stars together. It was apparently a great idea because their first match as a team was rated four and a quarter stars by the Wrestling Observer Newsletter.
KENTA and Marufuji continued teaming together under the name KENTAfuji. After showing great chemistry over the next three months, they were given a berth in the inaugural GHC Jr Heavyweight Tag Team Title Tournament at NOAH's Accomplish Our Third Navigation tour in June of 2003.
They defeated Mitsuo Momota and Tsyuoshi Kikuchi in the first round. Tatsuhito Takaiwa and Yoshihito Sasaki in the semi-final. And went on to defeat the legendary Jushin Thunder Liger along with his partner Takehiro Murahama in the finals to become the first-ever GHC Jr Heavyweight Tag Team Champions.
KENTA and Naomichi Marufuji –
Success Together and Apart

They continued on with great success for the better part of two years. Frequently holding the titles and being the premier junior heavyweight team in NOAH. On June 5, 2005, KENTAfuji lost their tag titles to Sugi-Kane, in what would prove to be their last championship as a team.
Although they would continue teaming up for several months. At this point in NOAH's history, their main draws were becoming worn down and getting old. Kobashi and Misawa, while still putting on good matches, they knew they weren't going to be around for much longer. They decided it was time to start elevating new talent.
Great Friends, Better Enemies
On January 15, 2006, Marufuji teamed with Misawa to take on KENTA and Kenta Kobashi. Things really started to pick up one week later as the rivalry truly began. KENTA had defeated Yoshinobu Kanemaru for the GHC Jr Heavyweight Championship in July of 2005. Just a month after, he and Marufuji lost their tag titles.
On January 22, 2006, Marufuji challenged KENTA for his title. They planted the seeds of their disdain early in the match, as KENTA would slap the hell out of Marufuji. Swiftly challenging him to do the same. He obliged.
Throughout the match, it was apparent that KENTA cared much more about winning, while Marufuji was concerned with making sure their friendship remained intact. Marufuji tried to grapple and mat wrestle, but KENTA would try to kick his head off at every chance he got.
This eventually led to a buildup in aggression in Marufuji, who finally took KENTA down. Moved into a full mount position and looked primed to start some MMA-style ground and pound. Until the ref stepped in and reminded him, this could lead to disqualification.
KENTA and Naomichi Marufuji – Their Neverending Story

The match continued with great back-and-forth action with each wrestler seemingly having a counter ready for whatever the other tried. They were, after all, teammates and best friends for the better part of three years. Near the end of the match, things broke down. It was apparent that these two weren't friends anymore.
Repeated closed fist strikes from both competitors and kicks to the head were a common theme for the last third of this match. KENTA won this exchange with a Go 2 Sleep and devastating Busaiku Knee (running single high knee). The crowd was exhausted after this match but in the best way possible.
They had just seen two friends, two teammates they had grown to love, do everything they could to destroy each other. And they almost succeeded.
Everyone in attendance knew this wasn't over, far from it. Much to everyone's surprise, the two continued to team occasionally, but there was something different. They were seemingly trying to one-up each other.
A Match For The Ages
On September 9, 2006, Marufuji successfully challenged Jun Akiyama for the GHC World Heavyweight Championship, officially moving up from the junior heavyweight division. As one might imagine, KENTA was right behind him in doing so.
Just nine months after their classic match for the GHC Jr Heavyweight Title, which Kenta won, we see KENTA challenge Marufuji for the GHC World Heavyweight Championship on October 29. The emotion in this one is just through the roof. Japanese crowds are known for being much quieter than their American counterparts, but these fans were going wild.
The match begins like many others, great mat wrestling, with both wrestlers having an answer for each other's blows and ending in stalemates. There are some good spots showing how well these two know each other; KENTA drop-kicking Marufuji out of midair while attempting a leapfrog, for example.
Then the aggression comes to the surface in the form of an absolutely brutal open-palm strike duel that would make Minoru Suzuki wince. Marufuji lands an absolutely brutal springboard DDT and begins to work the neck. It is now blatantly obvious that any amount of camaraderie between the two competitors is gone.
KENTA and  Naomichi Marufuji – Their Fierce Rivalry

Some of the spots here are absolutely insane, including a falcon arrow from the apron to the outside of the ring and an Asai Moonsault into the crowd that sees Marufuji slamming his chin into the steel barricade. That is, to this day, one of the most uncomfortable spots to watch in NOAH ever. Marufuji later said,
"I thought my neck was broken."
The match ends in a Marufuji win via a Pole Shift, as he retains his GHC World Heavyweight Title. These two stars had officially arrived, and everyone involved, from the competitors to the fans, could sense it.
Marufuji grabbed the microphone after the match and exclaimed, "Do you have any complaints about us as two heavyweights? We will be leading NOAH from now on, and so we thank you!" This match lived up to the hype and more, which is really saying something when considering this quote from Misawa:
"Do you think that Marufuji vs KENTA can be Misawa vs Kobashi? I think it can be, and there will be trouble if it is not."
The Next Chapter
After this match, their rivalry was put on hold for a while. Marufuji continued his title reign, and KENTA began focusing on the tag team division again as well as training his protege, future Bullet Club partner Taiji Ishimori.
They wouldn't stay out of each other's way completely though, as they faced off a few times in tag action, including a great match in which  KENTA teamed with Ishimori and Marufuji teamed with a young Kota Ibushi. Their next singles match came on October 25, 2008, over two years after their classic battle. This one was no different: stiff, competitive, and a war of attrition.
This time, there was no clear winner, as they went to a 60-minute draw, the only in NOAH's history. The crowd was just as captivated. They knew that any time these two shared the ring, fireworks were sure to follow. In the post-match interview, an exhausted KENTA said
"I have given 100%, but for the next opponent? Please forgive me… I cannot think of that right now." When Marufuji was questioned about a potential rematch date, he responded with a smile, "That's a little unfair; wait a bit."
The two once again went their separate ways for a while, and KENTA suffered an injury in June of 2010. As his rehab was coming to an end, it became time to think about who his return match would be against. The more he thought about it, the clearer it became; there was only one person worthy.
The Marathon Continues
KENTA returned from injury triumphantly, defeating his old foe in another classic match. The most impressive thing about this rivalry is that there is not a single dud. Are some matches better than others? Sure. But every single time these men face-off, everyone is captivated at best, entertained at worst.
Feeling confident after beating his old foe, KENTA grabbed the mic and declared,
"I'm back, a**hole."
Marufuji, true to his blue-chipper character, went the opposite route, saying of his rival,
"KENTA is the top, and he is the best wrestler. I think he is the best, whatever he says; however, I cannot respect that guy's bad language."
Two years later, Marufuji avenged his loss to KENTA, who was once again returning from an injury suffered in 2011. This was KENTA's most devastating loss to date. Returning from yet another injury, fans in attendance were sure they were going to see a KENTA victory and were noticeably shocked when Marufuji pinned him for the 1-2-3.
This loss didn't deter KENTA but only motivated him further as he FINALLY captured the GHC World Heavyweight Championship from Takeshi Morishima on January 27, 2013. He defended the title against Mayback Taniguchi, Takashi Sugiura, and Toru Yano.
KENTA and Naomichi Marufuji –
KENTA's Toughest Challenge To His Title
On July 7 of the same year, he faced his toughest challenge as the champion to date, none other than Naomichi Marufuji. Another match, another classic, as KENTA made his fourth successful title defense against the man that spoiled his return.
After the match, being asked about some of the disparaging remarks he had made about his opponent, KENTA said,
"I regret saying it, but it was good."
Not long after this, KENTA was signed to NXT and rebranded as Hideo Itami. This rivalry was seemingly over, much to wrestling fans' dismay. Marufuji, on the other hand, wasn't so sure:
"We will do it again. We make the best matches & We cannot avoid this. Besides, there is no other."
He was right.
The Last Dance?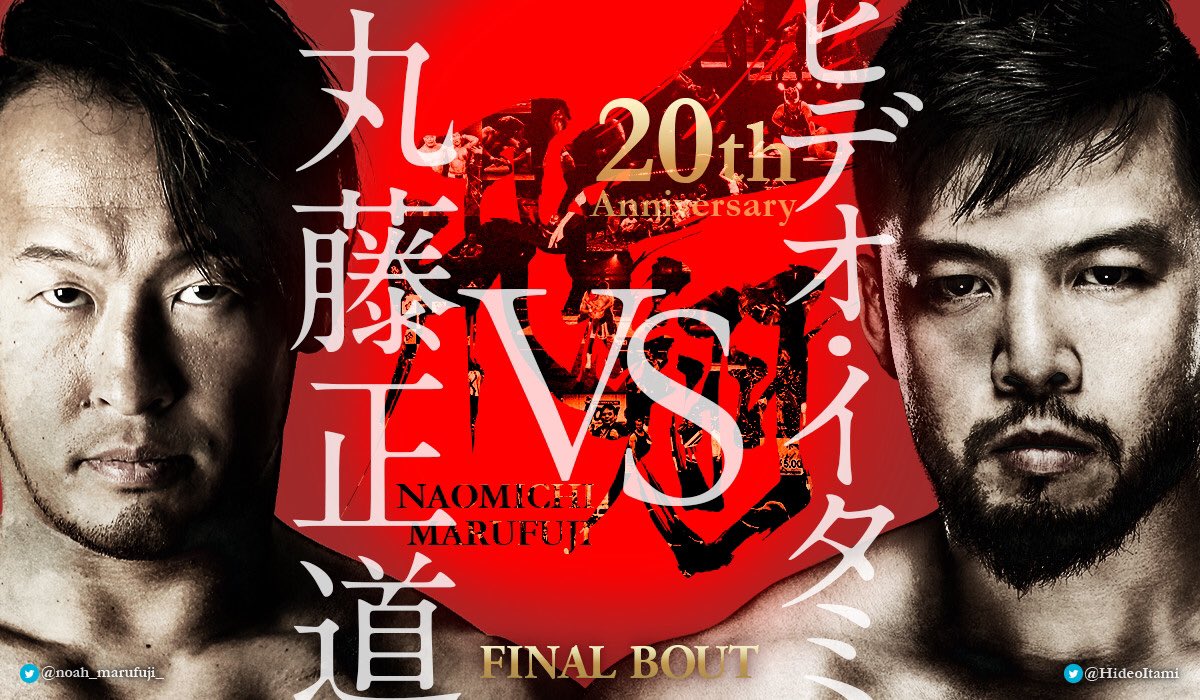 In a move that shocked everyone who knows how Vince McMahon conducts business, Vince agreed to license KENTA (still made to perform under the Hideo Itami ring name) to appear at NOAH's 20th Anniversary Show on January 9, 2018.
Of course, after being gone from the promotion for several years, there was only one man worthy of facing off against KENTA in his return match to the promotion – Marufuji. The two had not faced off in a singles match in over five years, though neither man forgot what the other was made of nor lost a shred of respect for the other.
Marufuji said of his archrival;
"He will not give up, and I want to take advantage of my ability to win. I think he is thinking many things, especially about the reaction of the fans when he was displayed on the monitor at Korakuen.
I think that was the most and best 'real.' I want him to have an explosion like that at the venue. Everyone had hoped for him, and that was proof."
KENTA and  Naomichi Marufuji –
The Fans Would Give Them Their Flowers

As you can imagine, the crowd was electric, and these two gave each other all they had and then some. Marufuji came out of the match victorious. The two bowed to each other and embraced after the match.
These two men had such a profound impact on each other's careers.  This match brought a sense of closure to the rivalry. Everyone in attendance knew they had just witnessed the end of an era. It was the end to one of the greatest rivalries in Japanese wrestling history.
This was the last match to date. But with KENTA's return to Japan as a member of the Bullet Club in New Japan Pro Wrestling & Marufuji is competing regularly in NOAH. As for now, who knows what the future holds? As Marufuji has said years earlier, "There is no other."
Sources: SportsKeeda, Cagematch, Puro Program Translations