With a past they needed to break away from, both KENTA and Jon Moxley left WWE to pave their paths that led them to New Japan Pro Wrestling. Despite being in the same company for many years, the men have never crossed during their careers.
_____________
However, on February 26th, the two will meet during the New Beginning USA tour for the IWGP United States Championship. After Moxley was unable to defend the US title due to the pandemic, he returned to New Japan Strong to accept KENTA's challenge for the title.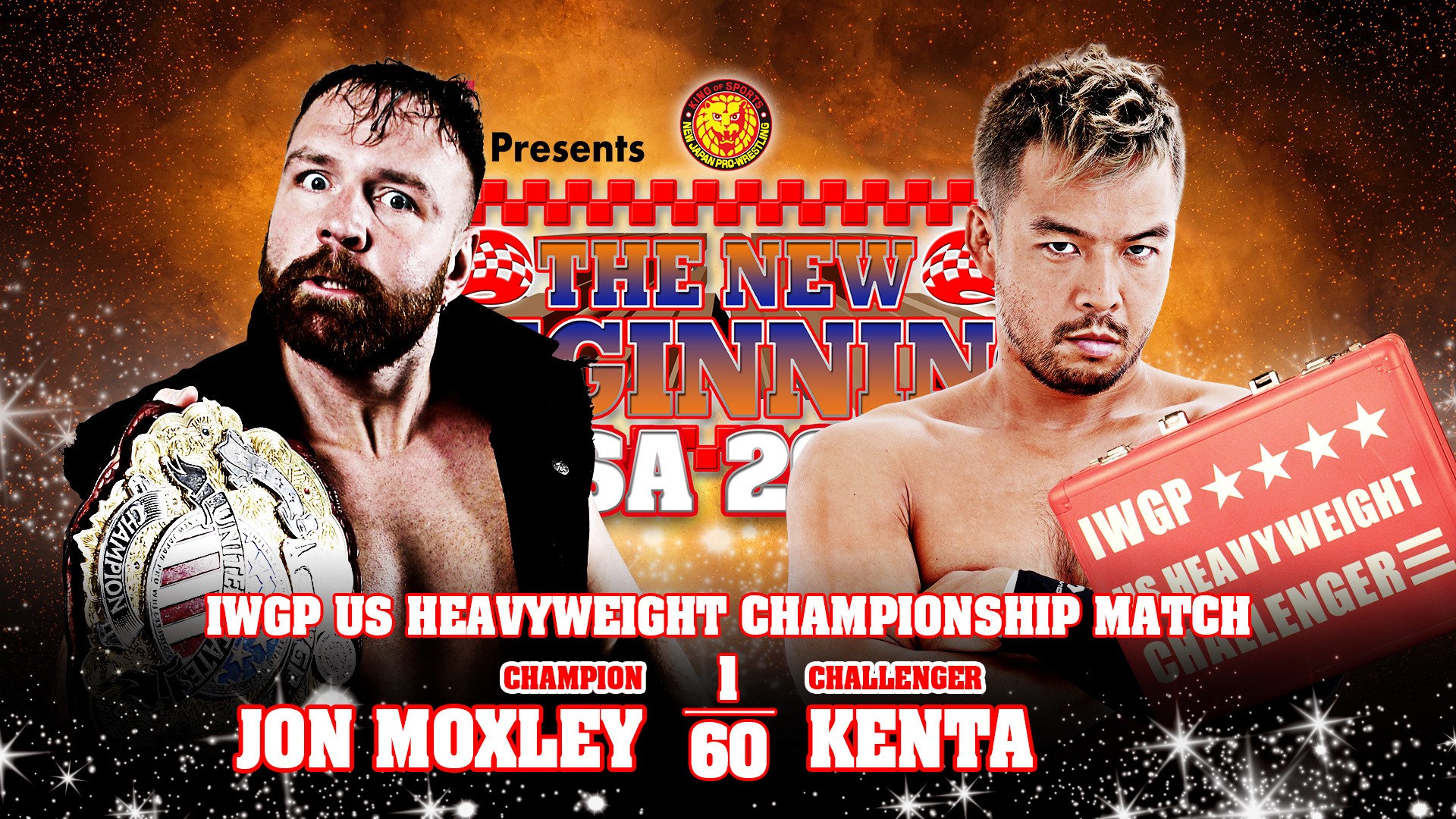 Here is a look at the timeline of the events leading up to their big match and what fans can expect from the two's first meeting.
KENTA & Jon Moxley | The Path To Opportunity
With the pandemic causing chaos to wrestling across the world, New Japan put a spotlight on their New Japan USA content. The company utilized some of the best talents in America. They gave stars a platform to showcase their skills and a chance to wrestle some of the biggest names in New Japan.
One of the first major set of shows was the NJPW Cup USA in August 2020. Like the G1 in Japan, the winner of this tournament wins a briefcase. It contains a contract for the IWGP United States Championship. However, unlike the G1 contract, the stage was not cemented as Wrestle Kingdom.
KENTA was one of those participants.
After going through Karl Fredericks and Jeff Cobb, he made it to the final match on August 21st against David Finlay. As with many of his other matches, KENTA was not afraid of breaking some rules, whether it was a referee bump or a low blow. However, in the end, KENTA got the win with his patented GTS and won the chance to challenge for the US title.
KENTA STARTED ON A HIGH!
KENTA trained under Japanese legends Kenta Kobashi and Yoshihiro Takayama. He made his wrestling debut on May 24th, 2000, against Naomichi Marufuju in All Japan Pro Wrestling. He then followed Mitsuhara Misawa to the new company Pro Wrestling NOAH. From 2003 to 2011, KENTA dominated the Junior Heavyweight division in NOAH. KENTA had GHC Junior Heavyweight title reigns and three GHC Junior Tag reigns. Despite his smaller frame and weight, he also dominated the NOAH heavyweight division.
Yet, in 2014, with the blessing of NOAH, KENTA eventually signed with the company in June under the ring name Hideo Itami in NXT. Despite starting his career in WWE on a high with some high-profile matches, a series of injuries halted that and led to a year of inactivity. When he eventually returned in 2016, he never really gained back that momentum. Even an attempt to move him to the main roster and 205 Live did not seem enough to showcase KENTA.
Like many WWE wrestlers, KENTA was not happy with his position on the card and the booking of his character. He was released from his contract in 2019.
"It was some of the most frustrating days of my life."
– KENTA
Fans were not surprised at the decision. They were shocked at his surprise debut for New Japan during the annual Dominion event in 2019. With his best friend Katsuyori Shibata, KENTA entered himself into that year's G1 and stayed undefeated for over a month.
However, it was not long until KENTA's true colors were on show as he became the newest member of the Bullet Club.
MOXLEY SLOWLY GAINED MOMENTUM TO BECOME A CHAMPION
On the other hand, Jon Moxley had a much different career path, dropping out of high school and training as a wrestler.
Moxley's start in wrestling came in 2004 at 18 years old under the Thatcher and HWA wrestler Cody Hawk. Unlike KENTA's stable career in NOAH, Moxley spent the majority of his early career wrestling on the independent circuit. These included promotions such as Heartland Wrestling Association (HWA), Dragon Gate USA, Full Impact Pro, and many others. During this time, he picked up several singles and tag titles.
However, like many, Moxley eventually signed a contract with WWE in 2011. He joined their development territory, which was then named Florida Championship Wrestling (FCW) under the name Dean Ambrose. Ambrose eventually made his main roster debut at Survivor Series in 2012 as part of the heel stable "The Shield" with Roman Reigns and Seth Rollins.
Throughout his WWE career, he achieved a lot with his unpredictable and unique character as both a babyface and heel. These achievements included a three-time Intercontinental Champion, Money in the Bank Winner, US Champion, and a reign as WWE Champion.
Yet, with his dissatisfaction with WWE booking, Moxley decided to leave WWE after his contract expired in 2019. After this, Moxley went back to using his original in-ring name and returned to the independent scene. That was until he signed with All Elite Wrestling and started appearing in New Japan.
THE DEGREE'S OF SEPARATION
However, despite the lack of interaction between the two, their paths may have crossed indirectly. With nearly two decades in the business each, both have inevitably tagged and feuded with the same people in some capacity.
One of the more prominent links between the two is with NJPW's Juice Robinson.
When Moxley made his New Japan debut, Juice made no secret of the relationship the two had when they were both signed to WWE. Their paths were very different in the company. However, they wrestled each other regularly in WWE's developmental system.
On the other hand, KENTA and Robinson's only meeting was during Juice's last match for WWE. It would take another five years for the two to meet again in the battle for the briefcase. Unfortunately, an eye injury meant that the duo did not finish their fight at Wrestle Kingdom. During this time, Juice wanted KENTA for his briefcase. Both Juice and KENTA wanted Moxley for his title.
Yet, that seems to be where the connection between the two ends. Both had different experiences in WWE, with one failing to catch the attention of the management and the other dominating the company in some way for years.
KENTA went into WWE with a reputation but failed to gain the same momentum as in Japan. Moxley went into WWE as local talent and became a global superstar very quickly. Similarly, in New Japan, KENTA came in well known by Japanese crowds but has failed to win any titles. Moxley arrived at Dominion and won his first title on his debut match against Robinson.
KENTA and Jon Moxley their careers have been a tale of two halves.
The one thing that can be said is that they realized that numbers equal strength at some point in both men's careers. Moxley gained fame and success as part of The Shield. KENTA is now part of one of the most famous factions in the world in Bullet Club.
It is these points that make their match even more exciting.
KENTA and Jon Moxley
THE LEAD UP IS GETTING HOT
It seemed like KENTA was finding any way to get the absent Moxley into a New Japan ring for their match. Six months after winning the briefcase, Moxley finally appeared on an episode of Lion's Break Contender. He accepted KENTA's challenge and set a date for February 26th.
"We gotta get it done, we'll get it done" –
Jon Moxley
From there, fans and wrestlers alike started anticipating this first-time match-up between the two. Things got even hotter when Moxley got attacked on AEW Dynamite by a masked figure who was revealed to be KENTA. It seemed as if KENTA was now taking things into his own hands to make sure that Jon Moxley had no excuse not to face him.
If that was not exciting enough, the next week on AEW, KENTA teamed with former IWGP Heavyweight Champion Kenny Omega against Moxley and former IWGP US Champion Lance Archer. In one ring, fans witnessed the past, present, and future of New Japan in a single match. It also gave fans a preview of what they might expect from the match!
Even though Omega beat Archer with the win, this will still be much-needed momentum for KENTA going into the match. It made them both hungrier to get in the ring and fight. This meeting was also part of history as it seemed to open a "forbidden door" between NJPW and AEW.
With a week until their match, anything could happen going forward!
After six months of holding the title, the stage has finally been set! KENTA made use of social media to add to the hype fans have for this first-time match.
A WEEK AWAY FROM #MOXvsKENTA
it's finally gonna happen.
We are gonna stand toe to toe and beat the shit out of each other.
ITS TIME TO MAKE MOX TO SLEEP
Saturday, February 26th on @njpwworld

Have fun guys. Let's do it🤘 pic.twitter.com/qx499bArIM

— KENTA aka Lil'K (@KENTAG2S) February 20, 2021
Fans are excited to see these two extremely diverse wrestlers in the ring with each other. With KENTA preferring to favor mental warfare & Jon Moxley, who has a more unpredictable style, anything could happen on the night.
It could be a clean, fair fight.
However, fans will most likely see KENTA doing anything to win the title. If there are any Bullet Club members in America, there might even be some interference. This could do some damage to Moxley if he lets it distract or frustrate him.
Will Moxley be able to keep the title he's kept for over a year without a defense? Or will KENTA fulfill his promise to take the belt and bring it back to New Japan full-time?