To earn the reputation as being a dangerous person is not easy. A few bad incidents and you may become known as someone who likes to hurt people. One with such a label must wonder if they've always been like this and, more importantly, if they always will be.
Katsuhiko Nakajima and The Endo Incident
(Photo: Wrestle Universe – Katsuhiko Nakajima against the ropes)
June 12, 2022: The CyberFight Festival has brought together four different promotions under their parent company's umbrella to put on a supercard in Saitama Super Arena.
Fourth from the top is a 6-man match, pitting DDT's Tetsuya Endo, Kazusada Higuchi, and Jun Akiyama against NOAH's Atsushi Kotoge, Yoshiki Inamura, and Katsuhiko Nakajima.
About 4 minutes into the bout, the KO-D Openweight champion Tetsuya Endo tags in and calls out Nakajima: the top star of DDT versus one of NOAH's best. But Nakajima wants nothing to do with him.
He does not seem to register Endo's forearm strikes and looks bored all the while. With one sudden slap to the jaw, Nakajima sends Endo crumbling to the mat, knocked out. All that inter-promotional hype and grand entrances were over and done within a 6-minute match. 
Jun Akiyama enters the ring to save Endo, the dignity of Nakajima pinning him with merely a foot atop his unconscious body. Instead of returning the violence, all he has to do is shoot over a glare.
Akiyama is respected by all, one of the last lifelines to the golden generation of the 90s and early 2000s. He's willing to lend out his wisdom to all who would listen.
Once the referee has stopped the match and Endo can receive aid, old Uncle Jun crosses the ring to talk. It appears as though Nakajima tries to explain himself, but he is met with only a stern lecture.
Nakajima can only close his mouth and nod his head. Akiyama has known the younger man since he was a boy. And he knew his father figure as well.
Akira Hokuto, Dangerous Queen of All Japan Women
It was late April 1995. Kensuke Sasaki was 28, a great tag team wrestler for New Japan Pro Wrestling, who eventually would be the first man to hold the IWGP, GHC, and Triple Crown titles.
Akira Hokuto was 27, already seen as one of the greatest female wrestlers of all time, and was considering retirement. They met in the most deadly place on Earth.
WCW and NJPW held a joint show in Pyongyang, North Korea, in collaboration with the government in the name of peace. Hokuto and others from All Japan Women's Pro Wrestling were brought in to have matches as well.
Rumors still echo about how the passionate, whirlwind romance came to be. So the story goes: Sasaki proposed on their first date. They announced their marital engagement to the public on May 30th. 
The wedding ceremony was held on October 1st, 1995, attended by the top stars of the day. Akira Hokuto would continue to wrestle, entering the twilight of her career while her husband was on the ascent.
In 1997, Kensuke Sasaki won the G-1 Climax, won the IWGP championship, and defeated the Three Musketeers of New Japan (Hashimoto, Chono, and Muto) in a matter of months. In 1998, Hokuto gave birth to the couple's first son and would retire a couple years later. But elsewhere, all was not as bright and happy.
Kensuke Sasaki, Patriarch of the Kensuke Family
On March 11, 1988, Katsuhiko Nakajima was born into a poor family that couldn't afford such luxuries as vacations or consistent electricity. By 14, Nakajima was competing in national karate tournaments to make money and was scouted by legendary wrestler Riki Choshu in December 2002.
Not only was he going to be the prized student of Choshu's new company, World Japan, but he was also touted as the next big superstar in all of puroresu. 
In September 2003, Nakajima made his debut in a shoot fight, knocking out an American fighter in short order. Reportedly, the opponent felt like his understanding of the bout may have been misled.
In January 2004, Nakajima became the youngest Japanese wrestler to main event a show at 15 when he lost to Tomohiro Ishii in his pro wrestling debut.
Choshu's mismanagement of the company and the financial decline of the industry soon spelled the end for World Japan. Kensuke Sasaki had joined his mentor's promotion after leaving NJPW at the end of 2002, but left WJ due to the aforementioned problems towards the end of 2003.
By April 2004, Nakajima also quit, as Choshu could no longer pay him nor allow him to wrestle often. The young man decided to call upon his former WJ trainer Sasaki for guidance, but it was the Dangerous Queen Hokuto who answered the phone.
Katsuhiko Nakajima, Stray Dog of the Sasaki Family
When the boy from a broken home was taken in by two of the most accomplished pro wrestlers alive, his career took off. Katsuhiko Nakajima became a freelancer, working with the likes of Toshiaki Kawada and Genichiro Tenryu in All Japan or wrestling Jushin Thunder Liger at the Tokyo Dome and competing in the Best of the Super Juniors for New Japan.
His only 2 points in that BoSJ tournament came via ref stoppage when Christopher Daniels was injured in the match.
The prodigy and the power couple formed the Kensuke Family, with Nakajima often teaming with Sasaki and being managed by Hokuto. With a busier schedule, he improved at a faster rate, as Dave Meltzer wrote in the Wrestling Observer that August: "Nakajima has the whole package, and he's only 16."
At the end of the year, Nakajima won the Tokyo Sports Award for Rookie of the Year, and Sasaki won the MVP. The teenager was standing among titans of puroresu like Jun Akiyama, Minoru Suzuki, and Yoshihiro Takayama.
By 2005, Nakajima's tenure with New Japan would end, and a relationship with NOAH began. In November, the Kensuke Family fought their mirror opposites in the form of Kenta Kobashi and his own protege, Go Shiozaki, hot off the famous Sasaki vs Kobashi match at the Tokyo Dome in July.
Kobashi was a 90s legend himself, and he too broke out from normalcy around the turbulent turn of the century, leaving his home promotion in 2000 to help start Pro Wrestling NOAH. Meanwhile, Shiozaki had also debuted in 2004, though he was 22 and had spent a normal high school life playing sports and not having a martial arts background.
The master/student relationship may well be as strong as blood. Nakajima learned from Sasaki, who learned under Choshu, who learned under Antonio Inoki. Shiozaki learned from Kobashi, who learned under Jumbo Tsuruta, who learned from Giant Baba. The generational rivalry was renewed once again.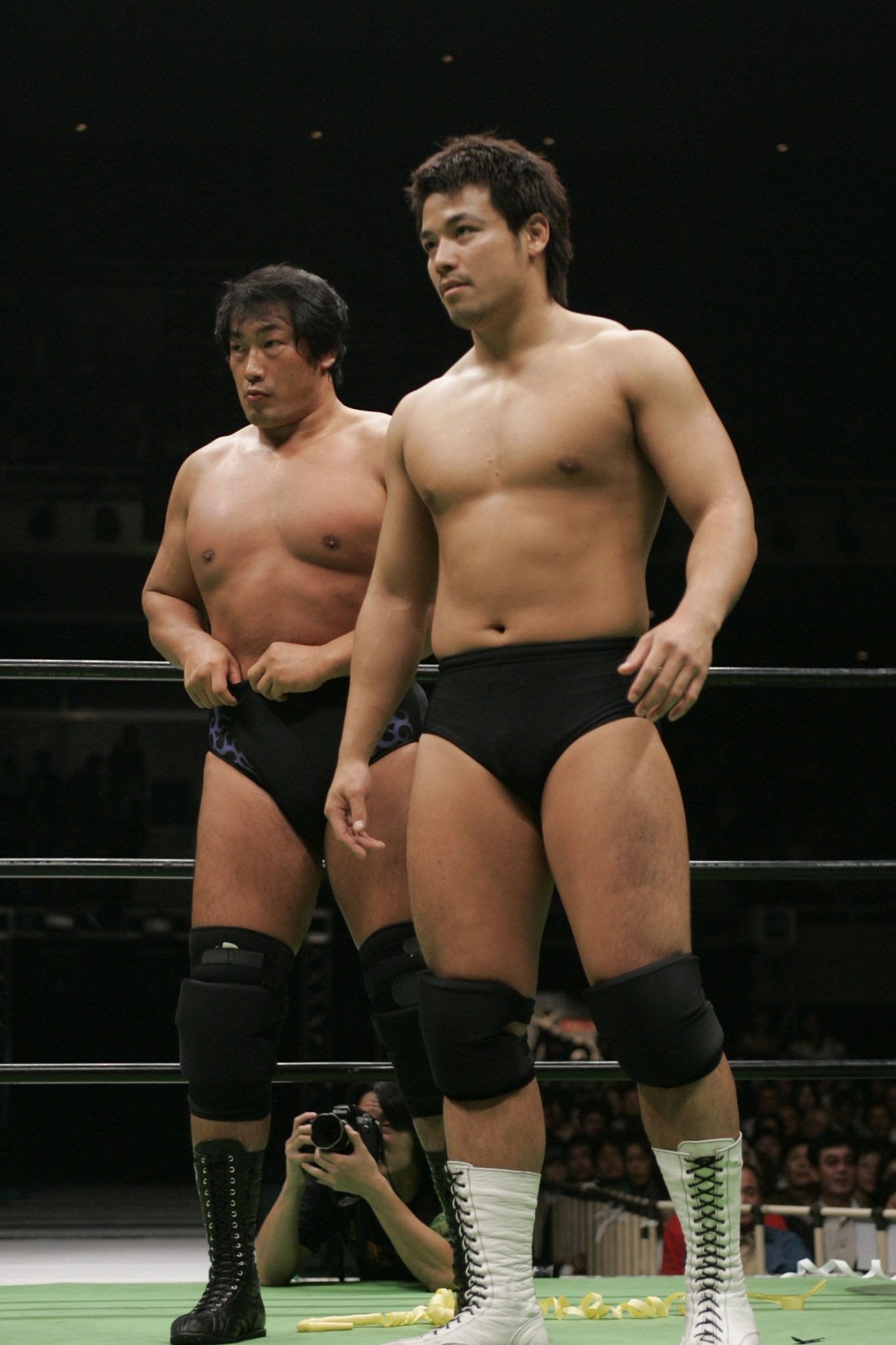 In 2006, Katsuhiko Nakajima continued to freelance primarily for All Japan, wrestling with and against puroresu legends like Keiji Muto, Satoshi Kojima, and Minoru Suzuki. For the last five months of the year, Sasaki was out with injury, and the boy was on his own.
But at the start of 2007, Sasaki opened his own promotion, Kensuke Office, where Nakajima was a featured player and Akira Hokuto was the general manager.
In 2008 at the age of 20, Katsuhiko Nakajima was already an experienced wrestler. He was a veteran in Kensuke Office and was involved in teaching students like Kento Miyahara and Masa Kitamiya.
Puroresu training has historically been harsh, but the brutality of the K-Office was reported to have been an outlier in those days. There was a lineage there that saw a man die in Choshu's WJ Dojo in 2003 and another instance where a man died in Sasaki's NJPW Dojo in 1995. The cycle was broken, but the grudges that formed were real.
When Kensuke Office shifted allegiances from All Japan to NOAH, Nakajima's freelancing days followed suit. Now, he was wrestling the likes of Misawa, Kobashi, and Akiyama on a regular basis.
Towards the end of the year, he would make his American debut for ROH, wrestling Bryan Danielson, Roderick Strong, and the Briscoe Brothers.
For how fast he developed at such a young age, Katsuhiko Nakajima's progress had to hit a plateau at some point. In NOAH, he was often a tag team wrestler with someone from the family's stable.
Other times, he was in the Junior Heavyweight division, winning the title for 3 short reigns. By 2012, perhaps the biggest thing that had changed in his career was the name of the Kensuke Office promotion to Diamond Ring.
There were many growing pains for the 2000s generation. NOAH, on the decline, couldn't offer a whole lot to its young stars. Misawa died in 2009. They lost their TV in 2012. Kobashi left.
Akiyama left. Shiozaki left. KENTA left. Akira Taue retired. Takeshi Morishima retired. Kensuke Sasaki retired, finally defeated in a match by his adopted son.
With NOAH on life support in the mid-2010s, surviving under New Japan's wing, Nakajima officially left Diamond Ring and signed full-time to the green brand on January 1st, 2016, knowing they needed a hero.
Katsuhiko Nakajima and The Press Conference Incident
Katsuhiko Nakajima started 2022 defeating Go Shiozaki in a MOTYC for the right to say "I am NOAH." But by February, he lost that GHC title to Kazuyuki Fujita, a controversial MMA/wrestler hybrid who ran afoul of Kensuke Sasaki back in 2004.
For someone who had won the previous two N-1 Victory tournaments and been an exciting champion, it was odd then that Nakajima wasn't even on the Cyberfight Festival card in the months building up. 
Two weeks before that fateful June day, Naomichi Marufuji had to pull out of the inter-promotional 6-man and was replaced by Nakajima. At the press conference announcing the change, Nakajima got into a slap fight with his own teammate, Atsushi Kotoge.
Three shots sent Kotoge stumbling. From an outsider's perspective, the Endo knockout doesn't seem like an isolated incident, considering what had happened before and what was to happen later.
During Nakajima's speech, while he denigrated the DDT side, he also questioned Kotoge's strength and conviction. The distinct word he used was "Yarennoka!" It can be translated as a challenge to see if someone is man enough for the task.
It was also the name of an MMA event held at Saitama Super Arena, where not only was there a late substitution fighter but also a controversial knockout of a defenseless opponent. 
Go Shiozaki, Prince of the Emerald Ark
With Pro Wrestling NOAH as the setting for the rest of this story, a brief history is in order. When Mitsuhara Misawa led the mass exodus out of All Japan to form NOAH in 2000, it was only natural that he become the first GHC champion and the first Ace. Kenta Kobashi then took up the mantle, going on a historic reign with the Global Honored Crown.
After a cancer diagnosis and various injuries derailed Kobashi's career in the mid-2000s, Misawa stepped back in to reprise his role. For whatever the reasons may be, wrestlers like KENTA, Takeshi Morishima, and Naomichi Marufuji were never truly given the company to carry on their shoulders.
At his age, weight, and health Misawa should not have been in that position; which all contributed to his tragic death in the ring. 
Before his demise, Misawa had anointed the rising star Go Shiozaki as heir to the throne. But winning the title only a day after the fatal accident did the 27-year-old no favors. There are no rules or benchmark, but Takashi Sugiura's nearly 600-day reign with the GHC is proof enough to be considered the 3rd Ace.
The young prince was given another chance, but a career-defining reign it was not. By the end of 2012, behind-the-scenes politics led Shiozaki, Akiyama, and Kobashi to leave their home of NOAH for All Japan.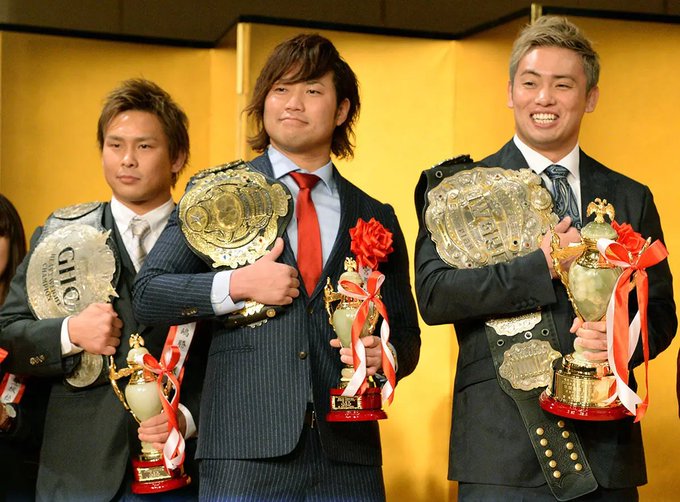 With NOAH in a power vacuum, the campaign for the crown was an open race. After a great showing in the 2016 G1 Climax, almost making it out of his Block, the 28-year-old Katsuhiko Nakajima was in the prime of his career.
In October, he won the GHC title from Takashi Sugiura and at last held the same championship that Kensuke Sasaki once did. He had 7 defenses against some of the best in the industry, going deep into the next summer before dropping the belt in August 2017.
Teaming with fellow Diamond Ring product Masa Kitamiya as the Aggression, Nakajima would win the GHC Tag Team titles in March 2018. One month later, they would lose the belts to Go Shiozaki (who also signed with NOAH in 2016) and a 21-year-old prodigy named Kaito Kiyomiya.
The Aggression regained the titles in May but lost them in July. Having been a clean-shaven, clean-cut young man for his whole career, this was an era where Nakajima began growing out his facial hair and curly mane for a more deranged look.
In December, Nakajima and Shiozaki were put together as a team to compete in a short tournament to fill the vacant tag titles. In the finals, they faced Masa Kitamiya, partnered with Kenoh, who was an intense and devious force within NOAH.
Nakajima and Shiozaki won the titles but lost them in short order. The belts would continue to hot-potato, but by February 2019, the makeshift unit, now known as AXIZ, was ready to give the titles some stability. Two axis lines, running perpendicular, formed the center of NOAH.
AXIZ, The Song of Love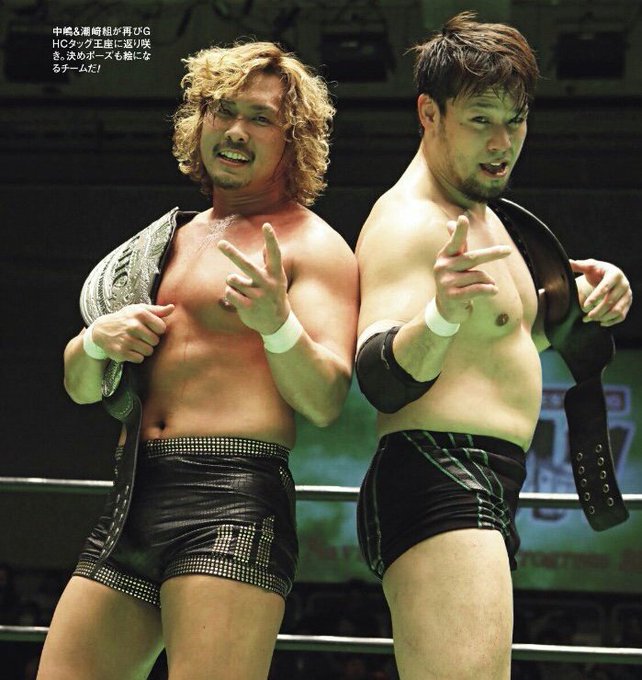 Over their 3 reigns across the year, AXIZ held the tag belts for over 300 days. With Nakajima's kicks and Shiozaki's chops as lethal as rubber bullets on flesh, the duo looked united and unstoppable. After all, AXIZ were homies.
They wore matching gear. They posed for photo books together. They even exchanged chocolate on their 'Endless Love' Valentine's Day YouTube stream. They were from different worlds, but they shared the same path. The AXIZ signature pose had them back to back, one leaning back onto the other for support. 
Their bond even translated to their singles careers by 2020. On January 4th, Shiozaki won the GHC title for the first time in 4 years, embarking on his longest reign ever. In May, Nakajima won the GHC National title, NOAH's newly minted secondary title.
As the Pandemic ravaged the Japanese wrestling scene, the AXIZ homies stood together at the top of their company. But late into the summer, everything changed once Katsuhiko Nakajima lost his red belt to Kenoh.
Mere weeks later, AXIZ faced Sugiura and Kazushi Sakuraba for the tag team titles, vacant like they were when the homies first came together. After a 30-minute war, Shiozaki was choked out by Sugiura for a stoppage victory. Immediately, Kenoh and his band of bruisers, KONGO, stormed the ring to challenge for the tag belts.
But Kenoh, ever the asshole, turned to insult the supine Shiozaki as a weak GHC champion. Like his mentors Misawa and Kobashi, Go had given wrestling his everything, and his body was paying the price. His shoulder was giving out.
In recent weeks, he had also submitted to Sakuraba and gone to a 60 minute draw against Kenoh.
Katsuhiko Nakajima stood up for his homie and chased off the Kongo wolves. He helped up Shiozaki to his feet and dropped him with the Vertical Spike brainbuster. Nakajima had turned his back and found new friends.
Perhaps the boy who was promised the world was bit by jealousy as he watched his best friend wear the Global Honored Crown. "If you don't need me," Nakajima concluded, "then I don't need you."
Katsuhiko Nakajima and The Okada Incident
Two months after the Endo incident, Katsuhiko Nakajima participated in the N-1 Victory tournament, looking for his third straight win and to get back in the title picture. He struggled in his first three matches with a 1-2 record.
But going 3-0 after that put him in a great position to be alive on the final night. He was facing Kinya Okada, a lower-tier wrestler with zero points. 
3 minutes into the match, Nakajima hit a running PK to Okada's face, fracturing his jawbone and putting an end to the match. Nakajima showed brief concern to his opponent and left just as abruptly.
He was gone before Okada was stretchered out. And in the end, he didn't even win the Block. Kaito Kiyomiya won his bout later in the night, advancing over Nakajima via tiebreaker.
The story of his tumultuous 2022 is not an easy one to decipher. Judging only from the information that is available, it seems plausible that Nakajima was frustrated to say the least.
He started the year on the run of a lifetime only to lose the GHC title, not be booked for CyberFight Festival, and be used as a last-minute replacement. Whether he was intentionally hurting people or just being careless, Katsuhiko Nakajima's reputation was falling unless he could do something about it.
Kenoh, Rogue Fist of the Kongo Faction
After adopting the red colors of Kongo (Japanese for "diamonds") and changing his walkout music at the end of the summer, Katsuhiko Nakajima became a new man. Though Kenoh ran a strict ship of his combat cult, Nakajima wore a darker shade of red and often kept to himself. He was the caged animal of the group, even stronger than their own leader.
In all his previous runs in the N-1 tournament, he had never outright won his Block. In 2018, the Block winner couldn't compete due to injury, so Nakajima won an emergency play-in match to advance.
But in the fall of 2020, there was no caveat when Nakajima made it to the finals on his own and beat Kaito Kiyomiya to win his first N-1 trophy.
Kicking the hell out of a young supernova touted as the new Ace and savior of NOAH must have felt cathartic. In his post-match speech, Katsuhiko Nakajima declared himself as the strongest in the company and perhaps that he'd ever been.
Even when Shiozaki (who didn't advance past Kiyomiya in block action) entered the ring, Nakajima flashed his maniacal grin and taunted him. The battle between former homies was set for November.
Capping off the 20th anniversary year for NOAH, Shiozaki and Nakajima started their match with a stare-down under the full weight of history. The Kongo man relied on his ruthlessness from the start. He used an eye rake early on, tried to win by countout, and targeted the champion's ailing shoulder. 40 minutes of brutal warfare exhausted both men.
But through sheer willpower, Go Shiozaki survived and retained the GHC title. Shiozaki would drop the belt to Keiji Muto in February 2021 and soon after had shoulder surgery to keep him out of action for months.
If an Ace is defined by the numbers and the narrative, then a 400+ day reign during the pandemic was the prince's way of living up to the role.
Meanwhile, Katsuhiko Nakajima was on the rebound, teaming with KONGO stablemate Masa Kitamiya to win the tag titles in March. But by May, an errant kick during a match unlocked the hatred and distrust that Kitamiya harbored since their days in Diamond Ring, leading him to turn on Nakajima and break up The Aggression.
They settled their differences in a steel cage, putting their hair on the line, a first for NOAH on both stipulations. Nakajima lost in a bloody affair and took his shaving with honor at the hands of Kenoh.
The matter of the tag belts was resolved a month later when each man found a new partner and fought, with Kitamiya victorious once again. The summer may not have been kind to Nakajima, but at least his head could stay cool in the sweltering Tokyo weather.
As spiky blonde hair began to reappear on him, autumn came, bringing back the N-1 Victory tournament. The field was divided into four groups of 4. Nakajima won his Block at 2-1.
On the day of the Finals, Nakajima won his semifinal against Masakatsu Funaki in a (quite literally) bruising battle. Funaki was a respected figure 20 years his senior, who also was a teenage martial artist who debuted in wrestling at 15.
In some ways, it was like a glimpse into the future. Later in the night, during the Finals, Nakajima fought Kenoh in an incredible, hard-hitting match. In the end, they wound up exchanging shots to the jaw, and Nakajima stood tall against every slap in the face. He dropped Kenoh with the Diamond Bomb and won his second straight N-1 trophy.
After facing his future self and his present ally, it was time to face his past. Naomichi Marufuji was the GHC champion at the time. He was the one stalwart to never leave NOAH since its inception.
So when Nakajima beat Marufuji with the Vertical Spike, it felt like a changing of the tide. His first reign with the crown was a lifetime ago. He was at the height of his power, the Mad Wolf of Kongo, and confident enough to declare: "I am Noah."
And in December 2021, Shiozaki returned to challenge him. He refused to accept the man who erased his identity and wanted to reunite AXIZ as the condition if he won.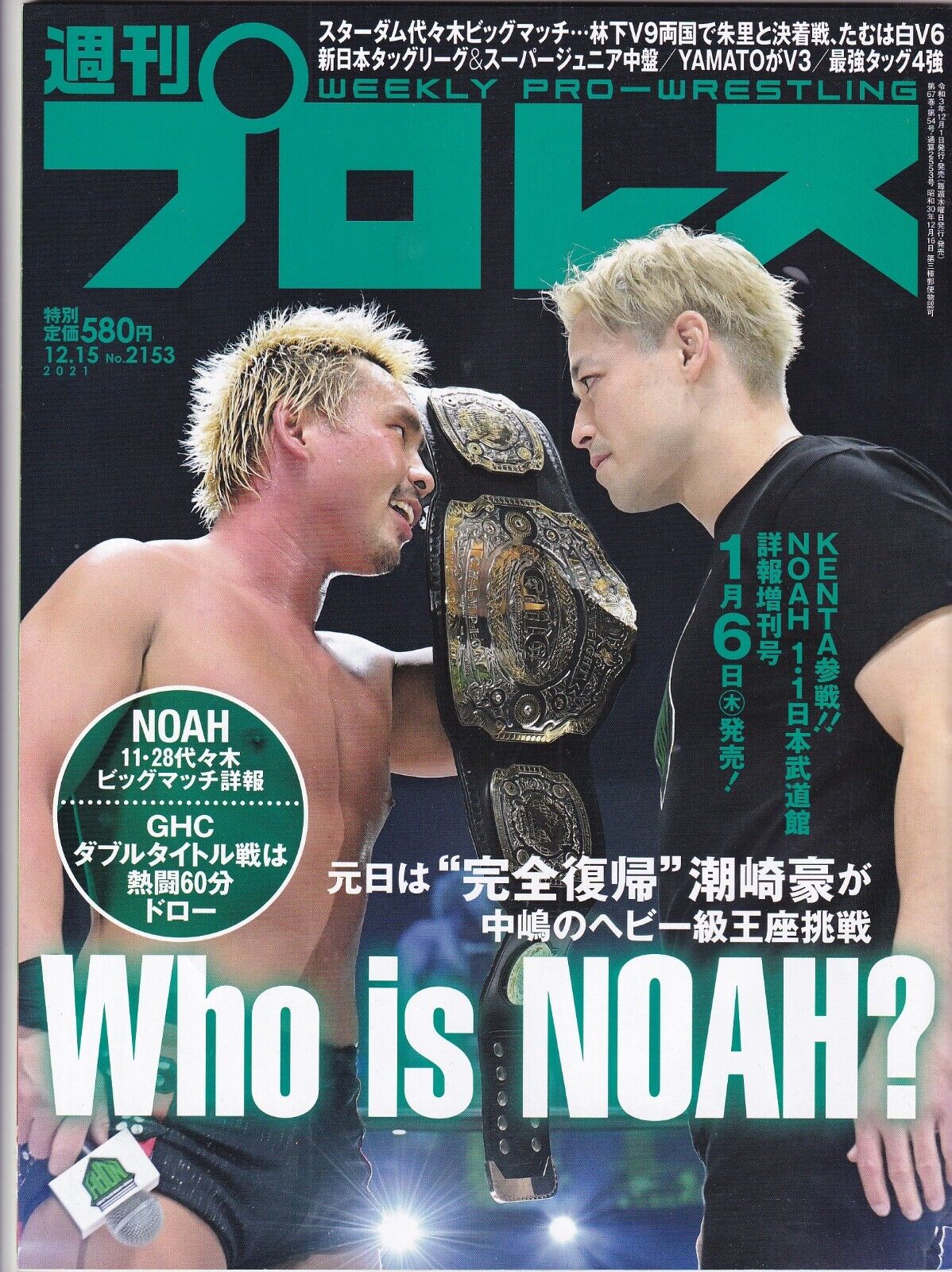 AXIZ, The Infinite Health of Homies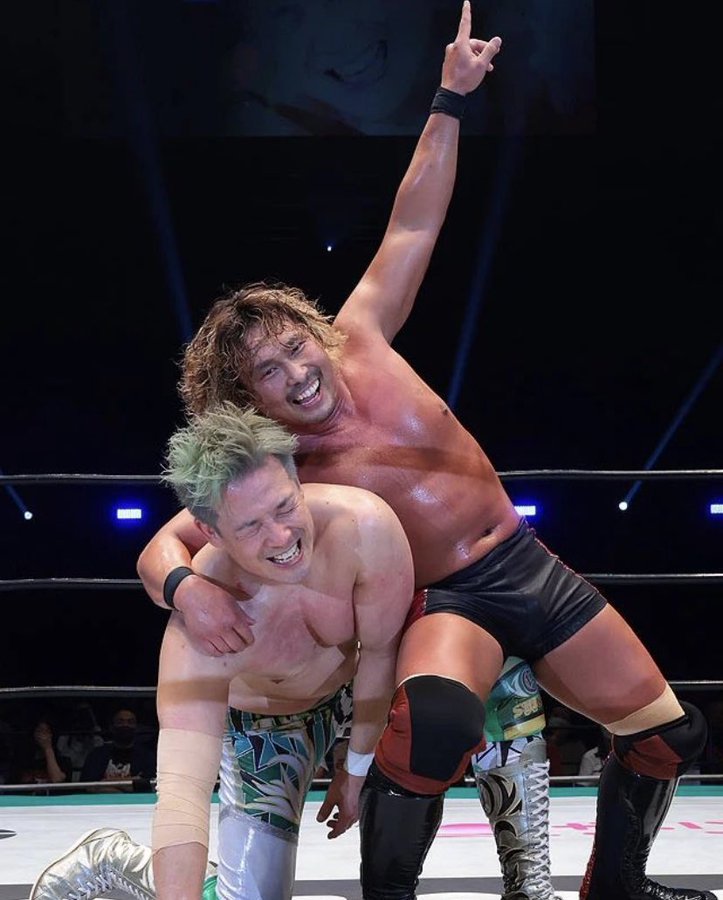 Nakajima was stuck watching his difficult 2022 spill over into the new year as Kongo began to stumble and fall apart, failing to take down Los Ingobernables de Japon in January. Then, in May 2023, Go Shiozaki returned after another months-long hiatus.
The former homies squared off in a 6-man, and the rivalry was as alive as ever. Nakajima dropped Shiozaki with the Vertical Spike for the win and picked him up after the match. He turned a potential slap into offering his hand.
In Nakajima's mind, Shiozaki looked weak, and Kenoh didn't need him anymore in Kongo. With the return of their signature pose, AXIZ was back.
Katsuhiko Nakajima left Kongo, shaved his face, and changed his colors again. As much as he wanted to help out his old friend, the benefit ran both ways. On June 15th, Nakajima had one of the best and biggest wins of his career when he defeated Kento Miyahara, the Ace of All Japan, in a match-of-the-year contender.
Meanwhile, Shiozaki went on to win the N-1 Victory, his first singles tournament victory in Noah, though the GHC would elude him.
Then Nakajima suddenly announced that his contract was expiring and he was leaving NOAH at the end of October. For seven years, they had been like a family, but finishing up his 20th year as wrestler since 2004, Nakajima has decided to pursue new challenges.
On October 28th, AXIZ lost to the company standard bearers: the Killing Machine Sugiura and the Genius of the Ark Marufuji. Afterwards, Nakajima and Shiozaki shared one last bow before it was curtains, homies now and forever. 
As one story ends, the next chapter has already had a wild kickstart. Nakajima attacked Miyahara on All Japan turf, took over the AJPW President's office demanding a title shot, and won the Triple Crown championship on November 5th, 2023. And in that bout, the late dagger that clinched the match was his signature open-hand slap.
If he truly means to follow in his father's footsteps, the Mad Wolf might roam over to New Japan and challenge for the IWGP title. Or he could be a new mercenary for the Don Callis Family in AEW. Or some other avenue no one expects.
The world is his. Whoever has Katsuhiko Nakajima will be getting a fantastic pro wrestler with experience and kicks unlike any other. He's a man with a troubled past and a bright future.