Jeanne Basone is a longtime Cauliflower Alley Club member, regular attendee, and honoree. Jeanne has constantly reinvented herself. And as a wrestler on the original weekly GLOW show, she was involved in all sorts of wacky soap opera-esque storylines. Now she's actually involved in soap directly. Literally. GLOW's Jeanne "Hollywood" Basone goes from one soap opera to another.

Since 1986, Jeanne's been a friend since GLOW's taping days of on The Strip. Basone became a breakout star of GLOW. Much like Tina/Lisa Moretti, who went on to WWE stardom as Ivory. Either paired with her tag partner "Vine". Or in her many singles matches during her seasons there.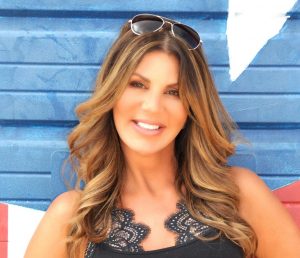 After leaving GLOW, she and another star in Cheryl "Lightning/Lil Mo" Rusa, knew they wanted more thorough pro wrestling training. More then the intense and short stint they were given in GLOW. They kept their new-found grappling passion alive. With Sue Sexton and other CAC'ers continue training them further. Both have also attended Cauliflower Alley Club reunions since 1993. They have also been CAC honorees when our Baloney Blowout Tuesday Night event was turned into a total GLOW tribute evening several years back.
Jeanne "Hollywood" Basone Goes From One Soap Opera to Another
Jeanne, Cheryl, and many of their original GLOW compadres have always had their annual Glow booth in vendor rooms. At many of the significant Comic-Cons and related fanfests worldwide, they can be seen. And most surprisingly, she's even worked with Billy Corgan's NWA. And hopefully soon as well, for his side project tentatively called Carnyland. Corgan, of course, is the creator and lead singer for the hugely-popular, alternative-music band Smashing Pumpkins.
Since GLOW, both Jeannie and Cheryl have also worked regularly on tv and film. Both women are also decorated stuntwork artists/athletes for both mediums. But now Jeannie has also taken another of her childhood artistic dreams and turned it into an actual business. Not long ago, she launched her own hand-crafted soap line called Hollywood Botanika/Nashville Botanika.
"It's named that because I still call Hollywood, California and Nashville, Tennessee home, bopping back and forth between these major cities. I enjoy being creative and expressing myself. Just as I've done in the ring all these years."

 
There are intricate designs like her Sea Goddess and Mermaid soaps. With unique colors, and reported clean ingredients. These include; aloe, lemongrass, clover, and tea tree. There are also dedicated to hypoallergenic animal lines. Check out Jeannie's hand-crafted, artisan natural soaps at hollywood-productions.myshopify.com. "Business really peaked since March as everyone needs to wash their hands much more now," she said. 
Many in the biz know Jeanne's always given back. Often helping others in the wrestling world. It was no surprise she recently set up and donated her time and money to a GoFundMe. This act of generosity was for a former GLOW star's burial expenses. Ursula Hayden aka Sally The Farmers Daughter passed away recently. Just like her GLOW days of taking on Susie Spirit, Dementia, Mt. Fiji, and more. Jeanne remains a colorful, thoughtful character bigger than life. She says she "can't wait until this whole Pandemic is over, and we have a vaccine and a cure."