Mizuki and Maki Itoh are two of the hottest names in the landscape of Japanese women's wrestling. Mizuki's athleticism and high flying can wow any stranger. Maki Itoh's emotion and charisma can capture any audience. And in their early years, they used to be an inseparable tag team.
It's a tale as old as time, as cliche as that may be. They were barely even friends. But friendships start and end unexpectedly. 
Mizuki's Heart: Be Our Guest 
Once upon a time, a girl named Mizuki moved from Kobe to Tokyo to become an idol-pro wrestler. She debuted at the age of 17 in the closing days of 2012, trained by Takako Inoue and Tomoka Nakagawa for Ladies Legend Pro-Wrestling.
Late-stage LLPW-X had a sporadic schedule, leaving Mizuki to have only a few shows across 2013. It wasn't until 2014 that she and her tag team partner Saki would find a stable home in Emi Sakura's Gatoh Move.
As a woman who founded two wrestling companies and trained both Hikaru Shida and Riho, Emi Sakura was nothing short of a queenmaker.
She mentored the Brilliant Battle Girls (their idol name, Buribato for short) on the ropeless mats of Ichigaya Chocolate Square, instilling in them a fun-loving style of pro wrestling. Mizuki and Saki learned like sisters.
They shared nearly every match throughout that first year, only to branch out as time went on. Being the younger one, Mizuki never could beat Saki in a one-on-one match.
Through 2015 and 2016, they expanded their careers to various independent promotions like Ice Ribbon, Marvelous, and SEAdLINNNG. The duo of Buribato reached their pinnacle when they won the inaugural Asia Dream Tag Team titles in Gatoh Move.
But they were still technically LLPW-X wrestlers. Once that label was gone, each had a decision to make. In 2017, Saki decided to open up her schedule as a freelance wrestler, while Mizuki set her sights on a growing young company called Tokyo Joshi Pro Wrestling.
Mizuki's Heart: A Whole New World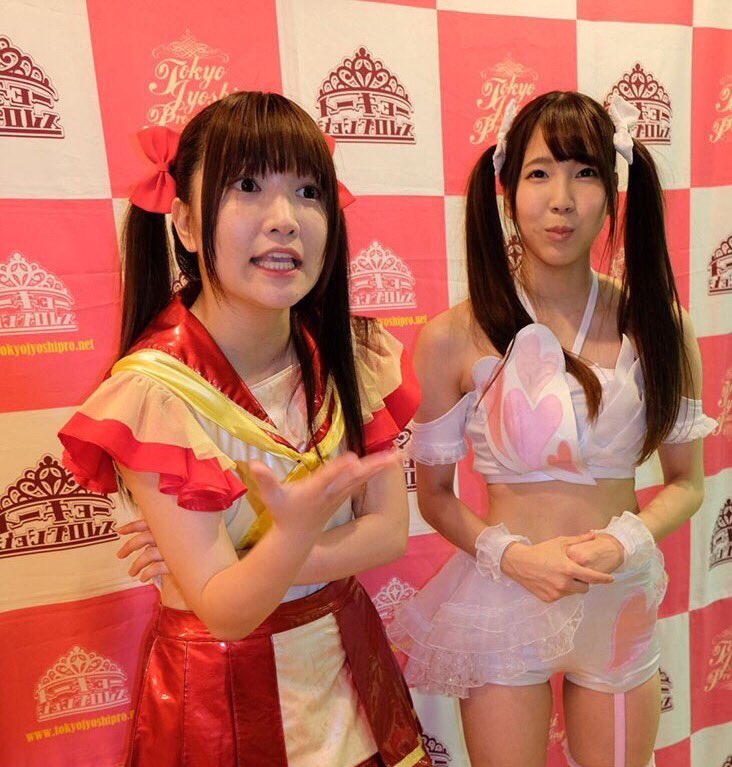 On April 8, 2017: Mizuki made her debut in TJPW by defeating Maki Itoh with a bridging suplex, the Cutie Special. Everyone is the protagonist of their own love story, so suffice to say that Maki was not happy competing with another singer/dancer popping into orbit.
The struggling idol turned struggling wrestler had only just debuted in December herself and was desperate for fame and glory.
Rather than being eclipsed by the next cutest thing, Maki conscripted her to be the first member of the Itoh Respect Army, whose mission is self-explanatory. And Mizuki accepted. After all, making friends at a new school can be difficult.
As Maki Itoh continued to learn the ropes while losing, the Popping Sugar Rabbit continued her run in winning most of her matches. Rookies on the TJPW roster are rare to get a singles victory so early, but Mizuki wasn't trained in the Tojo Dojo.
She defied all expectations and made it to the semifinals of the annual Tokyo Princess Cup in her rookie year, only to lose to a company cornerstone, the Magical Girl Yuka Sakazaki.
With one-half of the Itoh Respect Army doing well, it took a few more months for their leader to benefit from the partnership. Sure enough, Maki Itoh scored her first singles victory in August.
The Rise of the Itoh Respect Army
The Army unit got their first doubles win soon after, in the quarterfinals of a tournament to crown the inaugural tag team champions. Although they lost in the semis (to the eventual winners when Yuka pinned Maki), Mizuki had pinned the singles champion in round 1: earning a shot at the prestigious Princess of Princess title. She lost, but Maki was there for comfort, as Mizuki had done for her many times before.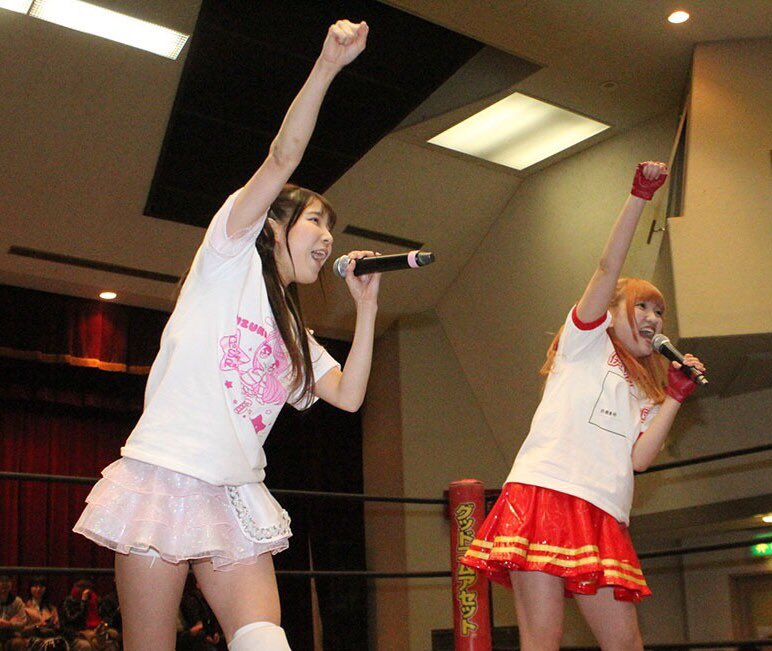 Mizuki and Maki ended 2017 on a high. Mizuki had gone to a time-limit draw with Yuka, and Maki had debuted the Army's new duet as her entrance song. They qualified to go after the tag titles for the first time, but Maki was already booked for a singles match on January 4th.
But still, she gave her blessing for Mizuki to team with her Gatoh Move classmate Riho to challenge Yuka Sakazaki and Shoko Nakajima. On January 4th, 2018, Yuka beat Mizuki again, and Itoh lost her match as well.
The good news, however, was that they got to kick off that Korakuen Hall show singing and dancing to their song. And continued as the opening act of all TJPW events for months to come.
They even shot a music video. The first half of 2018 saw them have their ups and downs. Maki managed to raise her profile as she was featured more often on DDT programming (TJPW's big brother company), while Mizuki found herself on rookie duty with the newest idol group on the roster, the Up Up Girls. 
At May's event, Yes Wonderland, Maki Itoh suffered a crushing defeat to Riho. Believing that Mizuki could not respect a loser like her, Maki thanked Mizuki for being with her simply out of the kindness of Mizuki's heart and announced the end of the Itoh Respect Army.
Mizuki told her she wasn't just being her friend to be nice. She really did like being with her. Overcome with emotion, Maki agreed to keep their group alive, thanking Mizuki and tackling her to the ground for a great big hug.
Yuka's Hand: You've Got a Friend in Me
When Itoh Respect Army finally got their official tag title shot two weeks later, Maki took the fall again. Soon after, they both lost in the first round of the Tokyo Princess Cup to the stone walls they couldn't seem to climb over, no matter how much they improved:
Maki with Miyu Yamashita and Mizuki with Yuka Sakazaki. In August, their world was turned upside once more when a one-day tournament swapped partners for the whole roster.
Maki was paired with Miyu, and Mizuki was paired with Yuka. The Magical Sugar Rabbits were born, but they almost ceased to exist past the first round. A simple game of janken settled the time limit draw, advancing Yuka and Mizuki in the tournament.
They missed meeting Maki and Miyu in the finals when Maki lost on the other side of the bracket. Yet they crossed the finish line of this unique showcase to win it all. And in the post-match, MagiRabi made a claim for the recently vacated tag titles. 
Maki objected to this proposal, coming down to the ring and making her own challenge for the belts. And in her corner would be Reika Saiki, the tag champion who had been stripped of the title, but received her injured partner's blessing to do the match.
To say that Maki had an affinity for teaming with successful wrestlers was an understatement.
(Photo: Wrestle Universe – Itoh Respect Army implodes, Aug. 2018)
A few weeks later, at the big August show Brand New Wrestling 2, the teams did battle. Late in the match, Maki and Reika looked to have victory in their grasp as they held Mizuki and Yuka, respectively, in modified Boston crabs.
But Team MagiRabi grabbed each other's hands and crawled to the ropes together. After a passionate finishing sequence between the Army members, Mizuki pinned Maki to win the titles. As they stared each other down forehead to forehead, Mizuki offered a handshake only to be shoved away by Maki and sent crying into Yuka's arms.
Maki and Mizuki met again a month later; their first singles match since April 2017: on the day the Itoh Respect Army was formed. They fought, and they screamed, and they went to a 15-minute time limit draw: more than twice as long as that first bout.
In the center of the ring, they used their words to hash things out. Neither thought they won, and both cried that their time together was coming to an end.
Maki was upset that Mizuki was having fun without her. But Mizuki refused to apologize for her chemistry with Yuka: "Is there anything wrong with working with someone because it's fun?"
After throwing one more strike each, they bowed hand in hand. They weren't going to salvage what they once had, but at least they could agree that things would be different.
Maki's Head: Part of Your World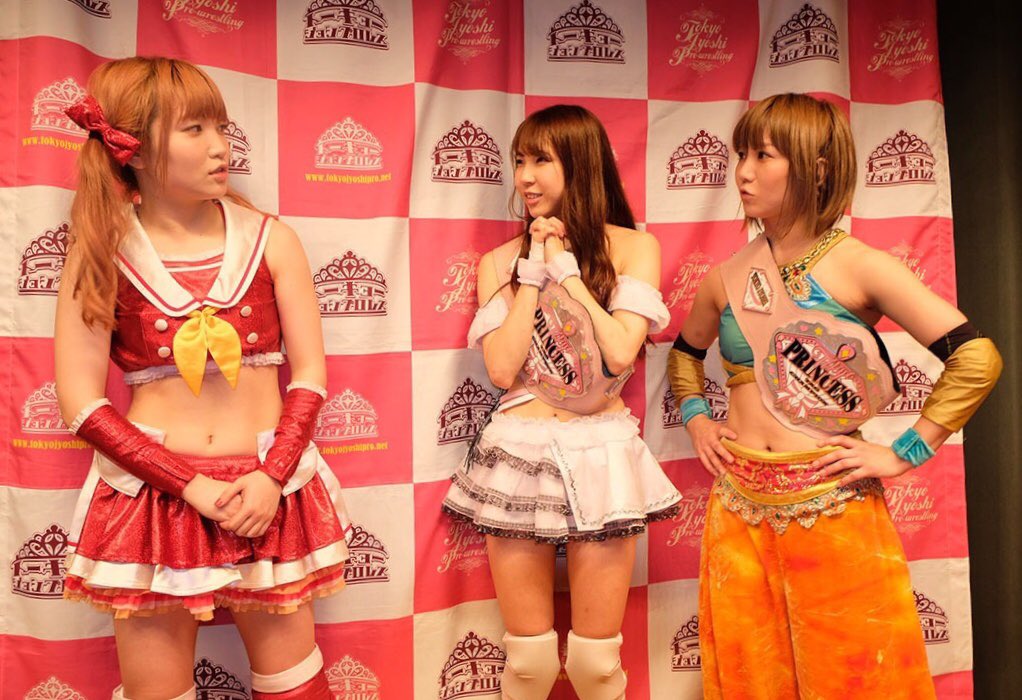 From the second half of the year onward, the Up Up Girls became the opening musical act while Maki and Mizuki still tried to make things work. They continued to tag and even involved Yuka a few times. But new friends and old ones don't always mix well.
Since their September clash, where she refused the customary pre-match handshake, Maki began to ignore everyone for such polite formalities. She respected no one. When Mizuki was on the opposite side of a trios match in December, she insisted on the handshake to no avail as Maki isolated herself in the corner.
On January 4th, 2019, MagiRabi made the 3rd successful defense of their tag titles. Meanwhile, Maki was in the main event challenging for Miyu Yamashita's Princess of Princess title.
She fought hard in the biggest match of her career but lost. Maki rejected Miyu's sign of kudos with a middle finger and left the ring on her own power, rejecting any offer of help to the back.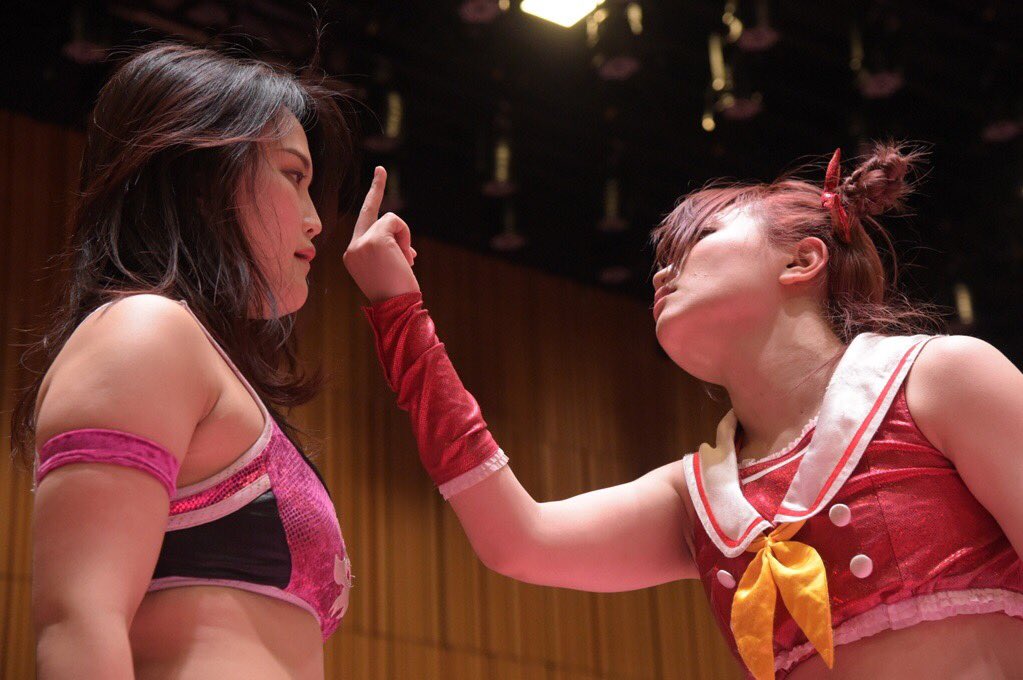 In the following months, Mizuki and Yuka would embark on a tour of numerous title defenses while Maki found solace with some of the rookies. She could pick up wins against those less experienced, and she even formed a brief tag team with Raku, one of the purer souls on the roster.
She began to warm up to the idea of honoring the pre-match handshake, but another freelancer joining TJPW put her right back into a bad mood.
Natsumi Maki had a big debut for the company on January 4th, a bright and shiny new toy who knew she was cute. The difference between her and Maki Itoh was that Natsumi had the impressive athleticism to back up the hype.
So when they met at the end of February, their race for popularity was evident. Natsumi went for her finish, but Itoh reversed for a quick cradle and won.
And lest anyone think it was a fluke, the next month, she tapped out Rika Tatsumi, hot off her return from injury. Taking back the spotlight led her straight to her American debut at DDT's show in New York, once again wrestling and losing to Miyu Yamashita.
Maki's burgeoning confidence also led her to challenge the 90s icon Aja Kong at Yes Wonderland 2019. In Maki's mind, as the Reiwa Era was dawning on May 1st, her time was now.
She debuted her new entrance song, a solo project, and survived for longer than anyone anticipated. Maki put her middle finger in the face of a legend and got dropped for the 1-2-3. 
Last year, she needed Mizuki to help pick up her spirits. Here, Maki cheered up the crowd by turning her tragedy into comedy as she admitted that an 8000-dollar facelift had put her in debt, and it didn't even work right. Despite all her setbacks, she was determined to rise higher in the Reiwa Era.
Maki's Head: Go The Distance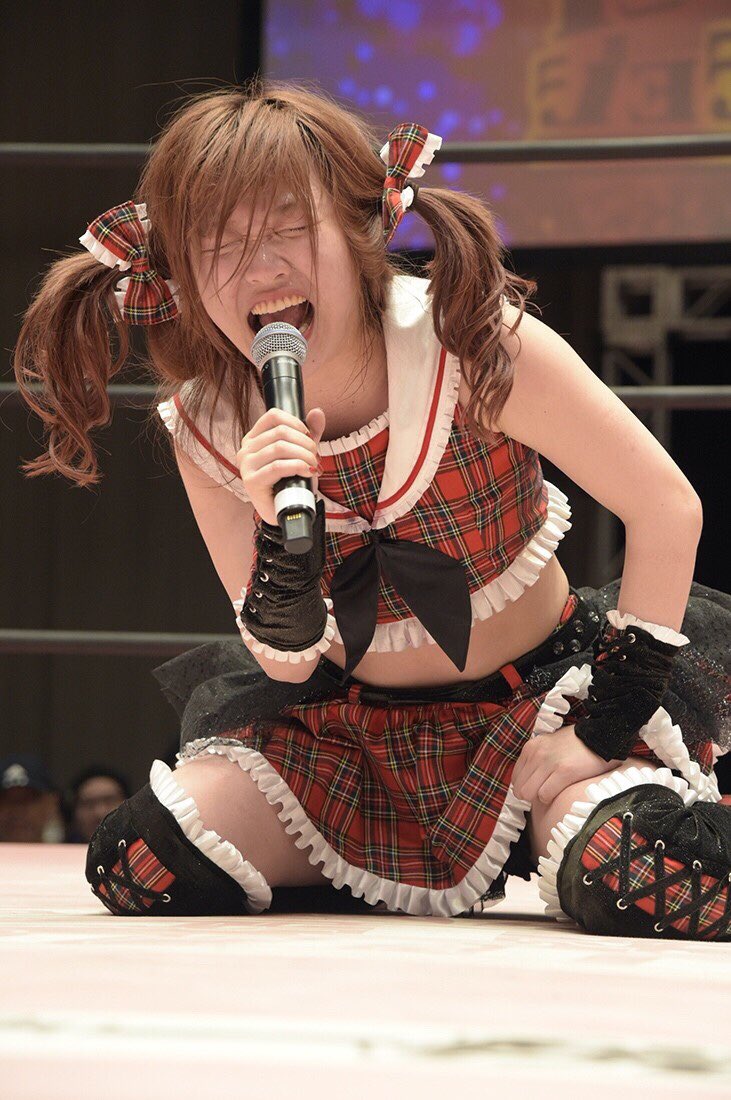 The 2019 Tokyo Princess Cup arrived at the end of May. In their first round, Maki defeated her informal partner Raku. Meanwhile, Mizuki scored the upset of her career when she beat Miyu Yamashita.
The next week's show reversed fortune in a hurry. Itoh met her old foe Natsumi Maki and was pinned with a quick cradle. And in between her own tournament matches, the Magical Sugar Rabbits lost the tag titles after a record-setting 6 defenses.
Mizuki's luck flipped again when an upset win over the Princess of Princess champion put her in the final four alongside Yuka. A lottery drawing set her up against Natsumi Maki. A reverse cradle of her own was the kind of turnabout Mizuki needed to propel her into a Finals appearance.
An hour later, she was facing fellow freelancer Yuna Manase, who had bested Yuka earlier. Mizuki won the Tokyo Princess Cup trophy and raised it with joy, on the fast track towards her rematch with the champion, Shoko Nakajima.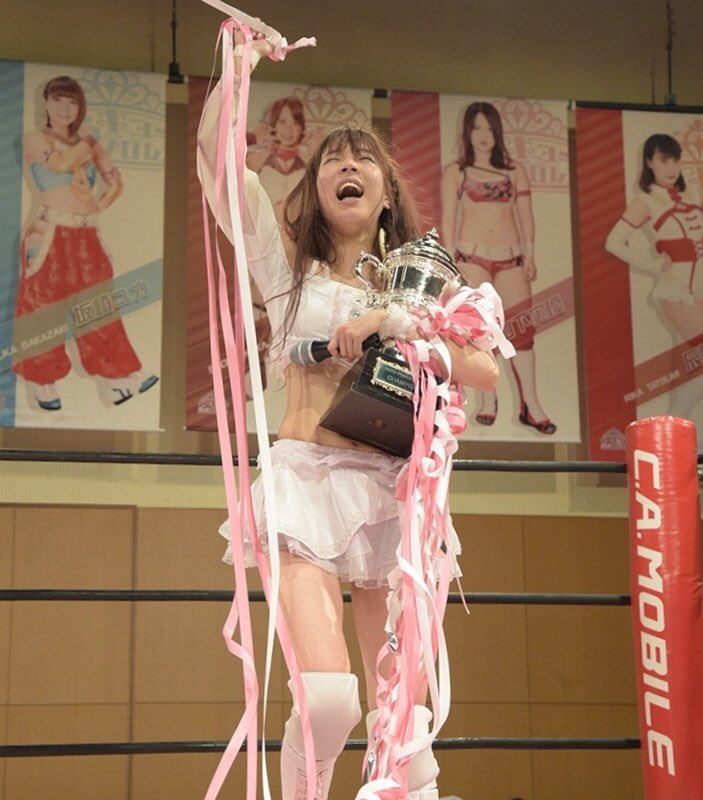 But before that match in September, a storm began to brew in the middle of the summer when Mizuki and Maki teamed once more. They had last tagged in March during Maki's feud with Natsumi in a losing effort.
On a random day in July, they came to the ring singing their duet, though it had been enough time that they had fallen out of rhythm.
The Fall of the Itoh Respect Army
Still, they worked well enough to get the win over a team that had Nakajima on it. But Maki was unsatisfied. So much so that after the match, she announced that the Itoh Respect Army would officially disband, surprising even Mizuki.
After one of them leveled up and won the Tokyo Princess Cup while the other failed so early, Maki could only chase her as rivals.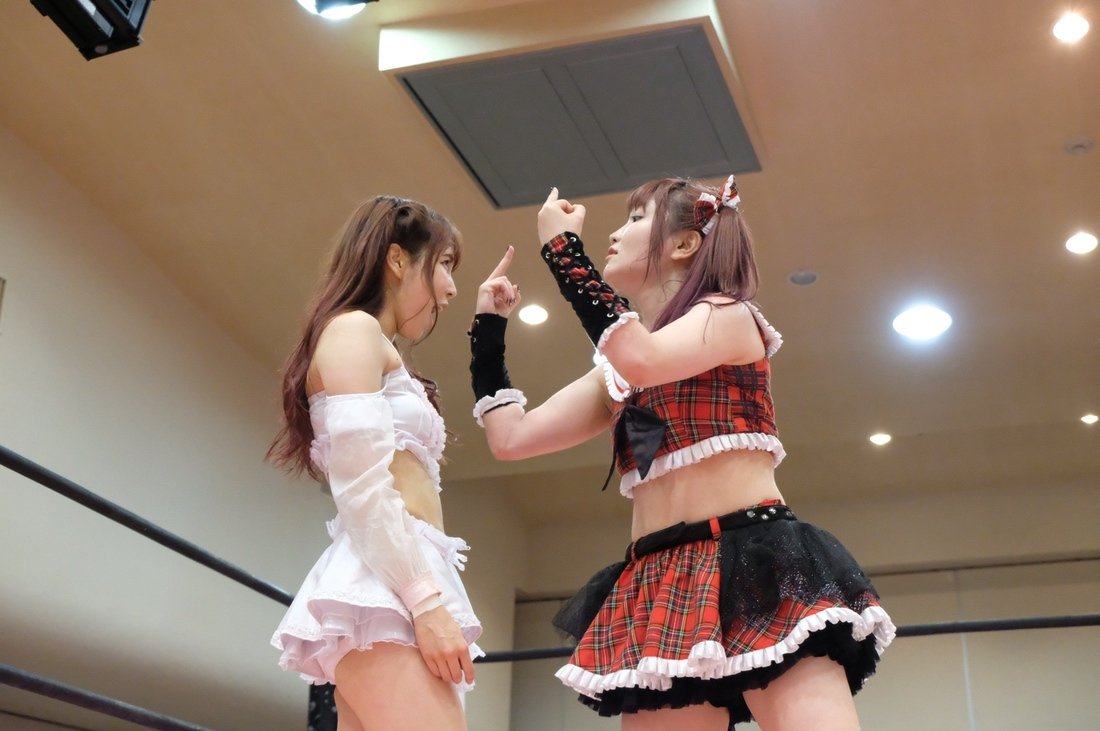 On August 25, Maki entered her match with Mizuki with the expressed intent of stealing the role of TJPW's protagonist. The former allies had all the counters ready for their fierce fight. Maki wasn't above strangling Mizuki with a microphone cord or throwing caution to the wind by throwing herself at her opponent.
Maki's head was strong. But Mizuki's heart was stronger. With a defiant middle finger held high, Itoh Respect Army ended the way it started: with Mizuki pinning Maki via Cutie Special.
Post-match, Mizuki left the ring, and Maki picked herself up with the mic. She realized that Mizuki was truly the shuyaku of TJPW. And also that she would have to play the best supporting role that she could.
Maki had surpassed the 15-minute time limit of their last match, setting a new record for her longest singles match to date. There was always room to grow. There is always someone to run after. And every Ace in the making needs a Dark Ace.
Mizuki's Heart: How Far I'll Go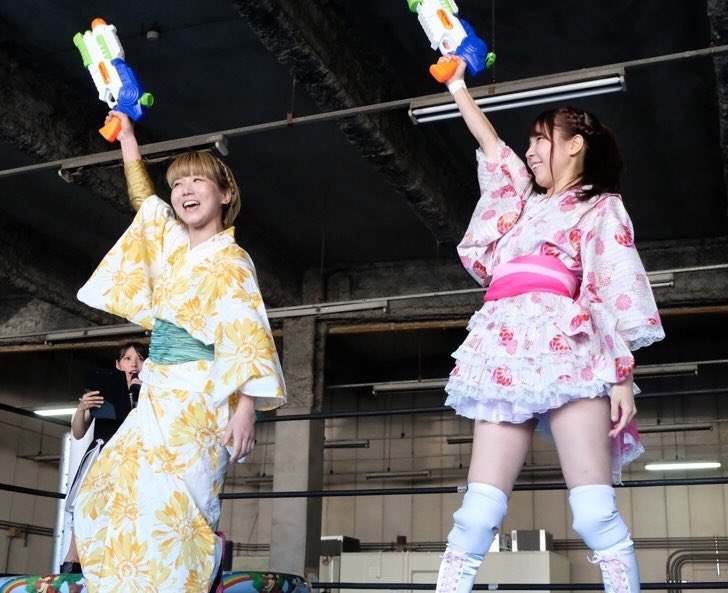 The fairy tale of Maki Itoh and Mizuki continues for years to come. This was just the story of how Itoh Respect Army ended and the Magical Sugar Rabbits began. They didn't break up on the best of terms.
Who does? But what happened between them got buried when they realized that the future might hold. That one day, they might agree to a handshake, sing and dance together again, or even share a mutual respect. And it all came true.
Mizuki's journey with Yuka, all the tournaments and championships, is a fascinating story in its own right. But the epilogue this tale needs is that Maki Itoh eventually found her own tag team happiness.
After a period spent on her own, she realized the world is too big to not find a partner who will never leave you. A wrestler who, in fact, has been by her side throughout the years. Since her TJPW debut.
A woman from the same hometown in Fukuoka. Someone born on the exact same date as Mizuki (March 16, 1995). And thus, the team of 121000000, Maki Itoh and Miyu Yamashita, was born.