The independent wrestling weekly news review for 09/21/20 is back for another week. During the last week, WrestlePro announced the return of its Sixteenth Dream Tournament. On Friday, Paradigm Pro Wrestling will host their Same Energy event with a full packed card which will put four championship titles on the line. Continuing the wrestling packed weekend on Saturday Synergy Pro Wrestling will host their 3rd birthday celebration.
---
Paradigm Pro Wrestling Announces Final Lineup For Their Same Energy Show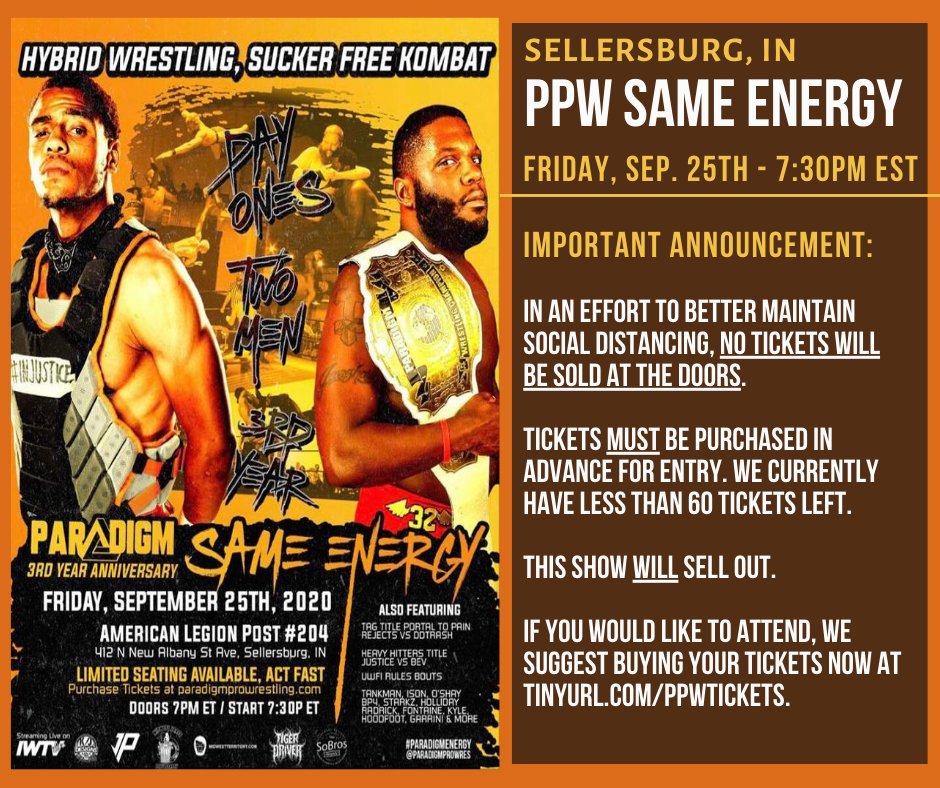 Paradigm Pro Wrestling will host their next event this week on Friday, 25th September 2020 in Sellersburg, IN. Same Energy is Paradigm Pro Wrestling's 3rd-anniversary show. The lineup for Same Energy includes Freddie Hudson vs Myron Reed for the Paradigm Championship. Bobby Beverly vs Matthew Justice in a street fight for the Heavy Hitters Championship. Cole Radrick vs Chase Holliday for the MWT.com Championship. And the Rejects vs DDTRASH for the Portal To Pain Tag Team Championships. To keep in line with social distancing rules tickets will not be sold on the door. Instead, everyone must pre-book their tickets by clicking the link right here.
Synergy Pro Wrestling will also host the Synergy's 3rd Birthday on Saturday, 26th of September 2020. The lineup for Synergy Pro Wrestling's birthday event includes Kirk vs Deppen. Austin vs Oliver, Warhose vs F'mare. Crawford vs Mason and Yuta vs Macintosh. Synergy's 3rd Birthday will start at 7 pm ET and will be held at the World Famous Monster Factory in NJ. It can also be streamed live on FITE TV. 
Independent Wrestling Weekly For 09/21/20
WrestlePro Announce The Second Annual Dream Sixteen Tournament
IT'S BACK! The second annual #DreamSixteen tournament returns Saturday 10/24 & Sunday 10/25!

16 Wrestlers • 2 Nights • 1 Winner

Union, New Jersey

Tickets on Sale Tomorrow at https://t.co/YRkmPOxu3Z pic.twitter.com/sAQSX0Kso7

— ?????????? (@WrestlePro) September 8, 2020
WrestlePro announced the second annual Dream Sixteen Tournament this week. Dream Sixteen Tournament will be held on Saturday 24th and Sunday 25th of October 2020 in Union, New Jersey. Dream Sixteen Tournament will see 16 wrestlers compete over the two nights, Richard Holliday and Ken Dixon have been announced to take part. Tickets for Dream Sixteen Tournament are available over at WrestlePro's website.
TNT Extreme Wrestling Has Released Guidelines For Those Attending Their Halloween Events This Year
TNT Extreme Wrestling has clarified with the British government that they will be allowed to host their 3 events over the Halloween weekend. Over the Friday, Saturday and Sunday TNT Extreme Wrestling will host three separate events. Supreme Extreme, Nightmare On Fleet Street and Sirens Fury. TNT Extreme Wrestling announced that at Nightmare On Fleet Street Alexxis Falcon will face off against Jayde. Also at TNT's Sirens Fury, the Pretty Little Killers will face the Tokyo Cyber Squad.
#TNTExtremeWrestling COVID-19 measures & procedures for future events. pic.twitter.com/W94T6m4uTL

— TNT Extreme Wrestling (@TNTExtremeWres) September 16, 2020
Before their October 30/31 and November 1 events, TNT Extreme Wrestling has released guidelines for those attending the events to remain safe from COVID-19. TNT Extreme Wrestling will keep in line with government guidelines. Those guidelines will be –
That a party must consist of no more than 6 people.
Every group must keep 1 meter apart from others.
TNT Extreme Wrestling will hand out a free face mask to every customer.
The full measures and procedures are shown above.
Zelo Pro Wrestling Has Announced More Matches For The Show Must Go On 
?THE SHOW MUST GO ON?

Sat. OCT. 17

Zelo Pro returns to historic Turner Hall Ballroom in Milwaukee, WI

Tickets are on-sale now!https://t.co/k52OZT57jz pic.twitter.com/djUWyMBl82

— Zelo Pro Wrestling (@ZeloWrestling) September 11, 2020
Zelo Pro Wrestling has announced more matches for The Show Must Go On which is set for Saturday the 17th of October 2020. The Show Must Go On will be held at the Turner Hall Ballroom in Milwaukee. The lineup for the event will include Laynie Luck, Alex Gracia, Matt Rehwoldt. The Filth King, Jake Something, Warhorse, Robert Ego Anthony, and Jesus Bryce Benjamin. Tickets for The Show Must Go On can be purchased at AXS.com.
Independent Wrestling Weekly For 09/21/20
GCW Announces Further For The Culture Matches Including Suge D Vs Trish Adora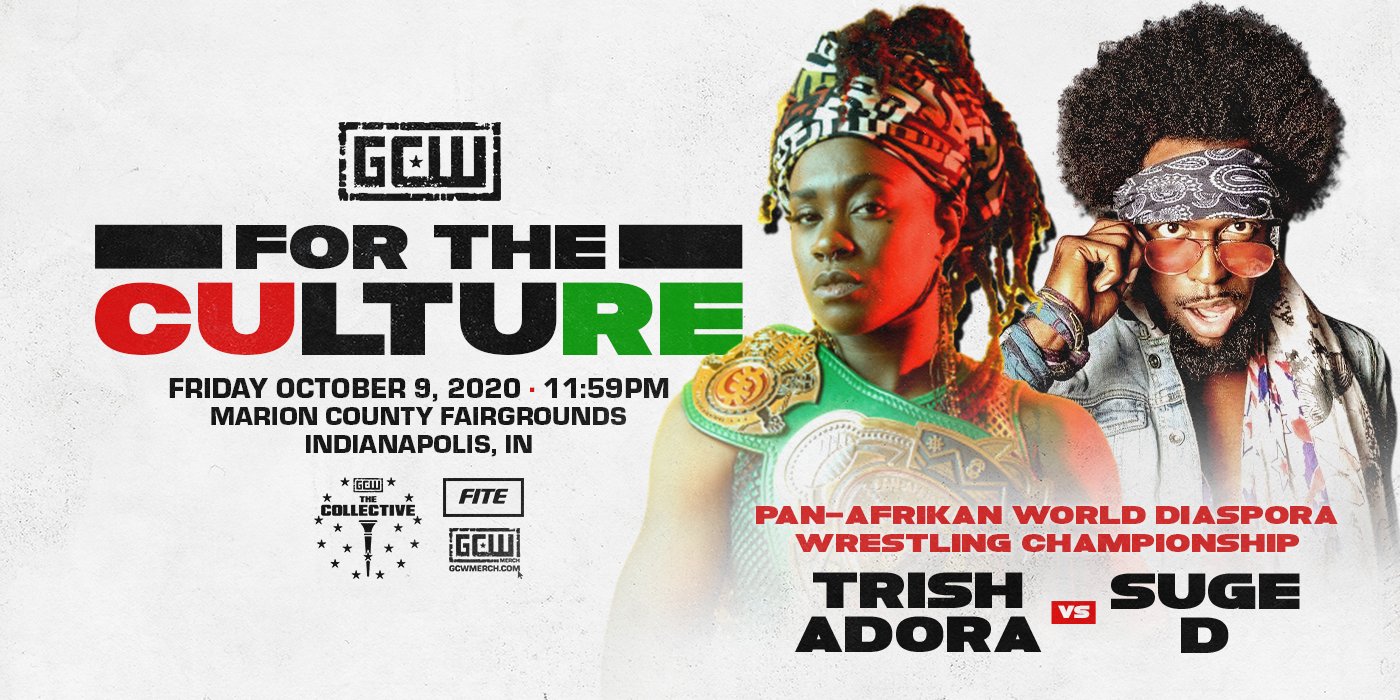 Game Changer Wrestling has announced further matches for their For The Culture event on Friday, 9th October 2020. For The Culture will be held at Marion County Fairgrounds in Indianapolis, IN. GCW announced this week that Trish Adora will face off against Suge D, or Pineapple Pete for the AEW fans. They will face off for the Pan-Afrikan World Diaspora Wrestling Championship. Game Changer Wrestling also announced ACH will face Lee Moriarty at For The Culture. Other wrestlers at the event will include Scorpio, Fox, Hobbs, Tankman, JTG, and Trey.
---
The Independent Wrestling Weekly News will return next Monday with all of your essential independent news. Join us next week for more show updates, promotion news, and results from the best indie wrestling.