This week's edition of Independent Wrestling Weekly for 01/16/23 highlights events taking place on either the weekend of January 20th-22nd. Since restrictions have been lifted throughout the pandemic, countless independent wrestling promotions have been putting on tremendous cards that spotlight talent from all over the world.
Each week we will highlight five different promotions, their cards, where fans can access their shows, and if they are in the areas, even purchase tickets to their shows. This week we will look at Limitless Wrestling, Prestige Wrestling, Barrie Wrestling, and Defy Wrestling,
Links to each promotion's social media will be available for readers to explore as well. Here is this week's edition of Independent Wrestling Weekly.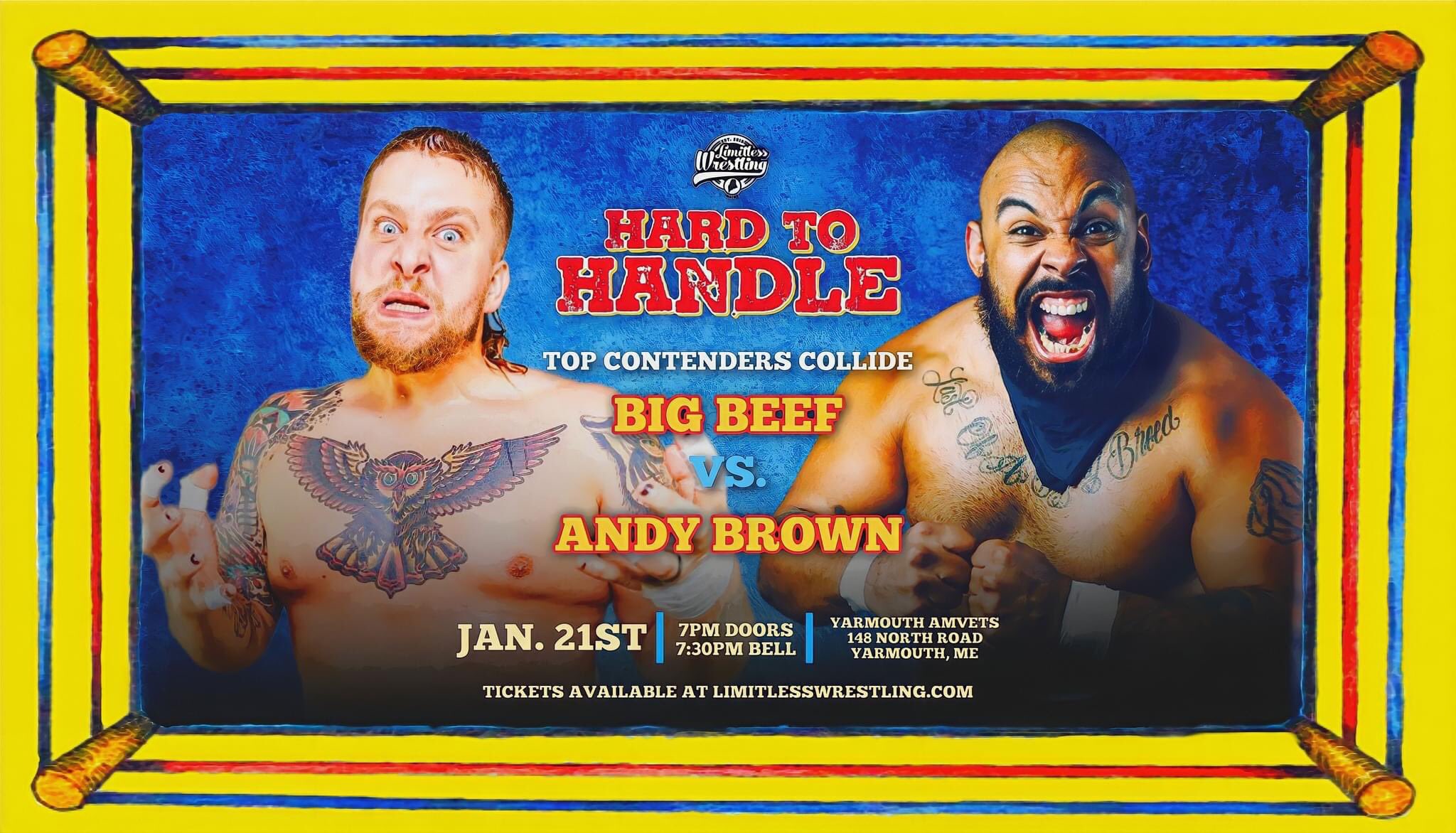 Independent Wrestling Weekly for 01/16/23
Limitless Wrestling Presents Hard to Handle
On Saturday, January 21st, Limitless Wrestling Presents Hard to Handle. The event takes place at Yarmouth Amvets in Yarmouth, Maine, and will air on IWTV. The show features five matches. One of which is a battle royal to determine the number one contender of the Let's Wrestle Championship.
Of the matches on the card, there is the one shown above in the graphic. Big Beef battles Andy Brown in what is aptly advertised as top contenders colliding. In singles action, Channing Thomas faces the legendary Ricky Morton with his son, Kerry Morton, in his corner. Ricky is making his Limitless Wrestling debut.
In singles action, Janai Kai, who has appeared on AEW television, faces B3CCA, who is making her return to Limitless. Alec Price stands across against the intimidating Dezmond cole. Also slated to appear is 'Top Shelf' Troy Nelson and Conner Murphy. Each match appears to be more talked about than the next.
Limitless Wrestling is approaching a sold-out show.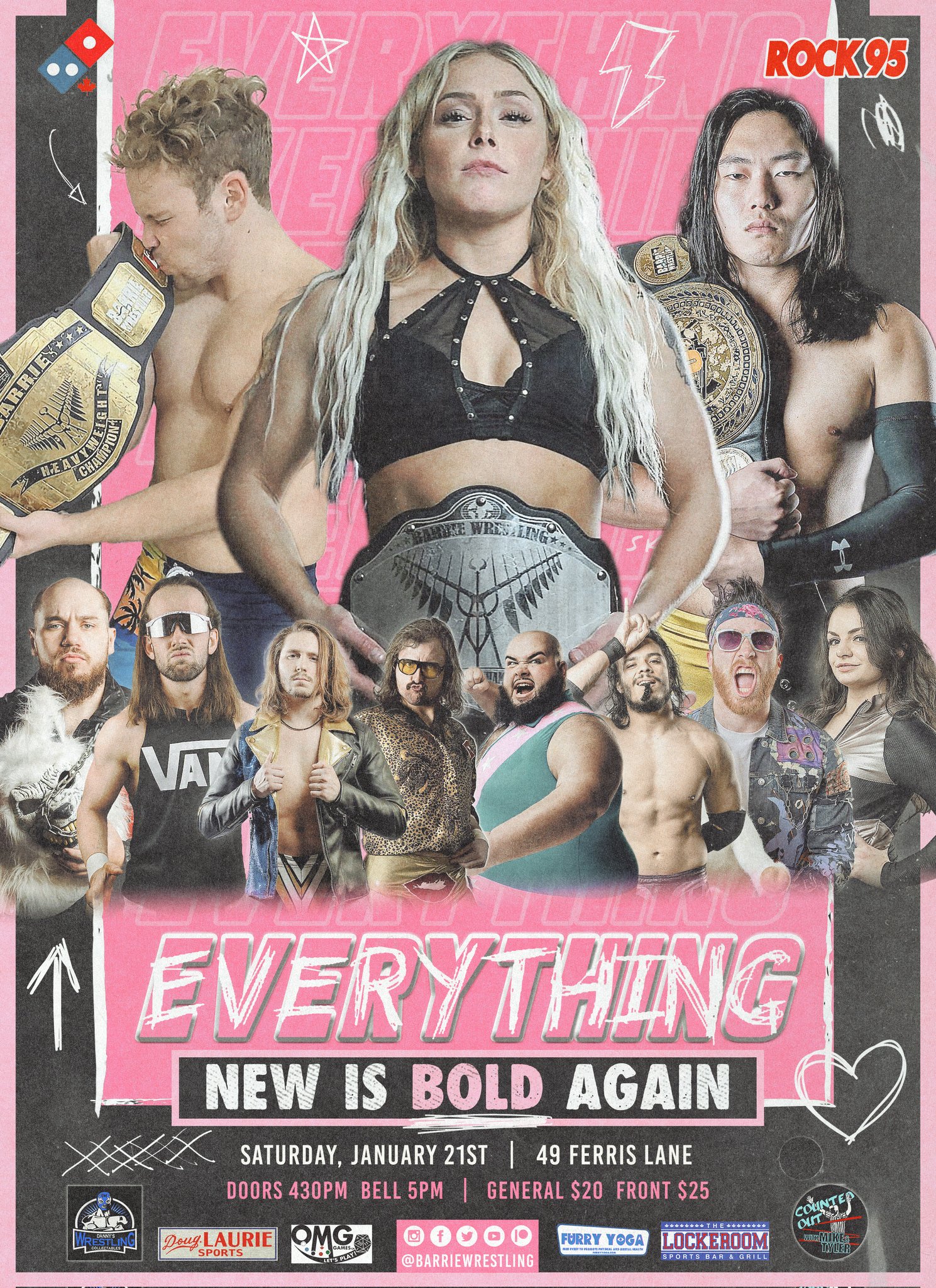 Independent Wrestling Weekly for 01/16/23
Barrie Wrestling Presents Everything New Is Bold Again
On Saturday, January 21st, Barrie Wrestling presents Everything New is Bold Again. The show takes place at 5 pm eastern, with the doors opening at 430 from 49 Ferris Lane. In if not the main event already, the match likely to be the main event on this evening is for the newly reinstated Women's Championship.
New Barrie Wrestling Women's Champion Taylor Rising defends her championship against longtime adversary Alexia Nicole. For those new to Barrie Wrestling, the two have had countless battles with each other. Whether it was in singles or intergender, their battles have been among the most talked about on the show.
In other action, world-traveled Vaughn Vertigo faces the Pacific Northwest's Judas Icarus. What happens when likely Canada's biggest few exports faces one of the PNW's fastest-rising stars? We are hoping the result is a win for all those in attendance. Finally, in a Hardcore match, Holden Albright battles Van Landon.
The broadcast will be available for those that weren't in attendance to watch the recorded broadcast on IWTV.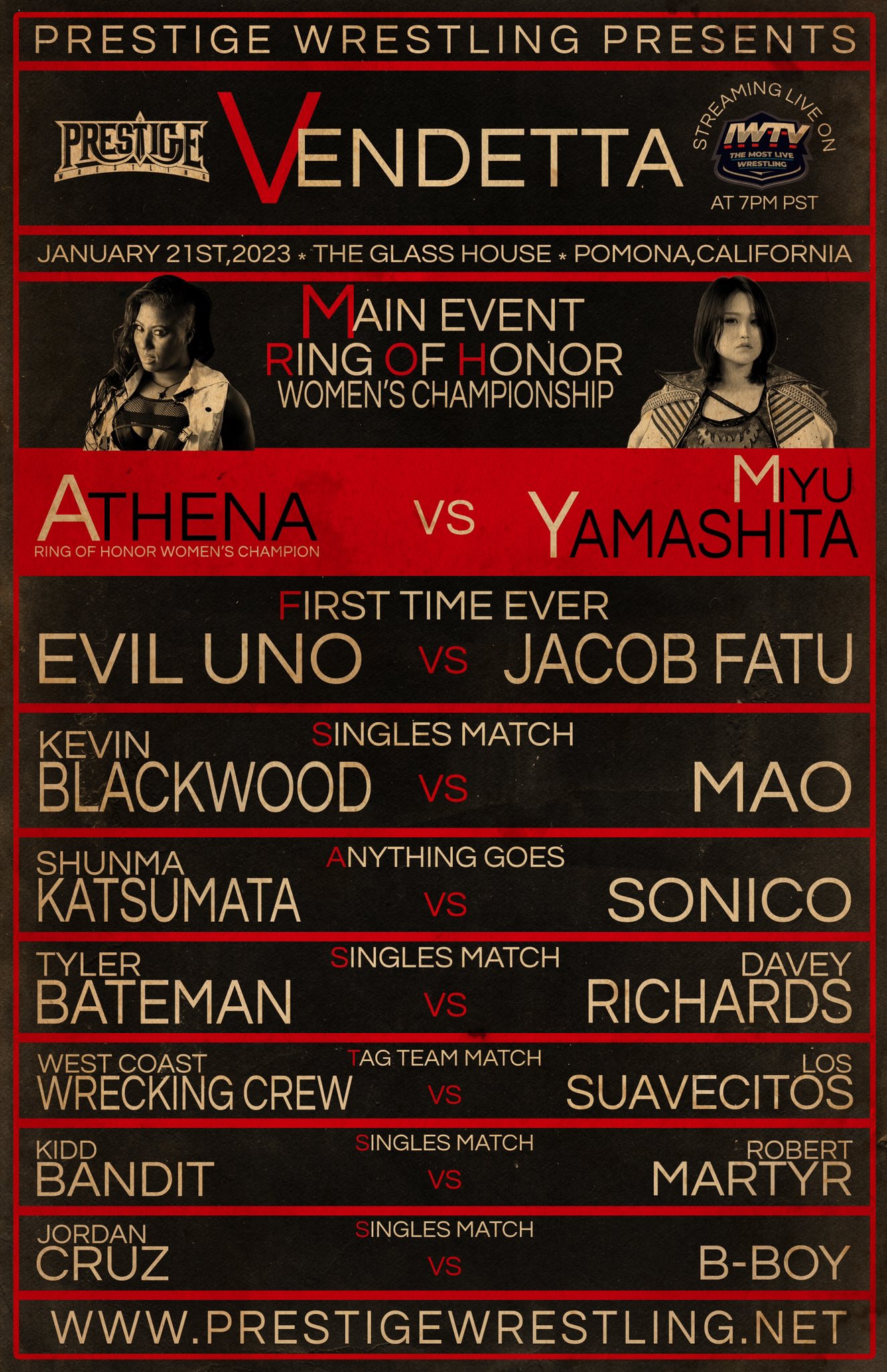 Independent Wrestling Weekly for 01/16/23
Prestige Wrestling presents Vendetta.
On Saturday, January 21st, 2023, from The Glass House in Pomona, California, Prestige Wrestling presents Vendetta. The show has a stacked card with no less than eight matches. Notable names from the independents and major televised promotions. The show's featured match of the evening in TJPW's Miyu Yamashita facing the reigning Ring of Honor Women's Champion, Athena.
In what will be a first-time-ever documented battle between the two, Athena and Yamashita are among several matches expected to tear the proverbial glass…house down. In another first-time-ever match, former MLW Heavyweight Champion Jacob Fatu battle's The Dark Order's Evil Uno.
As seen in the graphic above, while there is notable names such as Tyler Batemen, Davey Richards, and Kevin Blackwood on the card, there are other notable names emerging from the Pacific Northwest also on the card. For instance, Jordan Cruz and Sonico are on the card in separate singles matches.
If fans cannot be in attendance to watch the show, it will be airing live on IWTV. Fans watching from a distance can anticipate an always lively and energetic Prestige Wrestling crowd.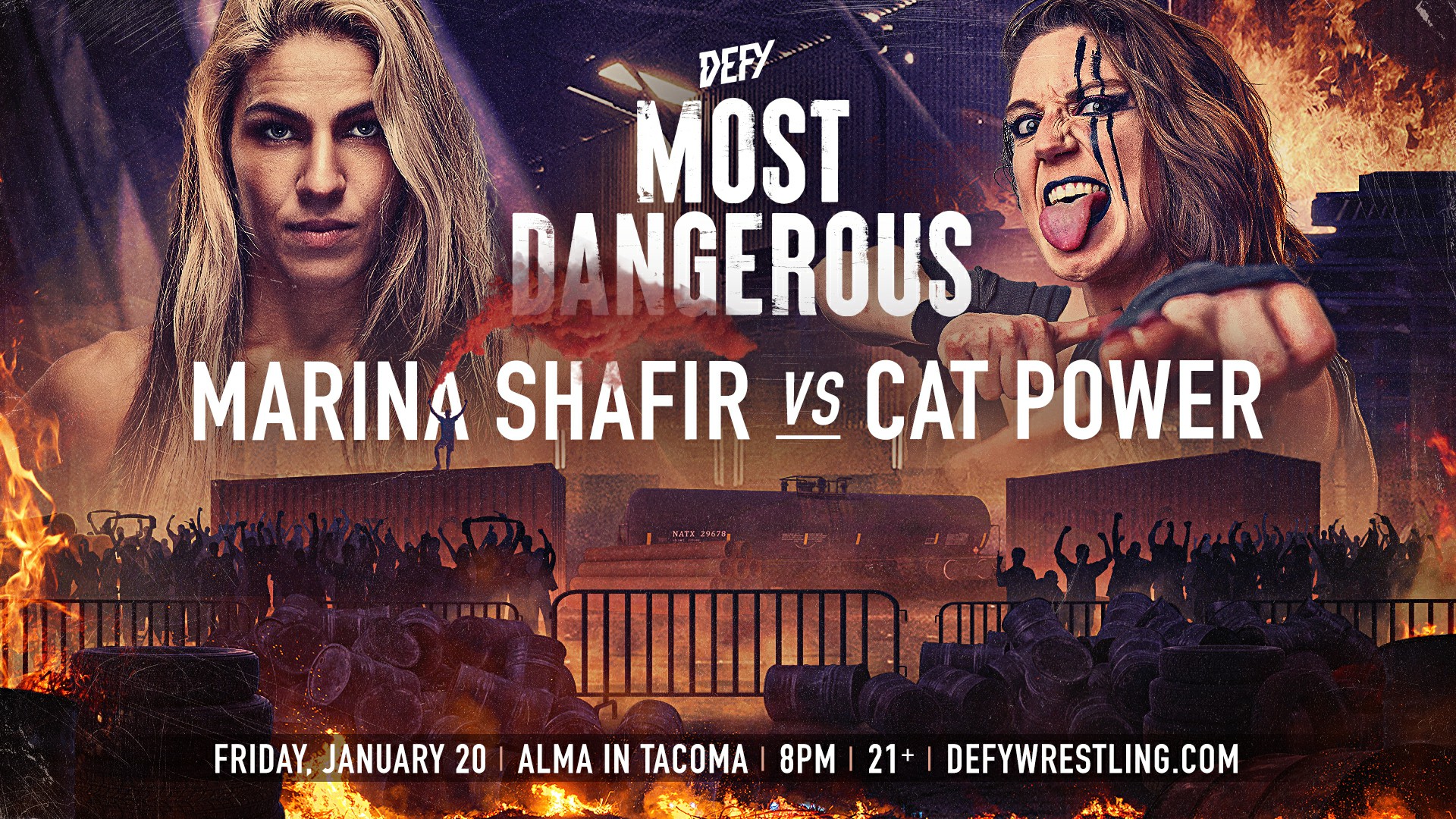 Independent Wrestling Weekly for 01/16/23
Defy Wrestling presents Most Dangerous
On Friday, January 20th, Defy Wrestling presents Most Dangerous. The show will emanate from The Alma in Tacoma, Washington, and features another stellar card. As of this writing, six matches have been announced for this card. But as the Defyiant faithful can attest, it isn't the number of matches that are notable; it's the quality of those that take place.
As shown in the graphic above, All Elite Wrestling's 'The Problem' Marina Shafir brings her skillset to Defy and battles Cat Power. A veteran of the ring, Canadian Cat Power brings her sixteen years of in-ring experience, her tutelage under the likes of Tyson Dux and Scott D'Amore, and will go toe to toe with Shafir.
Defy has always been known for his standout inclusion of Canadian talent in its contests, and this is no different. Much like the inclusion of former Defy Champion Artemis Spencer, being one of them in action against a man with a very busy weekend himself in Davey Richards, he isn't the only Canadian on the card.
The Canadian West Coasts, Voros Twins, are in action against fellow Canadian's Sinner and Saint Judas Icarus (who will be competing for Barrie Wrestling the following evening) and 'The Golden Boy' Travis Williams. The build has suggested that they will test the Voros Twins, but the duo are looking to stop that argument before it starts.
The Dark Order's Evil Uno and Alex Reynolds are in action as they face State of Emergency. Also, in action in a Hair versus Hair match, Levi Cooper faces Guillermo Rosas. Defy shows to have a proven track record of leaving those in attendance breathless. This card appears to be no different.
*****
Stay tuned to Pro Wrestling Post for this and additional stories from the wrestling world. Readers can rely on Pro Wrestling Post as their daily source for everything inside the squared circle. As a result, readers can expect daily news, history, and much more.
To visit Prestige Wrestling's official website, visit here. To visit Limitless Wrestling's official website, visit here.
Please visit Independent Wrestling Television's official website here for news and information on the streaming service and upcoming events to watch Prestige Wrestling, Limitless Wrestling, and Barrie Wrestling's recent events.
Also, to watch Defy Wrestling's past events, visit Defy on Demand here; they offer a 7-day Free Trial period and offering both monthly and annual subscriptions for fans.
To visit Defy Wrestling's official website here.