This week's edition of Independent Wrestling Weekly for 01/08/23 highlights events taking place on either the weekend of January 13th-15th or January 20th-22nd. Since restrictions have been lifted throughout the pandemic, countless independent wrestling promotions have been putting on tremendous cards that spotlight talent from all over the world.
Each week we will highlight five different promotions, their cards, where fans can access their shows, and if they are in the areas, even purchase tickets to their shows. This week we will look at New Wave Pro Wrestling, Rocky Mountain Pro, Freelance Wrestling, Remarkable Wrestling, and Warrior Wrestling.
Links to each promotion's social media will be available for readers to explore as well. Here is this week's edition of Independent Wrestling Weekly.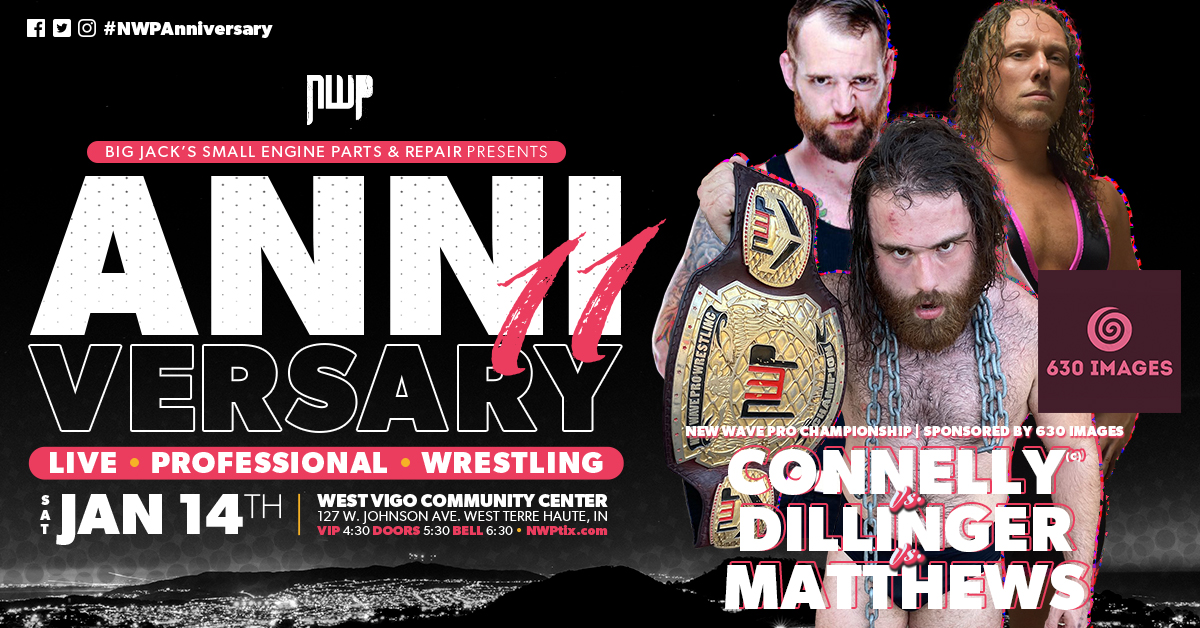 Independent Wrestling Weekly for 01/08/23
New Wave Pro Presents 11th Anniversary.
On Saturday, January 13th, from the West Vigo Community Center in West Terre Haunte, Indiana, New Wave Pro Wrestling presents its 11th Anniversary show. While a number of notable names are slated to take place, such as former WWE United States Champion Carlito against ZDP, it is a triple-threat title match that fans should be talking about.
For the New Wave Pro Champion, Mad Dog Connelly defends his championship against Eric Dillinger and Nate Matthews. This is just one of do of six matches featured on the card. Other matches include Kilynn King, who has appeared on NWA Powerrr, AEW, and IMPACT! is facing Miss Kate. Chicago's Sweetheart, Miss Kate, will do exactly what she says she'll do, and between the ropes and its kick, people in the face.
Oliver Gunner will take on Swinger Fitz in a one-on-one match-up. Sage Philips against Matt Brannigan are looking to get the better of each other as well for the New Wave Pro Higher Ground Championship. Finally, the Premier faces the Outrunners for the New Wave Pro Tag Team Championships.
New Wave Pro Wrestling continues to present its fans with quality and exciting entertainment while highlighting emerging talent and bringing in notable names. The promotion is looking for exciting things for its first event of 2023. Who within New Wave Pro Wrestling looks to walk out as champions, and who simply hopes to walk out on their own accord?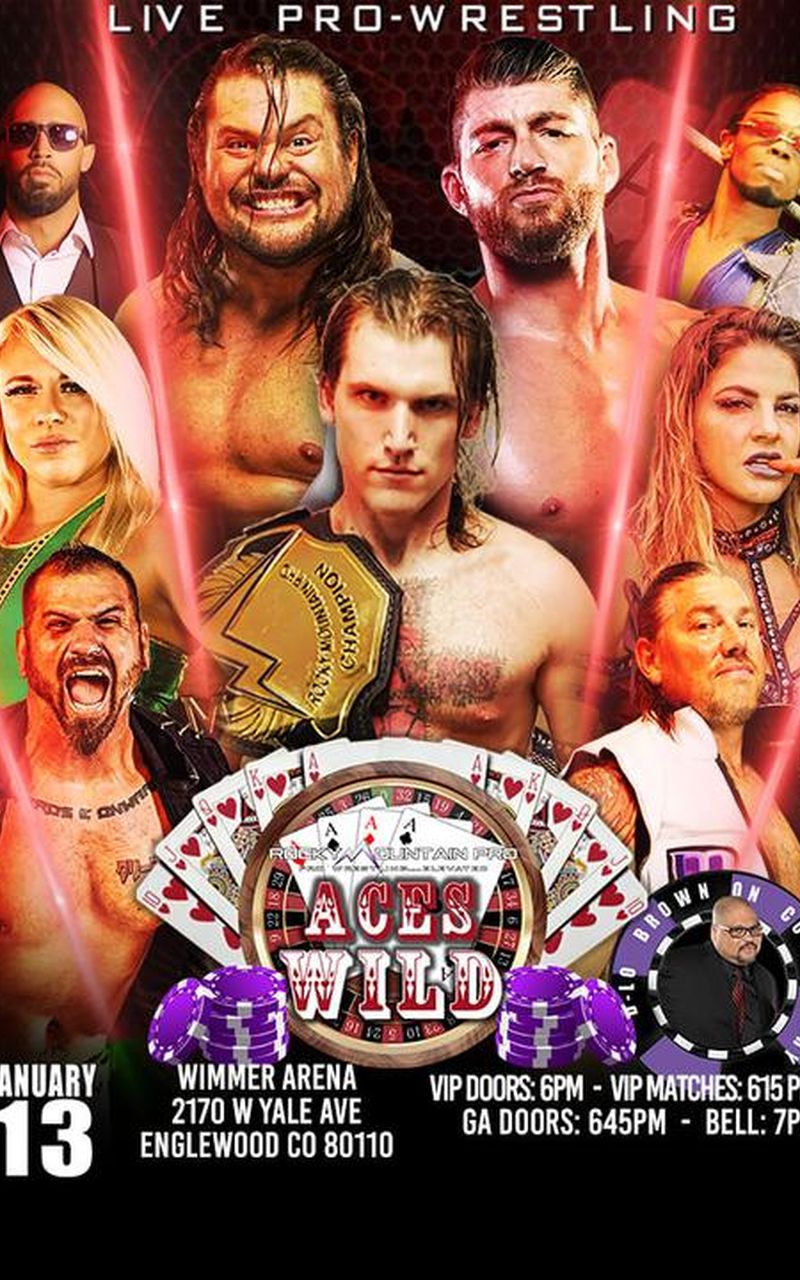 Independent Wrestling Weekly for 01/08/23
Rocky Mountain Pro presents Aces Wild.
On Friday, January 13th, Rocky Mountain Pro presents Aces Wild 2023 at the Wimmer Arena in Englewood, Colorado. It will also air live on FITE TV! As of this writing, the first five matches of the show have been announced. Each match has championship implications shared throughout.
For the NRW Championship, Mercury Yaden defends his championship against Atiba. JK Pop, with Preston Oblinger Skidmore and Lola by their side, defend their championships against The Island. For the Rocky Mount Pro Championship, David Drake defends his title against the winner of the Aces Wild 2023 tournament.
Second-generation talent Miranda Gordy defends her Lockettes Championship against J.C with Salem Wolfe in her corner. She comes to the ring with all the pride of her late father and Fabulous Freebird Terry 'Bam Bam' Gordy behind her when she comes to the ring.
Finally, for the Rocky Mountain Pro Charged Championship, Remy D defends his championship against another talent accompanied by Preston Oblinger Skidmore, Martin Casaus. Fans will remember Casaus during his time not only competing on the independent circuit but appearing as Marty the Moth for the El Rey Network's Lucha Underground.
Rocky Mountain Pro features a weekly program on YouTube (Charged), with their special events appearing available live on FITE TV.  They have notable names that have competed all over North America and for major promotions, including Sinn Bodhi, Sledge, Dax Draper, and Martin Casaus.
Each of these men and women continues to make a name for themselves, competing not only for Rocky Mountain Pro but other mainstream promotions to heighten their exposure.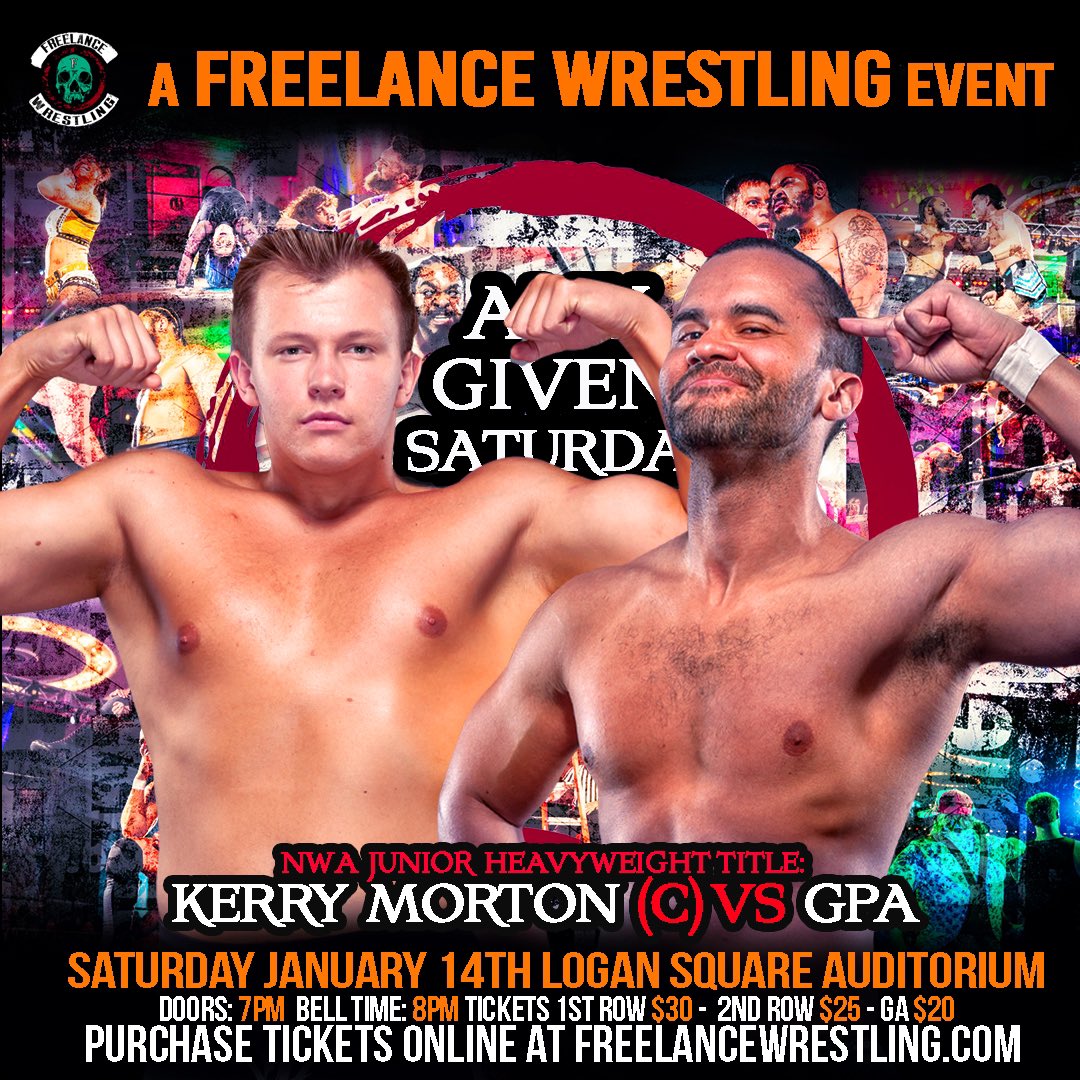 Independent Wrestling Weekly for 01/08/23
Freelance Wrestling presents Any Given Saturday.
On Saturday, January 14th, Freelance Wrestling presents Any Given Saturday from the Logan Square Auditorium in Chicago, Illinois, at 8 pm. The event will be streaming live on IWTV and, with it showcasing some of the best matches, anyone will witness anywhere on this night.
As of this writing, as many as six matches appear to be on tap. Those matches include; Kerry Morton defending his NWA Junior Heavyweight Championship against GPA. Morton has emerged in the NWA as a second-generation talent that continues to learn and grow with the help of his father and on his own. Will GPA prove why he is the academic standard independent talent coming out of Chicago today?
It will be a busy night for the Morton family as Kerry's father, the legendary Ricky Morton, will have an opportunity to become a world champion as well. He faces current Freelance World Champion, Robert Anthony for the championship. Morton's career spans more than forty years and has had a bit of a renaissance with his time as part of the NWA recently.
In singles action, Kylie Rae faces Raychell Rose. In one of two triple-threat matches on the night, Storm Grayson battles Trevor Outlaw and Effy. The other match will feature Heather Monroe against Blair Onyx and Free-Range Kara.
Finally, in a six-way Scramble Match, David Ali faces Evan Greenaway, Craig Mitchell, Sorta Incredible Iverson, Bucky, and Connor Hopkins. Each competitor presents a threat and should pose a very exciting match for those in attendance and those watching on IWTV.
Independent Wrestling Weekly for 01/08/23
Remarkable Wrestling presents Skye is the Limit.
On Saturday, January 14th, Remarkable Wrestling presents Skye is the Limit from Deer Park, New York, and airing live on IWTV. The event has had to undergo changes to the card as of this writing. That said, what has been scheduled does appear special for all involved. As shown in the graphic above, the featured match involves noted indie wrestling face, Ken Broadway.
But as Broadway comes into this match, he stands across the ring from current RW Heavyweight Champion Gabriel Skye. Other matches include; a 6-way qualifier match to advance to the Remarkable Riot championship final; Mike Law faces Sage Chantz, Georgio Lawrence, Tommy Rant, Shawn Knyte, and Dolli Darko.
For the Remarkable Tag Team Championship, Miracle Generation faces Fight or Die. Percy Ryan and Jesse Danielson face The Midnight Cowboys. A six-way ladder match for the Riot Championship will features Sal Savelli, Cono Cappuccia, Zagan Rivers, Adonis Stone, Tristen Thai, and a person yet to be announced.
Finally, a 5-way call-your-shot gauntlet match between Brothers Greatness, Jojo Collins, Alvin Alvarez, Bobby Buffet, and Desmond Cole.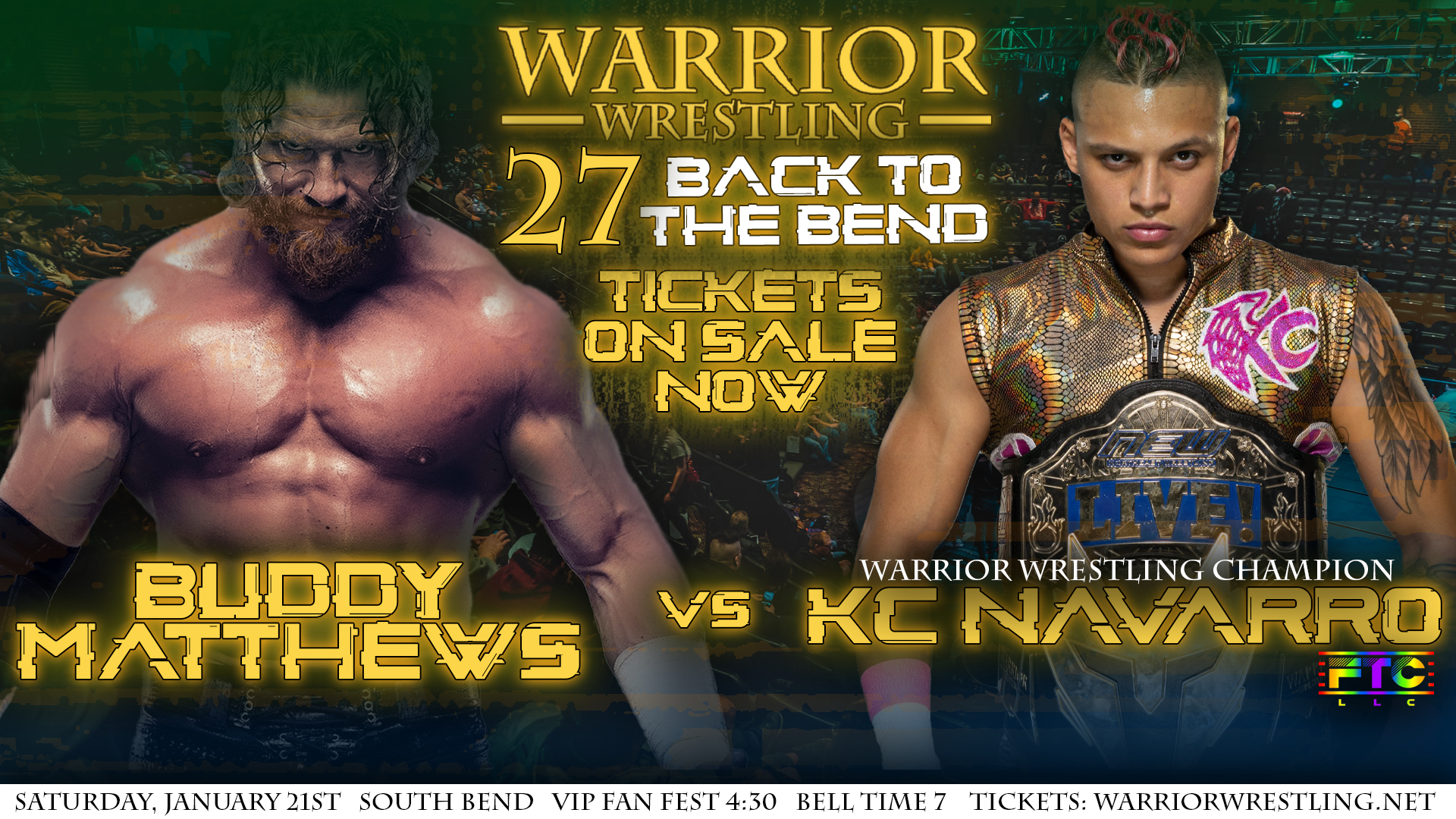 Independent Wrestling Weekly for 01/08/23
Warrior Wrestling Presents Back To The Bend
On Saturday, January 27th, Warrior Wrestling presents Back to the Bend. The event takes place in South Bend, Indiana. Their shows can be streamed on Pro Wrestling TV. The show has nine matches listed, and name value alone suggests this event will be a banger of a show. As shown in the graphic above, Warrior Wrestling Champion KC Navarro faces AEW's House of Black member Buddy Matthews.
While the Navarro/Matthews is likely the crescendo of the night's festivities, it is by no means the only sold match on the card. In a triple-threat match for the AAA Mega Warrior Championship, El Hijo del Vikingo defends his title against Rey Horus and Flamita. Kylie Rae faces Queen Aminata in another singles match on the card.
One of AEW's newest standouts, Konosuke Takeshita, faces former one-half of the NXT Tag Team Champions, Zachary Wentz. In a fourth singles match on the card, Beastman battles Brian Pillman Jr. The always charismatic and former IWTV Champion, Warhorse battles the massive Calvin Tankman.
The always-dangerous Max the Impaler battles Tootie Lynn in the fifth singles match of the evening. In tag team action, the Bang Bros square off against FTC with Frank the Clown. What shenanigans can we anticipate coming from Frank on this evening? Finally, Christopher Daniels faces an opponent that still has not been announced.
*****
Stay tuned to Pro Wrestling Post for this and additional stories from the wrestling world. Readers can rely on Pro Wrestling Post as their daily source for everything inside the squared circle. As a result, readers can expect daily news, history, and much more. Please visit Pro Wrestling TV's official website to stream Warrior Wrestling.
Please visit Independent Wrestling Television's official website here for news and information on the streaming service and upcoming events to watch New Wave Pro Wrestling, Remarkable Wrestling, and Freelance Wrestling's recent events.
Also, please visit FITE TV's official website to watch Rocky Mountain Pro Wrestling's Aces Wild event. FITE+ currently boasts 1000+ hours of live action each year. $4.99 a month/$49.99 a year with a 7-day Free Trial.