IMPACT Wrestling Slammiversary 2020 may very well be the most important event in IMPACT history. It's not often that there's this much hype leading into an IMPACT pay per view. But with the laundry list of WWE releases back in April, IMPACT Wrestling teased a number of former stars returning. Ethan Carter III, Eric Young, and Aces & Eights, among others, have been teased to re-debut at this event. IMPACT has also guaranteed a new world champion will be crowned on Saturday night. In short, the events of Slammiversary will establish the landscape of IMPACT Wrestling for years to come. So what's on the card for Saturday?
IMPACT Wrestling Slammiversary 2020
Knockouts Gauntlet Match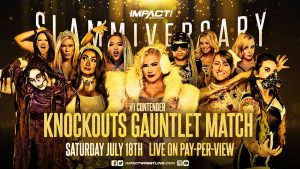 11 of the best women's wrestlers will enter the ring at Slammiversary in a gauntlet match. One woman will leave as #1 contender to the Knockouts Championship. There's much tension between these competitors. Havok and Neveah have something to prove to Tasha Steelz and Kiera Hogan. Kylie Rae wants to help Susie keep her alter ego in check while Taya Valkyrie and Rosemary try to prove that bad girls win. Alisha Edwards and Kimber Lee are out to redeem themselves after some harsh losses. And Madison Rayne wants to show that she's still got it. But all of them are out to establish their dominance within the stacked Knockouts division. Who will emerge the victor on Saturday night?
TNA World Heavyweight Championship
Moose (c) vs Tommy Dreamer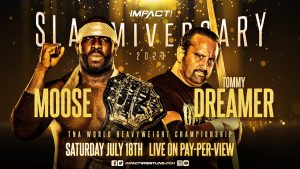 On night 2 of Rebellion, Moose defeated Michael Elgin and Hernandez in a triple threat match and, afterward, declared himself TNA World Heavyweight Champion. Following this, he withdrew himself from the #1 Contender's Tournament and vowed to defend his unsanctioned title against only TNA Originals. He would then defend against Hernandez, Suicide, and Crazzy Steve. After Moose left Steve in a crumpled heap, Tommy Dreamer arrived to check on the injured challenger. Moose then attacked Dreamer, kicking him in the head and raining blows upon him.
The next week, Tommy Dreamer had some choice words for the self-proclaimed champion, proclaiming him a failure in the NFL and pro wrestling. Moose threatened to sue for defamation of character if Dreamer didn't issue an apology. The Innovator Of Violence produced a written apology but also announced that the 'TNA Championship Committee" had named him #1 contender. On Saturday, Moose will defend his unsanctioned TNA World Heavyweight Championship against Tommy Dreamer under 'Old School Rules.'
IMPACT X Division Championship
Willie Mack (c) vs Chris Bey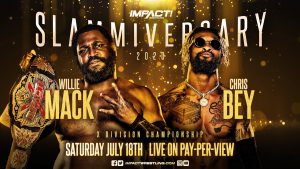 On the 2nd night of the Rebellion event, Chris Bey won a fatal four-way match for #1 Contendership to the X Division Championship. He had a championship match on May 5th, in a triple threat match, also involving Austin. Willie Mack defeated Austin in that match, opening up a singles match between Mack and Bey down the road. The next week, Bey found Johnny Swinger and told him that the champion had been speaking ill of Swinger behind his back. Swinger then challenged Mack to a match, which he lost. After the match, Bey came out to help Swinger in a beatdown angle. One June 23rd, Bey and Swinger joined forces with Rohit Raju to take on Willie Mack and The Deaners in 6-man tag action, with Bey pinning Mack for the win. Two days later, IMPACT Wrestling announced Willie Mack would defend his title against Bey at Slammiversary.
IMPACT Wrestling Slammiversary 2020
IMPACT Knockouts Championship
Jordynne Grace (c) vs Deonna Purrazzo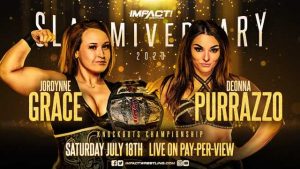 On June 9th, Deonna Purrazzo returned to IMPACT Wrestling with one goal. The Virtuosa wants to prove that her previous appearances in an IMPACT ring do not define her. And the best way to prove this, it seems, was to pick a fight with Knockouts Champion Jordynne Grace. After Grace defeated Taya Valkyrie in a title defense, Deonna Purrazzo made her live debut, attacking the champion. The Virtuosa attacked again the following week while Grace was giving an interview. The next week, on June 23rd, IMPACT Wrestling announced Grace would defend the Knockouts Championship against Deonna Purrazzo at Slammiversary. Can The Virtuosa live up to her hype or will Jordynne Grace prove she's all hot air.
IMPACT World Tag Team Championship
The North (c) vs Sami Callihan & Ken Shamrock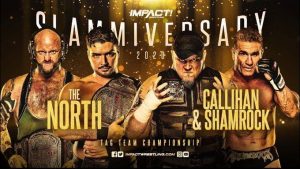 Ethan Page and Josh Alexander of The North spent the early part of quarantine stuck in Canada facing questionable opponents. They returned to IMPACT on June 16th to defend the World Tag Team Championships against Dez and Wentz of The Rascalz. When The North went backstage to celebrate, they found the roster watching Ken Shamrock's Greatest Hits on IMPACT Plus. The next week, the man himself, Ken Shamrock challenged Josh Alexander to a match. When the time came for Shamrock and Alexander to face-off, The North jumped him before he even got to the ring.
The following week, The North came out to address their attack, but Shamrock showed up looking to fight. Then Sami Callihan appeared, we assumed to aid The North in beating down his rival. But instead, Callihan helped Shamrock fend off his attackers before disappearing into the night. The next week, EVP Scott D'Amore made the tag team match official. Will The North retain their titles? Or The Worldwide Desperado and The World's Most Dangerous Man unseat the most dominant tag team in IMPACT history?
IMPACT Wrestling Slammiversary 2020
IMPACT World Championship
Ace Austin vs Eddie Edwards vs Trey vs Mystery Opponent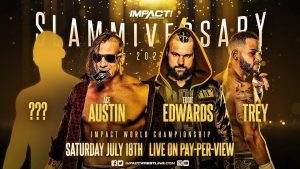 Former IMPACT World Champion Tessa Blanchard was meant to defend her title here at Slammiversary. A huge 5-way match was announced. Her opponents were meant to be – Ace Austin, Eddie Edwards, Trey, and Michael Elgin. Then real life intervened. IMPACT Wrestling released Tessa Blanchard and suspended Michael Elgin just 3 weeks before Slammiversary. And so Austin, Edwards, and Trey will compete for the vacant championship along with a mystery opponent. As of the time of writing, we do not yet know who the mystery opponent will be. However, IMPACT Wrestling has teased a number of names, most of whom were released from WWE in April. They have also mentioned in promotional material that the mystery opponent is a former World Champion with the company and that they won't be coming alone.