2020 has been a difficult year for IMPACT! Wrestling. It started with the COVID-19 pandemic back in March and continued over spring with the releases of Tessa Blanchard and Michael Elgin. But IMPACT faced these challenges with aplomb, bouncing back from it all with vigor at Slammiversary. This year of change and challenge culminates on Saturday night as Final Resolution returns for the first time in 7 years. As the calendar year's final exclusive event, we can expect plenty of twists and turns leading into 2021. What will the IMPACT Wrestling landscape look like as we approach Hard To Kill in January? Here's what you can expect Saturday night at Final Resolution, exclusively on the IMPACT+ app. Here is the IMPACT Wrestling preview as IMPACT Wrestling Presents Final Resolution 2020.
__________________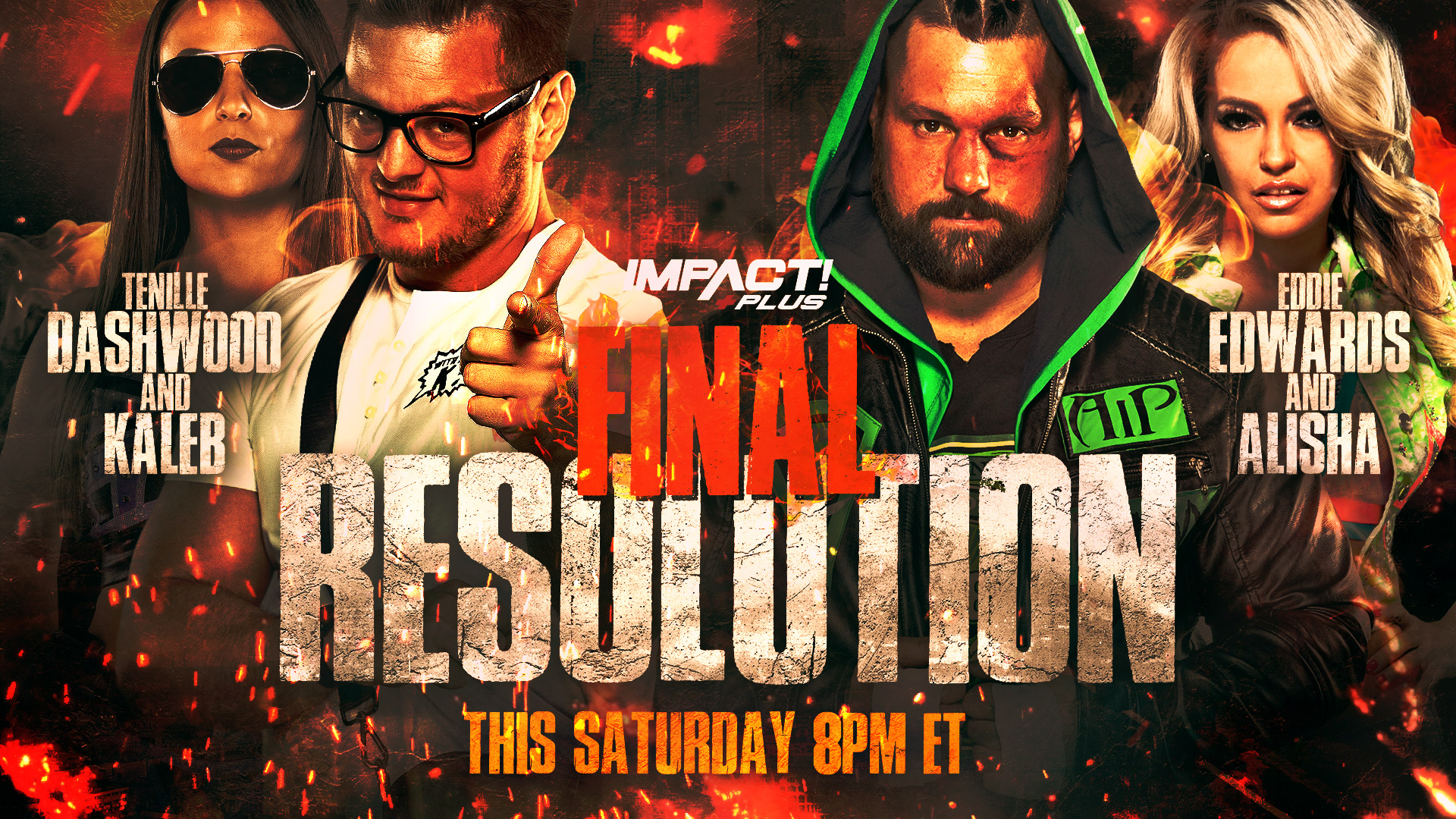 Intergender Tag Team Match
Tenille Dashwood & Kaleb (With A K) vs. Alisha & Eddie Edwards
Alisha Edwards felt thrilled when Tenille Dashwood agreed to form a tag team. Despite their loss in the opening match of the Knockouts Tag Team Championship tournament, they seemed to be getting along. That started to change after Sami Callihan attacked Alisha's husband, Eddie Edwards, with a baseball bat. In a backstage segment last week, Alisha launched a surprise attack of her own on Sami Callihan. However, Dashwood wanted no part of this battle, leaving Alisha feeling a little betrayed. This Saturday night, Alisha and Eddie Edwards defend their honour against Tenille Dashwood and Kaleb with a K in an intergender tag team match.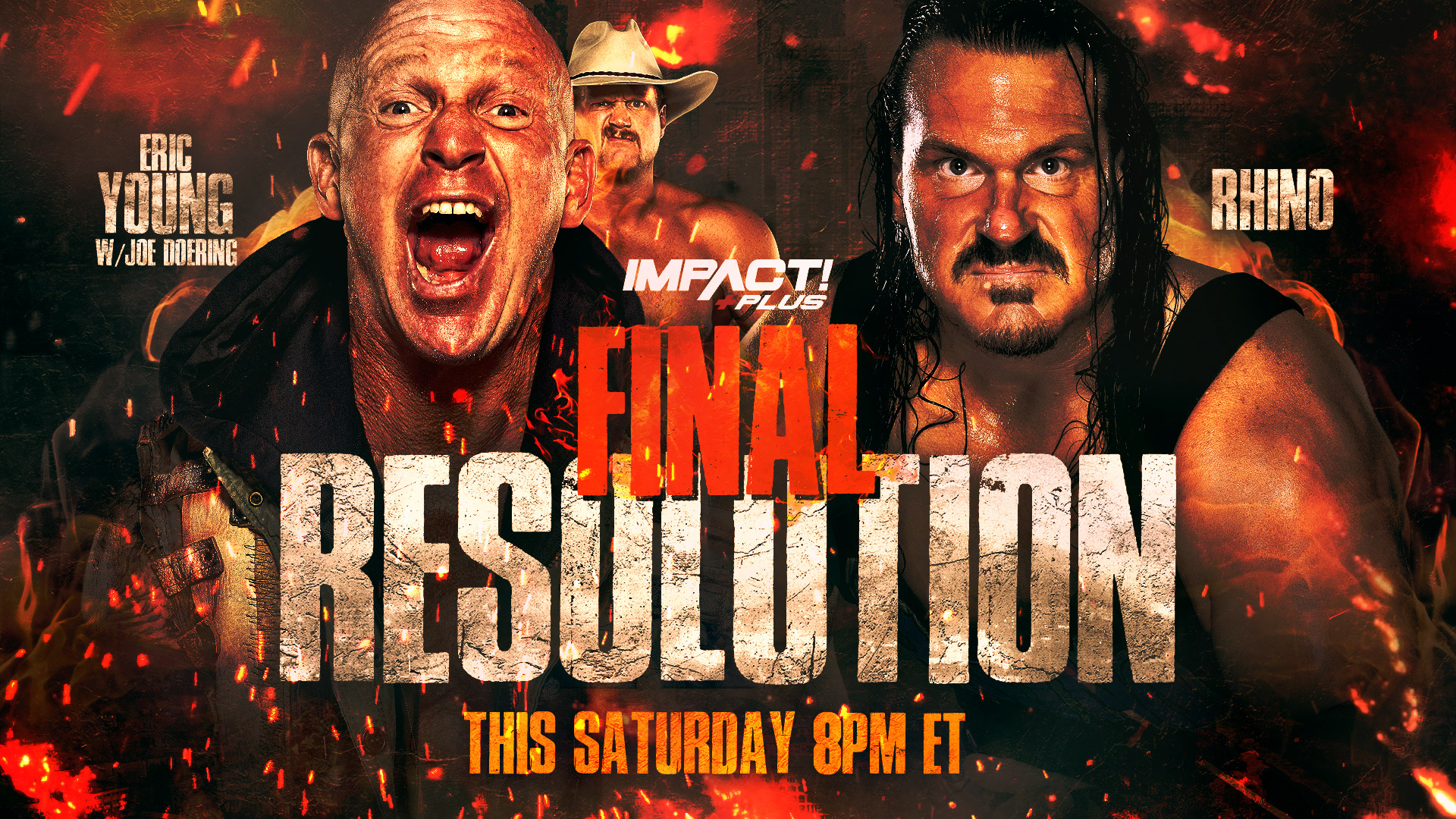 Eric Young (w/Joe Doering) vs. Rhino
Since Turning Point back in November, Eric Young and Joe Doering have been wreaking havoc on the IMPACT Wrestling roster. The devious duo have a habit of turning up uninvited to attack wrestlers seemingly at random. On this week's episode of IMPACT! Wrestling, Cody Deaner stood up to Eric Young following his attack last week. When Young and Doering tried to dismantle Deaner and Cousin Jake, Rhino appeared with a lead pipe to make the save. Rhino is out for revenge on Young and Doering after they took Heath out of action. Will Rhino avenge his fallen friend on Saturday night, or will he fall victim to Eric Young's numbers game?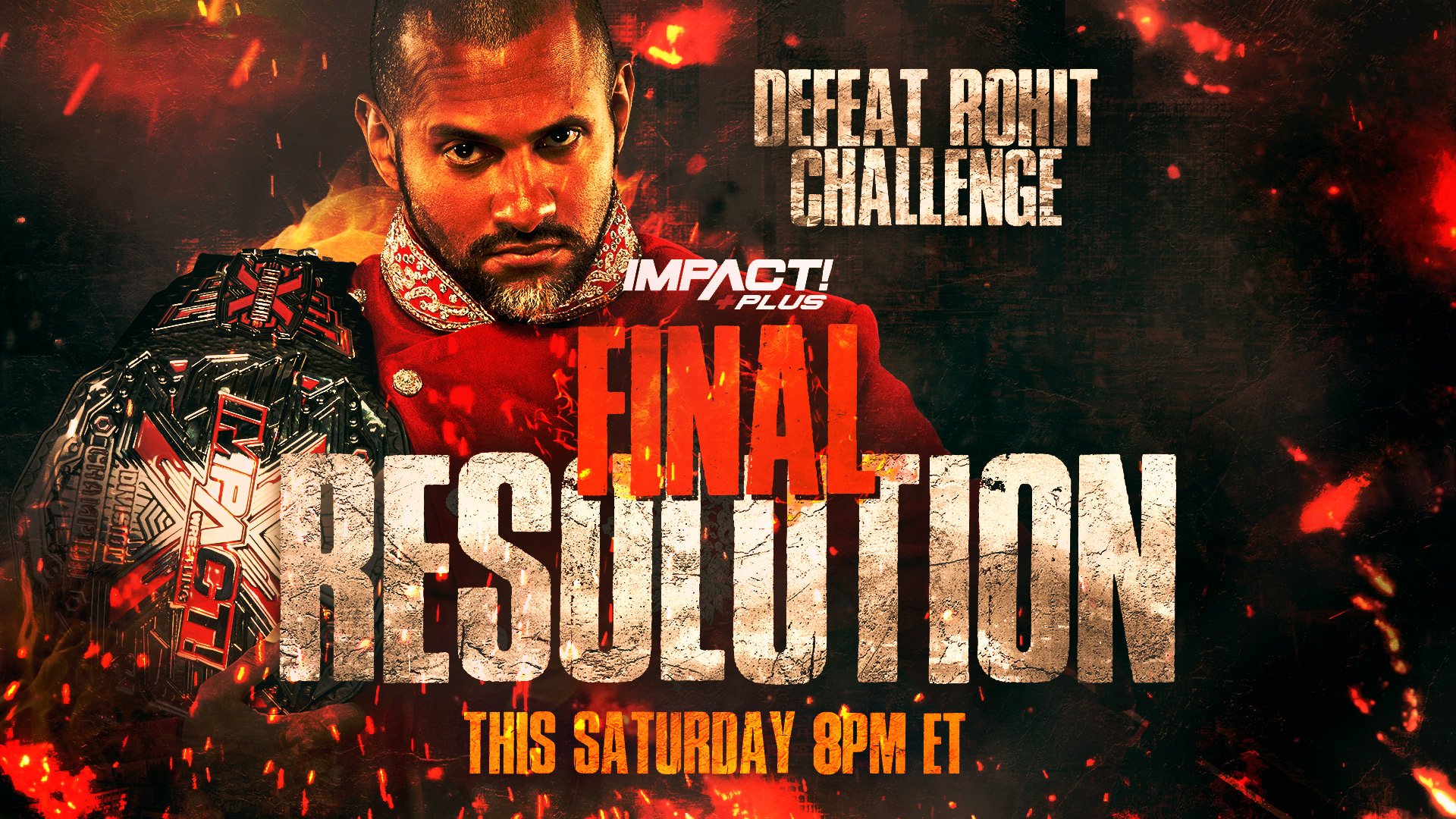 X-Division Championship
"Defeat Rohit Challenge"
Rohit Raju (c) vs. TBA
On this week's episode of IMPACT Wrestling, Rohit Raju approached TJP following his loss to Brian Myers. As if rubbing salt in TJP's wounds, the X-Division Champion announced the final Defeat Rohit Challenge of 2020 will take place at Final Resolution. Usually, the Defeat Rohit Challenge is open to anybody on the IMPACT! Wrestling roster. However, when TJP lost in his championship match against Rohit on November 10th, he also lost the right to challenge for the title again. Therefore, the last Defeat Rohit Challenge of 2020 is open to anybody except TJP. So who will answer the challenge on Saturday night?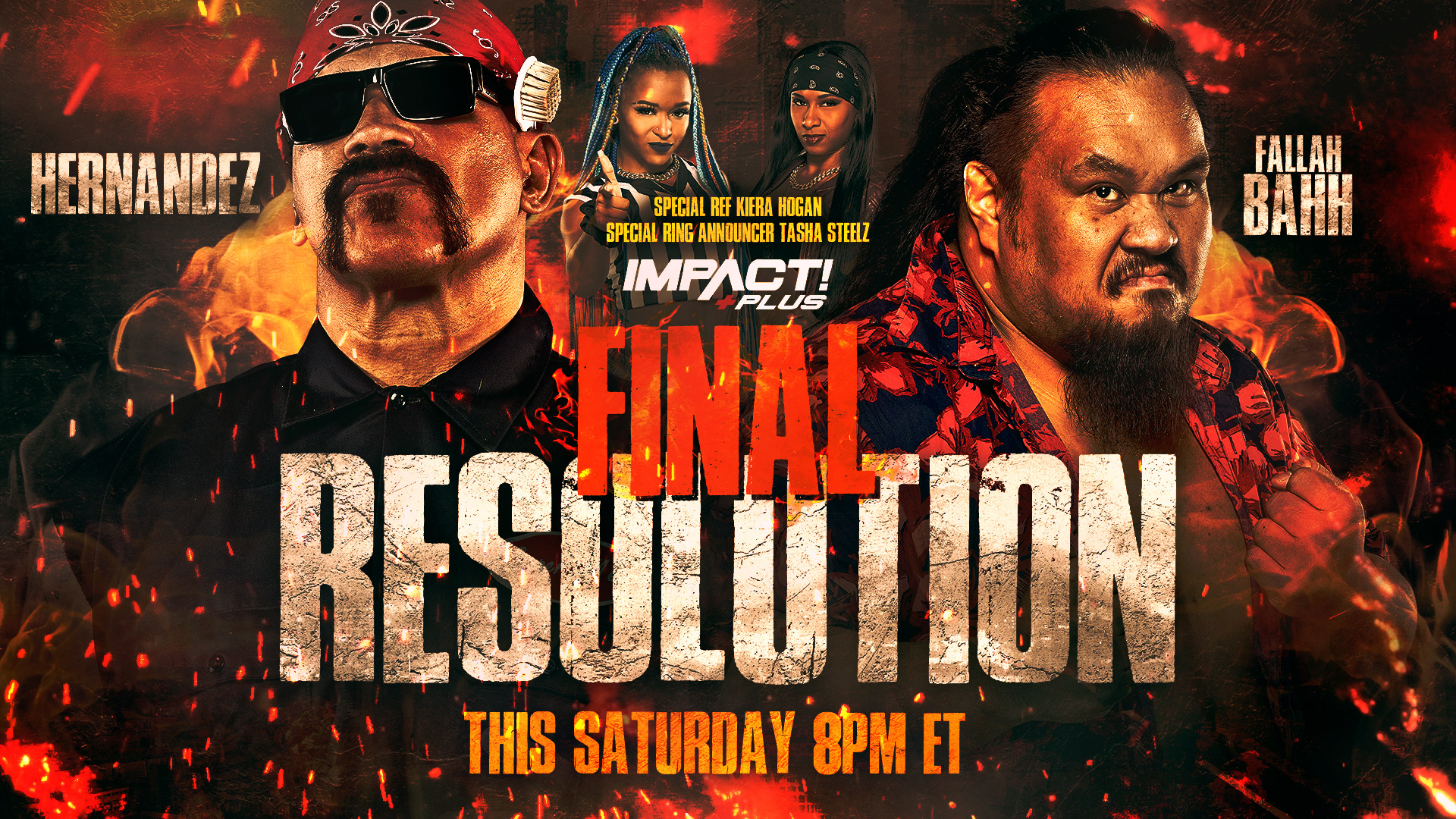 Hernandez vs Fallah Bahh
All the way back on October 7th, Fallah Bahh stole a wad of cash that Hernandez won in an arm-wrestling tournament. Ever since Hernandez and his henchmen Luster the Legend and Adam Thornstowe have been searching for the thief. As Fallah Bahh prepared to confess on November 3rd, Tasha Steelz and Kiera Hogan picked the money out of his pocket. When Fallah came to confront them about it, Hernandez was there as well. This week, two giants collide as Hernandez fights Fallah Bahh for his stolen money. However, there's an interesting stipulation. Kiera Hogan will serve as special referee, while Tasha Steelz will serve as ring announcer. Will Hernandez finally reclaim his arm-wrestling winnings, or have Steelz and Hogan crafted a plan to walk away with the money themselves?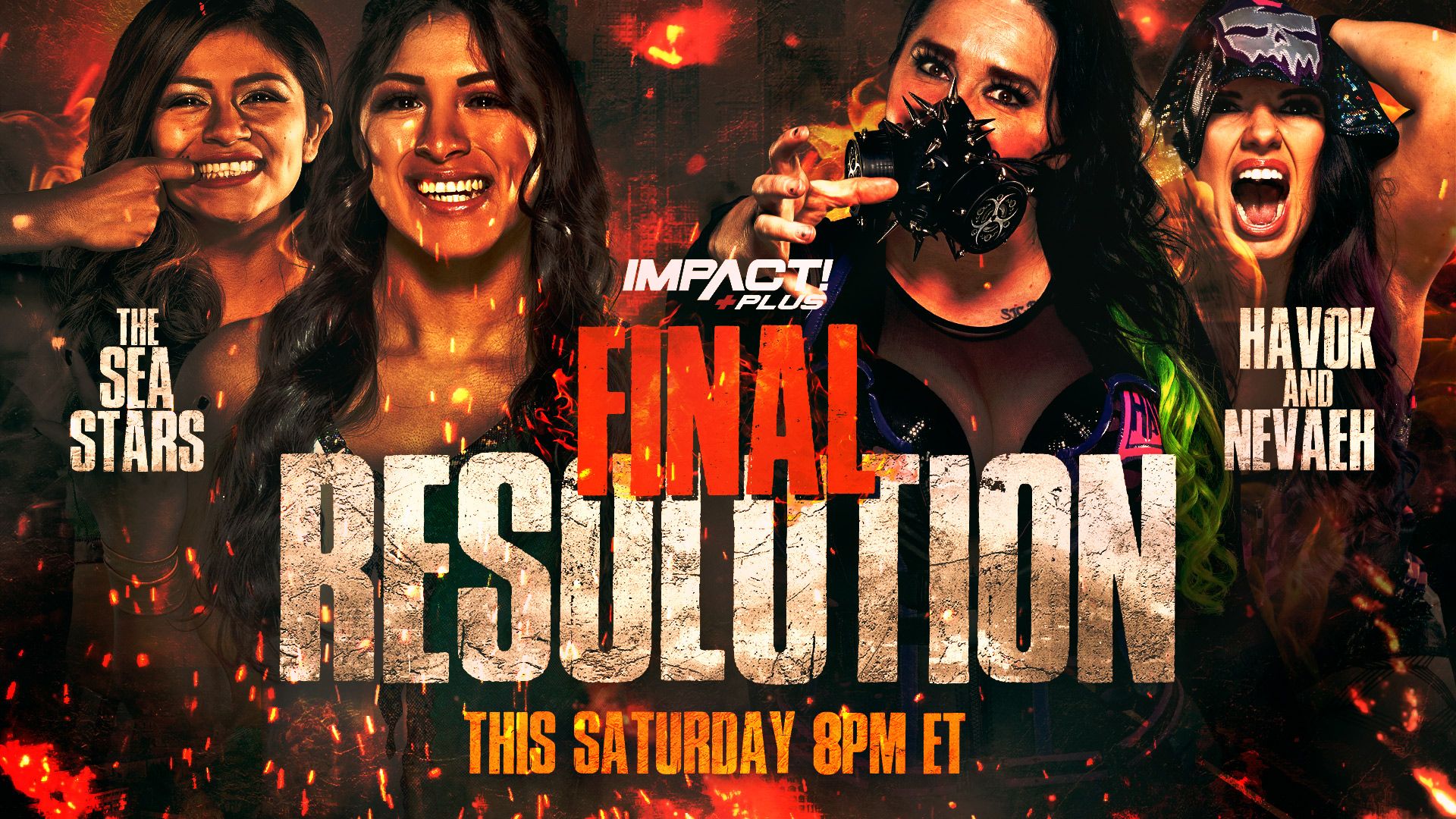 The Sea Stars vs. Havok & Neveah
Ashley Vox & Delmi Exo debuted on the November 24th episode of IMPACT Wrestling. They came up short in their first-round match against Steelz & Hogan in the Knockouts Tag Team Championship tournament. They're looking to regain their footing after the opening loss in this non-tournament match against Havok & Neveah. This match looks to be an uphill battle for The Sea Stars, as their opponents outweigh them significantly. However, they do have the experience advantage, as their partnership predates their opponents'. A win over Havok & Neveah, who defeated Tenille Dashwood & Alisha Edwards in the first round, would surely make a splash in IMPACT Wrestling. Indeed, that victory could upset Havok & Neveah's chances in the whole tournament as we head into the second round.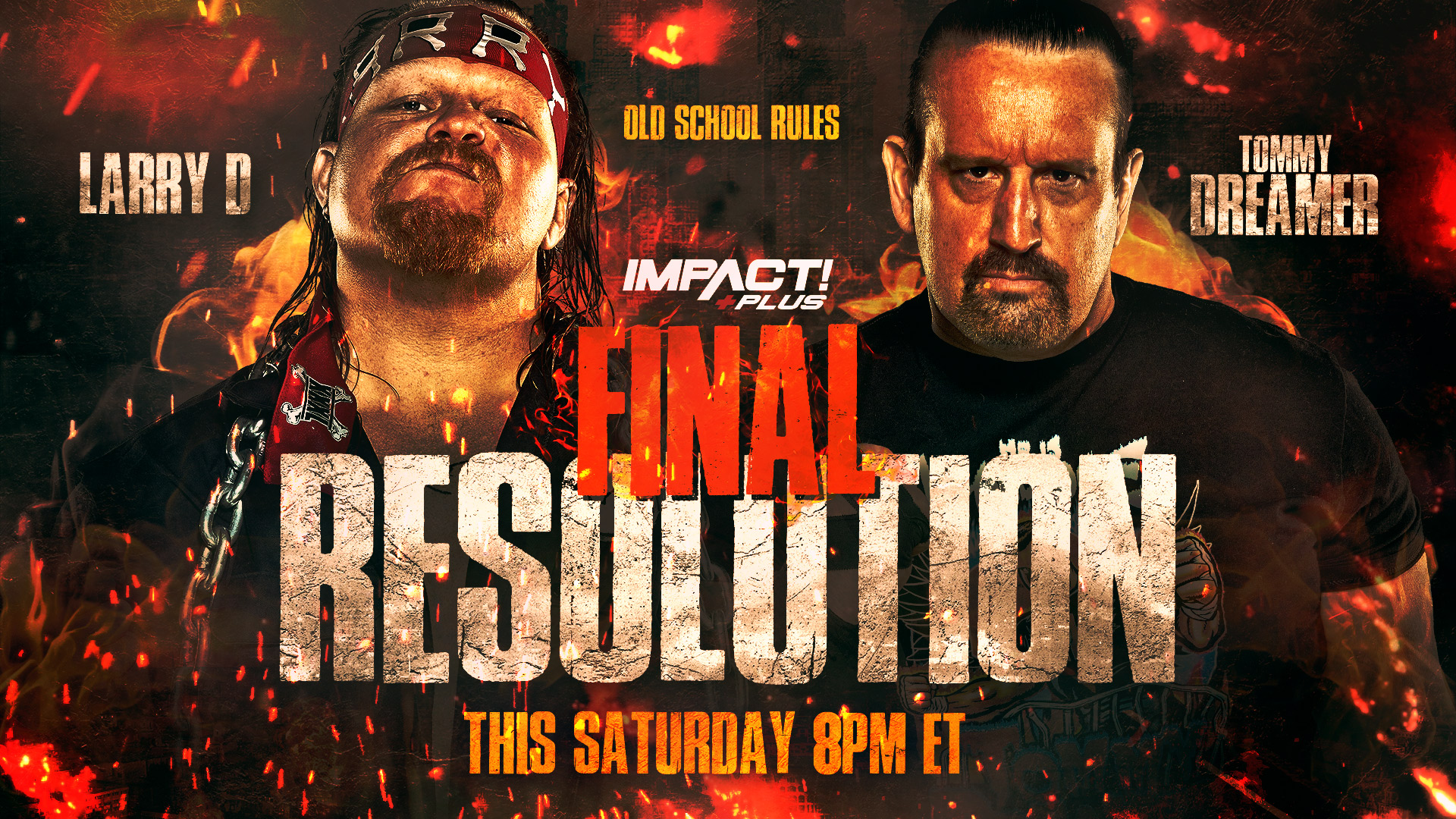 IMPACT Wrestling Presents Final Resolution 2020
Old School Rules
Larry D vs. Tommy Dreamer
On October 27th, at the wedding of John E Bravo and Rosemary, a mystery assailant shot John. The following week, Detective Tommy Dreamer was on the case, searching for the mystery shooter. At first, there were ten suspects, none of whom would give an inch in Detective Dreamer's investigation. After a number of red herrings, Tommy Dreamer put a spell on Larry D, turning him into Lawrence D, who admitted to the attempted murder of John E Bravo. On Saturday night, Tommy Dreamer is out to get justice for his friend as he faces Larry D in an Old School Rules match. If Larry D wins, he remains a free man. If Tommy Dreamer wins, he's bringing Larry D downtown.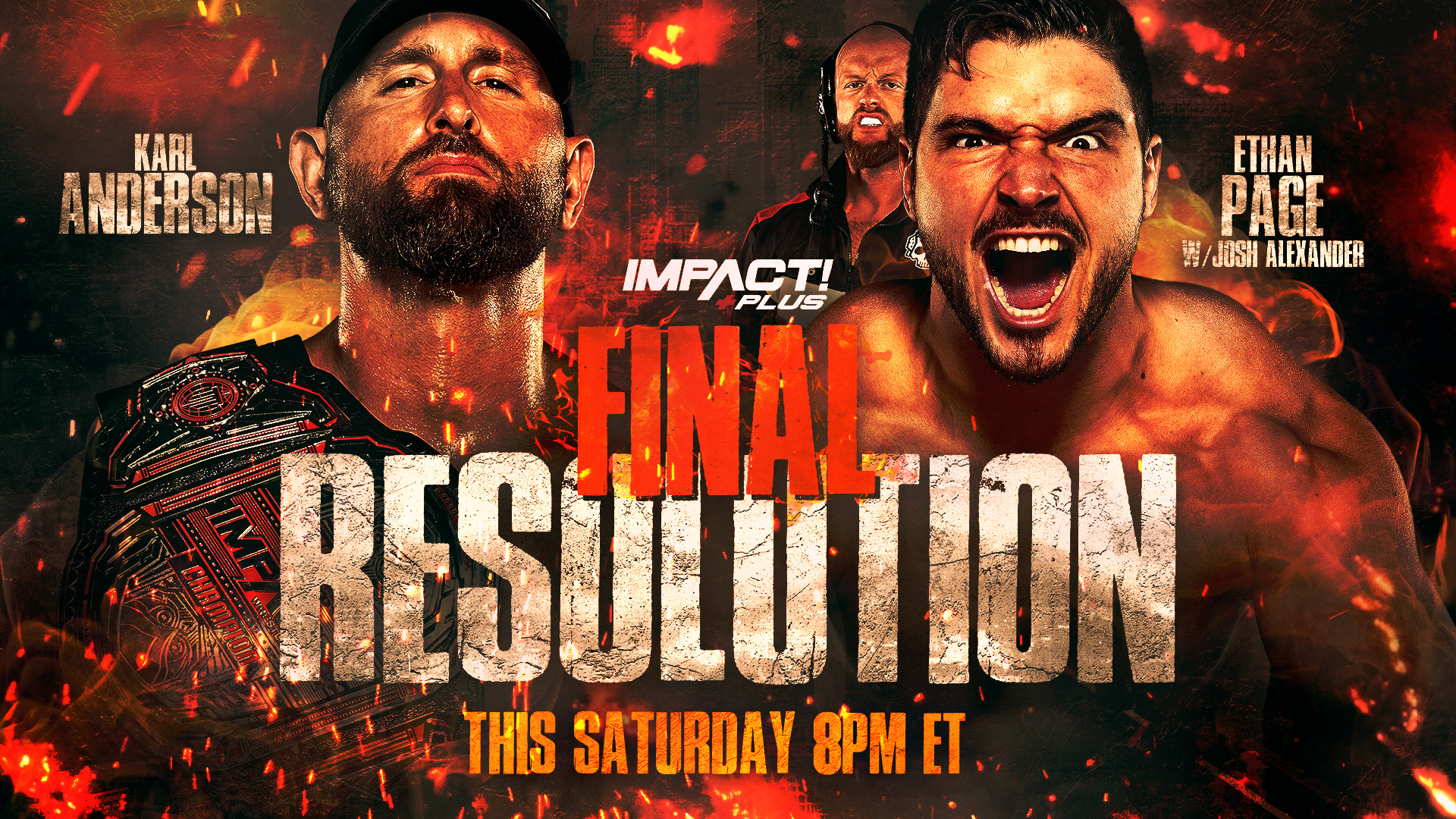 Karl Anderson vs. Ethan Page (w/Josh Alexander)
On the November 24th episode of IMPACT Wrestling, we learned that Doc Gallows will be out of action for 4-6 weeks. This upset Ethan Page and Josh Alexander's plans to recapture the IMPACT Tag Team Championships. After Page admitted to carrying out the attack, he issued a challenge to Gallows' partner, Karl Anderson. If Ethan Page defeats Karl Anderson on Saturday night, The North will earn the right to challenge for the IMPACT Tag Team Championships. Anderson accepted the challenge to avenge his fallen partner, but will he fall victim to the numbers game without Gallows in his corner? Find out on Saturday night!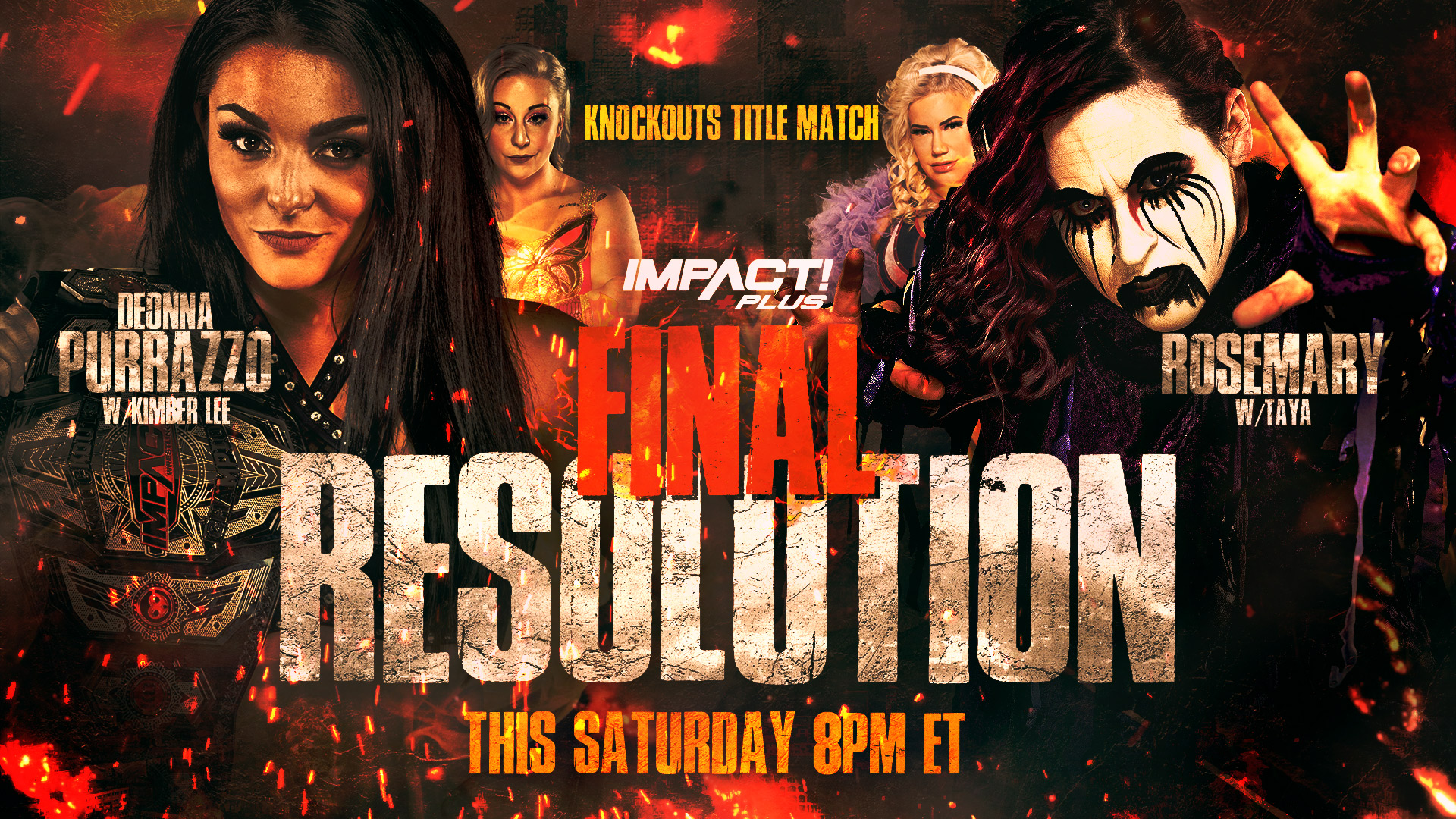 IMPACT Wrestling Presents Final Resolution 2020
Knockouts Championship
Deonna Purrazzo (c) w/Kimber Lee vs. Rosemary w/Taya Valkyrie
This week's episode of IMPACT Wrestling saw the final first-round matchup in the Knockouts Tag Team Championship tournament. In that match, Rosemary and Taya Valkyrie toppled reigning Knockouts Champion Deonna Purrazzo and her protege Kimber Lee after Purrazzo accidentally struck her partner. Purrazzo then brought the matter up with IMPACT Executive Vice President Scott D'Amore, claiming she's been overworked. D'Amore, however, had had enough of The Virtuosa complaining to him every time a match didn't go her way. So he made an announcement: At Final Resolution, Deonna Purrazzo would defend her championship against Rosemary, who scored the pin on Tuesday night.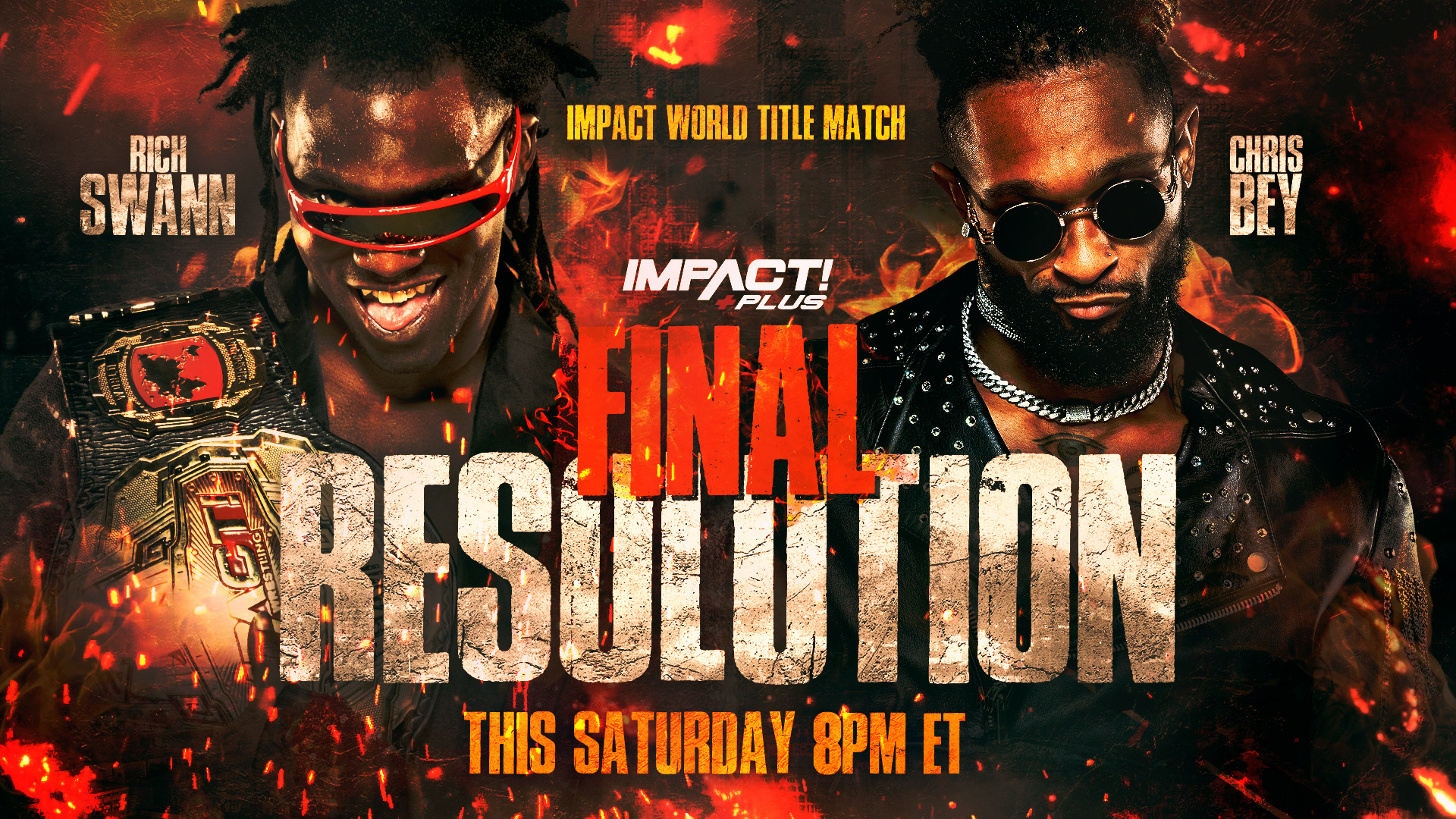 IMPACT Wrestling Presents Final Resolution 2020
IMPACT World Championship
Rich Swann (c) vs. Chris Bey
Since Rich Swann became IMPACT World Champion back in October, Chris Bey has been pestering him for a championship match. On the December 1st episode of IMPACT Wrestling, Chris Bey faced Willie Mack for the right to challenge Swann. The Ultimate Finesser came up short in that match, but Moose came out to attack Mack after the bell. Then, Rich Swann came to the rescue, sending Moose out of the ring before Bey caught him in a springboard cutter. In that moment, Swann relented, accepting Bey's challenge for the IMPACT World Championship. On Saturday night, Rich Swann and Chris Bey will make history as two black athletes compete in the main event for the IMPACT World Championship for the very first time.