Since his departure from WWE, IMPACT World Champion Eric Young has had a career renaissance. He had a shocking return to IMPACT at the highly praised Slammiversary event on July 18, 2020. Young returned as a surprise entrant in a five-way elimination match for the IMPACT World Title. His return did not go as planned though. It was spoiled after being eliminated by Rich Swann, in a great match that was eventually won by Eddie Edwards. After being eliminated, Young attacked Swann, targeting the knee that had kept him out of action for months.
Swann was then forced to announce his retirement due to his repeated leg injuries. However, he was ambushed again by Young, with him sadistically targeting the same knee. Then, on the September 1st episode of IMPACT's weekly televised show, he took advantage of the Open Challenge that then champion, Eddie Edwards issued. Edwards had been issuing a challenge since winning the title.
After a good back and forth contest, as the ref was distracted, Young struck Edwards with his hockey mask. This was enough to lead Young to his second Impact World Championship.
IMPACT World Champion Eric Young Discusses BFG, & Post-Career Plans
Rich Swann, shortly after, returned from his retirement and challenged Eric Young to a match for the championship at Bound for Glory. The show is IMPACT's biggest show of the year. It takes place on October 24th. Rich Swann has been the only man to pin Eric Young since his return. After the dastardly attacks on Rich Swann's injured knee, this match had to happen.
During an IMPACT media event with the champion and number contender, tensions were high.
Eric Young proclaimed "This is me in my truest and purest form. I will take you to the deepest, darkest waters you've ever been taken to." Rich Swann didn't seem too worried though. He citied his physical and oftentimes brutal series of matches with Sami Callihan within the last year in response. We also got some insight into how much longer we can expect Eric Young to continue his career as an in-ring competitor. Young also shared what his plans are after his already illustrious career is over.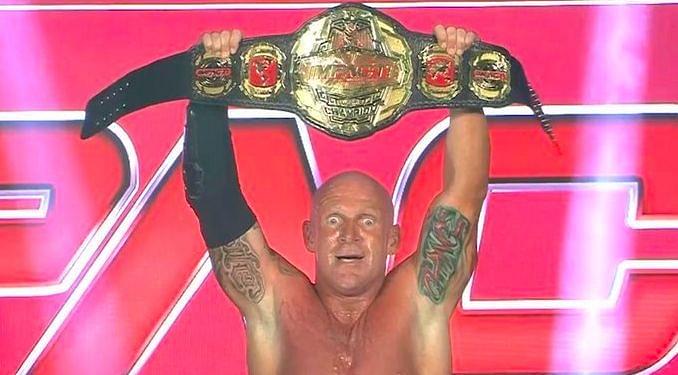 "You were talking about longevity. I was just wondering, obviously, you are still in the peak of your career, you're IMPACT World Champion, but how long can we expect you to be an in-ring performer?
And when the time comes for you to retire from in-ring performance, do you have any [desire] to be backstage somehow, doing a behind the scenes role, or would you rather just fade out and get on with the next section of your life?"
"Yeah, I mean, I feel the thing with wrestling is, you just never know, you know? You never know when your time is up, and I mean, if I'm being completely honest and transparent, that time could be up at Bound for Glory. Every time you step in that ring or do anything, there's an inherent risk at what we do. It's dangerous, ya know? I wouldn't change that, I love the physicality of wrestling, I love the competitive side of it and competing with myself to make myself better. But the truth is, I never set a number. I've never said, I'm gonna wrestle 'til I'm fifty or 'til I'm fifty-five. Because, like I said earlier, I'm going to do it as long as I can do it at 100%.
There's nothing physically that I can't do right now that I could do fifteen years ago. It is not a gimmick, this is me in my purest form and I think this is me at my best, and I think my work has been showing that. I feel like wrestling will always be a part of my life. I think because of my unique experience in my longevity, kind of seeing the show or the card or whatever you want to call it from every angle. I've been the opening match, I've been a comedy act, I wrestled women, I've been in tags, I've won the tag title with six different partners, this is my second run with the World Title.
IMPACT World Champion Eric Young He's seemingly achieved it All
I have held every title there is, and I've been all over the card, I've wrestled in a mask. I've done a pile of different things and I feel like there's very few people in wrestling that had that kind of experience, and that's something I'm very proud of. I wouldn't change any of it, it's all unique to me. And it gives me a [….] very wide lens of what wrestling is and what it can be.  I think I'll always do something in wrestling, but once I retire from the ring I'm going to disappear in an RV, travel the United States. I've seen the whole country, but I've never really been there long enough to experience it, so that'll be what I do. So you won't see me for several years after I retire, but that ain't no time soon."