A new age is here! The brand that is simply hard to kill is back on its biggest home since Spike many years ago, as IMPACT Wrestling is alive and well. In its live debut on AXS TV, the IMPACT Interrogation comes your way with the biggest main event possible. Sami Callihan gets one more shot at the IMPACT World Heavyweight Championship as he takes on the champion, Brian Cage, in a Steel Cage main event on the first ever AXS show.
The Opener: Josh Alexander vs Marufuji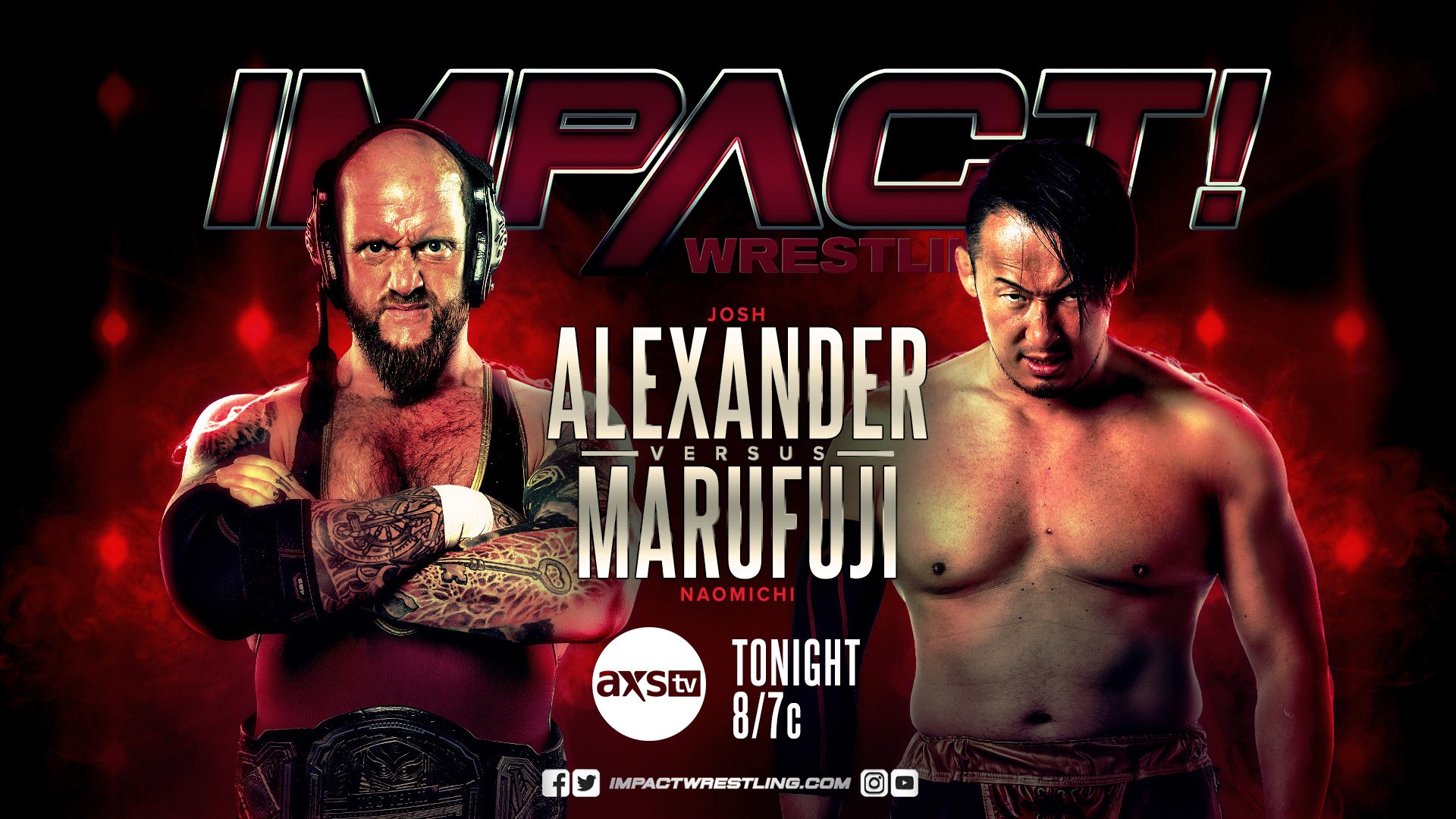 Josh Alexander is going to be a main event star when his time teaming with Ethan Page as a part of The North comes to an end. However, one half of the IMPACT World Tag Team Champions went one-on-one with Pro Wrestling NOAH legend, Marufuji. The last time we saw both of these men were at Bound For Glory, as The North survived a triple threat tag match to remain champion, while Marufuji came up short against Michael Elgin. With these two men in the match, it was all physicality all the time not so shockingly. Alexander and Marufuji trade blows early on, before Alexander would get the advantage. "The Walking Weapon" attempted for a Powerbomb when the NOAH legend turned it into a Superkick. They would take each other out, getting the fans on their feet before throwing chops at each other in the middle of the ring.
The strong styled Marufuji would fight back following a torture rack slame by Alexander leading to a close three count, hitting a hook kick to Alexander followed up by Sliced Bread No. 2 to pin Alexander and grab the first win of the new AXS age. After the match, Marufuji attempted to shake the hand of Josh Alexander, as Ethan Page denied him from doing so. The North would deny and walk out following the match, but in the end Marufuji got the last laugh.
Winner: Marufuji
The Rascalz got high with Fallah Bah, leading Bah to speak clearly and apologize for not having the back of TJP. It was time for inspiration by The Rascalz to help out Bah. Guess it worked?
The Rascalz helped @FALLAH1 find his voice as only they can, and he has some unresolved issues with @MichaelElgin25! #IMPACTonAXSTV @DezmondXavier @zachary_wentz @TheTreyMiguel pic.twitter.com/KS6IjWj43R

— IMPACT (@IMPACTWRESTLING) October 30, 2019
Jordynne Grace, Alexia Nicole and Rosemary vs Knockouts Champion Taya Valkyrie, Kiera Hogan, and Madison Rayne
A Knockouts showcase of sorts with the best women IMPACT has to offer, including the current and longest reigning Knockouts Champion, Taya Valkyrie. As said, it was a showcase for all the women, but it looked like Kiera Hogan may have seriously injured herself following a hurricanrana on Nicole. Valkyrie was tagged in and Madison Rayne seemingly left her out to try, allowing Jordynne Grace to capture opportunity and hit the inside cradle on Taya to win the match and more than likely set herself up for a future Knockouts Championship match, which is literally perfect.
Winner: Grace, Nicole, and Rosemary
.@JordynneGrace just PINNED the Knockouts Champion! #IMPACTonAXSTV pic.twitter.com/yf7kQeoCSA

— IMPACT (@IMPACTWRESTLING) October 30, 2019
RVD had an interview from a hot tube to talk about why he turned on Rhino, making it clear that without RVD, there would be no Kenny Omega, no Daniel Bryan, and no Young Bucks. He said he is done with carrying Rhino, which is why he turned on his now former friend.
Following that was a video to hype up Michael Elgin
Willie Mack and Rich Swann vs Desi Hit Squad
New viewers of IMPACT will soon learn how exciting of a team Rich Swann and Willie Mack are, as a match vs Desi Hit Squad would do the trick. Swann was dominated by both members of the hit squad, as Raj Singh and Rohit Raju attempt to pick up the upset win, coming as close as milliseconds before Willie Mack made the save. Swann would hit Raju with the Lethal Injection cutter, allowing Mack to hold up Raju for a beautiful assisted neckbreaker to pick up the first win together as a team on this new platform.
Winners: Willie Mack and Rich Swann
Could the World Tag Team Titles be in @GottaGetSwann and @Willie_Mack's future? #IMPACTonAXSTV pic.twitter.com/p8jnOOpNQd

— IMPACT (@IMPACTWRESTLING) October 30, 2019
Ken Shamrock addresses his Future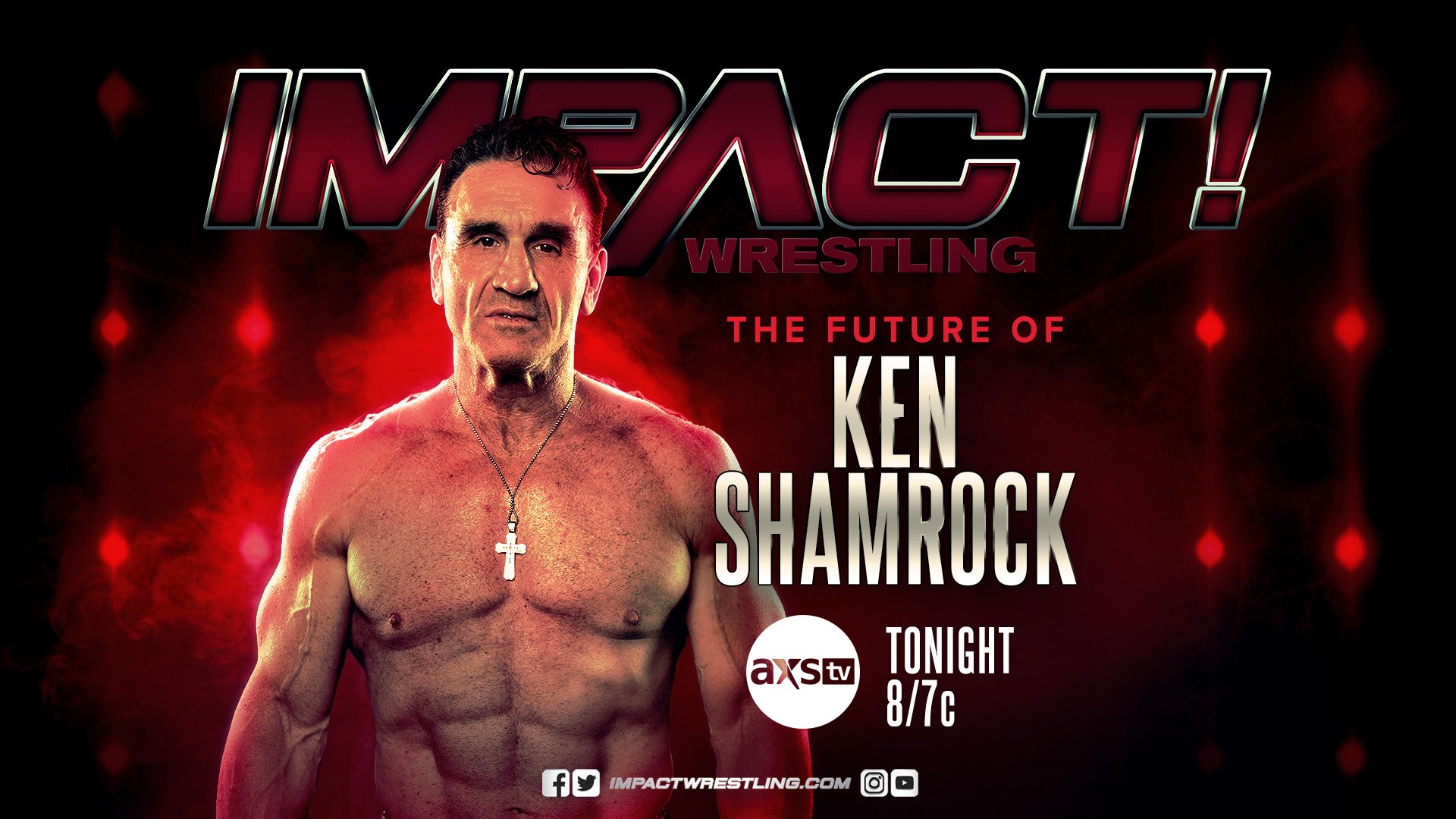 Shamrock was out to announce his future following his match with Moose that lit a fire under him to possibly keep competing. Before he could make the announcement, the newest signee to IMPACT, Joey Ryan, interrupted. Ryan cut right to the chase, saying Shamrock had one more mountain to climb while looking down of course. Ken, in all seriousness, made it clear that he didn't know who he was before realizing he was the "penis" guy. Shamrock then told him to get real that he's a real fighter while Ryan is simply a gimmick. Ouch. This led to Ryan asking if he was a real fighter, why is he afraid to touch it. Quick enough, Shamrock let the world know that he is not going anywhere. It would soon be made official that this match will happen, as Joey Ryan attempted to get Shamrock grabbing it before rolling out of the ring.
A preview of sorts was had for the "Undeniable" mega star that is Tessa Blanchard. She belongs the best of the bests, whether it is women or men. She wasn't done on this show, not by a long shot.
Falls Count Anywhere: Eddie Edwards vs Ace Austin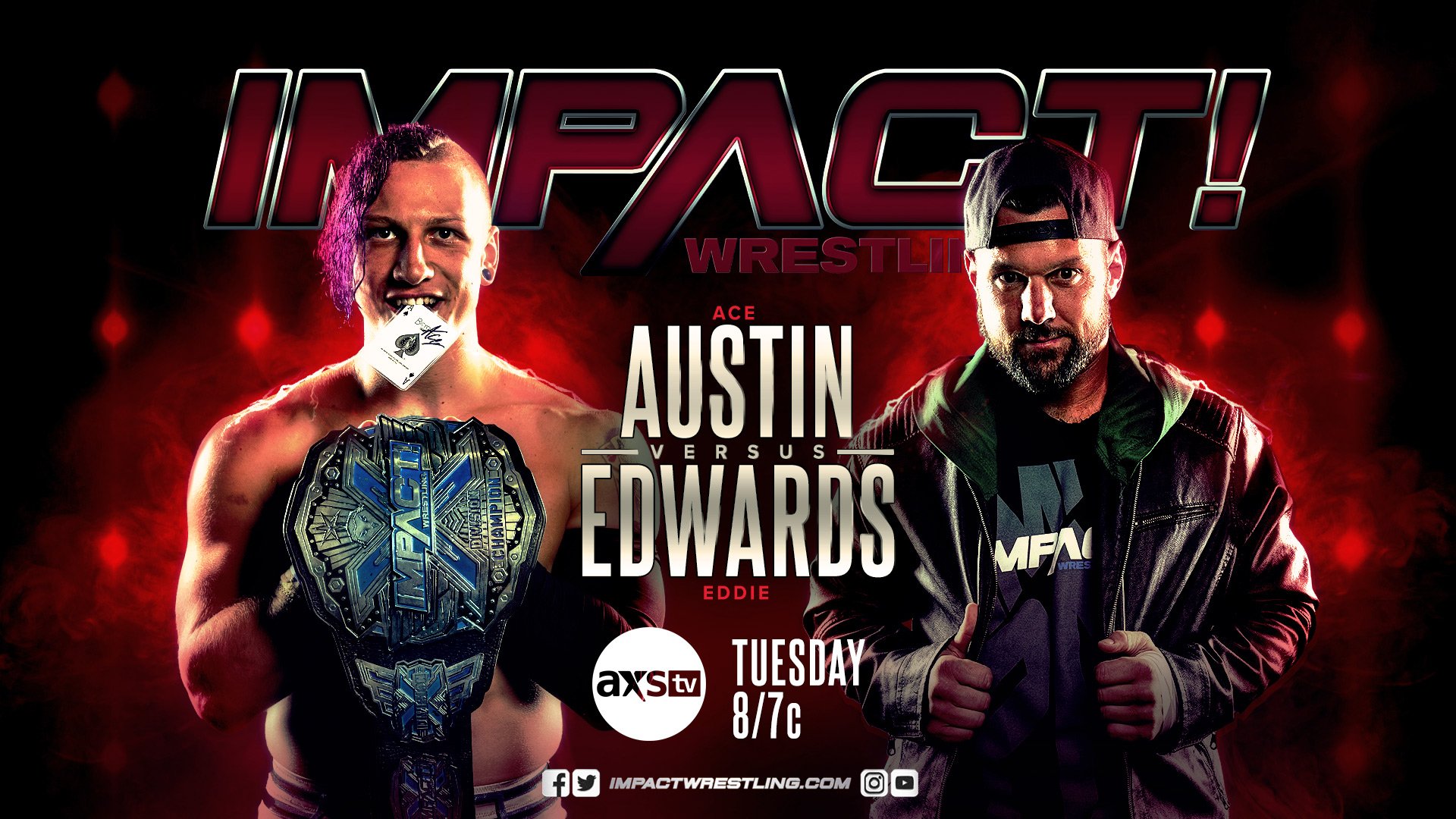 If you are new to IMPACT Wrestling, you have to learn that Ace Austin and Eddie Edwards do not like each other one bit. Trash cans, tables, chairs, and two men hating one another. It seemed every minute the other was getting hit with a garbage can off the head. Eddie Edwards would hit the Superkick on Ace Austin and looked to finish off Ace Austin before Reno Scum showed up to assist Ace. Austin would hit a picture perfect Famouser from the top on to Eddie, crashing through a garbage can. Kenny, who many know as Eddie Edwards best friend and also a kendo stick, was introduced but Ace Austin was able to deflect it with the X-Division Championship. Kenny was then smashed onto Edwards. Edwards perfectly caught Austin with the trash can, sending him head first into the can. Eddie smashed Austin with a chair, before looking for more. The Boston native would bring a table into the ring, laying the corpse of Ace Austin onto the top rope. Edwards went up top but Ace managed to hit a Superfold on Eddie to steal the victory.
Winner: Ace Austin
Su Yung "died" a few weeks back, but now she is back even creepier than before. No makeup, just creepier. Also now going by Susie. Great to see her back and different. Should be a fun story to follow.
IMPACT World Heavyweight Championship Match Inside A Steel Cage: Brian Cage (c) vs Sami Callihan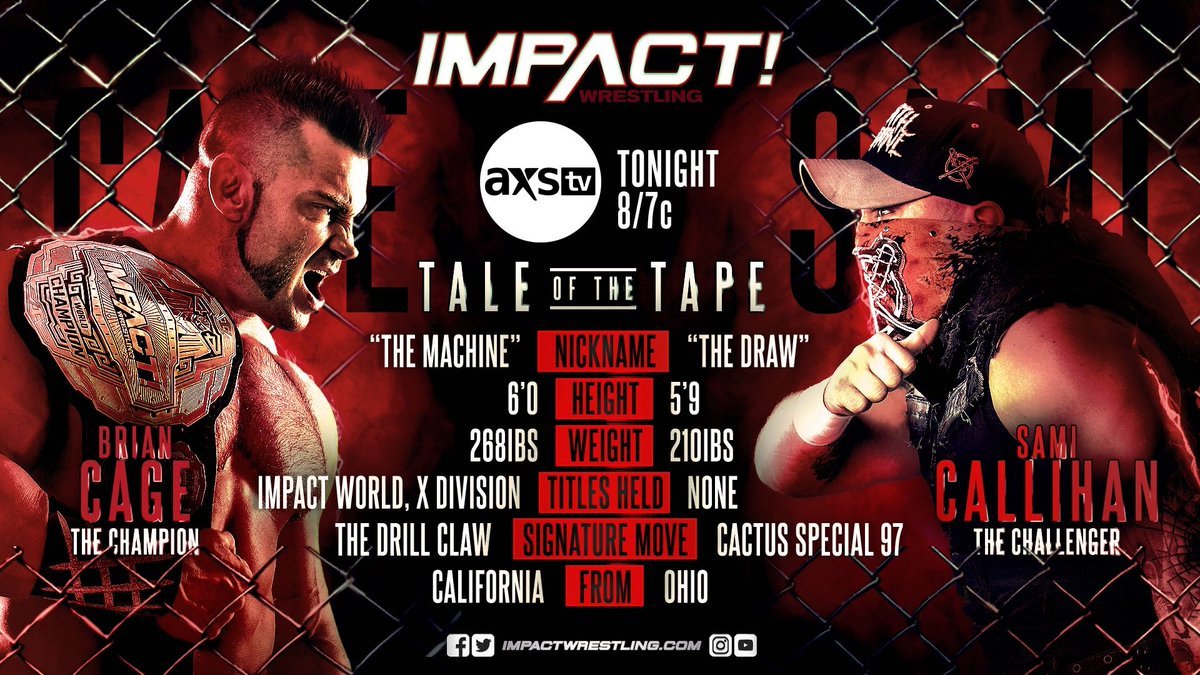 The time has come. The main event. Inside a Steel Cage. For the IMPACT World Heavyweight Championship. Can Brian Cage retain one more time? Or will Sami Callihan get what he has always wanted, which is world championship gold and being on top?
Cage stormed down to the cage in which Callihan was already inside of. Before the match even started, Callihan was powerbombed on the outside into the Steel Cage. Cage was a man on the mission, beating the life out of Callihan and lawn darting him into the Steel Cage. Callihan locked out Cage, but "The Machine" got into the cage faster than possibly anyone ever. An all out war was upon us as "The Draw" grabbed the baseball bat and smashed Cage in the head. Cage would be busted open and the challenger began to attack the wound by biting and punching it more and more. "The Callihan Death Machine" became exactly that, giving the champion no time to rise and get offense, but instead looking weak and beaten early on. Cage was able to move out of the way, having Callihan go head first into the Steel Cage.
Back and forth these two hated rivals went, with a huge clothesline by the challenger resulting in a near fall. The Cactus Special Piledriver was hit by Callihan, but Cage kicked out at one and it seemed he would kill and shut down the challenger all over again. A powerbomb into a bucklebomb almost led to him being done but a small package almost captured victory for the oVe leader. Callihan would hit three stereo Cactus Special Piledrivers, but somehow, someway the champion would survive. So far, four piledrivers and no win for Sami. Cage would hit a Alabama Slam, followed up by a beautfiful discus clothesline. Cage would climb to the top rope, but Callihan would join him and headbutts would be passed along between each other. An enziguri was hit by Callihan, leading to a devastating Cactus Special Piledriver from the top rope to crown a NEW world champion in the one and only DRAW, Sami Callihan.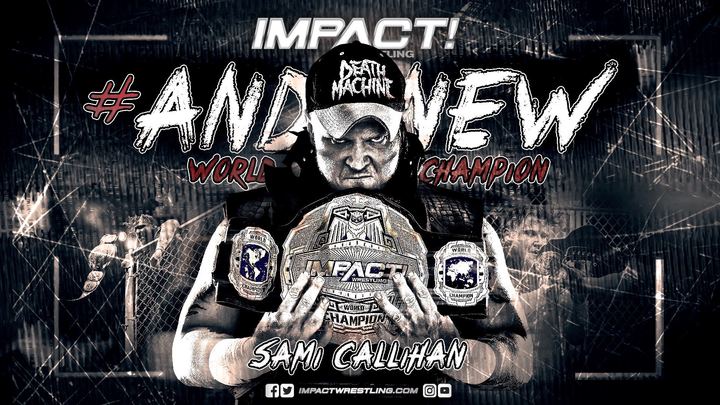 Winner #AndNew IMPACT World Heavyweight Champion: Sami Callihan
.@TheSamiCallihan IS THE NEW IMPACT WORLD CHAMPION!

A PILEDRIVER OFF THE ROPES PUTS @MrGMSI_BCage AWAY! #IMPACTonAXSTV pic.twitter.com/E6cBs0G7ek

— IMPACT (@IMPACTWRESTLING) October 30, 2019
Oh but the night was not over. After Callihan achieved his dream and became the new world champion, his rival would head out as Tessa Blanchard got right into the cafe and into the face of the new champion. That would be the final image of the night, with these two staring down and leaving the best possible teaser as these two are far from done.
.@Tess_Blanchard and @TheSamiCallihan NOSE TO NOSE! #IMPACTonAXSTV pic.twitter.com/kjx7xvZvcj

— IMPACT (@IMPACTWRESTLING) October 30, 2019
That is all from the first night of this new age of IMPACT Wrestling. Buckle up, because its going to be an awesome ride for wrestling fans.
Originally written by Scott Edwards