To many, Mexico is home to the high flyer. The likes of El Santo, Rey Mysterio, Mistico, Dragon Lee, and so many others have come along to showcase some of the most amazing high-flying, acrobatic action wrestling can offer.
Finding the next big star is a constant in the wrestling world. Not just who will be the next breakout mainstream star. But also, who will raise the bar for what can be done in the ring? Enter Hijo del Vikingo.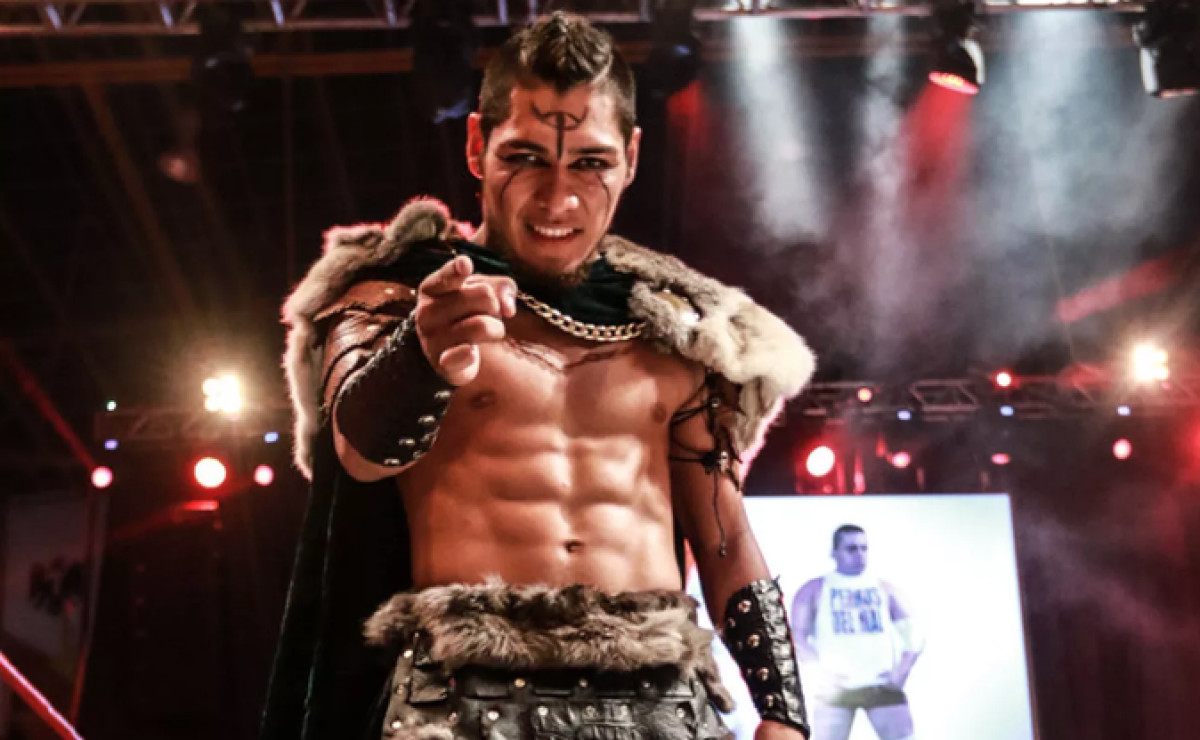 Son of prelim Mexican wrestler King Vikingo, he debuted in 2017 in the independent scene before being signed quickly to AAA. One of the many scouted by ace talent recruiter/veteran wrestling figure Konnan. Hijo Del Vikingo was quick to grace AAA with his incredible agility in the ring.
Despite his small stature, Hijo Del Vikingo shows incredible agility in the ring, emphasized by how he can move on top and around the ropes as if they were simple flat surfaces with no problem balancing on them. Hijo Del Vikingo is more about the quick, fluid movement rather than an amazing dive.
HIJO DEL VIKINGO DIVE OF THE YEAR CANDIDATE! pic.twitter.com/u3WAhuv6jx

— Rob (@LuchaGifs) August 26, 2018
But for HDV, it's not just about the aerial skills. It's also about the looks. AAA may not be known for its impressive storytelling or logical booking. But when it comes to gimmicks, they go all out. These are the guys who supplied a large part of the Lucha Underground roster after all. Hijo Del Vikingo (which by the way means Son of the Viking) may not be as imposing as an actual Viking given his size, but he certainly looks the part.
Hijo Del Vikingo
Sporting a fur pelt, fur boots, war paint, and long hair befitting of a guy who may not really put hygiene in the first place, the stature of Hijo del Vikingo helps remind you that this great, young talent carries a family legacy with him. He is a "Son," and though he's surpassed his father rather quickly, he still adopted this business from him and represents that by carrying his father's name and gimmick to a new level.
When you see Hijo Del Vikingo right away, you know exactly what he's all about. How's that for a "Viking Experience"?
Already making a splash in the US via IMPACT Wrestling during their various Mexico tapings, it's almost a guarantee that if AEW will bring over AAA talent, he will, without a doubt, be one of them. Already a Trios Champion alongside Laredo Kid and Myzteziz Jr, Hijo del Vikingo is already blazing a trail for himself, and he's just getting started at the simple age of 21.
The sky's the limit for this youngster, and we will see more of him soon enough. Only time will tell where this tremendous talent is will go from here. Stay tuned as he dominates the world of Lucha Libre.
Today, El Hijo Del Vikingo continues to be a talent that is on the rise. At only 24 years of age and a professional with an 8-plus-year career, he has faced some of the most notable talents in North America. Despite having to overcome the challenges of competing during a worldwide pandemic, Vikingo has still used a creative and unique look to capture the attention of wrestling fans on screen, if ever so briefly, in 2020.
In 2021, Vikingo has been a mainstay in his native home of Mexico. He has stood across the ring from a Ring of Honor World Champion in Bandido, capturing The Crash Heavyweight Title in a fatal four-way matchup.
In fact, in July 2021, one former world champion commented on Hijo del Vikingo and his future in the industry.
But as COVID played a part in shutting down a number of industries, wrestling fans outside of Mexico had little to no exposure to Hijo Del Vikingo. When he emerged on AEW Dynamite in 2023, all eyes were firmly planted on this remarkable talent who stood across the ring from Kenny Omega. The future is bright as dazzles audiences with his acrobatics that have made many in complete awe.
"The balance and core strength this takes is incredible. With a little more raw power, he could have done it just as good as me.

I've said @vikingo_aaa

is one of the best for a reason. Much like with Jungle Boy in AEW, I want to crush your future too."
– Kenny Omega on Hijo del Vikingo

__________
If you wish to follow AB Morales on social media and see my various escapades, please do so here on my Facebook Blog.
Hijo Del Vikingo – The Rise of the Viking Son
Originally written by AB Morales