The Clandestine Society…well, where do I begin? I guess before I get into anything, I should give a brief explanation of who I am for anyone who wouldn't know. Over the next few months, while I'm here writing these, you'll find out more and I'll tell some stories of my career, but for now, what you need to know is this…
My name is Michael Richard Blais and I've been a professional wrestler based in Alberta for 16 years, primarily wrestling with the Prairie Wrestling Alliance. I was trained by TJ Wilson (Tyson Kidd) and I've done A LOT of cool things in this dream-chasing life I chose.
What that means is, I've seen a lot in this area. I've seen people come and go. I have seen some of the best wrestlers in the world come through here. Some went onto a bigger stage. Others went away, quietly, unseen. It doesn't change how damn good they were, though.
From TJ Wilson to Rick Viktor, to Tyler Breeze, to Nattie Neidhart the ones you'd know instantly all the way to Camikaze, Brandon Van Danielson, Chase Patrick, Michael Allen Richard Clark, etc, the ones you may not have ever heard about, maybe just haven't heard of yet or you know of and already support stronger than we'd ever been able to thank you for. The point is this place is filled with a plethora of talent, great promotions, and great fans, and it always has been.
That's where this idea is born.
The Clandestine Society is named such because sometimes it feels like we've been a bit of a secret all along in this wide world of wrestling. Western Canada has been the host of some HUGE independent wrestling events. Hell, PWA just did a show in the Saddledome this year. It's time the WORLD saw that. Just like various other places like the United Kingdom scene, for example, became a major force in independent wrestling, that's what we want.
The most important part of this entire idea, is everyone putting on the absolute best show they can, with no restrictions and live streaming it to the entire world. The goal? We want people in England to see Son of Irish. The intent is for people in Japan to see Jack Pride. Our goal is for people in Australia to see Evan Adams. We want the world to see the atmosphere and the fans we have here. We want eyes on us.
You might ask why the show is "Invite Only"? Well, it's simple. We aren't a competing wrestling promotion.
This isn't the usual promote and sell tickets. We just want to have a party. Everyone that is a part of this crazy idea was given an amount to invite and you invite who you want to party with. Unfortunately, the building we are doing this from, which will remain a secret, does have the capacity.
If it were up to all of us, we would invite the entire city, but it's not feasible. Once again, that's where the live stream comes into play though. Sure, the worldwide audience is a goal…but we want ALL OF YOU to tune into this. If you aren't at the event itself whether it's due to a capacity issue, whether you just can't make it, whatever the reason…we would LOVE to find out you watched and told your friends to watch too!
So where can you watch? All the streams will be available at the following links. The show starts at 6pmMST – 8pmEST
YOUTUBE:
https://youtu.be/xQjg06BrhYw
Do you know what the coolest part of it all is though? In my entire time here I've never seen a community band together like this, so strongly. I've seen us come together for a lot of things, but never this strong. This community has been together for a very long time. Some have been around for years, some are a bit newer, but the way everyone has come together with this is inspiring as f to me. This doesn't work without EVERYONE involved, without ALL of us. Every person on the card, every person behind the scenes, everyone invited, everyone who tunes into the live streams, everyone who supports any of this.
This became a bigger animal than any of us had in mind when it was just an idea floated around. We've got Artemis Spencer and Nicole Matthews coming from Vancouver now. We have Evan Adams coming back for one night from Ottawa. We have people on a card together that you'd never expected. Matches you've never seen. Matches you'd NEVER have even thought would happen.
This is special.
So now, if you asked me to summarize all that in short. I'd say this. The Clandestine Society is really just that. This is not average. We are not boring. This is not ordinary. We are not forgettable. We are a group of individuals that are banded together with a goal to create magic and YOU are a part of that too!
Full Match Card:
Main Event – Deathmatch
Evan Adams vs Sheik Shabaz vs Colton Kelly
Michael Richard Blais vs Artemis Spencer vs Brandon Van Danielson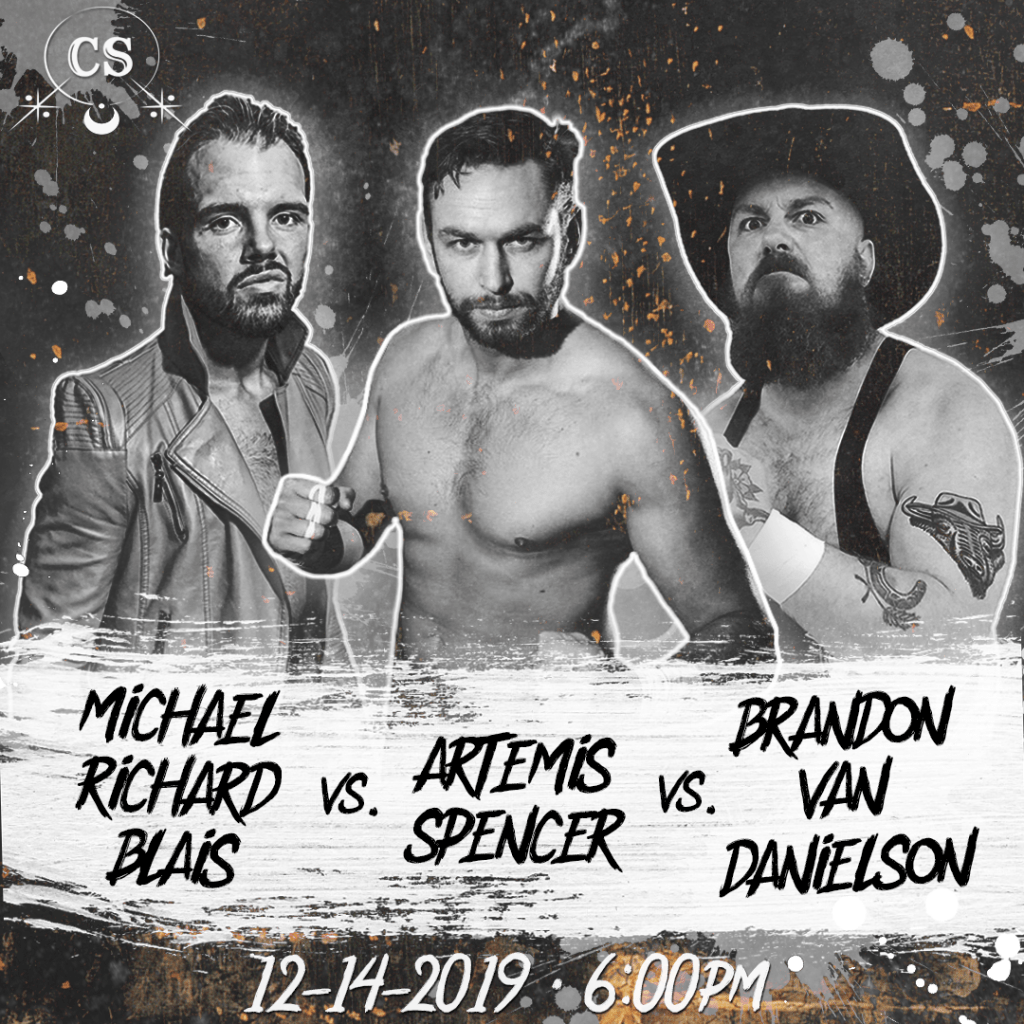 Nicole Matthews vs Zoe Sager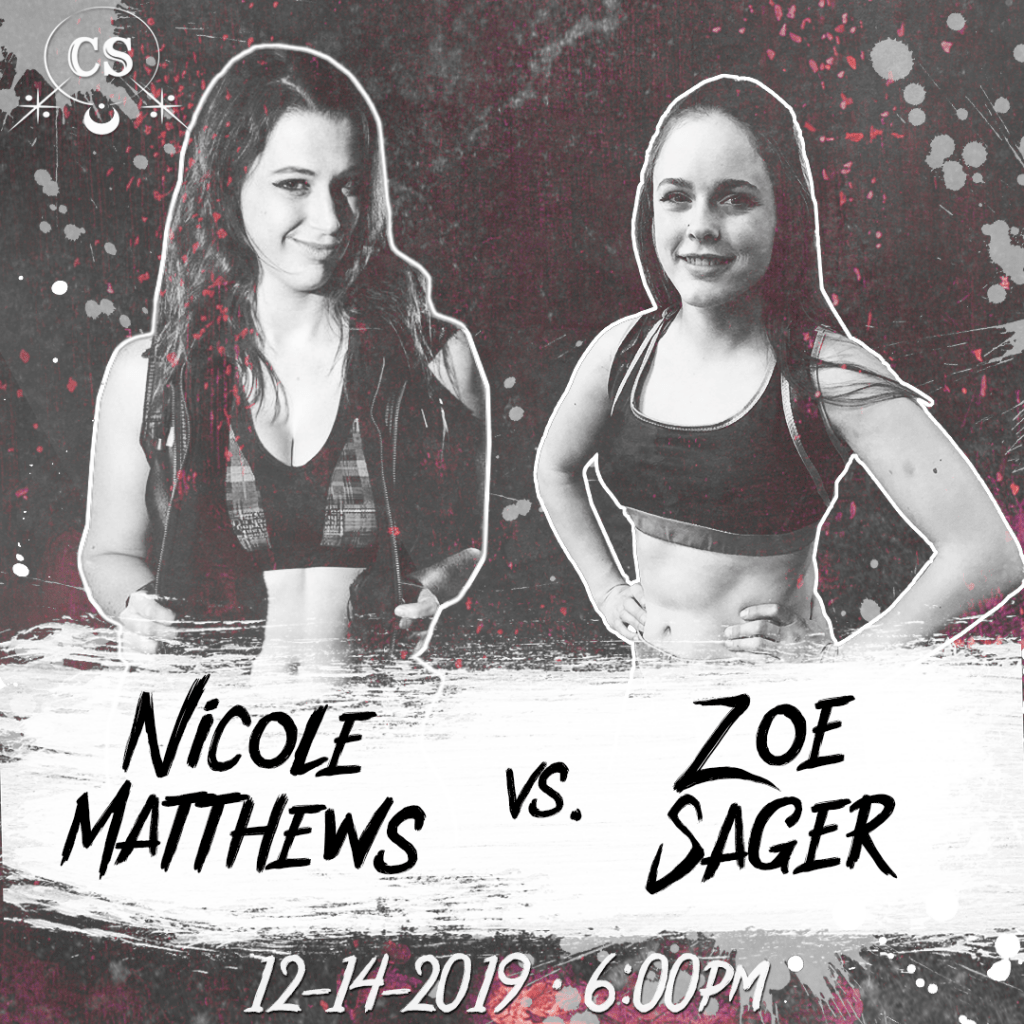 Michael Allen Richard Clark vs Son of Irish
D on a Pole Match
Mike McSugar vs Dylon Stone
The Imitation Game
"Chris Jericho" played by Jack Pride vs "Dave Batista" played by Davey O'Doyle
Tag Team Match
The Above Average Joes (Aiden Adams and Kenny Stryker) vs Cody Chimera and Chris Perish
This Is Not a Clusterf**k…This is Just a Tribute! Pin, Submission, Forfeit – Elimination Rumble!
Featuring: The Thickness, The Spaceman, Taryn from Accounting, Baby Teve, Kayla Jaye, Kylie Morgan and many more!
Once again live streams will be available at the following links FOR FREE starting at 6pmMST – 8pmEST this Saturday 12/14/2019!
YOUTUBE:
https://youtu.be/xQjg06BrhYw
FACEBOOK: Facebook.com – Backbreaker Media
TWITCH: Twitch TV – Backbreaker Media
Following everything on social media @ClandestineSOC
Thank you all, I'll see you on here in a few weeks with whatever I decide to drop a line about and until then, this Saturday, it's time for us all to create some f**king magic! We are The Clandestine Society.