On Saturday, October 10th, Glory Pro Wrestling presents Are ya Wrestling, Son? The event takes place during the early afternoon live on FITE TV. The show is on the second day of the series of The Collective 2020 events. It is sure to be filled with several men and women looking to not only make a name for themselves but to come together after what nearly never came to be. They are excited, proud, and willing to battle one another until only one person is left standing. Of all the matches that say the most on this night, the two that stand out the Independent Wrestling Television Championship match between WARHORSE and Zachary Wentz and the Bullrope Match between 1 Called Manders and Jake Something. Here is the preview Glory Pro Wrestling Presents Are Ya Wrestling, Son?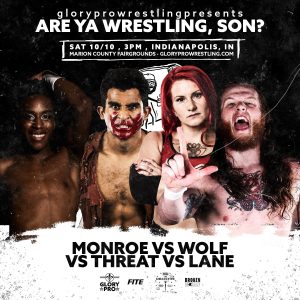 Glory Pro Wrestling Presents Are Ya Wrestling, Son?
Devon Monroe vs Jody Threat vs Stephen Wolf vs Kody Lane
This four-way battle has several talented men and women a part of this match. Who do we anticipate it being the one to walk away as the winner? Among the four, we believe rising stars like Devon Monroe or Jody Threat are amongst the two premier talents that may have the most significant chances of succeeding in this contest. However, the Leader of the Pack and Harley Race trained Stephen Wolf, and Texan Kody Lane can't be ignored either. In a four-way battle, it's nearly impossible to pick who will be the winner. In this match, we think it could be the night Devon Monroe shows the Glory Pro faithful that he is one. Who will walk away as the winner?
Glory Pro Wrestling Presents Are Ya Wrestling, Son?
The North vs Alex Zayne & Blake Christian
These two teams will put on an absolute show. There is no question about it. As former IMPACT Wrestling tag team champions, Ethan Page and Josh Alexander know each other seemingly like the back of their hands. Their continuity and ability to work with one another has made them the longest-running tag team champions in IMPACT Wrestling in recent memory. One thing that is for sure is they will bring with them their chemistry and a whole lot of rage as they face the two notable Game Changer Wrestling stars in Alex Zayne and Blake Christian. This will undoubtedly be a battle of the striking and technique and those with an incredible aerial assault.
The Biggest Rematch in Glory Pro History
AJ Gray vs ACH
It has been advertised as the biggest rematch in Glory Pro Wrestling History. When looking at both men's careers, it is clear to see this match could do a great deal for both of them. In the case of AJ Gray, he is the one that previously lost to ACH back in 2018. Now, however, Gray is the one that has a bit of pressure on him. The reason being he is the one that is the one looking to even the odds here against ACH. ACH knows this and could be facing someone with a great deal of pressure on them, making them desperate. That desperation is precisely what can prove to be the most dangerous quality in any challenger.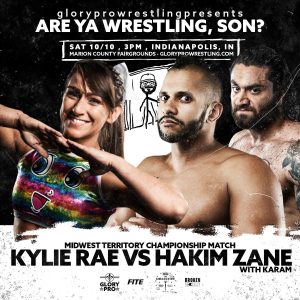 Glory Pro Wrestling Presents Are Ya Wrestling, Son?
Midwest Territory Championship Match
Kylie Rae vs Hakim Zane
Rae is looking to have a bounce-back night during this matchup against Zane. At this past week's Black Label Pro Turbo Graps 16 tournament, Rae recently lost the BLP Midwest Championship to Alex Shelley. Now, however, she has the opportunity to turn that proverbial frown upside down. As she pursues Zane and the Midwest Territory Championship, this could be the week she loses and wins a championship all in the same week. It could also be the same week where she lost and won a title tied to a current IMPACT! Wrestling colleague. For Rae, however, she will have to be aware of Karam at ringside and what he has the potential of doing.

Glory Pro Wrestling Presents Are Ya Wrestling, Son?
Hyan & Laynie Luck vs Sisters of Destruction
This match looks intense. For Hyan and Laynie, they look to get the better of the Sisters of Destruction. In the case of both Hyan and Luck, they collectively come into this match with a combined eleven years of competition. They step into the ring with the dark duo of Elayna Black and Blair Onyx. Black and Onyx are the least experienced of these two teams. Onyx is a former trainee of the Black and Brave Academy, so she's been trained by some of the most notable wrestling talents today. Onyx, together with the Sorcerous of Sin, will undoubtedly be behind the eightball against Luck and Hyan. They will need to try and intimidate them into gaining a psychological advantage to walk away as the winners in this contest.
Mike Outlaw vs Lee Moriarty
Outlaw and Moriarty are set to light it up in this matchup. These two are relatively close in size, strength, and stature. This may be the one match that is too close to call. The key here for the Apex of Combat is to ensure that the St. Louis native off-balanced. He will have to stick and move through the match. Moriarty will need to work through Outlaw's best shot. Outlaw is no stranger to Glory Pro Wrestling. He walks into this contest, ready to take out Moriarty and make a name for himself on FITE TV. Will Moriarty catch himself, leaving his guard down? Or will Mike Outlaw come out guns a blazing and get the better of Moriarty?
United Glory Championship Match
Topflight vs Gaytanic Panic vs Dan the Dad & Allie Kat
This triple threat of action is really a whose who of talent involved in this matchup. Of the three tandems, it is hard to pick one as the winners. However, each of the teams has fascinating and exciting qualities. The duo of Gaytanic Panic brings a fun and exciting, dynamic element to this match. EFFY and Danhausen are sure to bring out the whimsy.
In comparison, Topflight duo Angel Dorado and Air Wolf bring that end to end action in the match. If one team seems to be the one that would fly under the radar, it would be Allie Kat and Dan the Dad, or is that Wrassler? Which team will stand alone after all the dust settles? It is a fairly tough call to make.
Independent Wrestling Championship
WARHORSE vs Zachary Wentz
As the most recent match added to the card, it would also be the one that stands out the most. WARHORSE is coming off the heels of a win at this past week's Turbo Graps 16 tournament. He now returns once again, putting his IWTV championship on the line. However, this time around, hs stands across the ring from one-third of The Rascalz, IMPACT Wrestling's Zachary Wentz. Wentz is an exceptional talent regardless of whether its in singles or tag team action. Both men have been in front of a major audience on television. But now bring their mainstream popularity to Glory Pro Wrestling. While the question of are ya wrestling son may be asked, the question that should be asked is, will WARHORSE remain champion?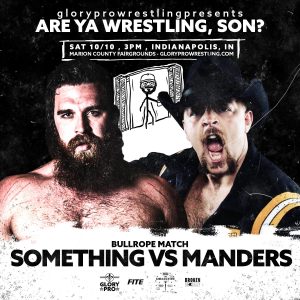 Bullrope Match
Jake Something vs 1 Called Manders
Two hard-hitting son of a guns are coming into this match ready to beat the hell out if each other. With that said, how can you not be excited at the possibilities of what this match will entail? While a Bullrope Match isn't a new, these two are likely to put an intense spin on it. This classic style match will also include a modern twist. If one thing is for sure, they will battle one another until one man is left standing. At an event titled Are ya wrestling, son two men will not battle in a match where the word wrestling is a loose term. These two men are sure to fight, hopefully, to set one of them up for a future championship match. Who among the gets the bull, and who gets the horn?