The season got brighter this past weekend for a good number of independent wrestlers! Fans were treated to a free GCW show via YouTube last Saturday from the GCW Performance Center. GCWs Slime Season turned out to be a grand success as over 45,000 fans watched eight solid matches. Over $15,000 was donated by supportive fans looking out for the independent wrestlers who work hard to entertain everyone. There was plenty of goodwill at Slime Season, but now it's time to reflect and take a look back at what was also truly outstanding in the ring.
____________
5 Great Moments From GCWs Slime Season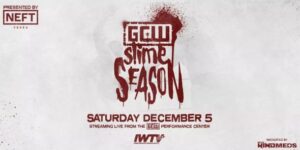 1. Damian Drake and Matt Vandagriff in the Scramblef*ck match
This was a show that made a lot of new GCW fans, but I'm sure Damian Drake and Matt Vandagriff made some new fans out of longtime viewers. These two, best known as the Harlequins of Hate, made it a point to show out in the fast-paced six-man scramble match. Amazing single and tag skills on display in this one from both Damian and Matt, and I'm hoping anyone watching from the higher up promotions is keeping their eyes on this talent.
2. Jacob Fatu's trashcan assisted Samoan Drop
By the time Jacob Fatu got around to using the trashcan in his match against Matthew Justice, I screamed, "WHAT MORE CAN YOU DO??". I didn't believe anything could keep Justice down, but Fatu made damn sure to try everything. This included putting an industrial-size garbage can atop Justice's torso, whacking him around with steel chairs. Then the ass-kicker of it all was Fatu delivering a Samoan drop to Justice while he was still in the garbage can. Unreal.
3. Mance Warner's DDT through the door
I'm not sure if there's anyone who intensely dislikes Atticus Cogar and 44OH as much as I do. It didn't get more satisfying for me than the finish to his match with Mance Warner last Saturday. Yeah, Atticus brought a hard-ass fight to ol' Mancer, but it was the super bada** DDT through the door at the finish of the match that left Atticus flat on the mat and ready for the pin. Extra gratifying to see Mance get this win after the crime that took place in Atlantic City at So Much Fun. Mancer was robbed of his GCW Championship shot, but this win provided some revenge. Payback's a bitch.
4. Kikutaro and the Indecent Proposal
Oh, Kiku. His approach to romance is straight out of an episode of Married With Children. You can't fault the guy for trying, though. Once he realized he couldn't focus on his match with Allie Kat for wanting to pursue marriage with her, the match itself got that much more entertaining. You don't see that every day – a man marrying a cat in the middle of a wrestling ring. Speaking of proposals, hopefully, it's not too late to propose an end of the year awards category for comedy matches. I'd gladly nominate this one!
5. Lio Rush's Blackheart Entrance
Wow. For five minutes that Saturday evening, the GCW Performance Center transformed into a smoky haze of what-the-fuckery. This was the 'other' Lio Rush, the one who'd had a loss to Blake Christian last month at So Much Fun. Something happened after that loss, and we were seeing the result of it in Lio's Slime Season entrance. He'd returned to his Blackheart roots. I was pretty impressed by this different side of Lio, and it showed in his 30-minute classic sequel match with Blake Christian. The change-up was effective indeed.
____________
Don't miss the replay of Slime Season in its entirety for free on YouTube while it's still available! Welcome to all new GCW fans who tuned into this event; you picked a good time to start riding with the last outlaws.