GCW presents So High. Game Changer Wrestling will be kicking off the first weekend of December with back-to-back events on December 3rd and December 4th. Coming off the heels of last month's acclaimed sixth Nick Gage Invitational tournament, GCW will be hosting their first-ever "So High" show at the Premier Arena in Houston, Texas, this upcoming Friday. "So High" will also be available for streaming live on FITE TV at 8 pm CST.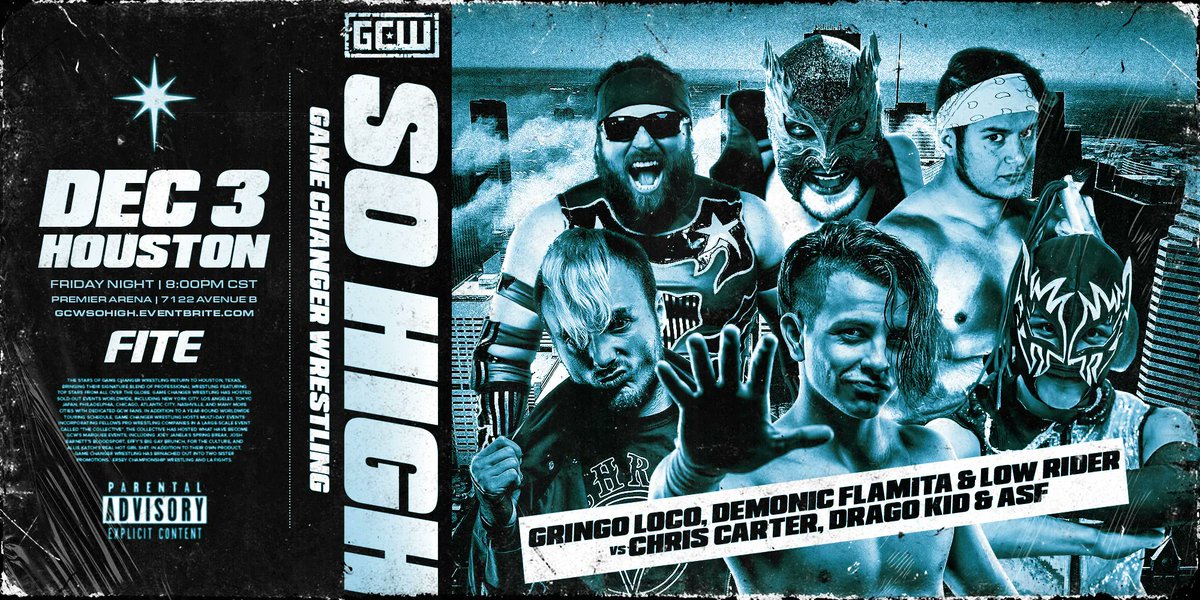 GCW Presents So High
Gringo Loco, Demonic Flamita and Low Rider vs. ASF, Chris Carter and Drago Kid
In a matchup that, on paper, sounds as if you blink even once, you're bound to miss an entire sequence, the team of Gringo Loco, Demonic Flamita, and Low Rider face off against ASF, Chris Carter, and Drago Kid in a six-man tag team match.
Flamita has spent the last three years making his name known to American professional wrestling fans through his incredible showings in Ring of Honor and eventually even winning the company's World Six-Man Tag Team Championships, alongside Bandido and Rey Horus, as Mexisquad. So surely, Flamita will be in his element in a six-man tag, but will his speed and technique be able to match those of his competitors?
His opponents, Carter, ASF, and Drago Kid, though younger, are far from less impressive and jaw-dropping. In GCW, Loko Wrestling, and AAA, respectively, all three men have managed to capture the independent wrestling world's eyes through their unbelievable acrobatics and perseverance.
Perseverance that ASF particularly has shown against Loco, who will be face to face with the young star for the third time this month. Will the young up-and-comers be able to score a victory against the more experienced lucha stars? Or will ASF be able to even the odds against Loco and be on the winning side of the battle?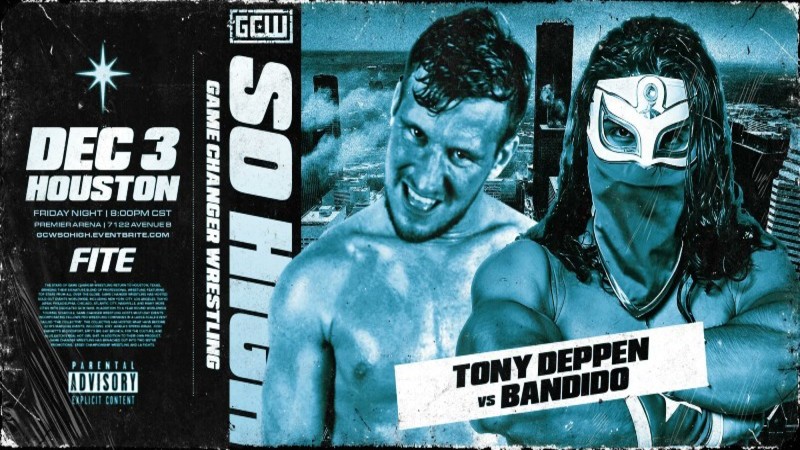 GCW Presents So High
Bandido vs. Tony Deppen
For over eight years now, Bandido has been cementing his legacy as one of the most awe-inspiring luchadors in contemporary professional wrestling. His unbelievable athleticism has been demonstrated in some of the most internationally recognized independent and major promotions across the world. His significance is evident by his current grasp of not only the Ring of Honor World Championship but the Pro Wrestling Guerilla World Championship and Tijuana's World Wrestling Association's World Welterweight Championship as well.
"So High" will see Bandido's debut for GCW as he goes one-on-one against company-mainstay Tony Deppen. Though Deppen has wrestled and even captured gold in Ring of Honor, Bandido's most common battlegrounds, this will be their first time meeting in the squared circle. Will the former ROH World Television be able to pick up a win over Bandido thanks to his home advantage in front of the GCW faithful? Or will he be staring at the lights, courtesy of a Spanish Fly?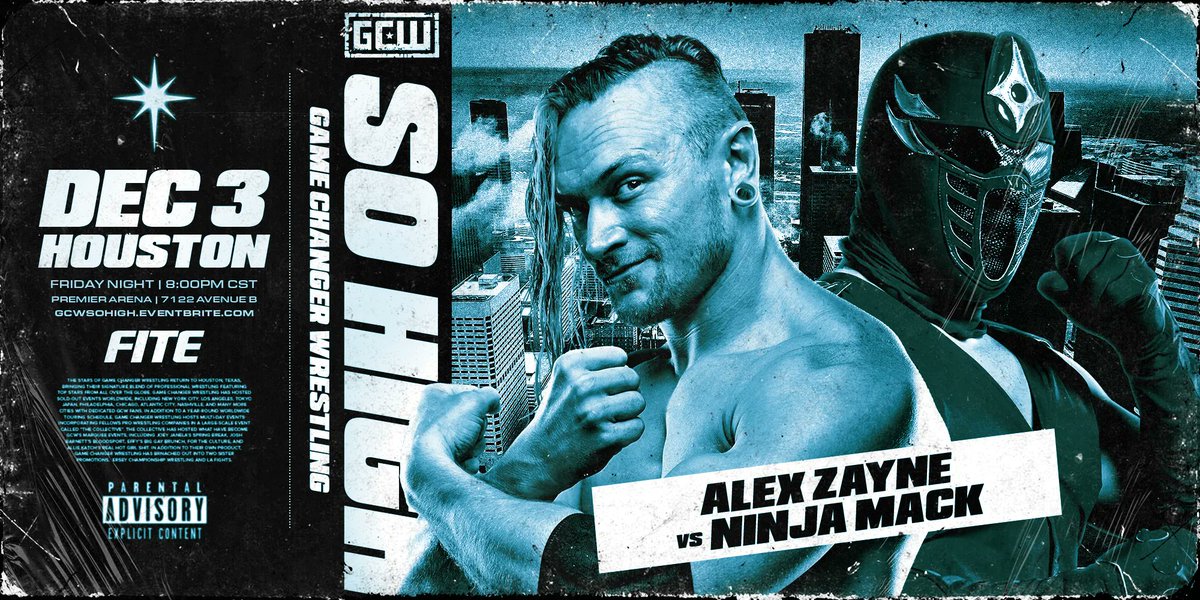 Ninja Mack vs. Alex Zayne
Ninja Mack, Ninja "F***kin'" Mack, Ninja "F**k" Mack, whatever you want to call him, has proven time and again in front of the GCW audience that the ceiling on "flippy sh*t" in professional wrestling is unbelievably high. So high to the point that we probably haven't even scratched the surface of what was once thought to be humanly possible.
Mack's defiance against gravity has granted him star-like status to fans of independent wrestling, and lucky for that because the man he's facing this upcoming Friday is also no stranger his own brand of that aforementioned "flippy sh*t."
Not only has Alex Zayne made his signature Tope Con Hiro a sight to behold in GCW, but Ring of Honor, Impact Wrestling, New Japan Pro Wrestling, and WWE as well! Zayne has yet to be defeated in singles action for GCW this year, yet once in the ring with somebody like Ninja Mack, who can potentially match him in quickness, technique, and ability, that statistic may change.
GCW Presents So High
Effy vs. Sadika
What hasn't Effy done in GCW? The universally beloved and admired former FEST Wrestling Champion has wrestled in deathmatches against the likes and Homicide and G-Raver, fought (and won) in a damn War Games match, and even pinned Matt Cardona for his signature Internet Title. He hasn't, however, fought Sadika.
If you haven't heard of Sadika, allow me to give you an idea as to who she is:
As part of GCW's joint "Fight Club: Houston" show with Loko Wrestling this past summer, the GCW World Championship was on the line in the main event. Need I remind you that for the majority of this year, the GCW World Champion was Nick… F'n… Gage. In her first match for the company, Sadika challenged for the company's flagship title against the most famously ultra-violent deathmatch wrestler in the world.
Not but a month later, in her second and last showing for the promotion, she faced "The Human Meat Grinder" SHLAK at GCW: You Only Die Once.
Given both competitor's tendency for violence and massive pain thresholds, this match is looking to be one not for the faint of heart.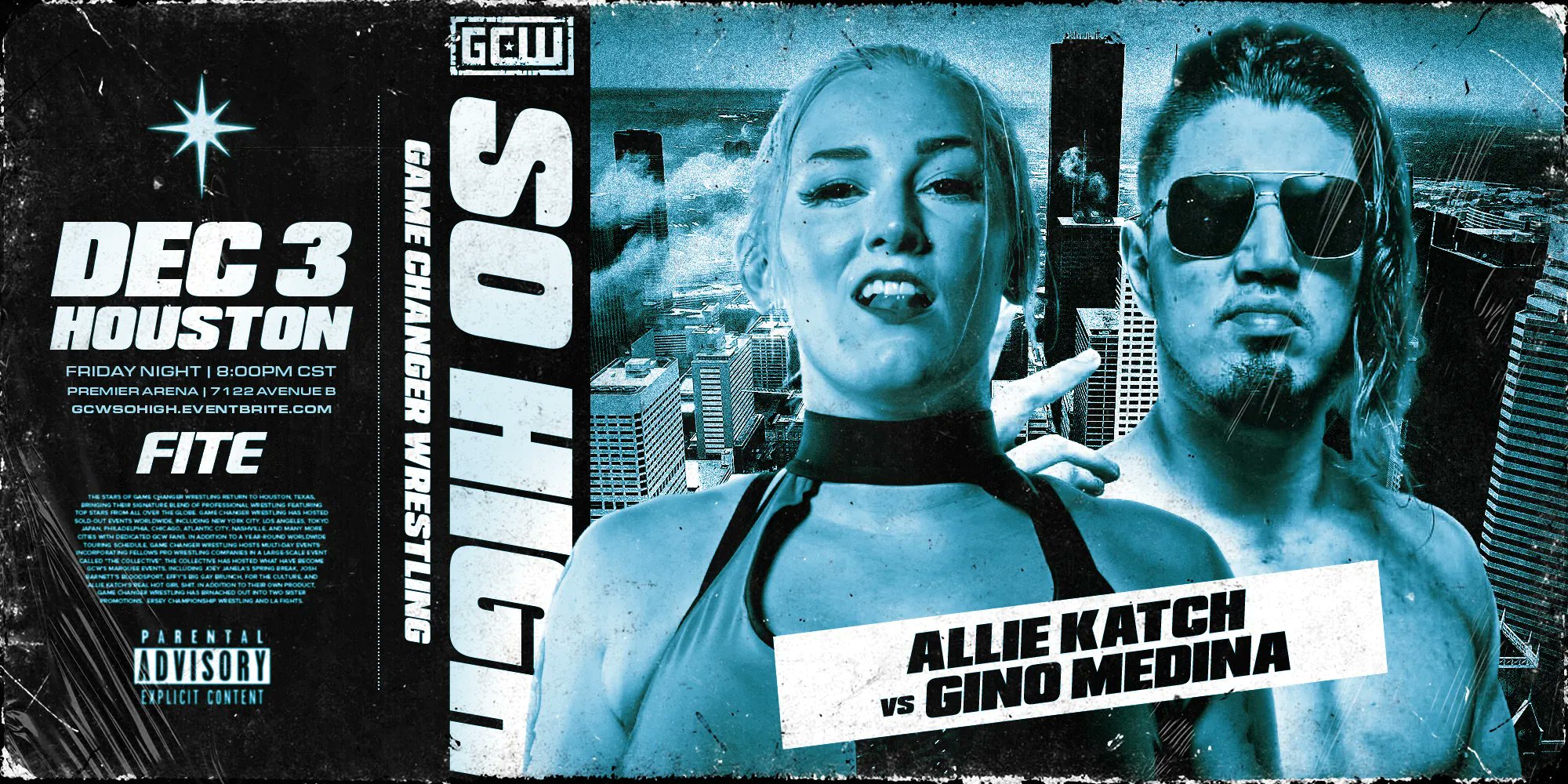 GCW Presents So High
Allie Katch vs. Gino Medina
Allie Katch, the second half of Bussy to be competing on "So High," is set to go one-on-one against Gino Medina of Major League Wrestling fame. At "GCW/Loko Wrestling Fight Club: Houston," Medina was defeated by Katch's partner Effy. Despite the match taking place nearly five months ago, Medina has yet another chance to pick up a victory against a member of Bussy.
Katch has been on an upward trajectory this year, winning her last four matches in GCW, most recently against Chelsea Green at "GCW: Evil Deeds." Despite being a GCW regular, this year alone has seen her make appearances on DEFY Wrestling, Glory Pro Wrestling, and even AEW Dark. Up against the current Bull Of The Woods Champion, however, Katch may just be facing the individual to end her winning streak.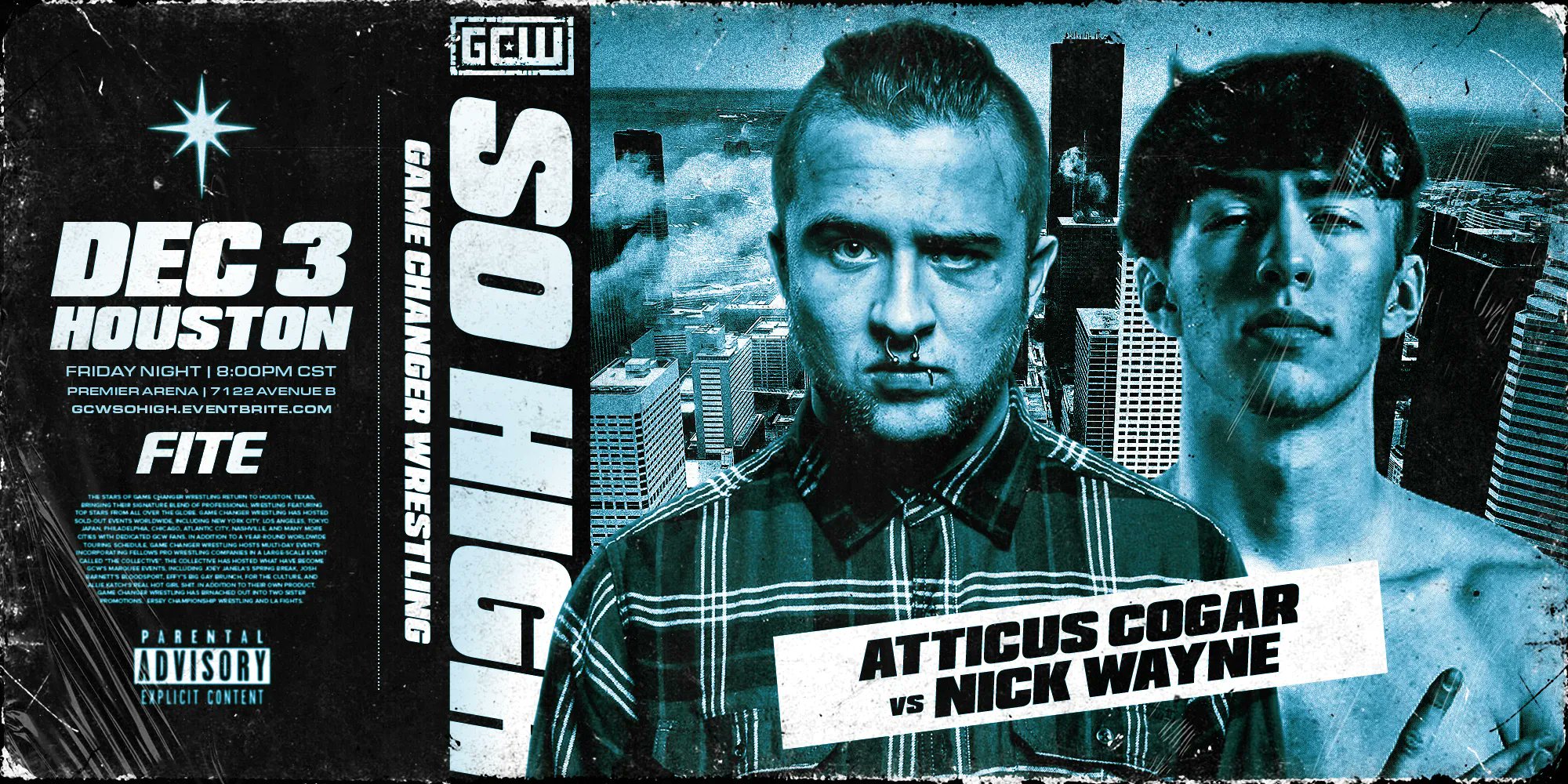 GCW Presents So High
Atticus Cogar vs. Nick Wayne
The fact that Nick Wayne is 16-years old is absolutely absurd. Not only is a professional wrestler that young a rarity, but the last year has seen him have some of the most incredible showings in the independents, including most recently, a nearly 40-minute match against Joey Janela at Defy Wrestling's "Brutalist" event, in what many are referring to as "one of the best matches in Defy history."
Since GCW's "Aftermath" show this past October, tensions between Wayne and Cogar have been gradually heightening. Cogar had jabbed his dreaded green skewers into the forehead of a defenseless Wayne, which would act as a catalyst to this blood feud. Since "The Aftermath," Cogar and 44OH have ambushed Wayne in the middle of his matches and defeated him in the ring as well.
Without Wayne's recent backup, Jordan Oliver, it will be interesting to see if he's able to overcome the "Silver Teeth Satan" or if 44OH will continue their reign of terror against GCW.
Pair 44OH's recent victory against Wayne and Oliver at Evil Deeds with the glaring anger Cogar must have over his loss of the Danny Havoc Hardcore Championship last week, and the cards are looking to be stacked against Wayne. If the young up-and-comer has taught us anything, though, it's to not count him out early, as he possesses the heart and determination that is necessary to overcome these kinds of obstacles.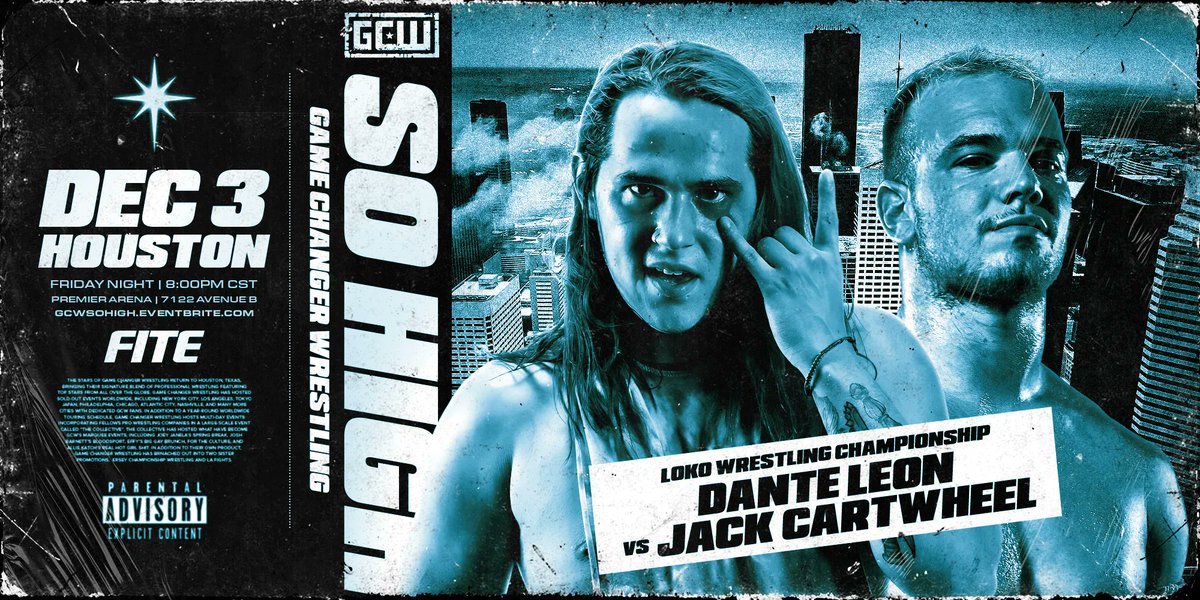 Dante Leon vs. Jack Cartwheel
Since making his Game Changer Wrestling debut in April of this year, Dante Leon has demonstrated his abilities to connect with the promotion's fans through his unique look, impressive arsenal, and stellar matches.
He and his scheduled opponent for "So High," Jack Carthweel, last met one-on-one at GCW's "You Only Die Once" event this past summer in a nearly ten-minute, madly fast-paced bout.
Cartwheel also made his Game Changer Wrestling debut earlier this year, yet like his opponent, "The Rocketwheel" has already become a sight to behold and look forward to.
Whether Leon will be able to pick up another victory over Cartwheel or not is up in the air for now, as both men are slowly but surely becoming future company mainstays. What is certain, however, is the imminent exciting and high-flying action to be expected from these two incredible athletes.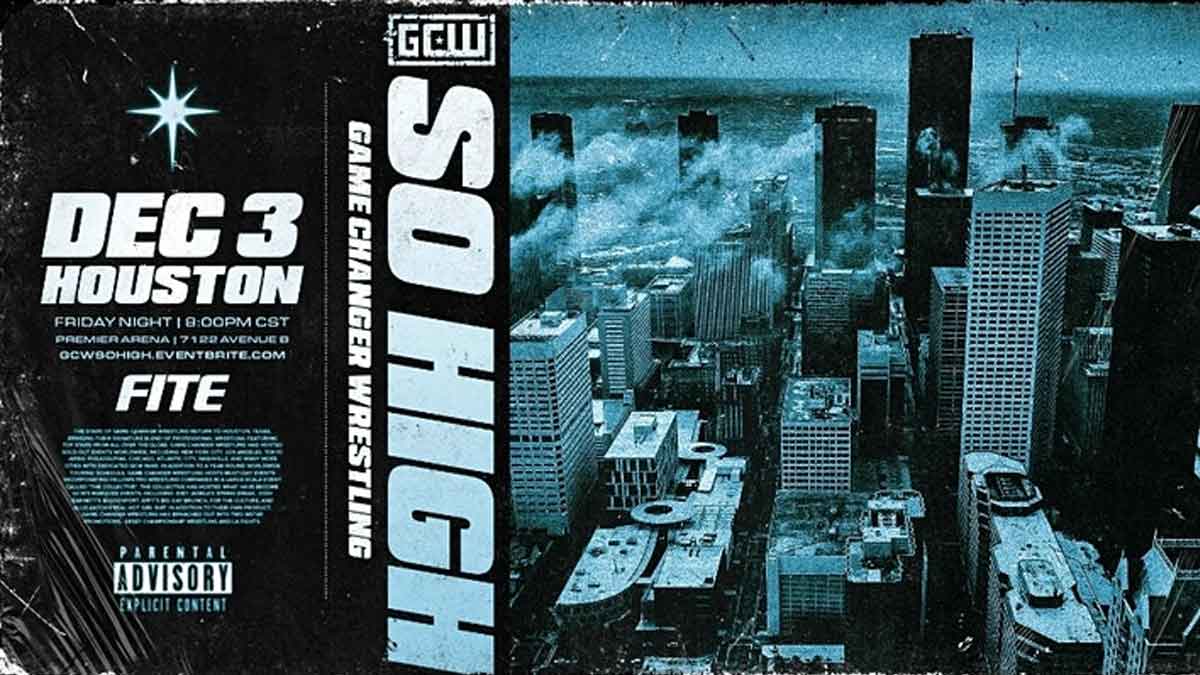 GCW Presents So High
SGC (Justice and Gray) vs. Bryan Keith and Mysterious Q
The Second Gear Grew is perhaps one of the baddest groups in all of professional wrestling right now. Composed of Matthew Justice, Mance Warner, Effy, AJ Gray, and 1 Called Manders, the group emanates energy like few others on the independent scene are able to. SGC has managed to run roughshod on GCW these past couple of years and hold the GCW Tag Team Championships for nearly 100-days – all this thanks to an offense fueled by beer, thrash metal, and a room full of fans thoroughly behind them.
What happens then, when two of the group's hardest hitters in "The Truth," AJ Gray and Matthew Justice, take on ring-veteran Mysterious Q and Rise To Wrestling Royalty Tournament winner Bryan Keith?
Q and Keith had previously faced off in a nearly 30-minute match at New Texas Pro Boesch this past June for the New Texas Pro Championship. Surely after that match, the new know each other well enough to team up. Will their chemistry be enough, however, to defeat "Black Death" and "Thrash Justice?"
*****
Stay tuned to Pro Wrestling Post for this and additional stories from the wrestling world. Readers can rely on Pro Wrestling Post to be their daily source for all things inside the squared circle. As a result, readers can expect daily news, history, and so much more. Please visit Game Changer Wrestling's official Facebook page here for news and information on the promotion and upcoming events.