GCW Fight Forever is here! With hours before the show, the entire program breaks down of a number of different matches and blocks throughout. This monumental 24-hour live and free stream on both GCW's YouTube and FITE TV begins as of 8 PM eastern. As many are aware the show runs from 8 pm this evening (Friday, January 29th) until tomorrow evening (Saturday, January 30th).
With a show consisting of at least 15 blocks of matches, the event will be something special. Thank you to all the wonderful sponsors who have contributed to the event and its success. DJ Jarka, Bill Potts, and Marc Madison all come together to preview the event.  Please read below as Orange Crush Presents GCW Fight Forever.
__________________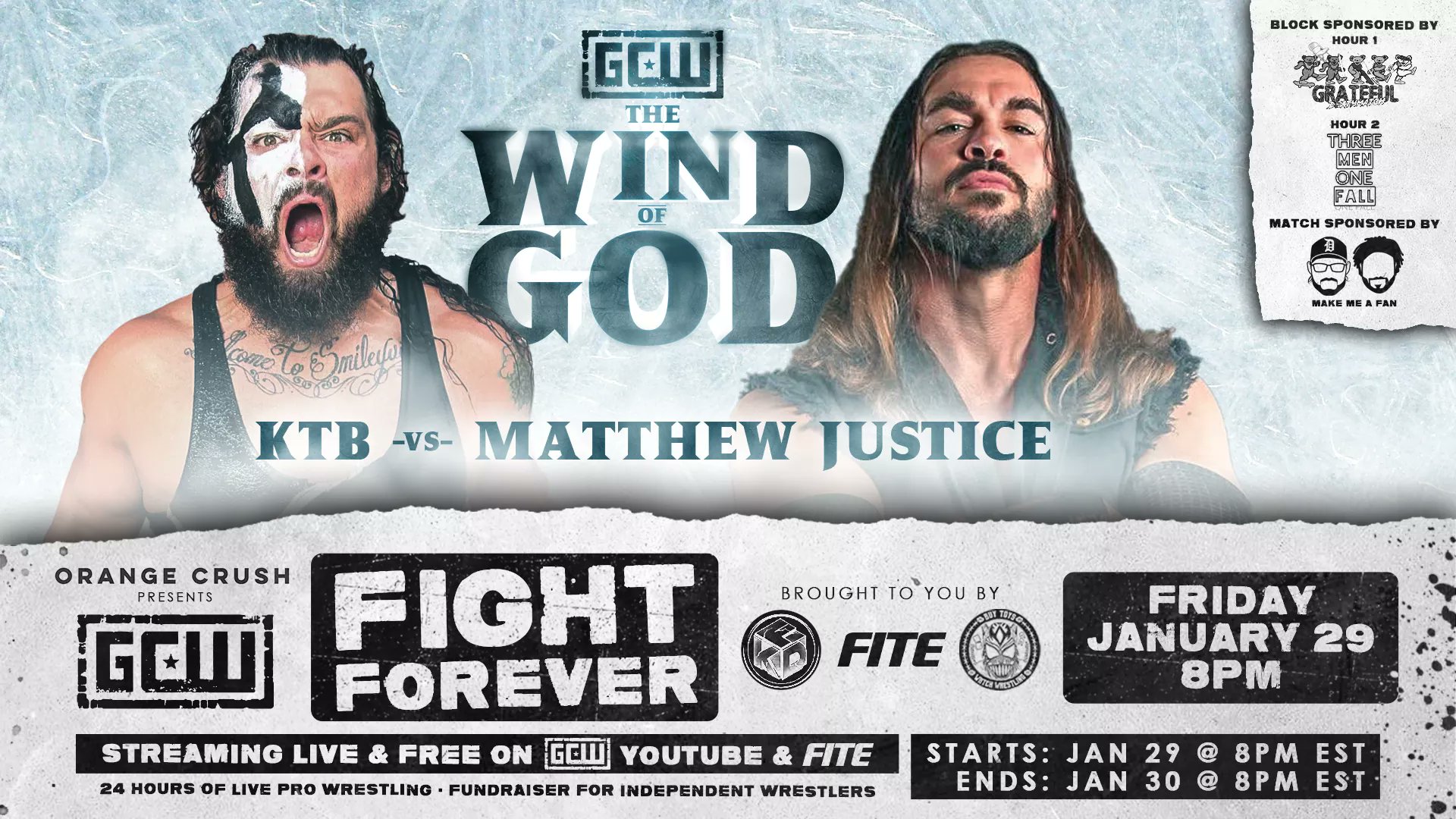 GCW  Fight Forever
KTB vs. Matthew Justice
Marc Madison: Battered, beaten, and bruised. If any match during GCW Fight Forever screams that an all-out battle will take place, it is this one. Justice and KTB are long-time veterans of the GCW ring wars. KTB has continued to generate popularity both on and off-screen. Fans have also seen KTB in All Elite Wrestling as well.
However, with raised exposure and raised popularity comes raised expectations. Those expectations are certain to be exceeded on this night. For Matthew Justice he will continue to show just how insane he can be. In one of the matches as part of 'the Wind of God' block of the program. It is certain to be a match that will set the bar for the night when it comes to violence.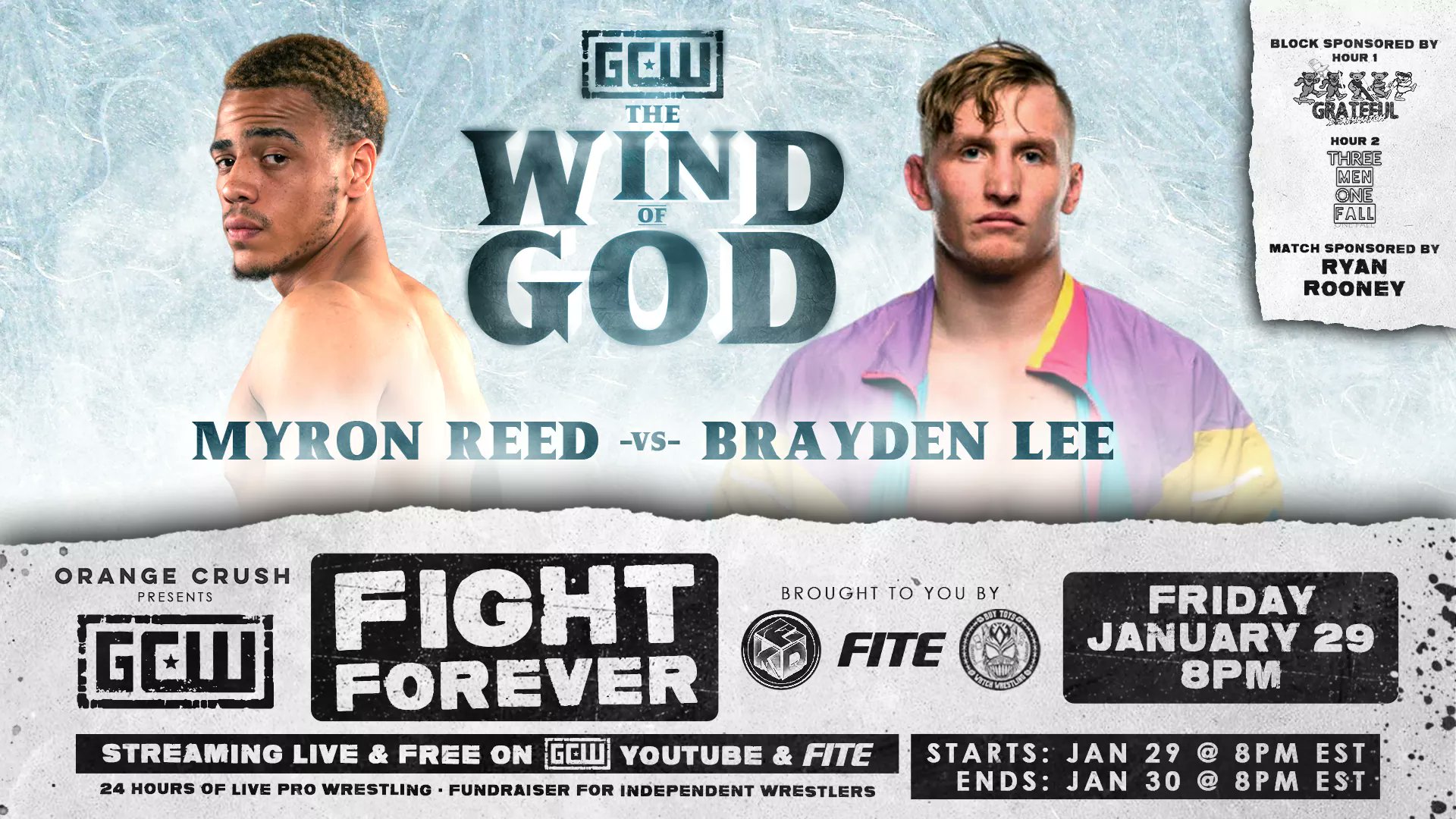 Myron Reed vs. Brayden Lee
Marc Madison: GCW Fight Forever kicks off with a shoot em up battle between these two Cruiserweights. At the same time, Reed is no stranger to GCW. He is currently on the rise with MLW. And it is Brayden Lee that fans are also talking about. 'Straight Brazy' is a three-year pro that some came to find out about during his time in IWA Mid-South.
Lee, much like Reed's ability to stick and move, is what makes them most appealing to watch. With two more years of experience on Lee, Reed is certain to use any advantage he can to get the better of Lee. This appears to be one of many matches where at the end of its fans will be chanting for them to be fighting forever.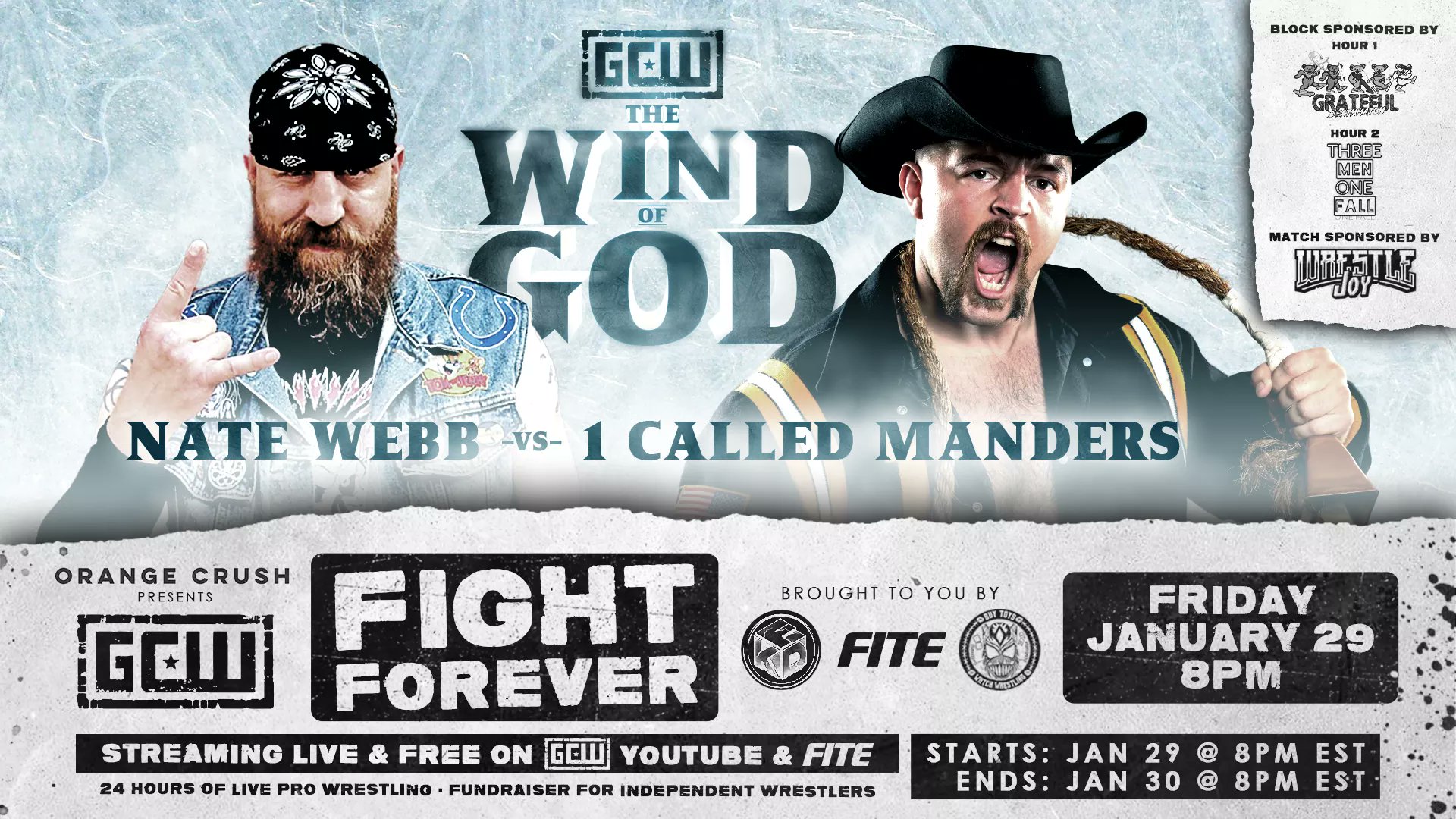 GCW  Fight Forever
'Spyder' Nate Webb vs. 1 Called Manders
Bill Potts: In what under normal circumstances would be the prime time slot of Friday at 8 PM, we have a match that has been titled 'The Wind of God.' Regardless of that appellation, though, what is striking about this matchup is the contrast between the two combatants. On one side, you have Webb, the veteran of over 20 years who any fan of independent wrestling will be very familiar with. He wrestles what could be called the 'modern' style, as he is comfortable in a brawling, hardcore environment and is also skilled in using high-flying offense.
Conversely, the man now using the title 1 Called Manders is much newer to the industry, having less than four years under his belt. But this comparative neophyte uses an old school cowboy character. Still, he is just as comfortable with brawling as Webb, so fans can expect a physical affair.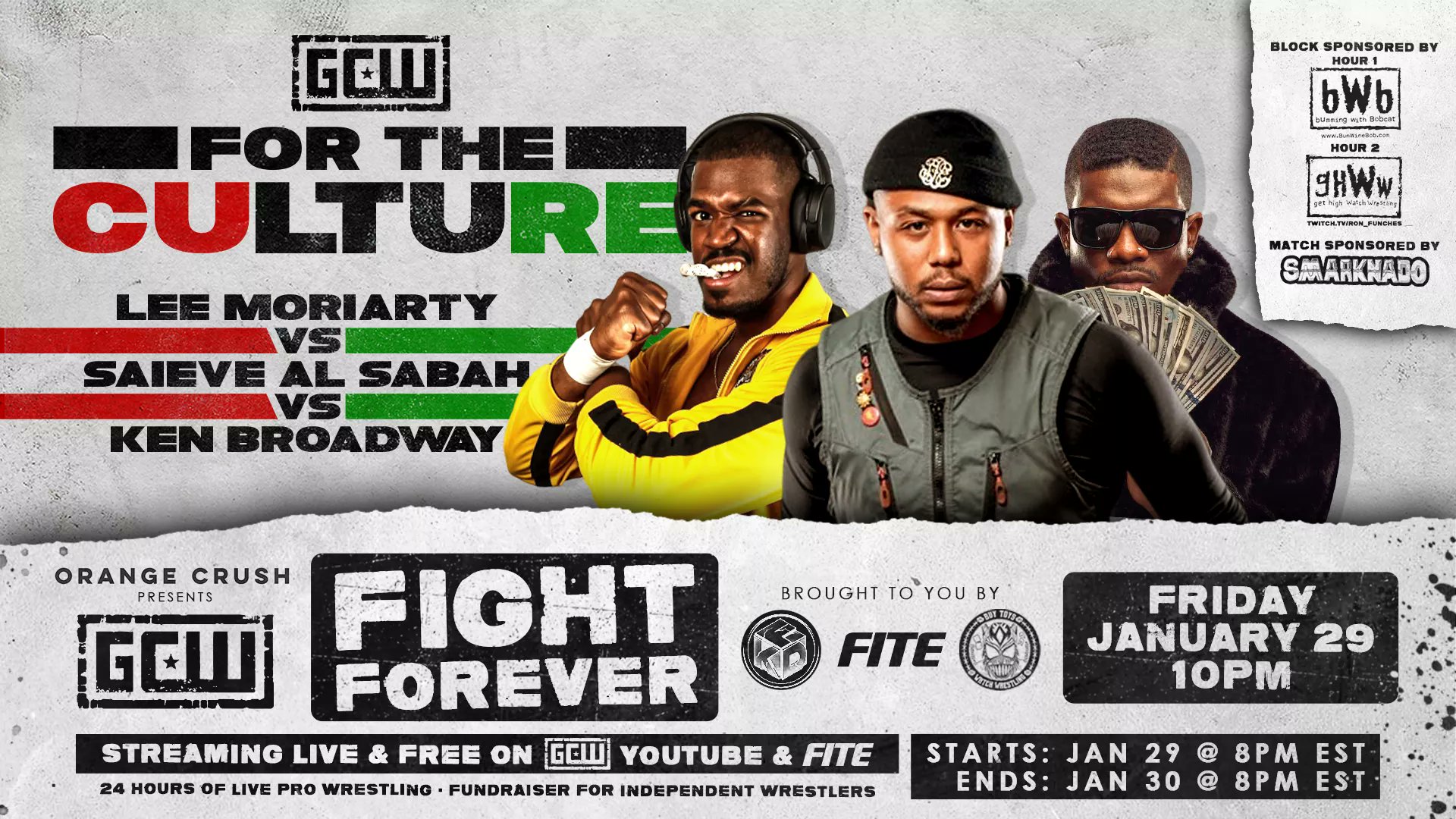 Lee Moriarty vs. Saieve Al Sabah vs. Ken Broadway
Marc Madison: Three men that are sure to best represent the culture will do so in another non-stop battle at GCW Fight Forever. The Apex of Combat, Sabah, and Broadway each bring a different element to this matchup that is quite intriguing. A former trainee of the Team 3D Training Academy under Bully/Bubba Ray and Devon, Sabah is a four-year veteran. He is competing in his third Game Changer Wrestling event within the last year.
Ken Broadway returns to the ring in 2021, looking to put the absence of 2020s failing to compete in matches behind him. It is the first time these three have faced one another at any point and any time. Who among them walks out the winner?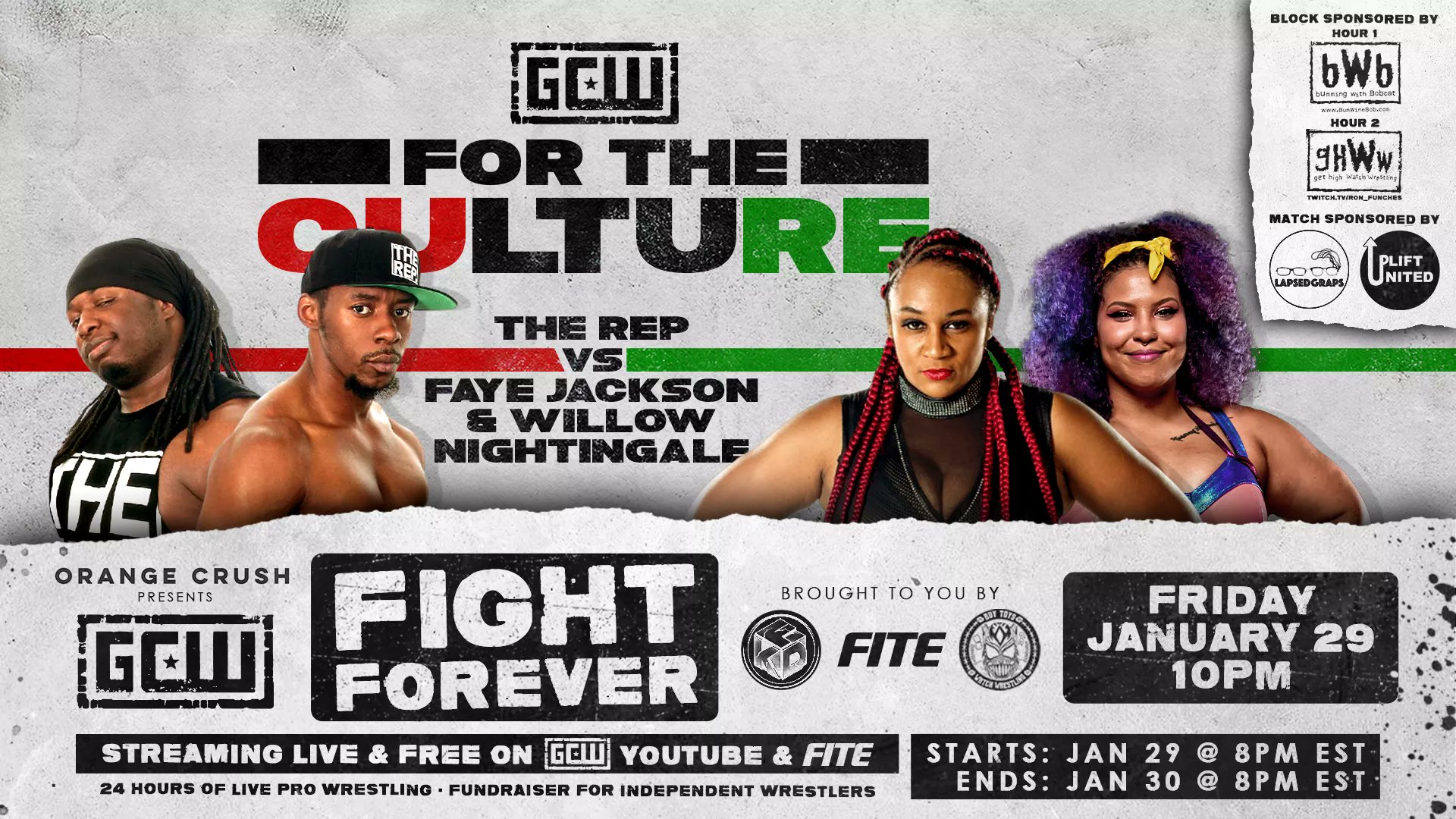 GCW  Fight Forever
The Rep vs. Faye Jackson & Willow Nightingale (Thick N' Juicy)
Marc Madison: The next matchup as part of the For The Culture block of GCW Fight Forever involves a solid intergender matchup mixing solid strikes, unconventional, and most importantly, entertainment. With McCall and Carter, fans that aren't familiar with them are sure to witness a duo that intends to turn heads in this matchup.
Since competing in Beyond Wrestling, they've gained steam and now plan to leave an impression on those watching Fight Forever. However, Jackson and Nightingale are sure to make as much of a difference, if not more, in this contest as well. Both Jackson and Nightingale are sure to make 2021 their year, and a win against The REP, they be sure certainly move it in that direction.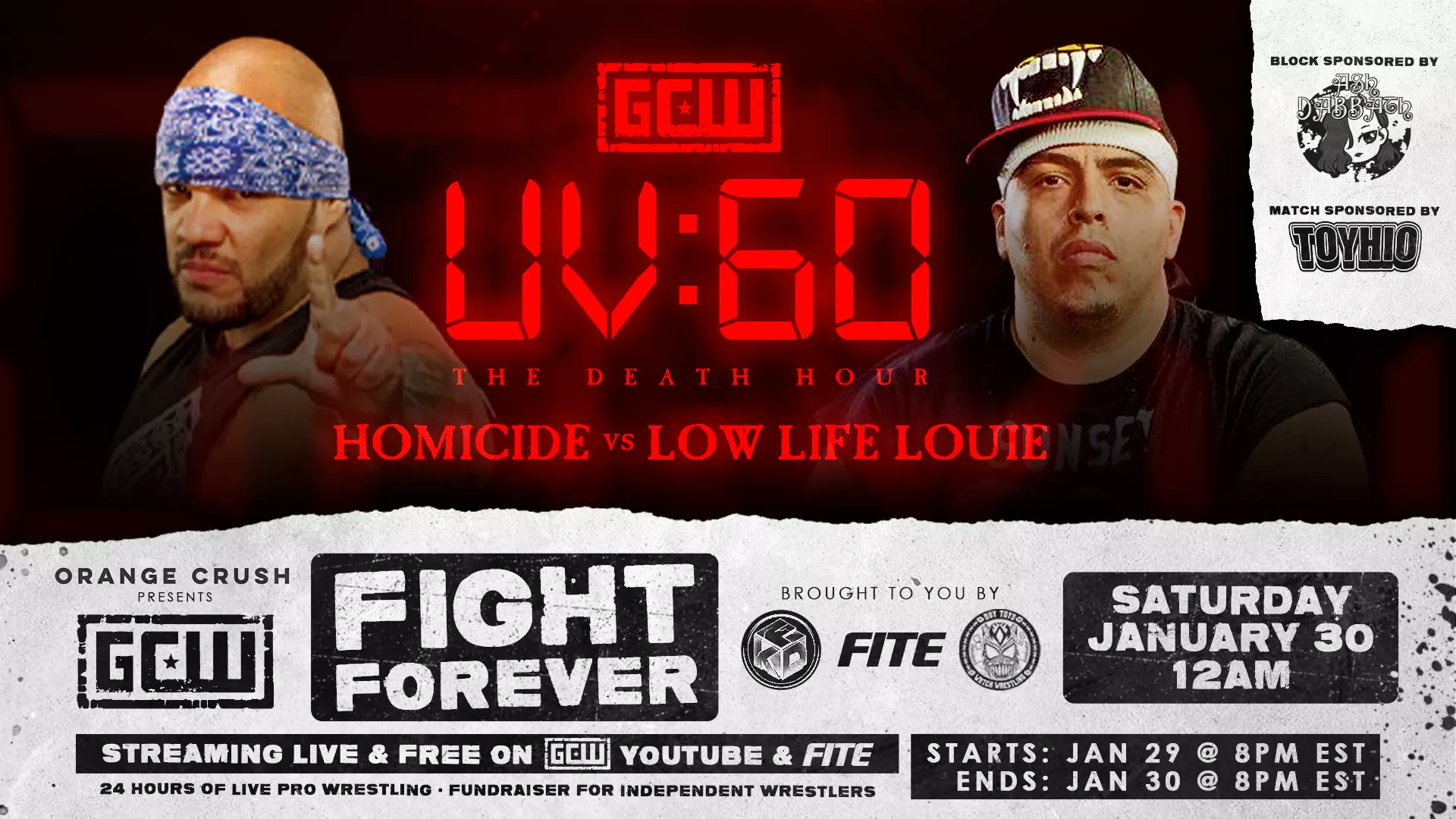 Homicide vs. Low Life Louie
Marc Madison: If it's possible for the person writing the preview of a match actually to feel uncomfortable writing it, this would be that time. Homicide knows violence and bloodshed, unlike many before him. He steps in the ring with someone he is no stranger to in Low Life Louie. Two long-time veterans of the ring will certainly bring violence to one another in this contest.
There has to be a reason why this is called The Death Hour. It's likely called this because if someone doesn't die during it, they'll likely wish they did by the end of it. Homicide and Low Life Louie are coming together in the ring for a reported thirteenth time. Their most recent matchup involving the H20 Heavyweight Title, which Louie defended successfully.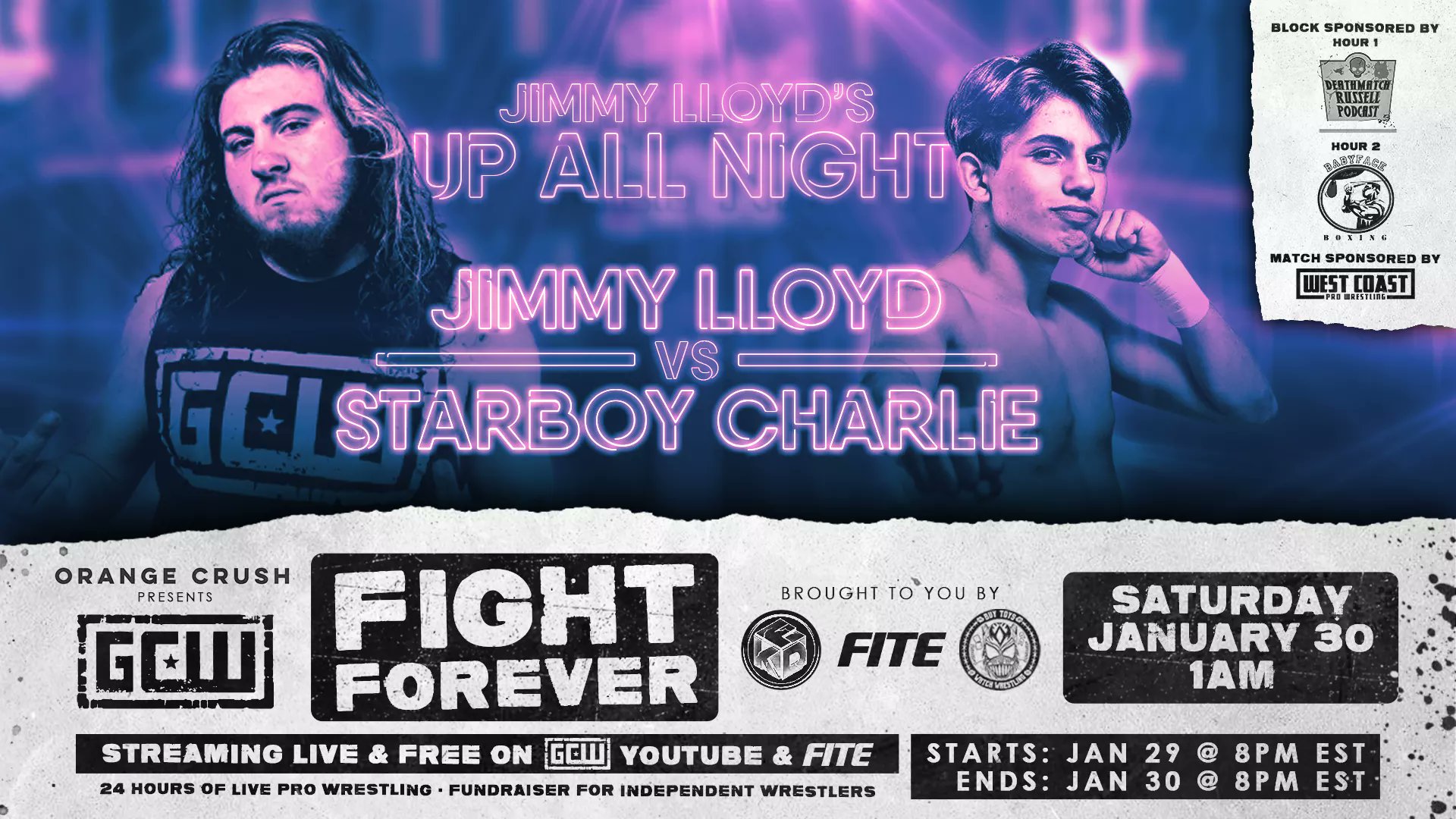 GCW  Fight Forever
Jimmy Lloyd vs. Starboy Charlie
Marc Madison: As we move into the early hours of Saturday morning, so begins the next block. Jimmy Lloyd's Up All Night begins with the block's namesake in action. Lloyd will bring his unrelenting hardcore nature against someone that he stands across the ring from for the first time. Starboy Charlie will sore from the sky with the greatest of ease.
Essentially, the basis of this match will be Lloyd will have to catch the high-flying Charlie in order to lay in the punishment that he intends to do. Will Charlie be able to run circles around Lloyd, or will the hardcore butcher lead Charlie to see Stars by the end of their match with one another?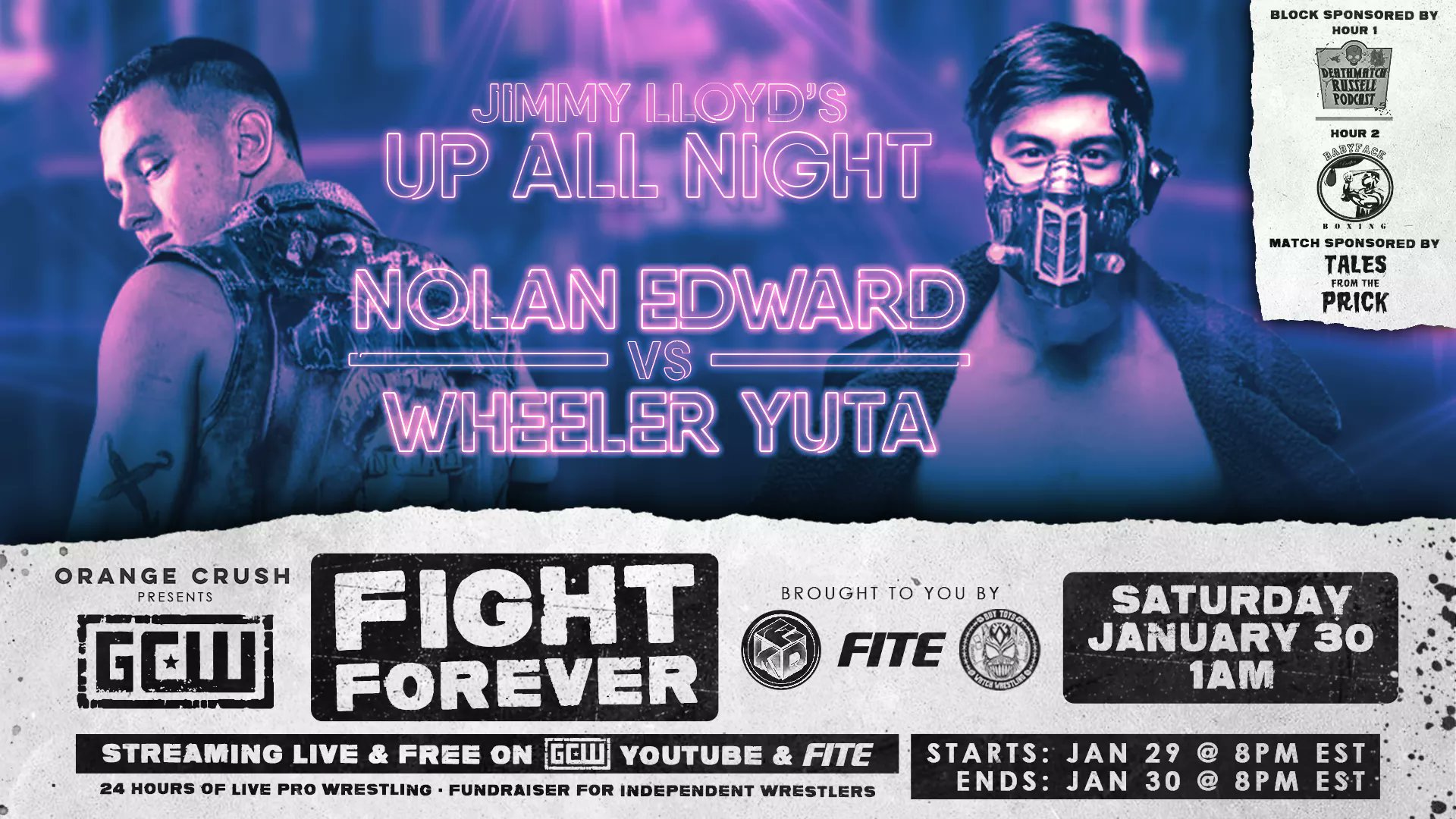 Nolan Edward vs. Wheeler Yuta
Marc Madison: The next match in the Up, All Night block involves Edwards and Yuta. Yuta is no stranger to GCW fans and has competed within the last year of so for Major League Wrestling as well. Edward is relatively new as he's just recently been cutting his teeth in the industry. He was trained by Ace Evans, Nick Xero, Dylan Night, and Aaron Orion.
Edwards has been a member of The Dead Seven among his wrestling circles. The 22-year old steps into the ring with Yuta, whom he's faced before. Edward will have to stick and move among his various tactics in order to get the better of Yuta. For the former trainee of Drew Gulak and Tracy Williams will have his work cut out for him against Edward.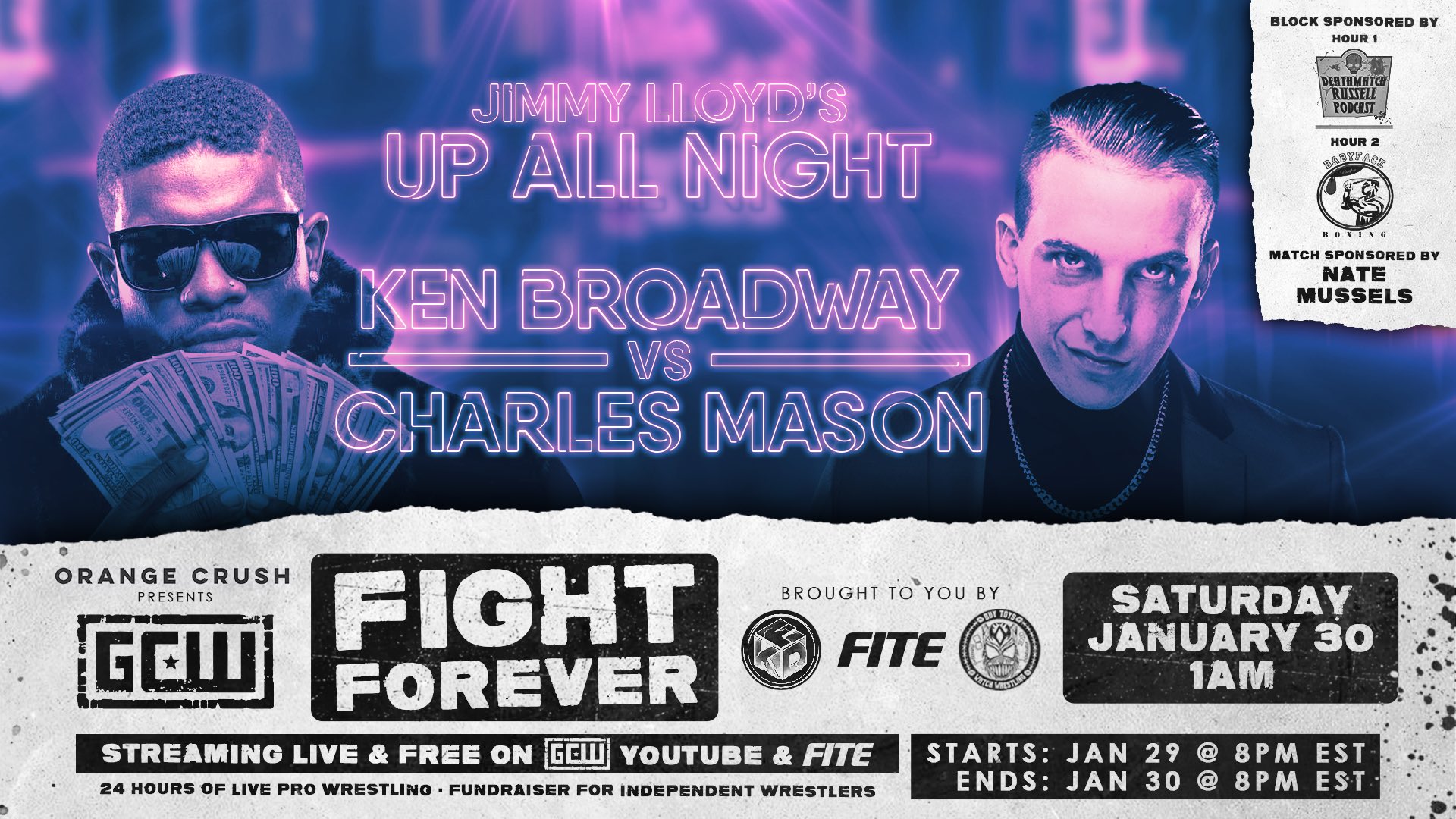 GCW  Fight Forever
Ken Broadway vs. Charles Mason
Marc Madison: This third match on the Up All Night schedule involves one man competing for the second time on the evening. As Ken Broadway was previously a part of the For the Culture block, he steps into the ring once again against Charles Mason. The Root of All Evil isn't just a slogan of a catchphrase but for Charles Mason, a state of mind.
Mason will bring his violent state of mind and being with him as steps in the ring with the 'Cashflow' and Crown Jewel that is Ken Broadway. The eight-year pro and House of Glory graduate is looking for a big, not on the evening. It could very well materialize on this evening and looks to stop the root of the evil headed his way.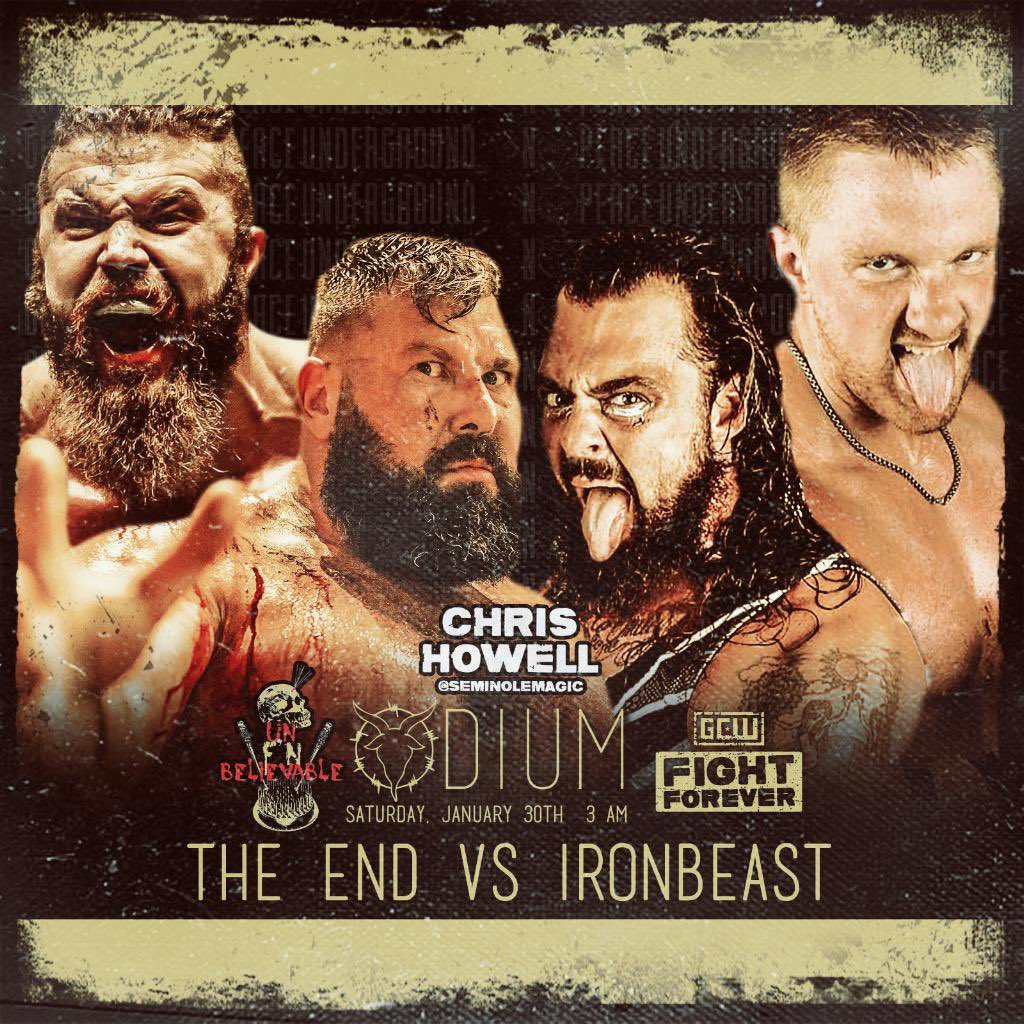 The End vs. Ironbeast
Marc Madison: No Peace Underground enters the GCW Fight Forever block with this massive tag team battle. Four of the most frightening men in independent wrestling come in looking for a fight, and at 3 in the morning, they'll be sure to find it. Parrow and Odinson have worked together for the better part of four years with one another competing in both the United States and Japan.
The duo have competed for All Japan Pro Wrestling and EVOLVE among their most notable wrestling exploits. They have also moved around the US independent circuit as well. Mercer and KTB continue their hard-hitting and violent nature as they stand across the ring from this duo. If you're asleep at this point, what's wrong with you? Wake Up!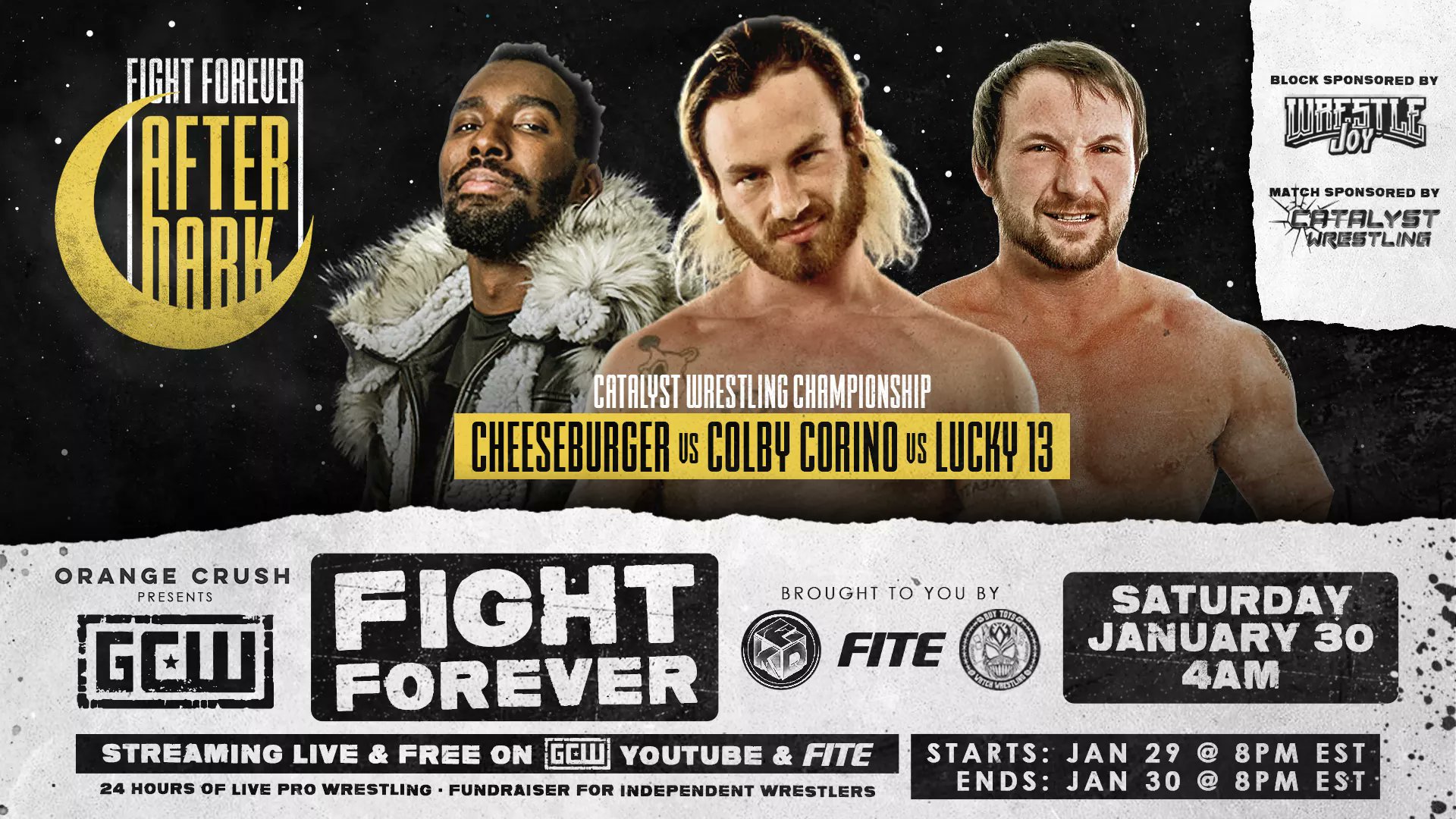 GCW  Fight Forever
Catalyst Wrestling Championship
Cheeseburger vs. Colby Corino vs. Lucky 13
Marc Madison: Unlike the Peach Pit after dark, GCW Fight Forever After Dark is sure to smash the entire diner and destroy any remnants of its existence. For Ring of Honor alumni in Corino and Cheeseburger, they stand across one another with the title on the line. Once we add Lucky 13 to the mix, we know that it's a matchup that will ensure you awake at the break of dawn.
The former Capitol Wrestling promotion was rebranded to be Catalyst Wrestling as of April 2020. With that rebranding comes its champion Corino defending its title on this epic wrestling showcase. Will Corino be able to overcome the threat of both Lucky 13 and Cheeseburger on this night? Corino hopes to be the Catalyst Wrestling champion once this night is over.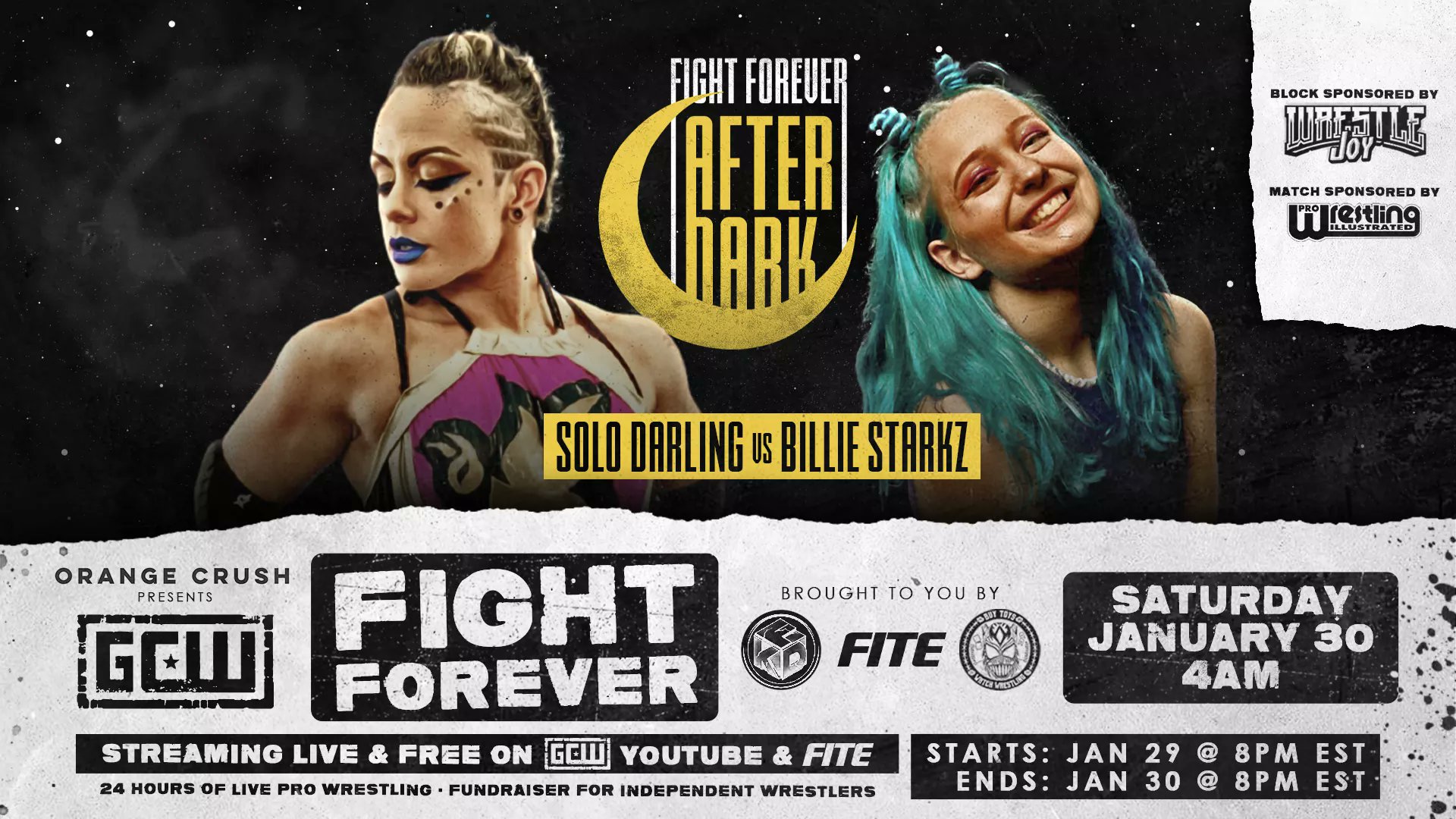 Solo Darling vs. Billie Starkz
Marc Madison: After ensuring everyone is bright-eyed and ready for battle in the After Dark portion of the event, we bring the next battle. Of any match on the card so far, it's this battle of two of the fiercest women on the independent circuit. Solo Darling and notable Black Label Pro dignitary Billie Starkz will be bringing their A-game at Fight Forever.
'The Sugar-Fueled Seductress' and veteran of twelve years, Darling faces Starks for only the second time in one on one action. In their previous matchup, it was Starkz that came out victorious. Darling is likely hoping that if Starkz isn't asleep going into this match, she will be at the end of it. Starkz, on the other hand, hopes to continue her success against the more experienced Darling.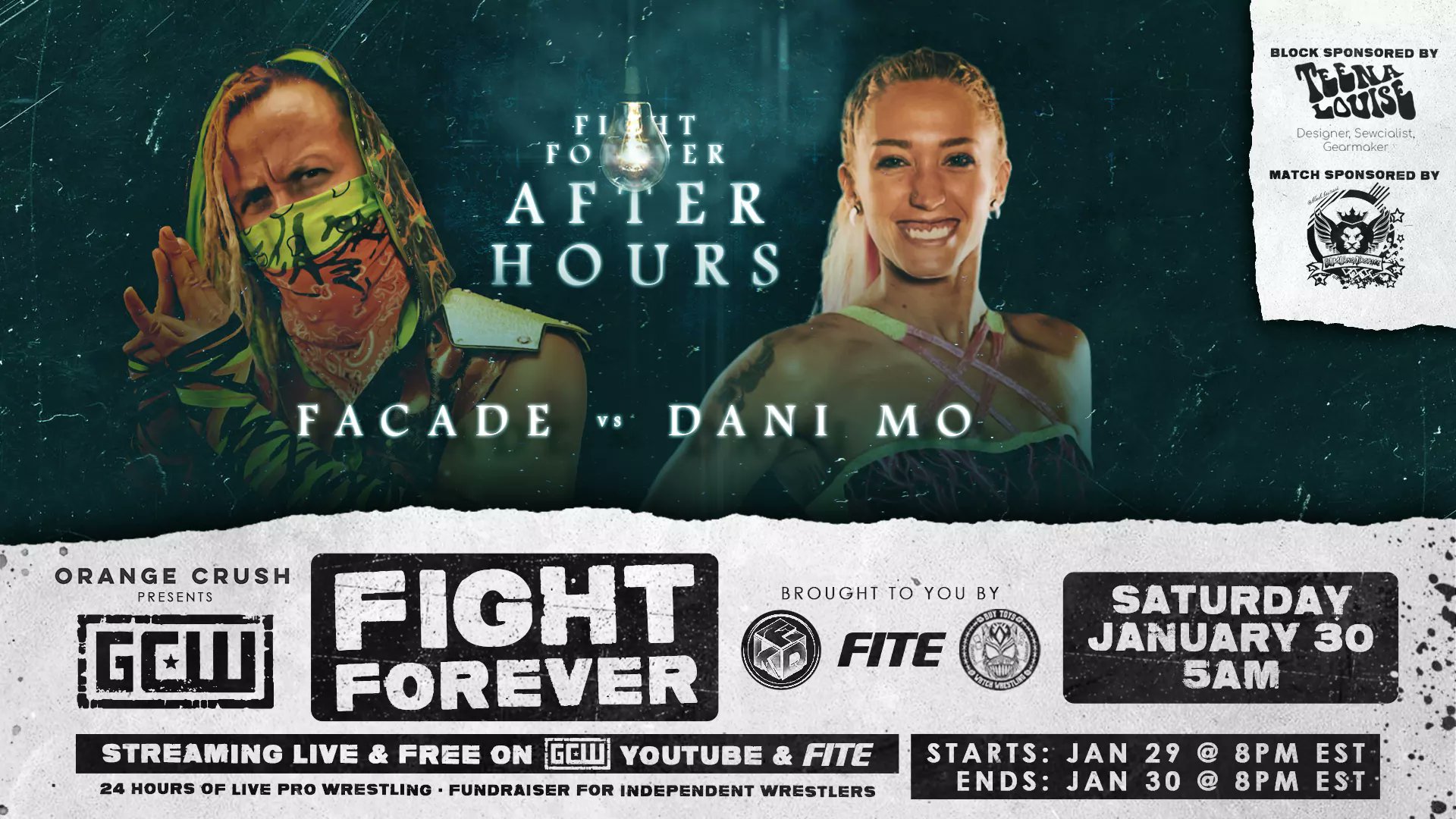 GCW  Fight Forever
Façade vs. Dani Mo
Bill Potts: This match, called an 'After Hours' match, takes place in the wee hours of 5 AM on Saturday. Since it is always darkest before the dawn, it seems appropriate that the Neon Blondes will battle and light up the night. The veteran Neon Ninja, Façade, has been around the independent circuit for almost 15 years, and fans are very familiar with his high flying exploits.
They may also be familiar with Dani Mo, but perhaps mostly because she has appeared with Façade as his Manager for many years. It is only over the last year that Mo, who is being trained by her opponent in this bout, has been performing in the ring on a regular basis. Look for this to be a fast-paced and exciting match that will illuminate and excite the fans.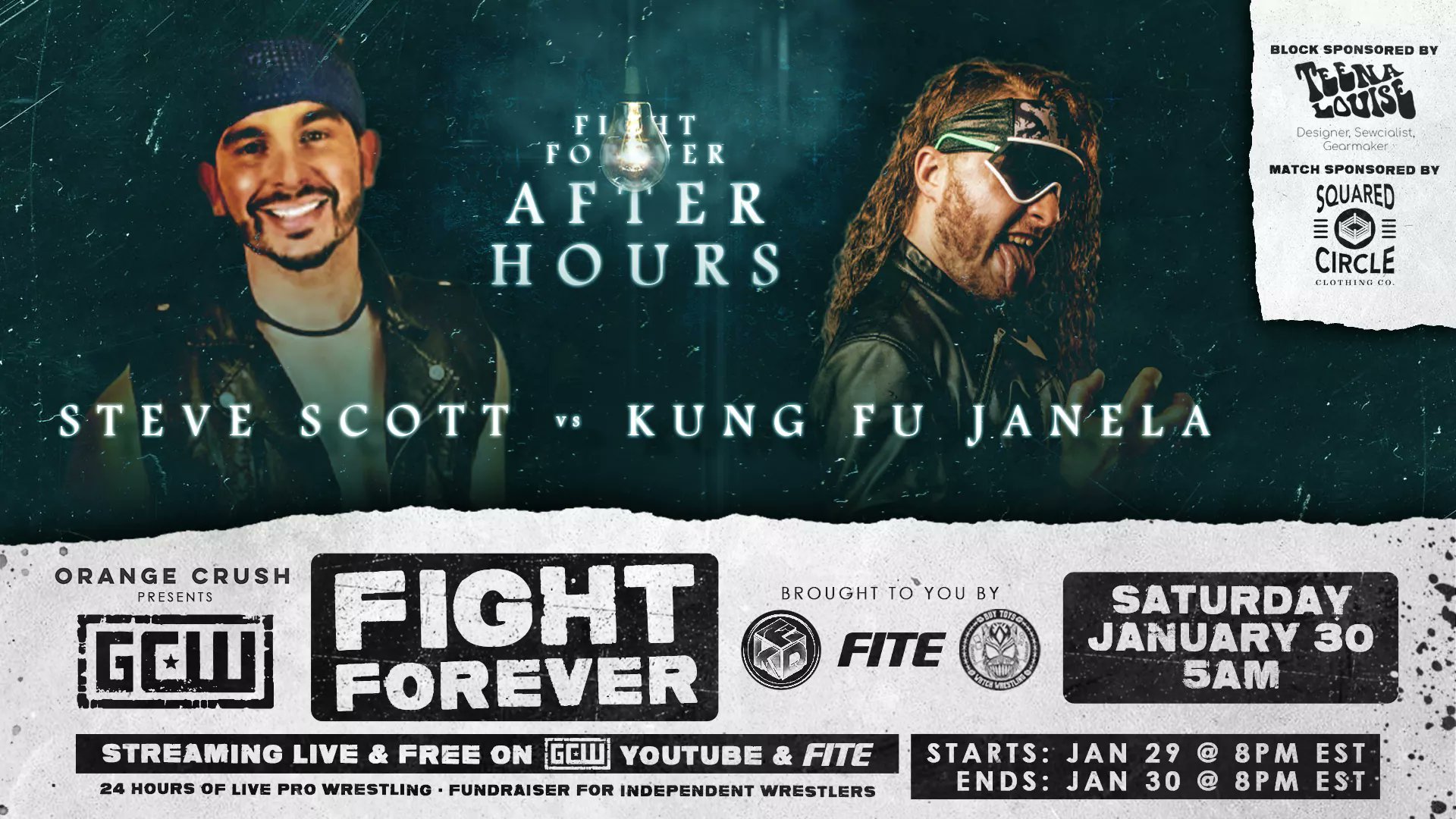 Steve Scott vs Kung Fu Janela
Marc Madison: After ensuring you've received an absolute thumping for the After Dark block, we walk into the After Hours block. In a battle that is as sure to be as hard-hitting as it is enjoyable, Janela and Scott will be sure viewers are wide awake during this block. Janela comes with a wealth of experience into this matchup.
The Alaskan-born Janela comes into After Hours with a bit more notoriety around him. Will that be an intimidating factor for Scott? As with any professional, they'll need to look past any potential threats to their success. For Steve Scott, he will come into After Hours with everything he has. He will also walk out of After Hours with likely more than he had imagined with a win.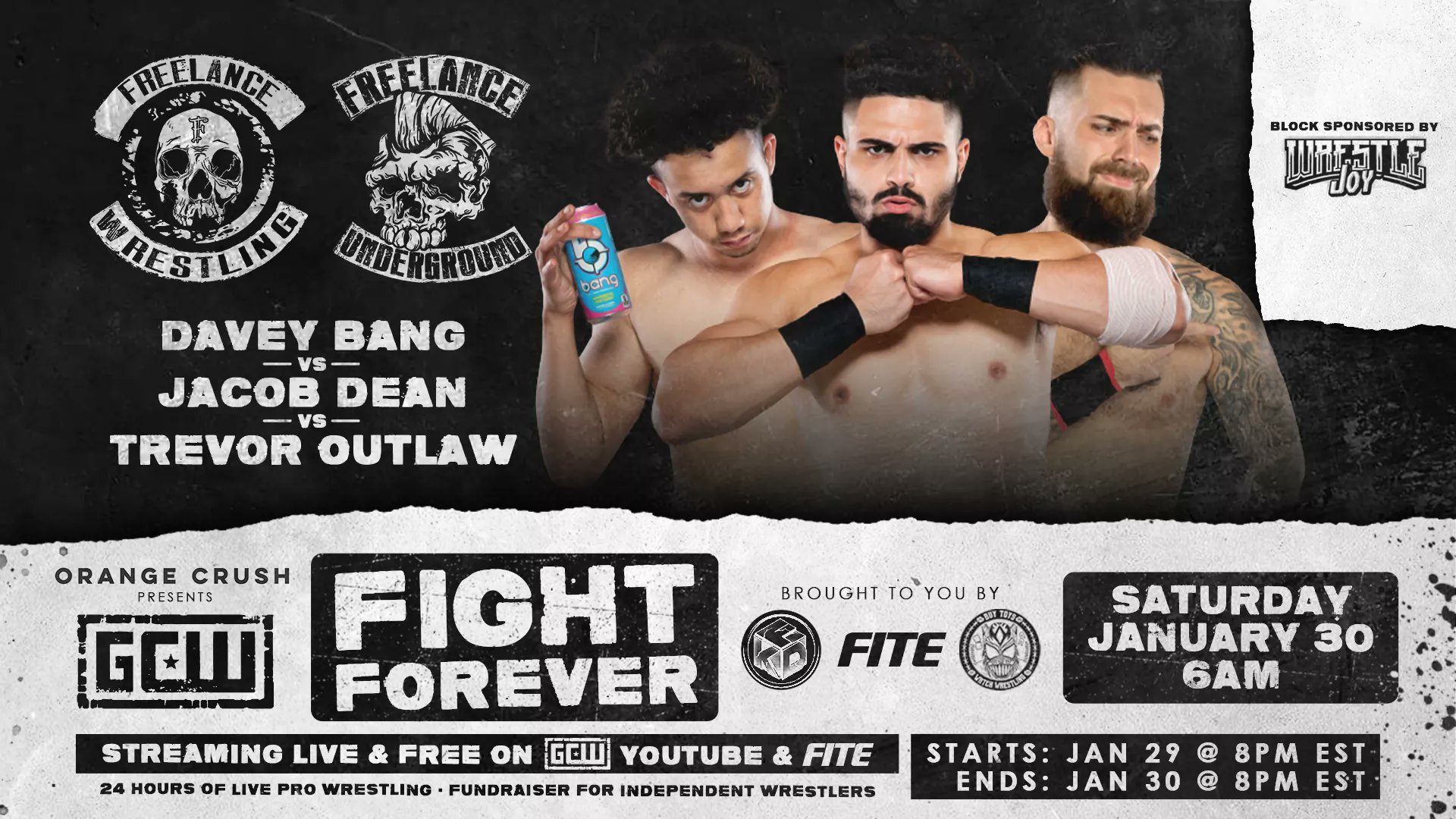 GCW  Fight Forever
Davey Bang vs. Jacob Dean vs. Trevor Outlaw
Marc Madison: Freelance Wrestling/Freelance Underground are next up in this epic showcase with their triple threat matchup scheduled. Bang, Dean, and Outlaw are fairly evenly matched going into this battle. This matchup is as much about making a name for themselves as it is about putting Freelance Underground on the map.
Fans are encouraged to be up bright and early with breakfast in hand as they get their fill of this exciting triple threat matchup. Will it be Bang laying the beating for the win? Or will Jacob educate his adversaries in this matchup with a victory? or Will it be Trevor showcasing how much of an outlaw he is leading to a W?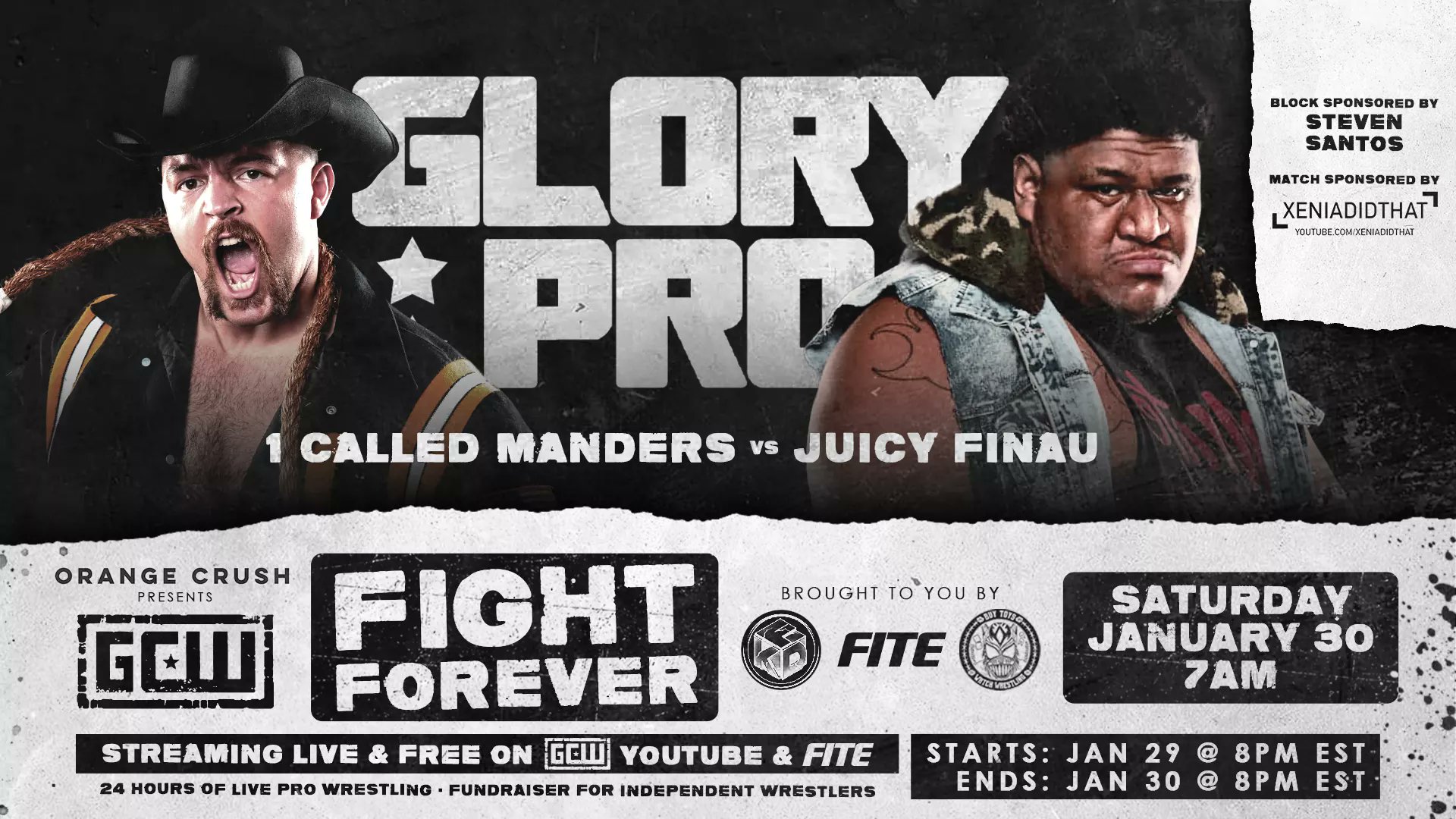 1 Called Manders vs. Juicy Finau
Marc Madison: These two men are sure to bring the fight in the Fight Forever program. As one of Glory Pro Wrestling's featured matches, Finau and Manders will bring the thunder to one another. One of the hottest talents rising today on the independent wrestling circuit is Juicy Finau. With only one year under his belt, Finau, the Ontario, California native, made his debut with GCW this past October.
As part of Joey Janela's Spring Break IV, Finau laid the groundwork for what we are seeing right now. On the other side of the ring stands a man known to Glory Pro and GCW fans for his wild Southern no-nonsense persona. Manders will bring the fight to the big man, and fans best be watching.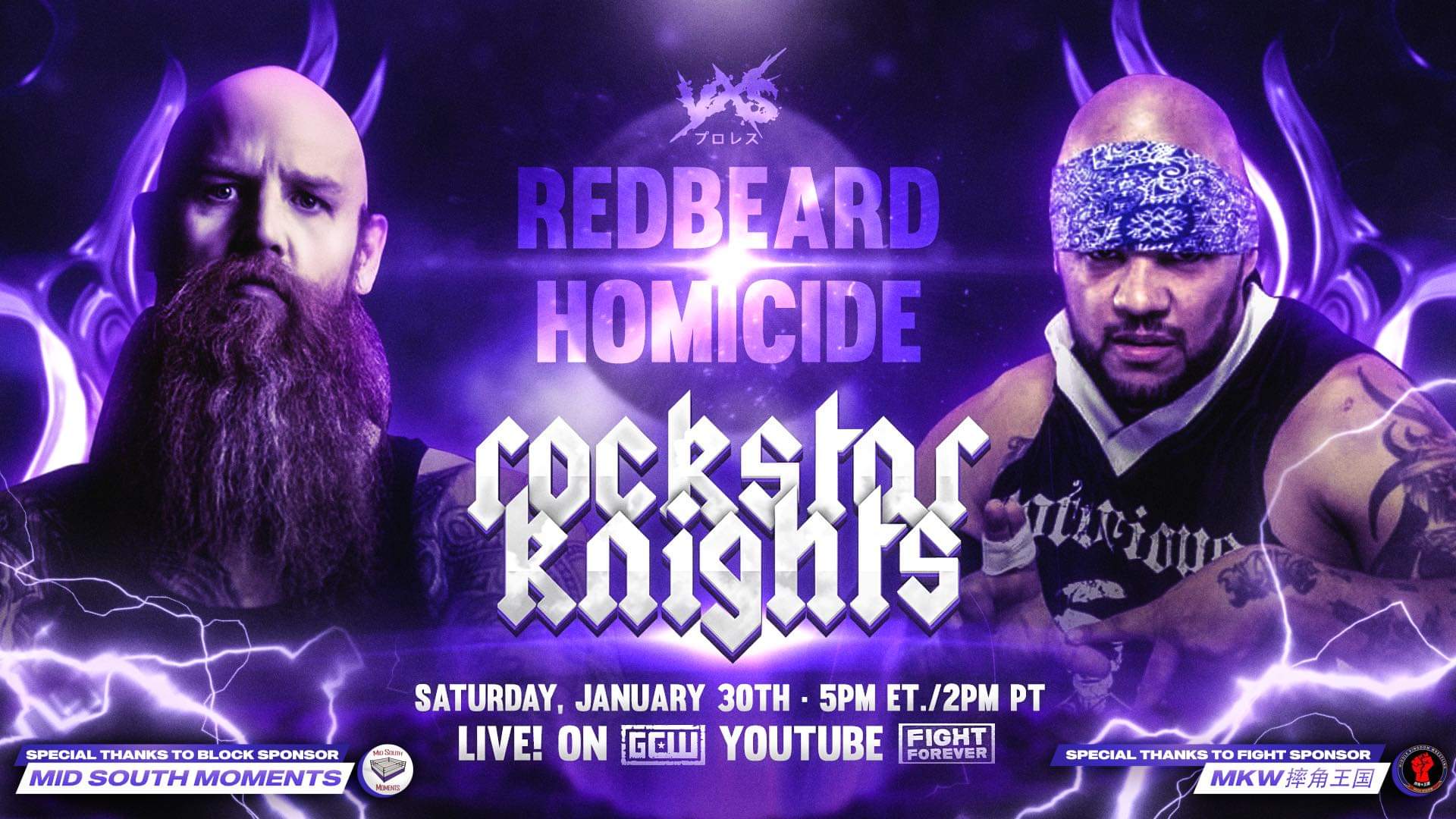 GCW  Fight Forever
Redbeard vs. Homicide
Bill Potts: As the sun begins to set on this unique event (literally, sunset is at 5:30 PM, and this match is part of the 5 PM block), two big men who cast big shadows face off in this match up. Homicide needs no introduction; this 20+ year veteran has performed for virtually every major and independent promotion in the world, including being a regular in the GCW ring.
He will face off against the man who until recently was known as Erick Rowan in WWE, Redbeard, who is just beginning to re-establish himself on the independent circuit. This should be a hard-hitting and physical affair, as neither man is inclined to finesse and flash. It will be all about the sound of boots and fists on flesh.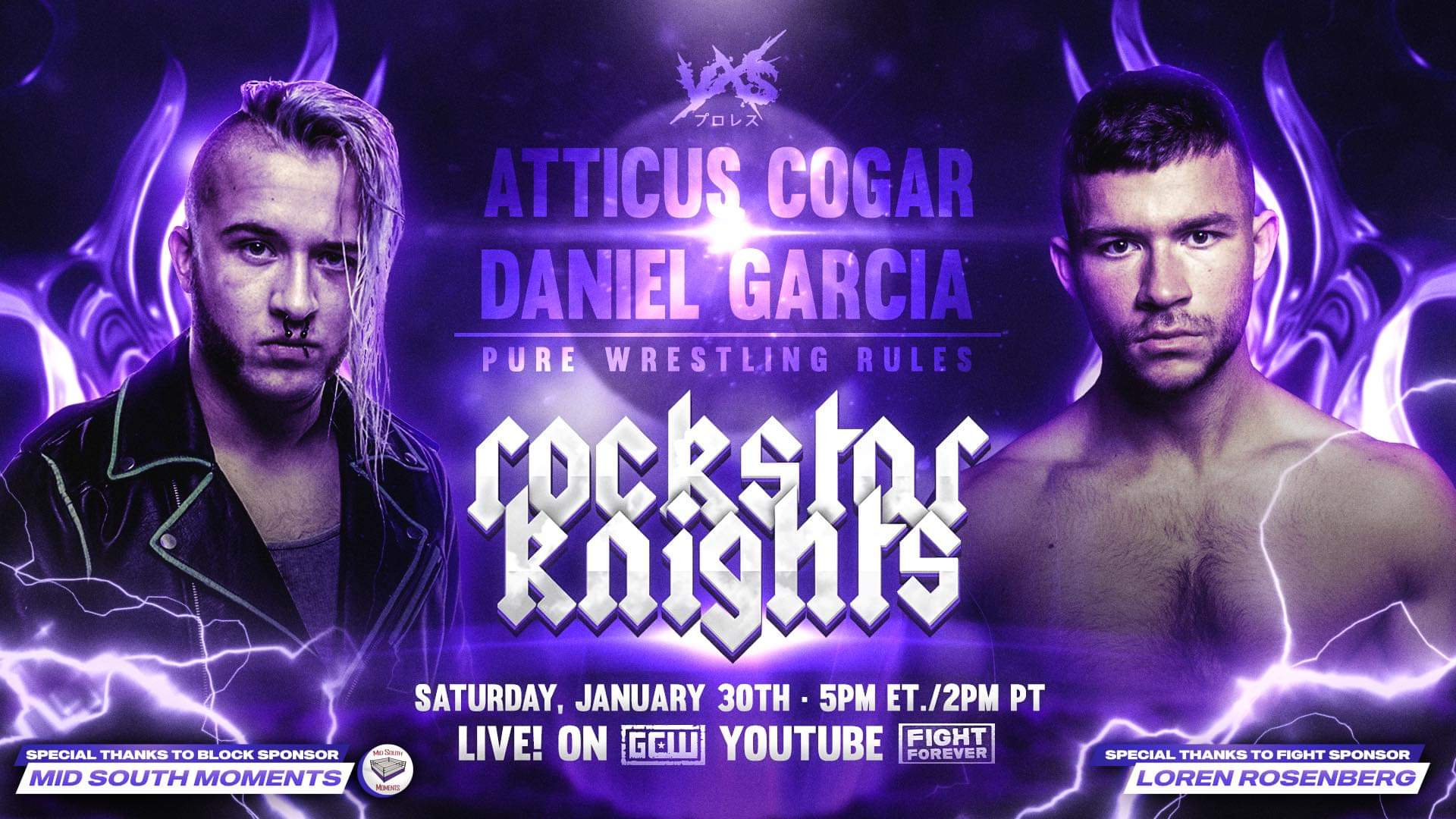 Pure Wrestling Rules Match
Atticus Cogar vs. Daniel Garcia
DJ Jarka: Many of the matches being held at GCW Fight Forever event will feature a plethora of the top young wrestling talent available on the United States independent scene. One, in particular, will showcase two of the fastest rising stars from the Northeast U.S.
Atticus Cogar will face "Red Death" Daniel Garcia in a pure rules match on Saturday, January 30. The bout is part of Violence x Suffering's time block called "Rockstar Knights."
Although Cogar and Garcia each wrestled in several of the same promotions over the last several years, this will be the first time these two faced each other one-on-one. They both previously wrestled for Limitless Wrestling, Empire State Wrestling, and Revenge Pro Wrestling, among others.
This will be Garcia's second match with Violence x Suffering (VxS) after losing to Calvin Tankman on its "Legends Never Die" event in October. Garcia is fresh off his appearance on World Wrestling Entertainment's NXT program this Wednesday. He lost to Tyler Rust under the name "Dante Rios." Garcia also wrestled on All-Elite Wrestling's Dark #52 show in September, in which he teamed with Kevin Blackwood against The Butcher and The Blade.
Cogar will be making his VxS debut in this contest. As a member of 44OH!, he is also scheduled to wrestle on his faction's block of matches titled "What We Want." He will tag with Rickey Shane Page against The Mortons (wrestling tag team legend Ricky Morton and his son Kerry Morton). In recent months, Cogar made waves in the deathmatch wrestling scene in a series of fights showcased on No Peace Underground.
"Rockstar Knights" will air at 5 p.m. and available live and for free on YouTube.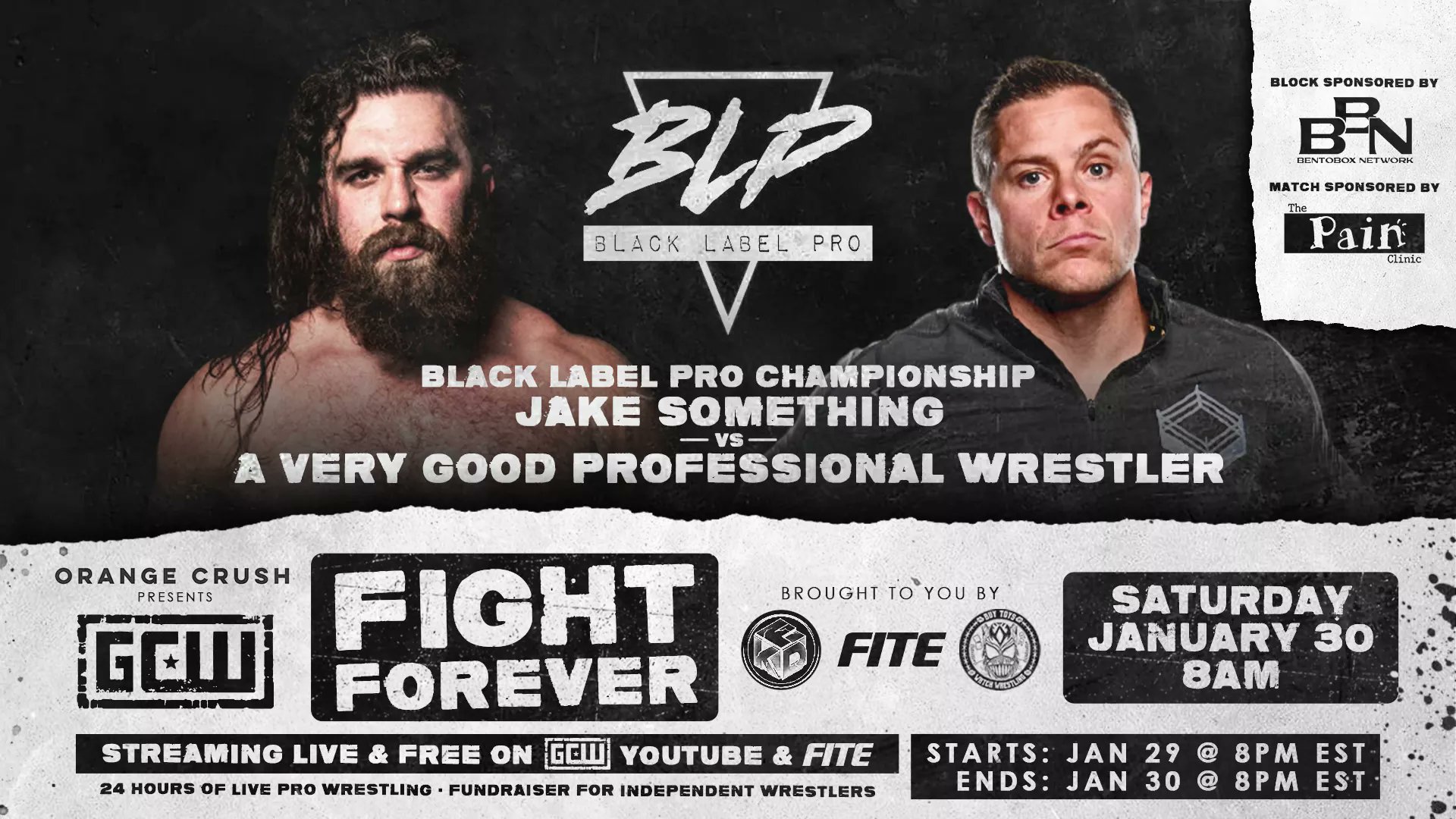 GCW Fight Forever
Black Label Pro Championship
Jake Something vs. A Very Good Professional Wrestler
Marc Madison: Saturday mornings are often filled with coffee, relaxing on the first day of the weekend, and no-stress in getting through your weekend. But for Jake Something on a Saturday morning could be the worst part of the day. Black Label Pro's Champion comes into this match ready to defend against AVGPW and, in doing so, with more than just pride to lose if he loses.
With the BLP Championship on the line, the concern could be that he doesn't retain the title under these circumstances. Could the reason of not having enough coffee to start your day be the reason a title is lost? It is rare and unlikely, but a title match at 8 am on a Saturday could create an interesting scenario for all involved at GCW Fight Forever.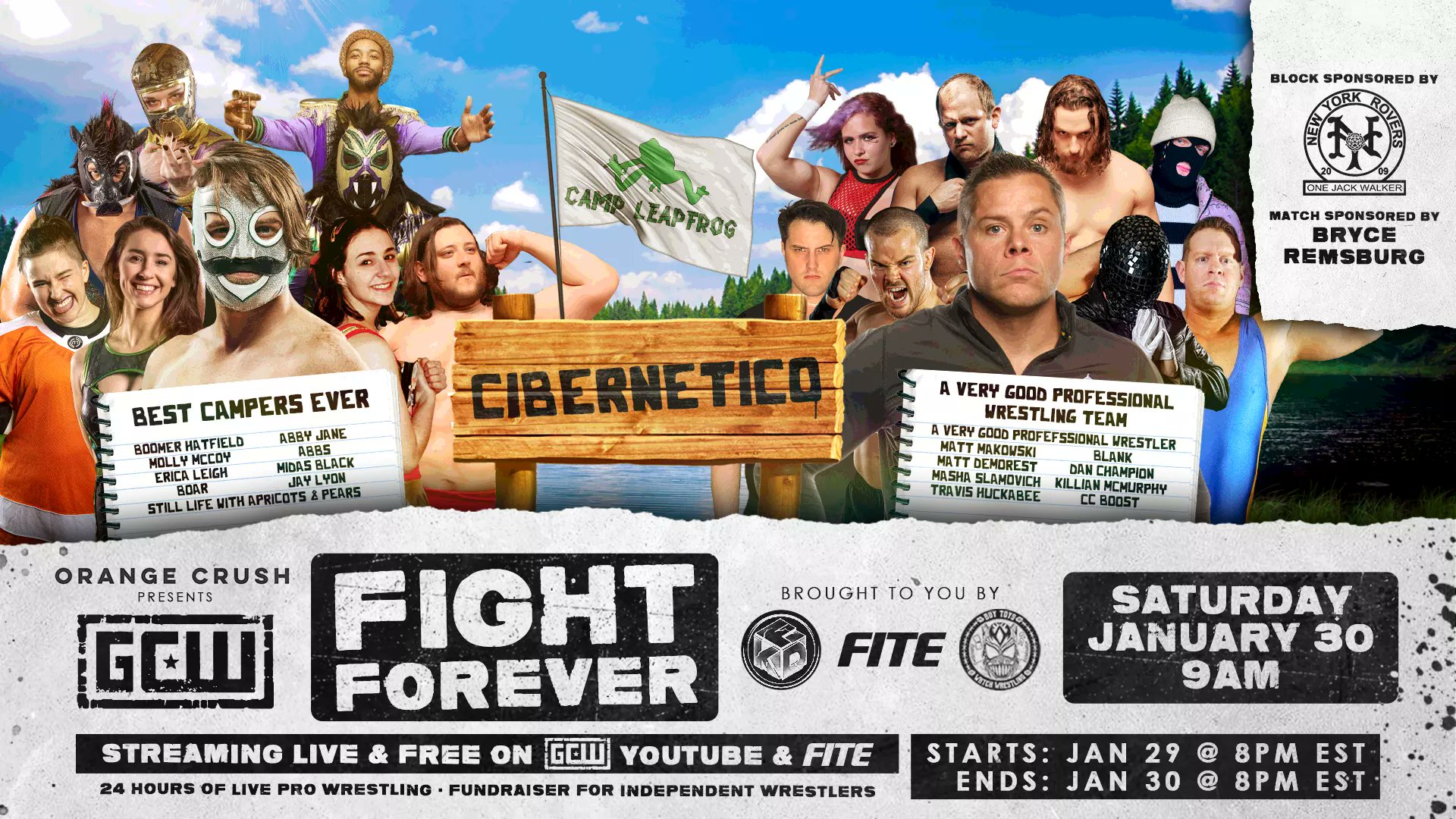 Cibernetico
Best Campers Ever vs. A Very Good Professional Wrestling Team
Marc Madison: A unique match sponsored by AEW's Bryce Remsburg, this nine-on-nine matchup will create tons of opportunities for those involved in it. There are tons of notable names that are gaining momentum. Others have built a name for themselves in this matchup. Boomer Hatfield, Molly McCoy, Midas Black, Jay Lyon, Still Life with Apricots, and Pears are among the names of those standing on one side of the ring.
On the opposite of the ring, the likes of Masha Slamovich, A Very Good Professional Wrestler, Travis Huckabee, CC Boost, Killian McMurphy, and Blank are among the names on the other side of the ring. How long does this match go, who gets the win for their team, and what can fans anticipate in this contest? All interesting questions posed that will be answered Saturday morning during GCW Fight Forever.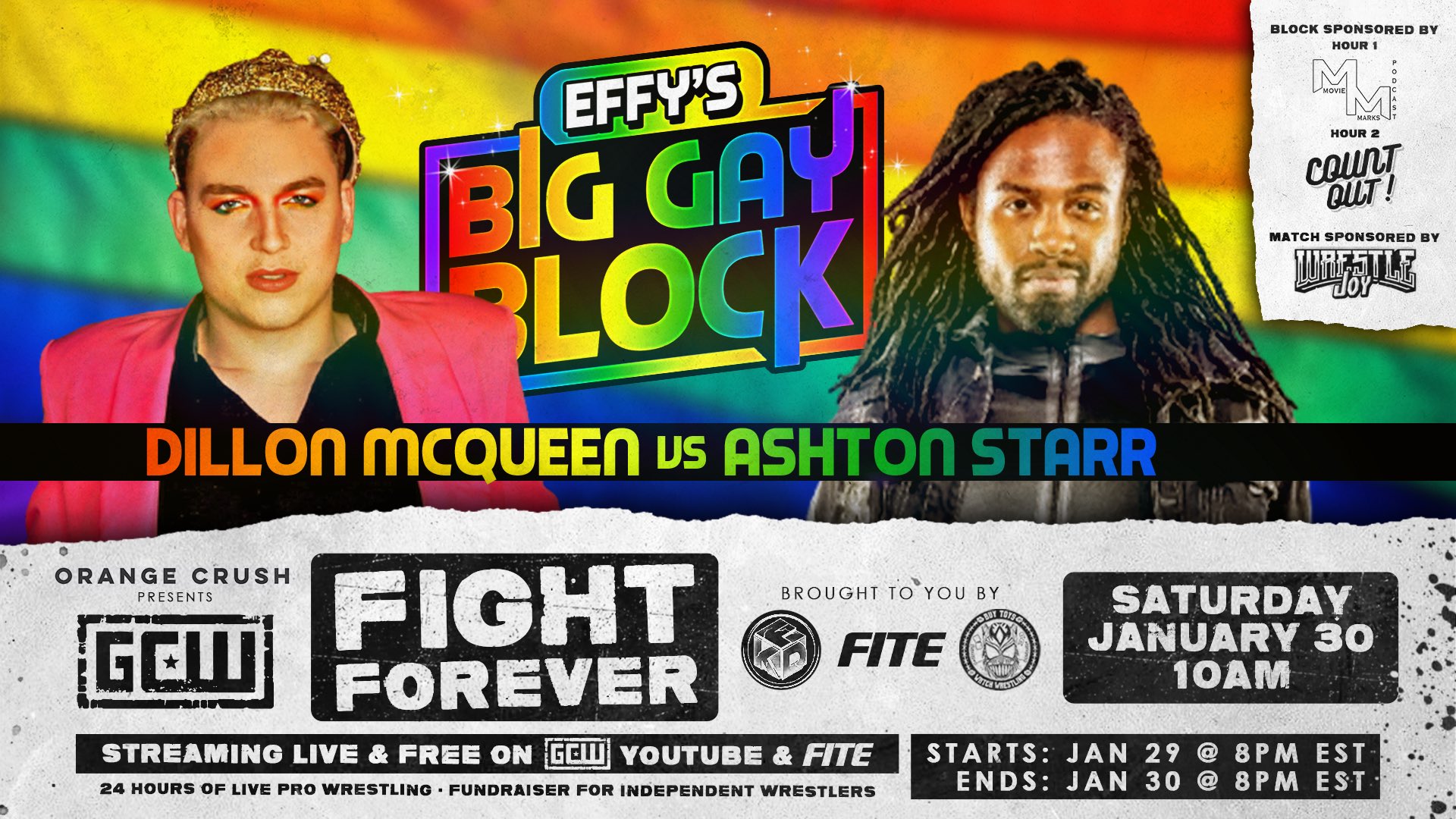 GCW Fight Forever
Dillon McQueen vs. Ashton Starr
Marc Madison: EFFY's Big Gay Block is the next on the scheduled block on GCW's Fight Forever live event. While it doesn't involve its namesake, the four-match block also involves two of the wrestling communities' rising stars in one match. Ashton Starr is no stranger to his involvement in EFFY's Big Gay Brunch when he teamed with AC Mack to faced Team Sea Stars.
For McQueen, this platform to perform is wonderful to see. McQueen comes into this match to face someone that proudly represents the community. Both Starr & McQueen have done an incredible job showcasing their skills, and this will likely prove to be another match filled with strikes, spot and for all wrestling fans smiles.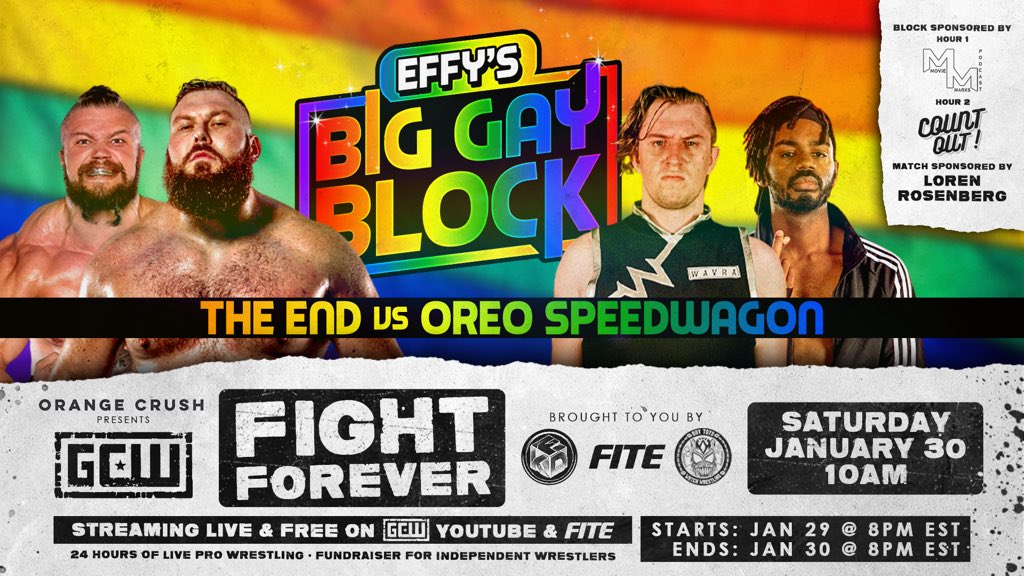 The End vs. Oreo Speedwagon
Marc Madison: GCW Fight Forever rolls on with two teams sure to want to beat down the other to end. Funny enough, Parrow and Odinson, who competed a mere 7 hours earlier, return to action during this highly intense battle. Joshua Wavra and Xavier Faraday provide a much different look to this matchup with their fast-paced offense. Wavra and Faraday's greatest challenge will be to chop down the massive men that make up The End.
Their size difference could prove to be too much for Wavra and Faraday. However, like any big team/small team matchup, it isn't about the outset of the matchup that matters but what ultimately takes place between the ropes. It is sure to be a match fans won't want to miss!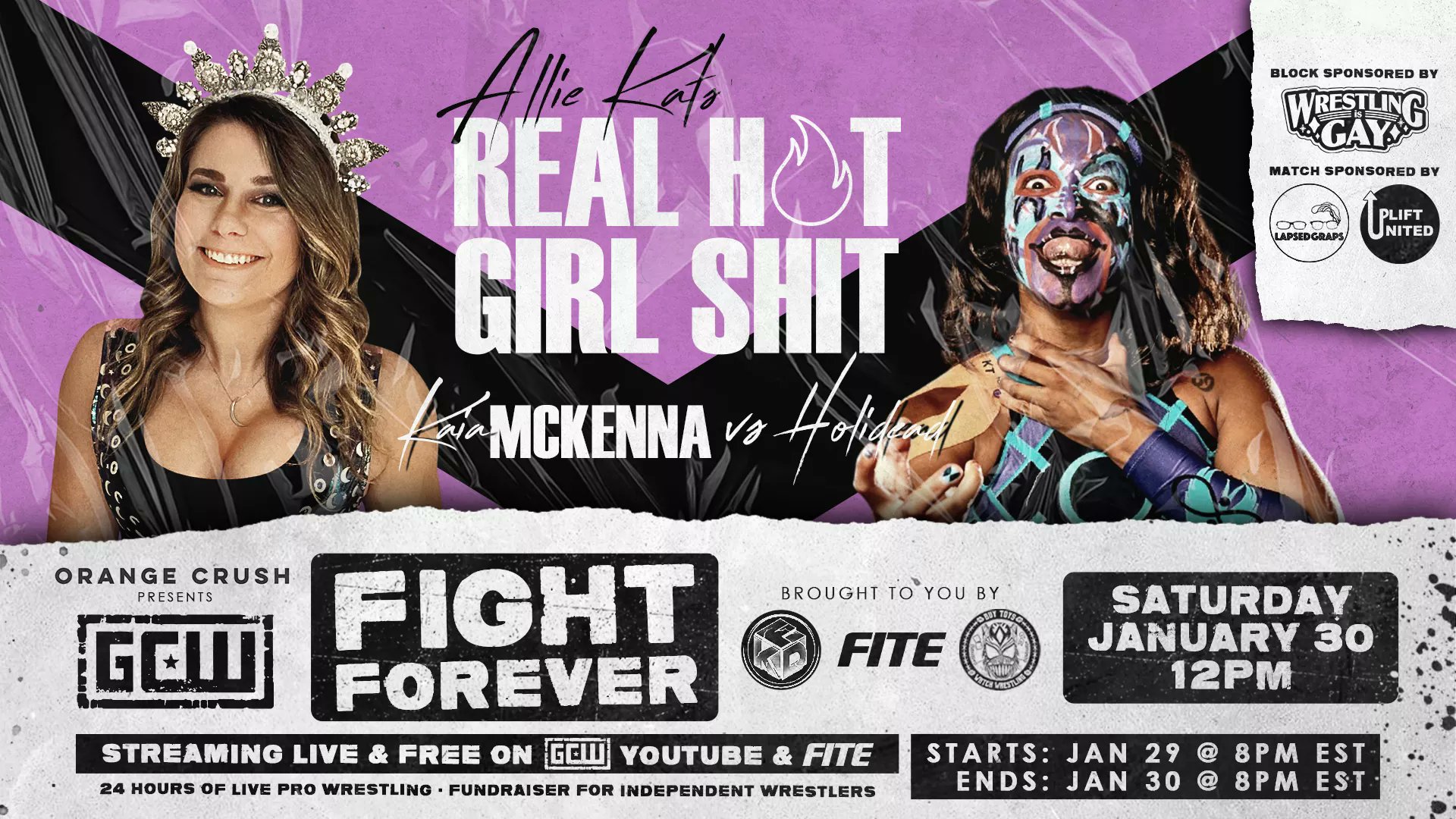 GCW Fight Forever
Kaia McKenna vs. Holidead
Bill Potts: For all the training they do, the best way for newer wrestlers to test themselves, and take big steps in their development, is to match up with experience. So this will be a key match for McKenna, who only started training a year ago. Holidead has years of experience under her belt and is very well respected for her abundant in-ring talents, not to mention her unique, disquieting persona.
The match, which is taking place under the heading 'Allie Kat's Real Hot Girl Shit,' will be a challenge for the newcomer McKenna, but promises to be a fun one for fans to watch, perhaps while eating lunch as it takes place at noon on Saturday.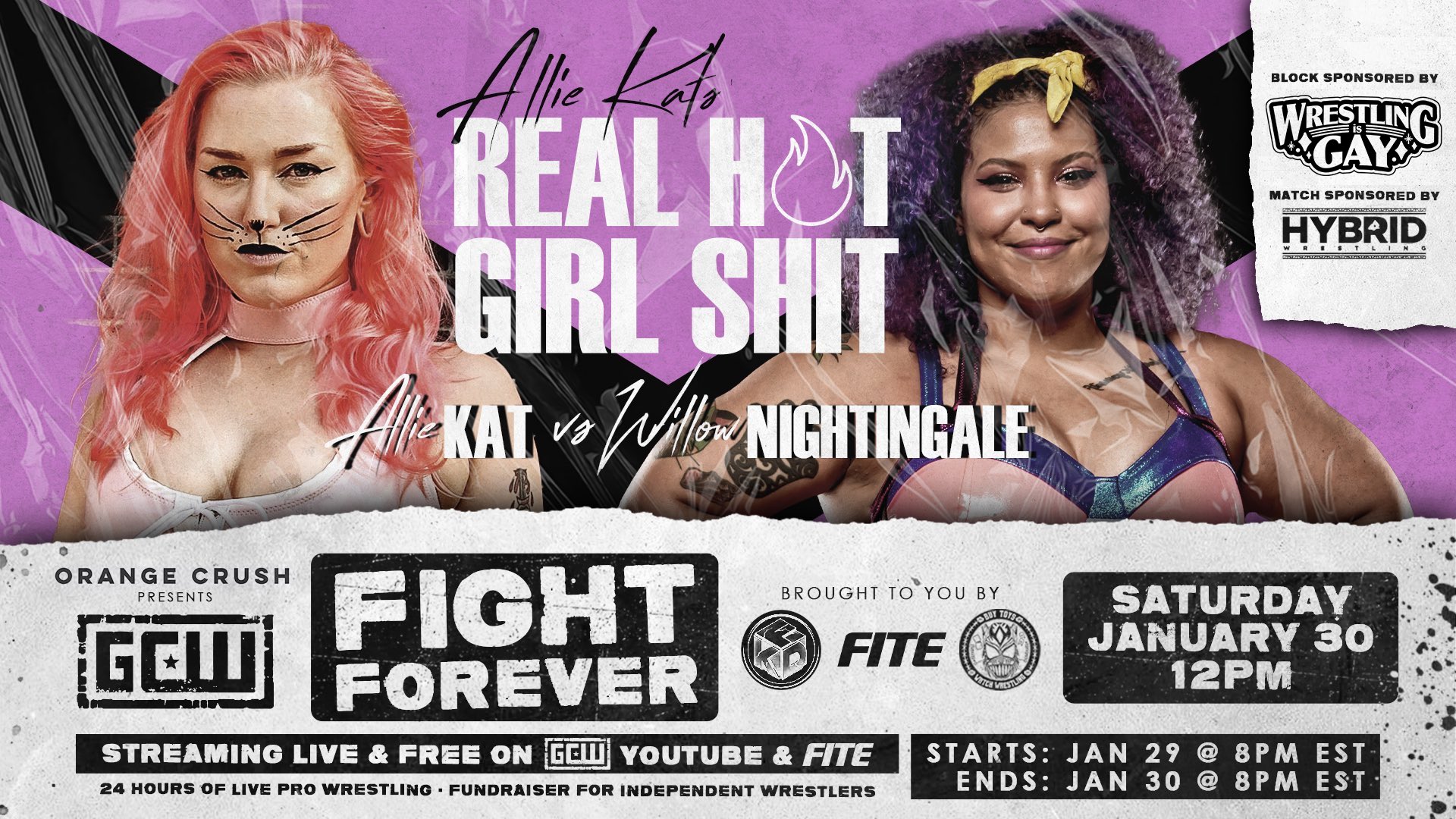 Allie Kat vs. Willow Nightingale
Marc Madison: GCW Fight Forever presents its latest block with its namesake as the featured competitor during this block. Allie Kat's Real Hot Girl Sh*t featured not only the match featured above but this one and two others below it. As a staple of GCW, Allie Kat plans to bring out all the fire that she is synonymous with against Willow.
Nightingale competed earlier in the event as part of the For The Culture event the night before. This time around, Nightingale faces someone that as much a part of the culture of GCW as anyone else. Allie Kat is sure to bring out the claws, along with her knees, feet, and fists, in hopes to put down Nightingale. Don't sleep on Willow Nightingale, as she is sure to have a standout performance in this matchup.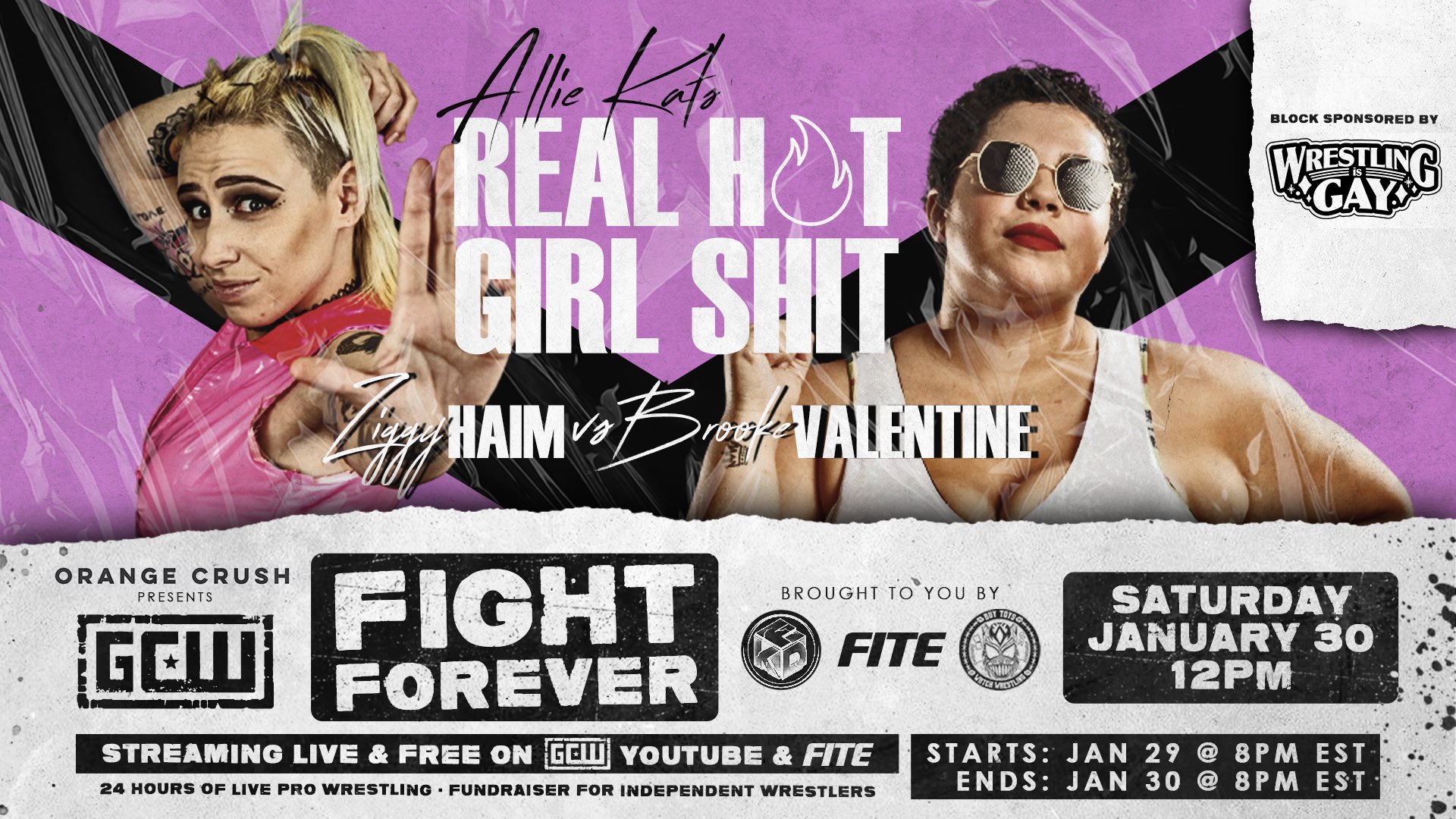 GCW Fight Forever
Ziggy Haim vs. Brooke Valentine
Marc Madison: The heat continues to be brought as these two bring the fire and intensity that has carried out throughout this entire event. In Haim, fans unfamiliar with the three-year pro appears for GCW for the first time. Over the past three years, Haim has begun to generate interest competing for promotions such as Ryse, IWC, and more.
She faces another relative newcomer as well in New York native, Brooke Valentine. Since 2017, Valentine has competed in a number of promotions, with Impact Pro Wrestling been a regular stop for this talent. With two fresh faces to this event, fans will be in for a real treat as they tackle the mid-day on Saturday's GCW Fight Forever event.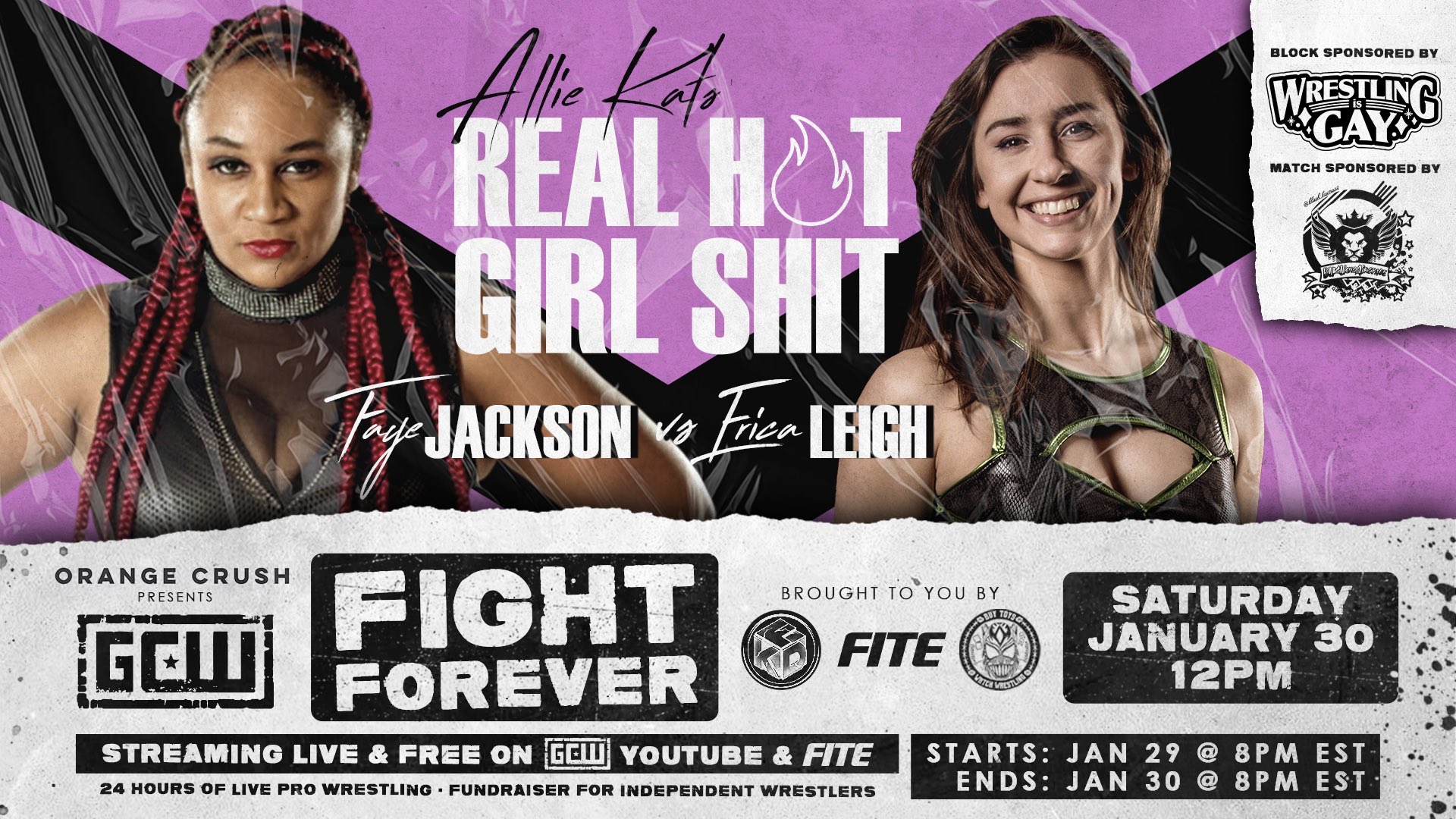 GCW  Fight Forever
Faye Jackson vs. Erica Leigh
Marc Madison: Two very different women with two very different styles come at each other. This as another battle that rages on as part of Allie Kat's Rea Hot Girl Sh*t block. At 5'7, 'The Gummi Bear Kid' brings her energy against the longest intending person hoping to get canceled in forever in Faye Jackson. For Leigh, her feet are just getting planted beneath her. She will be in tough against a woman has created quite a following.
A former trainee of the ROH Dojo, Jackson, this late-starter to the business is turning heads and cracking skulls along the way. She knows how to play to an audience and have fun. Jackson doesn't take herself too seriously, but her opponents best do that or face the consequences if they don't.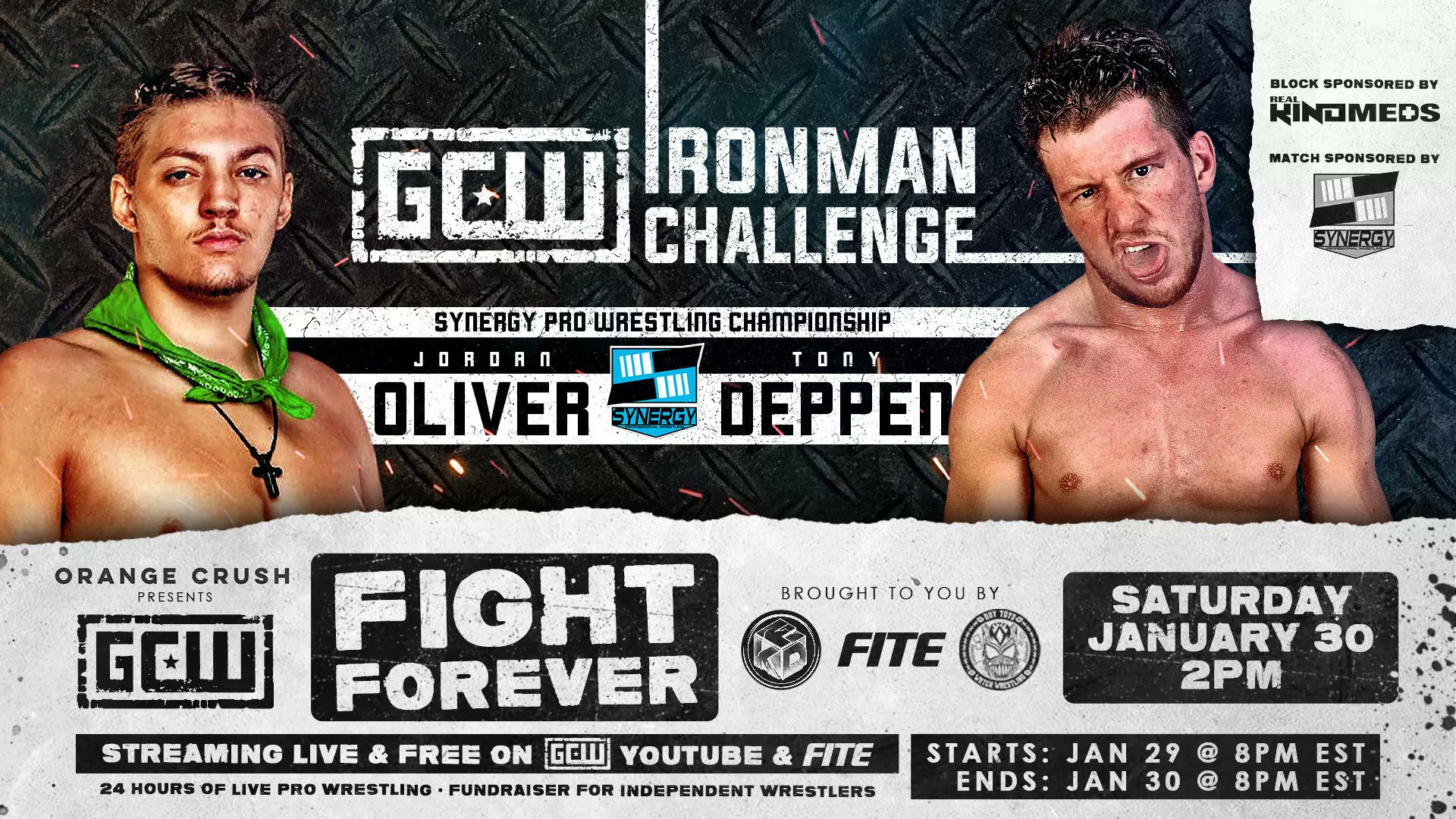 GCW Ironman Challenge
Jordan Oliver vs. Tony Deppen
Bill Potts: Putting together a card that goes for 24 hours must be a real challenge. How many matches do you need to schedule to fill that time frame? And how do you find enough talent to compete in those matches? Well, one way to fill one of those hours is by booking a one hour Iron Man match. And that's what this will be; a battle for the Synergy Pro-Wrestling Championship that will test both men's resolve and conditioning as they try to secure the most falls over a 60 minute period.
Hopefully, Deppen is not still feeling the effects of COVID-19, which he was diagnosed with shortly after the GCW show he performed on in October. Cardiovascular capacity will be key. Both men are not only well known to independent wrestling fans, but they have also performed on more widely seen stages: Oliver in MLW and Deppen in Ring of Honor.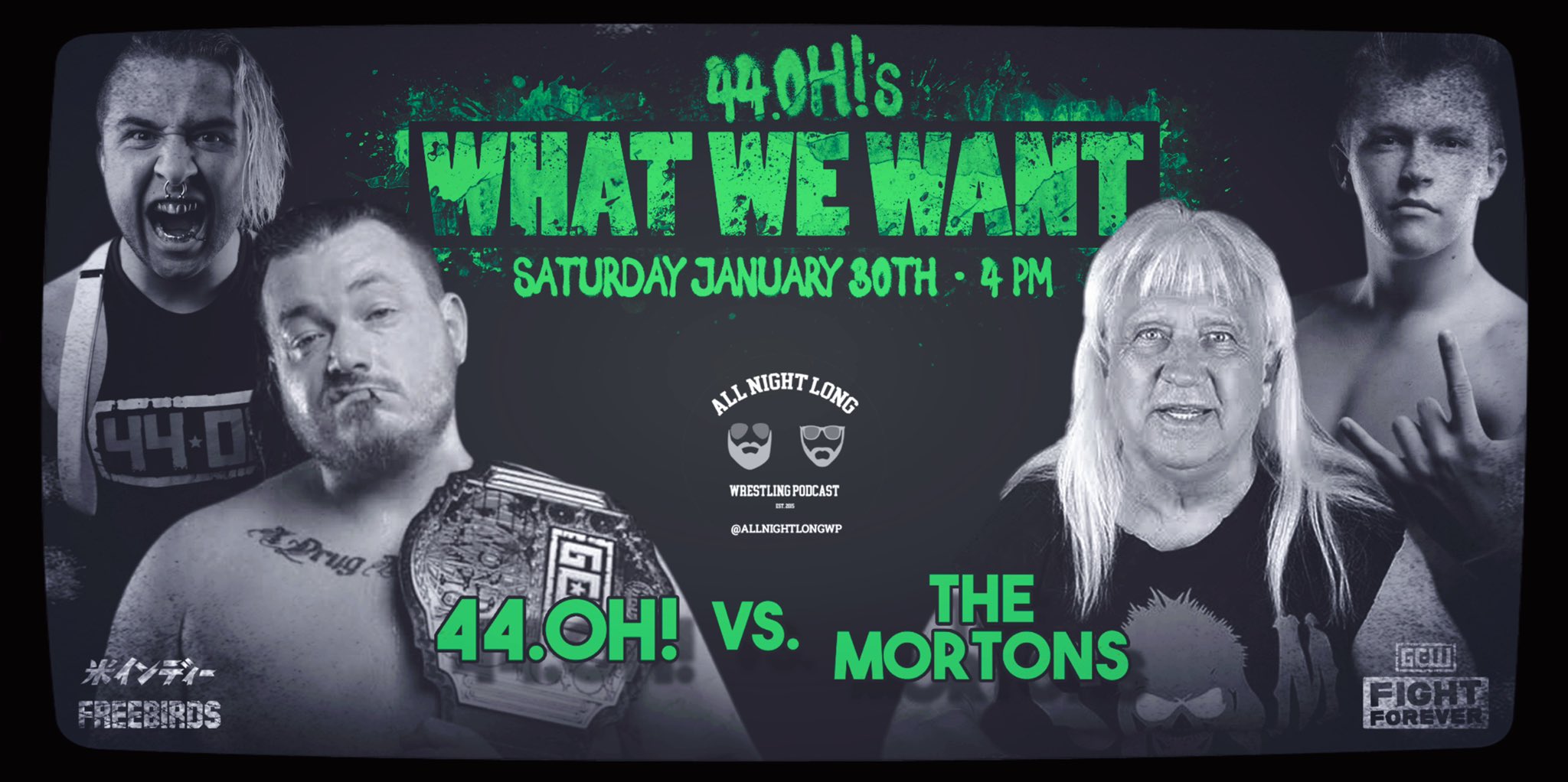 GCW  Fight Forever
44.OH! vs. The Mortons
Bill Potts: Saturday from 4 PM to 5 PM is 44.OH! It's time to shine. During this, one hour block, titled '44.OH!'s What We Want,' members of the faction will take part in three separate matches. The key one is this tag team bout that pits the faction's leader and GCW World Champion Rickey Shane Page and his cohort Atticus Cogar against legend and hall of Famer Ricky Morton, of Rock N' Roll Express fame, and his son Kerry.
Page is an independent legend in his own right and the top dog in GCW. But the elder Morton is no stranger to GCW, having performed on the last two 'Joey Janela's Spring Breaks,' in both tag team and solo action. Kerry, whose career is still in its infancy, performed at October's Spring Break 4 as a participant in the Clusterf**k Battle Royal, as did Cogar. As leader of his faction, Page will look for a big victory over this all-timer and his up and coming son.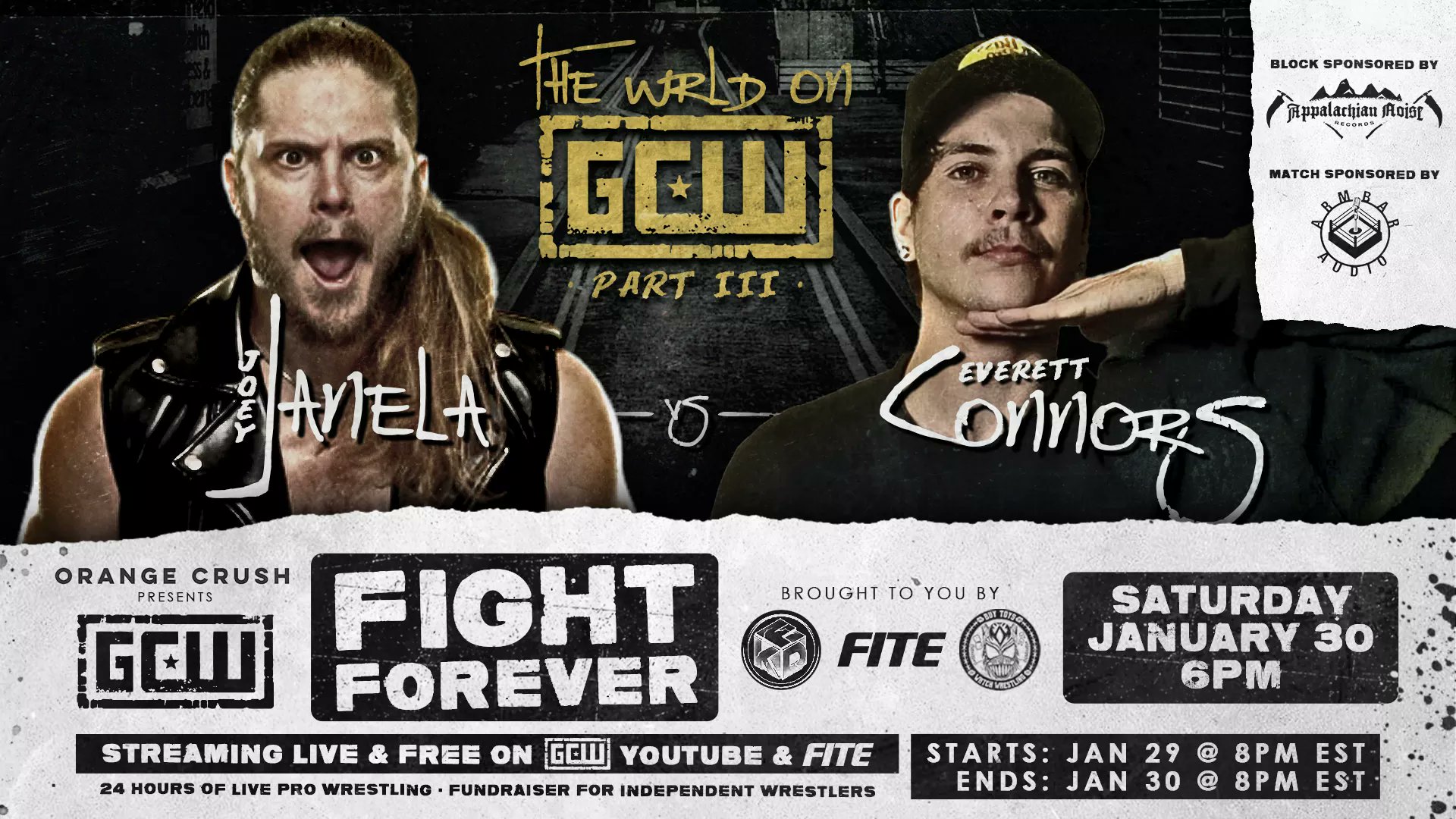 'Bad Boy' Joey Janela vs. Everett Connors
Marc Madison: It wouldn't be a GCW event without the Bad Boy. He comes into GCW Fight Forever not only as a notable name, but it is whom he is standing against that fans are most excited about. Connors continues to evolve his character and skillset, and he will have to bring all his knowledge in this matchup. Janela announced this event nearly a month ago and is a prominent force in ensuring the event is a success.
Could Janela come in and take Connors, likely? In a word? No. To read up on Janela, the best word to describe him may be, in fact, polarizing. However, what shouldn't be ignored is his commitment and drive to succeed. It says a great deal about the measure of a person. One that is willing to sacrifice in and out of the ring.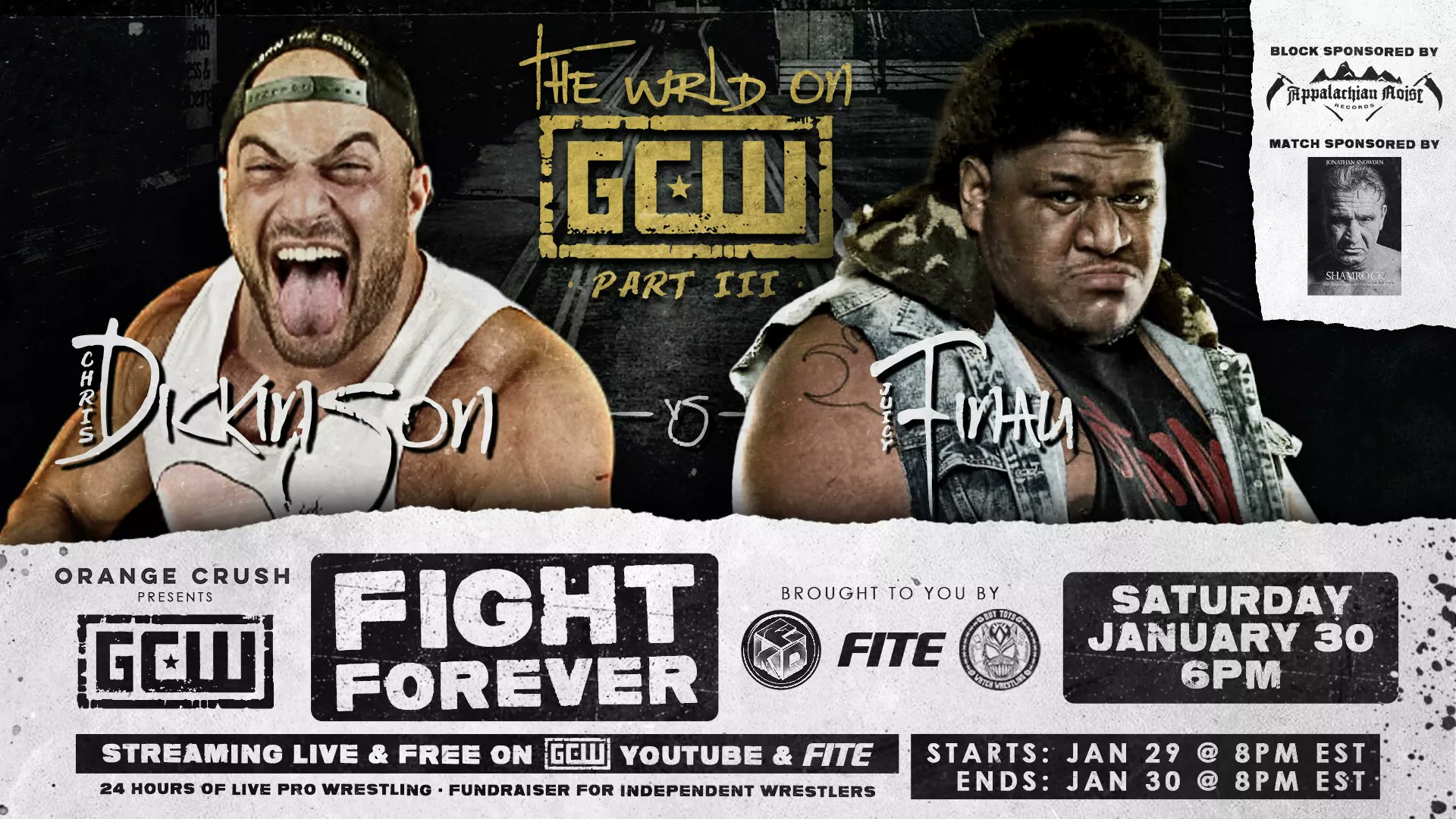 GCW  Fight Forever
Chris Dickinson vs. Juicy Finau
Marc Madison: As the final block begins to round out, the next match involves the return of the 'Dirty Daddy.' Chris Dickinson has had an exceptionally busy 2020 and into 2021. From his time competing in NJPW branded events to his countless matches as part of Game Change Wrestling, Dickinson is a hot commodity. Now he steps across the ring with someone competing in his second match in as many nights in Finau.
As mentioned earlier, Finau is beginning to gain the attention of those on social media and on-screen. It isn't an accident that Finau is likely considered the man to watch in 2021 by many on-lookers. A match with Dickinson, regardless of the result, will only further raise his value. It's a well-timed match on the card of GCW Fight Forever.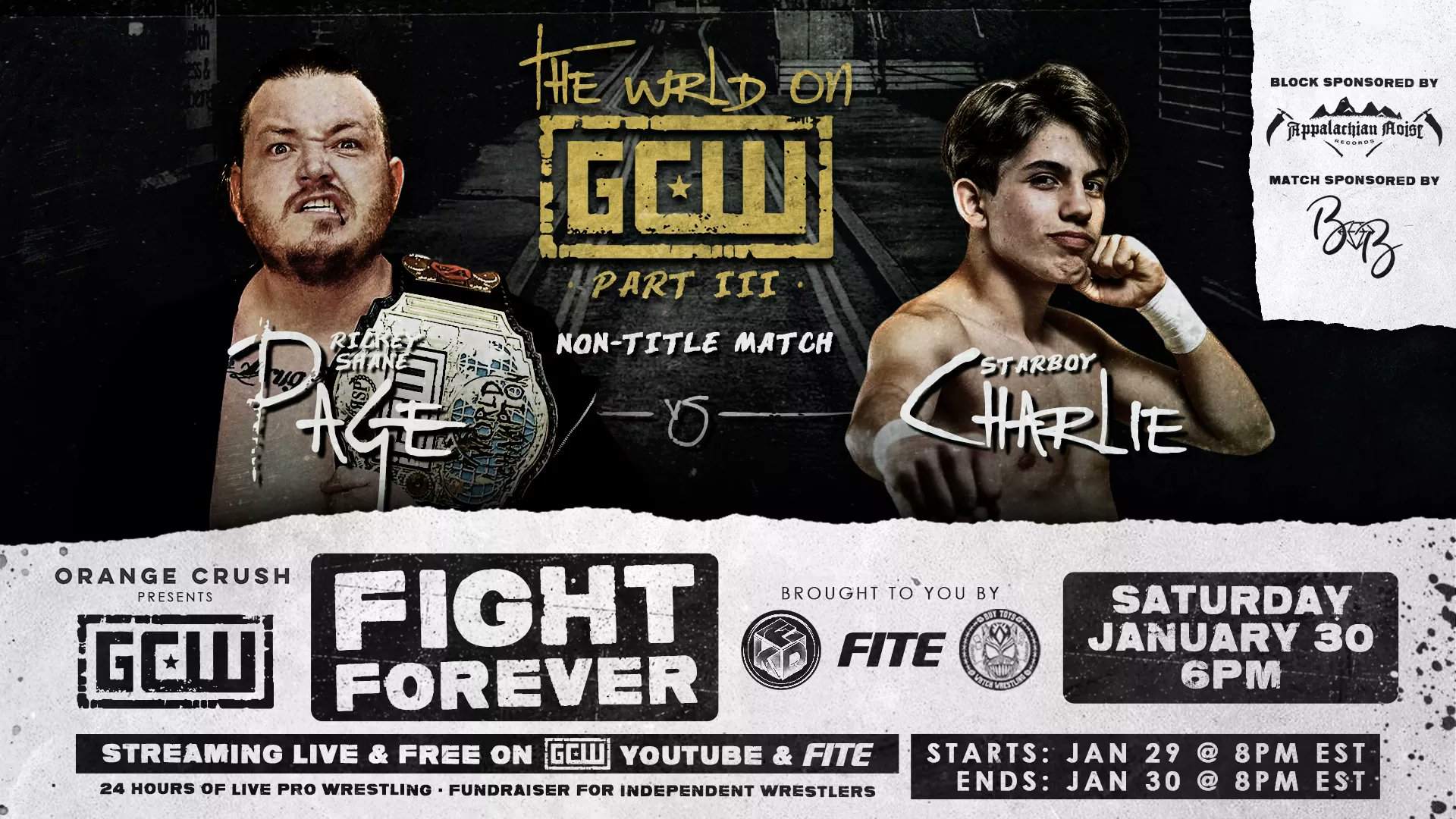 GCW  Fight Forever
Rickey Shane Page vs Starboy Charlie
Marc Madison: An addition made to the card was booked late Thursday evening. Page is quick to note that this is a 'non-title' match and the 44.OH, member likely won't have to go very far if help is needed. For Starboy Charlie, he's competing in his second match in as many days looking to make a name for himself. There is no question that a win here by Charlie could go a long way. One in deciding where he falls in the GCW title picture.
RSP is never one to not cut corners. If the opportunity here presents itself, he'll likely and gladly do it here as well. However, if push comes to shove, the GCW veteran is sure to use his experience and ring awareness to catch Starboy off his game and pick up the win.