During his time in the ring, Gary Albright earned the moniker the Master of Suplex, a nickname that best defines his wrestling ability and highlights his strength. Simply enough, a suplex is defined as a wrestling hold in which a wrestler grasps his opponent around the waist from behind and carries him backward.
When you are dubbed the Master of Suplex, it would suggest your ability to grasp, carry, and in most cases, toss your opposition with an exceptional amount of balance, strength, and leverage. This was the case of the career of Gary Albright, who left an indelible mark wrestling both past and present.
Modern wrestling fans may attribute the Suplex's popularity to Brock Lesnar; it could also be linked to a man who could deliver a suplex unlike anyone else during this time. A native of the New England area, Gary Albright was born in Rhode Island and began wrestling on the amateur level as early as high school. He boasted a record of 55 wins with only two losses.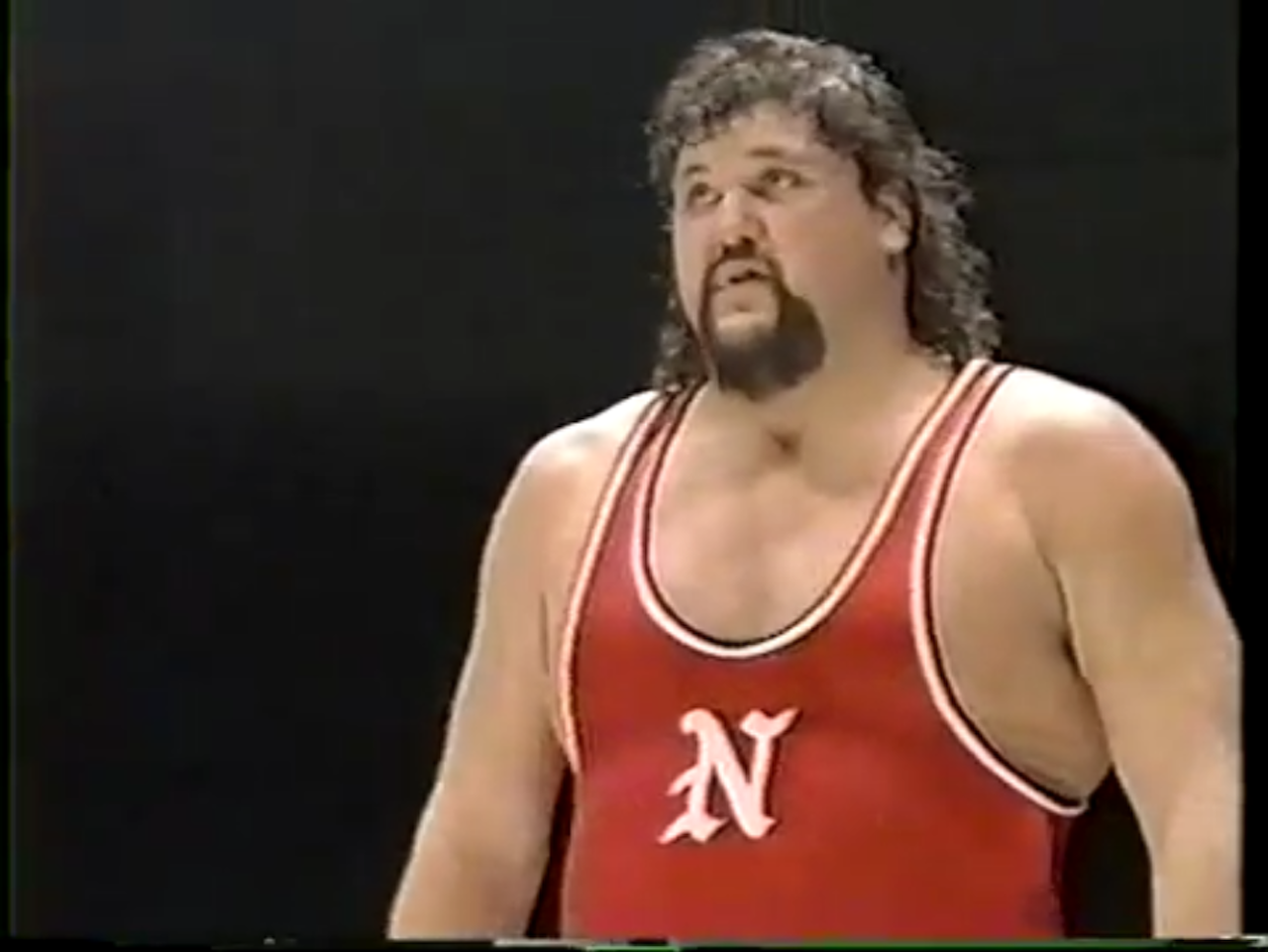 Gary Albright – Master of Suplex
From an early age, Albright captured state championships, competing in the NCAA for the University of Nebraska, placing second for state championships, and setting the record for the most falls in a single season with 38 during the 1985-1986 school year. However, once his amateur career came to an end, it was a remarkable one with his countless accolades. His amateur wrestling achievements read like a list many of today's wrestlers would only dream of achieving.
On top of what was previously mentioned above, Albright was a Big 8 Champion, Big 8 All-Academic team, NCAA Runner-up, U.S. team member from 1981–1984, 1982 National Open Freestyle champion, and 1981 World Greco-Roman Elite champion. But if his amateur wrestling achievements, his family ties also lent him the opportunity to grow and achieve professionally.
Albright met and married Monica Anoa'i. Monica is the daughter of one-half of the patriarchs of the Anoai wrestling family, Afa. As many may know, Afa and his brother Sika competed as the Wild Samoans during their time in the WWF. But Albright didn't lean on his family ties to achieve success. Instead, it was his matches in Canada and Japan that he long was regarded for.
"He was an "excellent freestyle wrestler. I remember his greco-roman wrestling, his on-the-mat wrestling, which was quite phenomenal. We knew that if wrestling kind of went in that direction, which it certainly did with the Ultimate Fighting … that was an area in which he would excel in.
He had the credentials, he had the size, and he had the discipline still to be a good showman in the ring and not carry it too far and actually hurt other performers." – Ross Hart on Gary Albright.
As shared above, Ross Hart recalled just how effective Albright was in the ring as after graduating; he would begin to compete in the famed Hart family's Stampede Wrestling promotion in Calgary, Alberta. The Master of Suplex would be trained by such notable wrestling greats as Danny Hodge and Billy Robinson.
But Albright's emergence in Stampede Wrestling actually came at the hands of another former Hart Foundation member. When 'the Loose Cannon' Brian Pillman made the Hart's aware of Albright, it was all that was needed to help get his foot in the door with them.
What is interesting to note is that while Albright did achieve success as a face, it was as a heel that he appeared to be best suited. He would compete briefly under the name of Vokhan Singh while in Stampede Wrestling and would team with the late Mike Shaw, who competed as Makhan Singh.
Together the duo made up the team, Karachi Vice. It was a unique character as his appearance doesn't resemble the cultural background that his name suggests as two men from Pakistan. Their only saving grace was that they were led by Gama Singh, who was actually from India.
Albright (Vokhan) and Shaw (Makhan) would defeat the British Bulldogs and hold the titles for a period of four months. However, by the end of 1989, Stampede Wrestling would close its doors, and it was at this point that Albright would begin to compete elsewhere.
"I think he was quite content to wrestle in Japan. They let him wrestle his style…He was always exceptionally noted for that, that ultimate-type fighter. He never wrestled out of character, which I always admired about him. That's why you never did see him go to the WWF or WCW.
I think he would have been a great acquisition there, but I think he thought it would infringe on his style too much. That they would have had him set all his technique aside, and he would have had to give up that art, which he wasn't prepared to do." – Ross Hart on Gary Albright's preference for competing in Japan.
Union of Wrestling Forces International (UWFi) – Emergence of a Suplex Machine
After Albright's departure from Stampede Wrestling, he competed in various promotions all over the world. Some of his time was spent in South Africa. But over the next few years, Albright would compete in for UWF International or, rather, the Union of Wrestling Forces International.
The promotion was a style of wrestling that wasn't uncommon by what fans see today with shoot-style MMA but only in a wrestling ring. His size, stature, and ability to knock someone out only added to his mystique.
The list of names that fell victim to Albright included Yoji Anioh and Kiyoshi Tamura. But it wasn't until his initial feud with Nobuhiko Takada that the Master of Suplex truly showed his worth.
He would knock Takada with German Suplex in front of a packed crowd in the Yokohama Arena. At the time, Takada was the biggest star in UWFi, so a win only secured Albright's place in the company and was seen as a legitimate threat.
But the true value of a rivalry is the nature of the exchange between competitors. It wouldn't be until the following year when Takada would avenge his loss to Albright s match to determine the inaugural UWFi Champion. Takada was able to make Albright submit to a cross-armbar.
While some losses have the tendency to affect the presentation of a talent, it didn't matter for Albright. What would follow would be a series of five-minute or fewer battles that would continue to showcase Albright's dominance. But the arrival of another gaijin (non-Japanese wrestler) would arrive, asserting themselves as the next top non-Japanese performer in the company.
'Super Vader,' who later became Big Van Vader, would arrive and compete on the main card where Albright competed. Albright would now compete on the undercard and, in doing so, was part of tag team matches. By 1994, Albright once again assumed a dominant place in the promotion and the card during the UWFi's "Best in the World' tournament.
Despite making it all the way to the semifinals of the tournament, Albright would finish third. But, unfortunately, it would be the same night Super Vader would defeat Albright's rival Takada for the promotions' championship.
In their initial matchup, the UWFi laid the foundation for a dream match between Gaijin's pitting Super Vader against Gary Albright. Albright forced Vader to submit. He then faced rival Takada and defeated him again, leading to a championship battle between Vader and Albright.
During the Vader and Albright rematch on January 16th, 1995, Vader defeated Albright. The build-up to their match and the match was a financial success for the company. But the company didn't build up further talent as threats for the title, and it ultimately led to Albright leaving the promotion and joining All Japan Pro Wrestling in the latter half of 1995.
Over the course of the next four years, Albright would face each of the Four Pillars of Heaven as part of All Japan Pro Wrestling. While he would have competitive matches with Toshiaki Kawada, Akira Taue, Kenta Kobashi, and Mitsuharu Misawa, he wouldn't receive the push he had as part of the UWFi. He would compete only once for the AJPW title coming up short against then-champion Misawa.
Albright would team with other gaijins, such as Stan Hansen and Sabu, during his time in AJPW. But Albright found a new sense of purpose in the promotion until he worked alongside Lacrosse and Dr. Death Steve Williams. As part of the Triangle of Power, Williams and Albright would finish third in AJPW's World's Strongest Tag Determination League in 1997.
By the Summer of 1997, they would capture the Unified Tag Team titles. Albright had assumed the role of faction leader after Williams would depart the promotion. In fact, two former UWFi talents would replace Lacrosse and Williams in the Triangle of Power. Masahito Kakihara and Yoshihiro Takayam, would join under Albright's leadership.
Despite Albright's best efforts, the faction wasn't pushed as a whole and would depart the company in 1999. As mentioned earlier, Gary Albright was part of the famed Anoai family as he married Afa's daughter Monica.
The Anoai's also ran a promotion known as the WxW (World Xtreme Wrestling) promotion. Sadly, while competing during a match for WXW, Albright collapsed in the ring, suffered a heart attack, and was pronounced dead shortly after his body was taken from the ring.
Albright was a husband and a father of three that passed away at the age of 36. For fans of the likes of Purosesu talent during the 1990s, they would be hard-pressed to find a more sound technically sound professional than Albright.
While his success was primarily achieved in Japan, it isn't to say that with his raw wrestling skill, he couldn't have achieved success in the United States. But as mentioned earlier by Ross Hart, Albright didn't need to change who he was to fit a mold that likely wasn't him.
He competed as he wanted and how he wanted. Few have that freedom, but for Gary Albright, the Master of Suplex, he excelled in the freedom competing in Japan provided him, and to that fans who haven't seen his work are encouraged to do so.