Say Yeah if you're ready to learn more about one of the best tag teams in recent memory, FTR. The pairing of Dax Harwood and Cash Wheeler has brought fans plenty of amazing matches. They bring realism to their performances that have the resemblance of Arn Anderson and Tully Blanchard.
As expected, since coming to AEW, the team has had on-air appearances with the likes of Tully and Arn. FTR has been very vocal about coming to AEW to highlight tag team wrestling. The duo has already made their presence known in the division, but how did these two renegades get their start?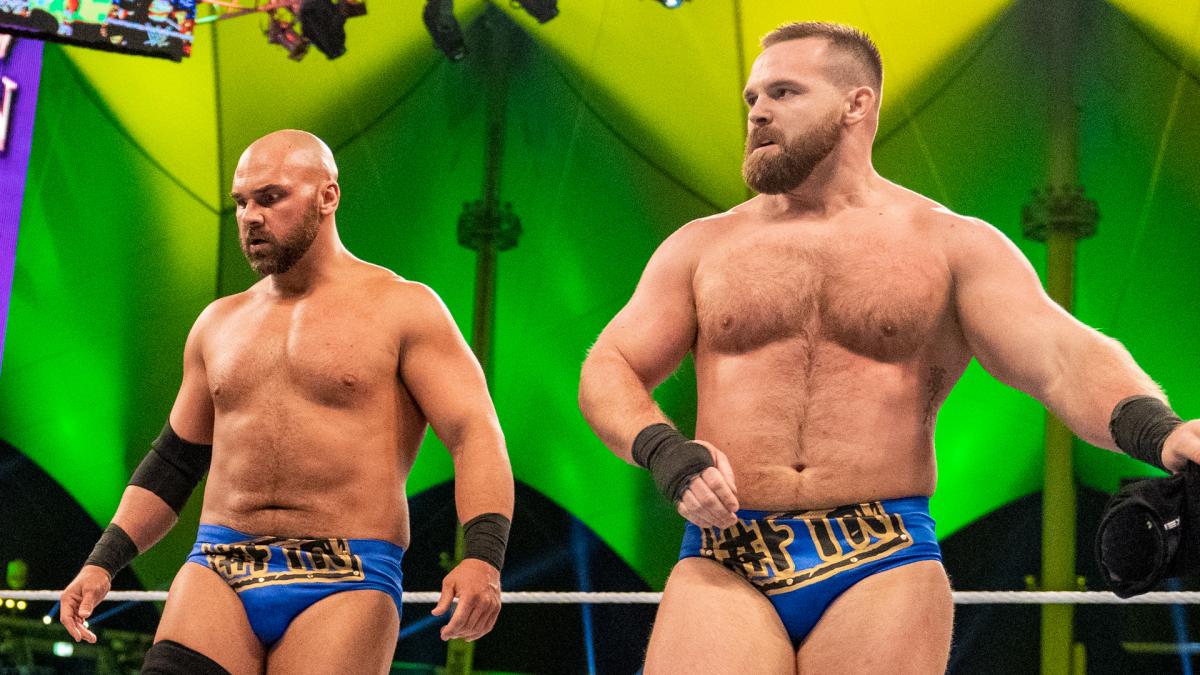 Daniel Marshall Wheeler

Now, Cash Wheeler, Daniel was born on May 17th, 1986, in North Carolina. He competed in amateur wrestling during his years at Junior High School and High School. Wheeler attributes his passion for being in the professional wrestling business from watching at a young age. In an interview for his hometown paper, Wheeler stated:
"It was very popular on my dad's side of the family, and we'd go to my grandma's house and just watch, and I got hooked from there," said Wilder. "My first wrestling memory was watching Hulk Hogan; I was probably 4 years old, with my dad sitting in his chair, and I can't remember what match it was, but I was instantly captivated."
Cash was enthralled by the world of professional wrestling. After high school, he and his friends built a backyard ring. With just the knowledge of watching tapes and reading autobiographies of wrestlers, they started making their dreams come true. In 2005, Wheeler would work as a ring crew setting up chairs and breaking down the rings.
After paying his dues, he would finally get the opportunity to get trained professionally. Wheeler would train and work at NWA for 9 years. Cash credits his time at NWA Anarchy for being the most influential on his career. He would get the opportunity to work outside of the country. Traveling to places like Europe, Japan, and Mexico allowed Wheeler to develop a more well-rounded style.
Taste of Gold | Prior To Becoming FTR

The North Carolina native is a jack of all trades. He is the utility player on the card because you can put him anywhere in any situation, and he'll perform. During his time in Anarchy, he would have 3 title reigns. On August 8th, 2008, billed as Steven Walters, he would win the NWA Anarchy Tag Team Championships.
He and his partner Derrick Driver would be known collectively as "The New Wave." Their first run as champions would last 7 months, but they would quickly recapture the titles just two months later.
The duo would be champions for 10 out of the 12 months that year. In 2009, still under the name Steven Walters, Wheeler would break out on his own and capture the NWA Anarchy Television Championship. He would go on to hold that belt for 147 days. In 2014, Wheeler would be signed by WWE and trained at the Performance Center. He would immediately be paired with Dax Harwood, then Scott Dawson, and would form one of the best tag teams in recent memory.
David Michael Harwood

Now, Dax Harwood, David was born on June 30th, 1984, in North Carolina. Dax was a fan at a young age, like his tag partner. In an interview from the Miami Herald, he explains how captivated he was by wrestling:
"Growing up, my main focus was professional wrestling. I watched King of the Ring 1993. Bret Hart went through three separate matches that were incredible. I don't know why at the time, but I loved it.
Now looking back, I see this beautiful story being told throughout the whole pay-per-view of Bret Hart overcoming all the odds — broken fingers, broken ribs — and then beating 400-pound Bam Bam Bigelow to win the tournament. At the time, I didn't understand, but I knew as soon as that tournament was over I wanted to be a wrestler." 
During his High School years, Harwood would play football and basketball. He experienced two major knee injuries during his time at Whiteville High School, but that didn't stop him from playing football in college. Dax played Division I football at Eastern Carolina University.
He eventually transferred to UNC-Wilmington, where he would battle with his passion for becoming a professional wrestler and finishing college. He left college with the plan of finishing in the future and pursued his dream of becoming a professional wrestler.
Making the Jump Prior to Becoming FTR

Harwood would find a wrestling school over 2 hours away from his house. His trainer was former WCW wrestler "The Maestro" Rob Kellum. He would train four days a week for 6 months, and he was ready to make his debut. In 2005, he made his professional wrestling debut under the moniker KC McKnight.
He would work all around the North Carolina area, all while earning his degree in Business Communication. Unfortunately, after 7 years of hard work, Harwood was seeing his odds of being in the WWE becoming slimmer and slimmer.
He came back from a tour with Pro Wrestling Zero1 in Japan and was ready to hang up his boots. A few days later, he got a call from William Regal to come in for a tryout. He would then sign a developmental deal in 2012 and would be renamed Scott Dawson. Dax would be in many thrown-together tag teams in NXT, and nothing was sticking.
He would tear a ligament in his knee that would sideline him for a lengthy time. Upon his return, he would team with new signee Dash Wilder, and the two would be known as "The Mechanics."
Before FTR Was The Revival

The history of Dax Harwood and Cash Wheeler does not start in 2014. It doesn't even start in 2012 when the two both worked at NWA Anarchy. The two knew each other going into High School. They had wrestled in the North Carolina indies a few times as well. The history is lengthy, and the two made a perfect team upon their arrival in NXT.
They were originally named The Mechanics and then were just billed as Dash and Dawson. It wasn't until 2016 that the team rebranded as The Revival. The name paid homage to the glory days of tag team wrestling. They wanted to bring back the styles of Tully Blanchard and Arn Anderson. Their "No Flips, Just Fists" tagline was just to emphasize that they were not about flash. They were about kicking ass.
The Revival started picking up a lot of steam after having classic matches against American Alpha and #DIY. Over the course of their NXT run, they had two Tag Team Championship reigns. Their last match on the yellow brand came at NXT TakeOver: Orlando. They lost the NXT Tag Team Championship in a fantastic match against AOP and #DIY. This set them up to make their main roster debut on Monday Night Raw after WrestleMania 33.
The Call-Up | Before FTR

The Revival would make their WWE debut but would be plagued by injuries from the start. Just 2 weeks after their debut, Dash Wilder would fracture his jaw, and a month later, Scott Dawson would tear his bicep. However, the duo would persevere and regained any momentum that was lost.
They would finally claim main roster gold on the February 11th, 2019, episode on Raw against Roode and Gable. However, shortly after becoming champions, they were booked to lose against NXT tag teams like #DIY and Aleister Black & Ricochet. Then they would lose the Raw Tag Team Championships to known losers Hawkins and Ryder at WrestleMania 35.
Frustrations would start to build as the team did not feel they were being utilized properly. Instead, they were booked in a comedic feud against The Usos. This type of booking would continue as the duo simultaneously pinned R-Truth to become joint 24/7 champions.
Unfortunately, they jointly lost it back to R-Truth just a few segments later. The Revival would soon jump ship to SmackDown in hopes of better success. In what seemed to be a promising stable with Randy Orton, FTRKO was very short-lived.
The Revival would be very vocal about their frustrations about how they were booked. It was reported multiple times that they asked for their releases, but WWE would not approve. So instead, they threw the SmackDown Tag Team Championships on the disgruntled group in hopes of satisfying them.
The Revival is still the only team in WWE history to have held the NXT, Raw, and SmackDown Tag Team Championships. This is a great statistic, but nothing was changing thing minds on The Revival. They turned down very lucrative contracts to become free agents on their own time.
FTR is All Elite

Dax Harwood and Cash Wheeler are two honest, hardworking men that care about tag team wrestling as FTR. They knew that no matter what, WWE would never give that division the time it deserved. So they decided to jump to All Elite Wrestling to prove that tag team wrestling is the best wrestling.
On the May 27th, 2020, episode of Dynamite, FTR made their AEW debut. Driving in with a sweet truck, they made the save by helping The Young Bucks from a beatdown from The Butcher and The Blade.
The team has officially signed their AEW contracts and are already in a high-profile storyline with The Elite. Harwood and Wheeler have expressed the night and day differences between AEW and WWE. They are ecstatic to be in AEW and to have the opportunity to showcase what tag team wrestling is all about.
As they look at their past in WWE, I'm sure they also would say, "F**k The Revival." However, this is FTR, and they are now All Elite. When asked about their debut match and win, Cash Wheeler had this to say.
"It went better than expected for us. It's been a while since we've been in the ring, so you never really know what to expect.
We got some rust, but it felt like old times out there today, and you said we had a bunch of coaches out there, and it's all guys we've looked up to our whole careers, and we've got to model ourselves after."