Friday Night Smackdown flashes back to last week as the events of the Roman Reigns and Dolph Ziggler matchup and afterward were shown. We see Reigns attempting to fight back but the ultimate restraint on him and the pouring of canned dog food. It then returns to live in the arena as Smackdown takes place in Milwaukee, Wisconsin at the Fiserv Forum. Corbin comes to the ring prepared to share his thoughts with the crowd. He begins with the potential smell of those in attendance or the scent of the dog food from the previous week. Corbin then shares how great his year has been. Corbin lists his accomplishments. Surely, another locker room leader such as Kofi Kingston will likely step up to King Corbin, no?
He then proceeds to say how Reigns will bow down to him at WWE TLC. He refers to the rumor circulating that Roman Reigns will be coming to Smackdown 'unchained'. The 'you look stupid' chants seem fitting whether applied to Ziggler or Corbin. Corbin said its the dawn of a 'new day'. That has to suggest someone will interrupt, at this point, no? Almost on cue, Big E can be heard chiming in on the overhead speaker. Both come out and immediately shoot down King Corbin in the process.
Kingston shares that his year was just as good as Corbin's, in fact, stating how he defeated Ziggler in the process. The New Day comes into the ring and points out how stupid Corbin looks and doesn't represent a throne with any sense of respect. Kingston then slaps Corbin in the process. The show's main event is between Kofi Kingston and King Corbin.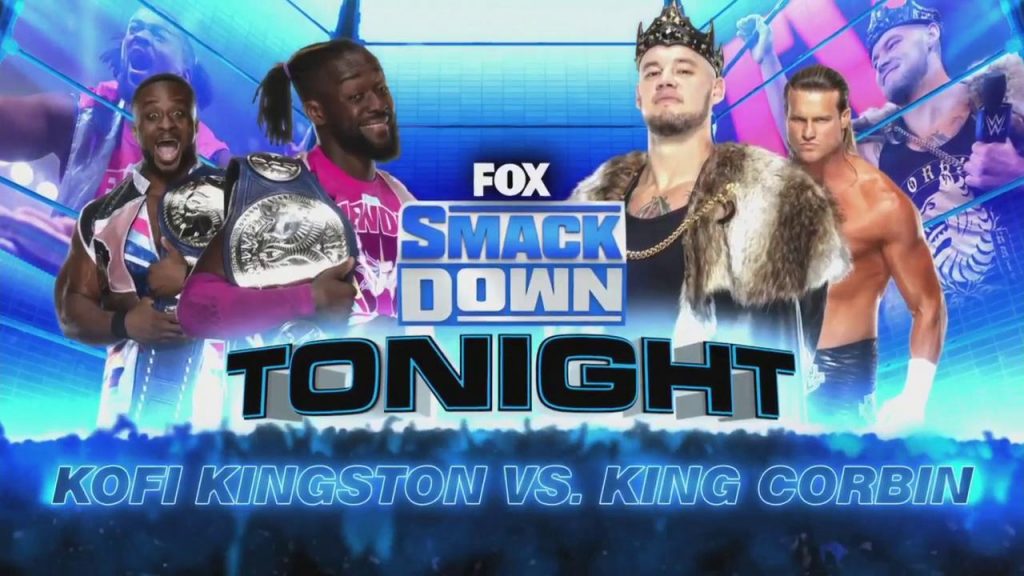 We're shown highlights of what took place between The Miz and Bray Wyatt from the previous week. An exclusive interview with The Miz is slated to take place later in the evening.
Mandy Rose and Sonya Deville vs Nikki Cross and Alexa Bliss
Highlights of the last two weeks of the issues between all four women show up. Kayla Braxton interviews Alexa Bliss and Nikki Cross and gets attacked from behind but the fight then comes out the ramp area. Referees attempt to calm down the four women. Once the bell rings all four women exchange fists. Deville and Rose gain the advantage and begin to wear down Nikki Cross. Bliss gets involved and pulls the ankle of Mandy Rose taking her down to the mat. As this happens inside the ring, Cross hits the purge for a pinfall and a three-count victory.
Winners: Nikki Cross and Alexa Bliss
Eyelashes still on? Good.

What a victory for @NikkiCrossWWE & @AlexaBliss_WWE! #SmackDown pic.twitter.com/FBSNy3Zqwb

— WWE (@WWE) December 14, 2019
Zayn is insulted by a gift of cooked ham that Otis offered him. He states that he is vegan. Otis apologizes but is called an oaf in the process. When it appears as though things are about to heat up, Cesaro and Nakamura appear and things cool. Cesaro appears to want to take the ham but then decides to drop it on the floor.
Shorty G and Mustafa Ali vs. The Revival
On their way to the ring, Dash Wilder falls coming through the entranceway. Either they wanted to make that happen or not it looked funny. Shorty G is taken out and Ali is afterward as well. Dawson continues to work on Shorty G inside the ring. Wilder is the legal man and is caught in a couple of pinning predicaments by Shorty G. Eventually, all four men are taken out as they go to commercial.
After the commercial break, Shorty G and Ali regain control. Ali is tagged in and he hits a double stomp on Scott Dawson. He follows it up for a pinfall attempt but only for a count of one. Dawson then hits a double underhook powerbomb and attempts to make another pinfall. Fans are on board for this tag team matchup. Ali hits a 450 on Dash Wilder after he hits a splash on Shorty G. Once again all four men are in rough shape. After being tagged in and attempting a tornado DDT on Scott Dawson, Wilder comes in and aids in a shatter machine on Ali for a pinfall and the three count.
Winners: The Revival
.@AliWWE & @WWEGable's chances of beating #TheRevival are SHATTERED as @ScottDawsonWWE & @DashWilderWWE get the win just days ahead of their match at #WWETLC! #SmackDown pic.twitter.com/IhVcZgRHgI

— WWE (@WWE) December 14, 2019
Kayla Braxton interviews Bayley backstage when Elias interrupts with Dana Brooke at his side. This eventually leads to a non-title match between Brooke and Bayley.
Dana Brooke vs Bayley
Bayley slaps Brooke right away to start the match. Brooke then tries to a couple of back spring elbows but is ultimately wiped out by Bayley. Bayley then takes Brooke to the corner and continues her onslaught. She eventually hits a sitdown powerbomb, much like…ahem Batista. Brooke attempts to continue to maintain the advantage on Bayley. She hits a couple of pinning combinations only to be taken advantage by taking her out at the knee. Bayley then hits her finisher for the three count and the win.
Winner: Bayley
EXCLUSIVE: @itsBayleyWWE is ELATED that someone finally stepped up to her challenge on #SmackDown. pic.twitter.com/nVHoNMwZN0

— WWE (@WWE) December 14, 2019
Sheamus appears set to make his return to Smackdown soon. The Celtic Warrior says he is bringing a heart that is hungry back to Smackdown.
Renee Young interviews The Miz from his home in Los Angeles. They discuss Daniel Bryan's value and the impending match with Bray Wyatt on Sunday at TLC. As the interview progressed, Maryse could be heard in the background screaming 'Mike, Mike!'. The Miz runs off to see on the baby monitor Bray Wyatt interrupting the feed and a creepy doll in their daughter's crib. As a parent, that was a little uncomfortable to watch. That was likely the intention.
Bray Wyatt interrupts with the same creepy doll and says he 'was just trying to be nice' because it's the holiday season. He says he sees how much The Miz loves his family. Wyatt also says that 'she' always taught him never to be a snitch because snitches get stitches. He shares that pain isn't a real thing that he can train himself never to feel pain at all.
Snitches get stitches, @mikethemiz.

P.S. #TheMarine 5 was ?????!! *chefs kiss*#SmackDown @WWEBrayWyatt #WWETLC pic.twitter.com/Sv1M4Gd0e4

— WWE (@WWE) December 14, 2019
Heavy Machinery vs Shinsuke Nakamura and Cesaro with Sami Zayn
Tucker and Cesaro start the match. Every time Tucker hits a dropkick it always surprizes to see it. Otis and Nakamura are then tagged into the match. Tucker is then tagged back into the ring and hits a somersault assault on Nakamura and Cesaro. Once isolated both Tucker and Otis take out Cesaro as they go to a commercial break.
After a commercial, Tucker attempts to tag in Otis as Cesaro and Nakamura cut the ring in half isolating the big man. Nakamura drives knees into the side of the ribs of Tucker as fans chant for Otis. Tucker begins to fight back on Nakamura drilling the Intercontinental champion in the process. Otis is eventually tagged in and Cesaro attempts to stop the big man only to be stopped in the process. Nakamura hits a sliding knee only for Tucker to get involved. With Otis set to be taken out, he catches Nakamura in the process. As it appears Nakamura is set to be compacted, Cesaro comes to the aid of his partner. Otis then hits the caterpillar only for Sami Zayn to get involved. That distraction on Tucker is all it takes for a Kinsasha by Nakamura leading to a three-count and a win.
Winners: Shinsuke Nakamura and Cesaro
Victory. @ShinsukeN @SamiZayn @WWECesaro #SmackDown pic.twitter.com/MPFoFO7R7h

— WWE (@WWE) December 14, 2019
Before his upcoming match with Kofi Kingston, King Corbin addresses his royal guards as to what he needs them to do next.
Kofi Kingston vs King Corbin
Kingston comes to the ring first followed by Corbin who is accompanied by Dolph Ziggler. The fight begins with both men exchanging blows. After the break, just as it appears as though Kingston has control, Corbin tosses him over the top rope to the floor. Once on the floor, Corbin takes the fight to Kingston tossing him from one end of the ringside area to the other. After returning back to the ring, Corbin continues his onslaught on the former WWE Champion. Fans attempt to rally behind the former WWE Champion. In fact, Kofi attempts to make a comeback only to have Corbin stop it with a back elbow. Ziggler was ejected from ringside but he refuses to leave and a fight breaks out at ringside.
Winners: No Contest
After the match, Big E takes the mic and immediately challenges both Ziggler and Corbin to an impromptu tag team match.
The New Day vs King Corbin and Dolph Ziggler
After the match, Corbin begins to work on Big E but only momentarily. Big E hits a belly to belly suplex on Corbin. Kingston and Ziggler are tagged in and Kofi begins to take out Dolph. However, Corbin stops it. He threatened to humiliate Kingston who has been handcuffed and the referee calls for the bell.
Winners: New Day
OFF A LADDER AND THROUGH THE ANNOUNCE DESK!@WWERomanReigns just sent a MESSAGE to @BaronCorbinWWE at the expense of @HEELZiggler on #SmackDown! pic.twitter.com/7szZKUaVNB

— WWE (@WWE) December 14, 2019
As Big E attempts to come to the aid of Kingston The Revival comes out and hit the shatter machine. Roman Reigns comes out and begins to clean out everyone at ringside. The Revival attempt to take out Reigns who recovers. However, Corbin decks Reigns from behind. He then drops a Superman punch on Corbin and then stalks him with his scepter and dog food. Reigns is being held down as Ziggler climbs the ladder. But Reigns recovers and chokeslams Ziggler through a table. Roman Reigns stands tall as Corbin looks on as he's headed up the rampway.
Hope y'all had your fun last week. It won't be fun for y'all much longer. #Smackdown #WWETLC pic.twitter.com/f41WslUh1A

— Roman Reigns (@WWERomanReigns) December 14, 2019