In his in-ring debut, Freddie Blassie, then eighteen, was paid one dollar and basically was torn from limb to limb. Many careers started thusly though very few would match what was to follow.
The fifties were a fantastic decade to become a force to be reckoned with in the wrestling world. The sport was growing exponentially thanks to the advent of television.
Broadcasters had programming slots to fill, and professional wrestling was at the right place at the right time. Faithful viewership was established quickly. The sport left the marginalia of sideshows and carnival attractions to take its place on the Island of relevancy.
Freddie Blassie:
A Flourishing and Lasting In-Ring Career
Being hard-working, devoted and talented at that time was like being a top-flight musician or band at the time of the British Invasion. Gather ye rosebuds while ye may.
The bright lights of the City of Angels had Blassie performing there in the NWA in 1952 and 1953. He then went on the proverbial Midnight Train to Georgia, where he was a huge attraction in the land of peaches and grits.
Now 42, Blassie went back to the west coast and starred in the Los Angeles-based WWA. There he had epic feuds with The Destroyer Dick Beyer and even the legendary Edouard Carpentier.
In Los Angeles, Blassie broke ground as a despised heel but also had the foresight to delve into other forms of entertainment and break ground elsewhere as well. Cassius Clay, as he was known, then watched Blassie and actually incorporated his style and influence with his mic work.
This is all the more impressive when one thinks of the scores of wrestlers who taught themselves to cut first-rate promos and interviews from Ali himself.
Blassie also became known outside the Olympic Arena. In the Fall of 1961, he made a memorable 20-second cameo appearance on the Dick Van Dyke show appearing as himself and demonstrating the Twizzle on an unsuspecting lead character, comedy writer Rob Petrie.
In LA, he also developed a mock feud with Regis Philbin. Blassie gave himself credit for putting Regis over, as it were. When Blassie was inducted into the WWE Hall of Fame, Philbin himself had the honors of presenting him. Blassie would also venture from the Santa Monica sunshine to the land of the rising sun and spent considerable time in Japan.
Classy Freddie Blassie |
BIG IN JAPAN, NOT JUST FOR ALPHAVILLE ANYMORE.
In Los Angeles, Blassie would lose his prestigious WWA title to Japanese icon Rikidozan. The two would feud in the latter's home turf, and there, Blassie shocked and outraged the legions of Rikidozan fans by repeatedly biting him on the forehead and drawing blood.
This vampire-like schtick was almost too much for the audience to fathom, and it is said some even passed away from heart attacks caused by this carnage. Maybe he should have stuck with the Twizzle. Oh, the benefits of 2020 hindsight.
It was at a train station in 1968 that the half-century-old Blassie would encounter a young Japanese woman by the name of Miyako Morozumi. Her parents were reticent to approve, not only because of a considerable age difference but because they doubted Blassie s moral character after having been so ruthless with Rikidozan.
Eventually, her parents consented, and the pair exchanged vows in September of 1968. The couple remained intact until Blassie passed some 35 years later. He beamed with happiness when highlighting his sweetest memories during his Hall of Fame induction speech.
Classy Freddie Blassie |
THE ALLURE AND PROMINENCE OF THE NORTHEAST AND ITS MONEYMAKER MANHATTAN MEDIA HUB.
While Blassie had his best years in Los Angeles, when the end of the road seemed to be approaching, he took residence in the Northeast, perhaps looking for the most suitable place to achieve ongoing success outside of being an active wrestler.
While Blassie can be said to have built the Olympic Auditorium in Los Angeles, the State would issue wrestling permits to those 55 years old or over. Luckily, Sting was spared this humiliation.
The Eastern Seaboard offered opportunities and options aplenty. Between the mid-sixties and the early seventies, Blassie was with the ancestor of the WWE, making a name for himself as a prominent heel but also laying the foundation for some work of a different kind later on.
Blassie was a natural to portray a manager or a valet. Quick-witted, colorful, never at a loss for words, and with great catchphrases. Even his attire fit the role wonderfully, purple sequined jackets that could make doves cry. Sartorial splendor on parade. Blassie would always wear bright pastel colors, kind of like Easter in Wonderland.
Blassie handled a myriad of elite-level talent and brought out the best in them. Blassie would always manage to get in a last word More often than not, side-splitting. Hulk Hogan, the INCREDIBLE PRE Thunderlips version thereof, was managed by Blassie.
The storyline being that Blassie discovered Hogan while the latter was posing on Muscle Beach, just waiting to be discovered, timing, of course, being everything.
He managed la creme de la creme and was always entertaining and predictable. I have gone on record as stating that ritual and convention are vital elements in any wrestling programming.
Blassie not only introduced us to Hulk Hogan, but he was also the manager of the Iron Sheik during his transitional reign between Bob Backlund and Hulk Hogan. Who better to handle tag team champions Nikolai Volkoff and the Iron Sheik?
During this program, the classy one would wear a headdress and randomly utter the phrase Bali Bali to add to the Tower of Babel-type interviews led by Mean Gene. Cohesion is needed all around to pull off being so much out of control!
Blassie, Captain Lou Albano, and the Grand Wizard of Wrestling were looked upon as the big three in an era where managers were an integral part of the show. While others were to follow in due time, this original triade will always be in an elite class.
BLASSIE MASTERS THE Seventh ART.
By the early eighties, the so-called intellectual purists were moaning over the lack of deep and substantive conversation. We 0verused the word yup and engaged in vapid chit-chat. Woody Allen, in fact, wrote a fabled short story entitled The Whore of Mensa in which well-to-do conversationalists would spend a fortune to engage Ivy League types in talks about Moby Dick.
In 1981 the classic film My Dinner With Andre was released, and the critics were infatuated with it. In a perfect world, we would have sat down with the 8th wonder of the world and watched him eat six tomahawk steaks and down four bottles of Merlot before reconciliation with Killer Khan.
Ten years later, a second mocumentary, MR. BLASSIE GOES TO WASHINGTON. In this hilarious piece, Blassie is on a mission in D.C., getting the powers that be thinking straight. We strongly urge you to take in both films. Time well spent indeed.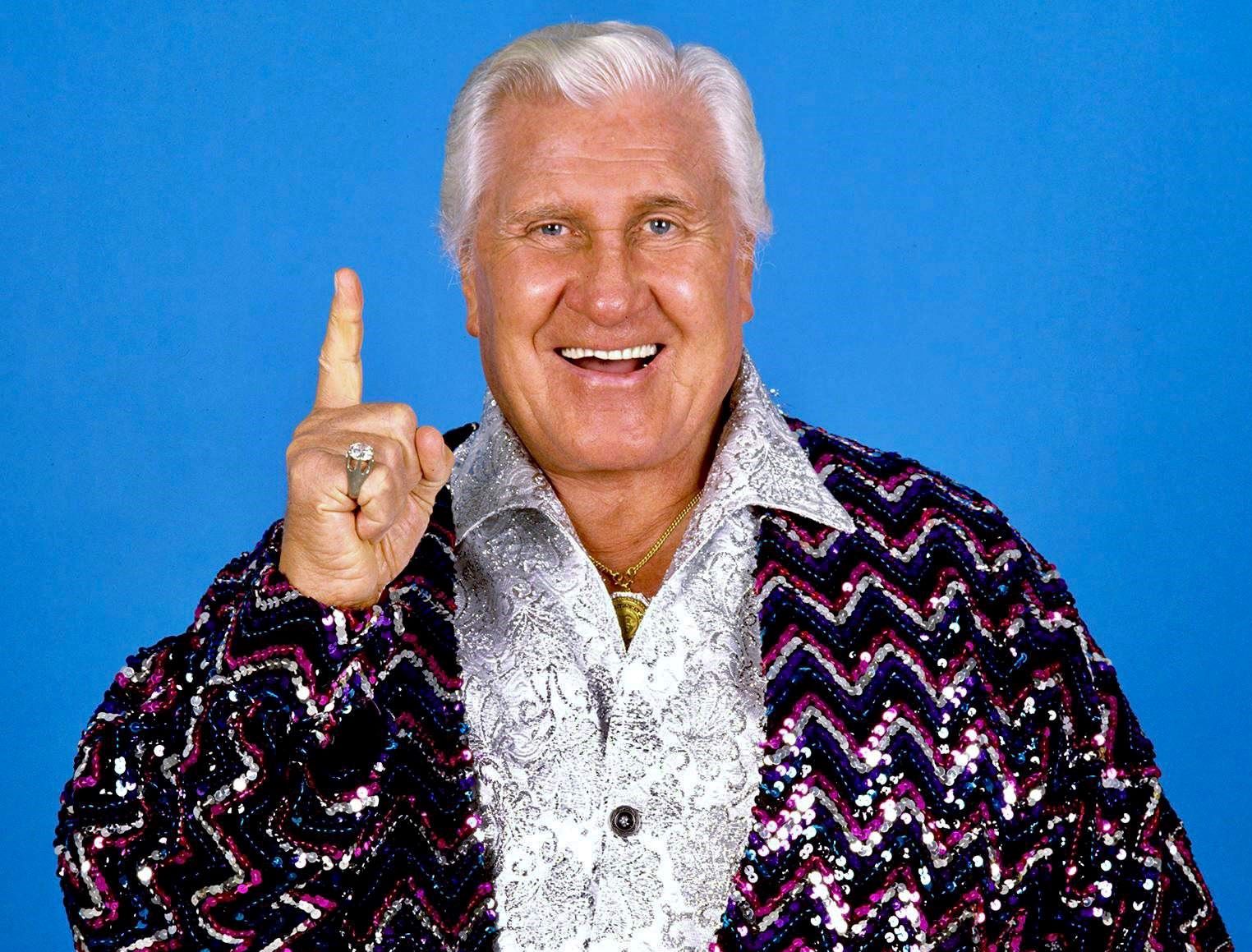 Classy Freddie Blassie 
A LASTING LEGACY.
What an amazing career and life he had. He portrayed the heel role for decades and brought a ton of humor into the equation. He perfected the role of the loveable scoundrel, he worked joyously, forever a twinkle in his eye, he was the voice for those who were NOT blessed with natural mic skills, and he lifted everybody s game around him.
The enthusiasm he showed doing the Twizzle on the Dick Van Dyke show in 1962 was ever-present, drinking milk at Sambo s with Andy Kauffman or calling out all the pencil-necked geeks in Glens Falls to come out and watch Jim Duggan get pounded by the Iron Sheik at the Municipal Auditorium on Tuesday the 16that 8 30PM.
He lived his dream, innovated, and had a knack for making sound decisions. He loved life and made ours all the more enjoyable. There will never be another Fred Blassie.