The story and career of Classy Freddie Blassie began many years ago. All-Star Wrestling was a WWF promotional show that featured enhancement matches and interviews that were designed to further featured talent.
A hint of doubt would creep in if the featured main card talent had any difficulty in beating his opponent in a convincing fashion. The psychology was first-rate.
The show was taped at the Hamburg Fieldhouse in Hamburg, Pennsylvania. The show replaced Heavyweight Wrestling from Washington, DC. All-Star Wrestling ran from October 2, 1971, through August 30, 1986.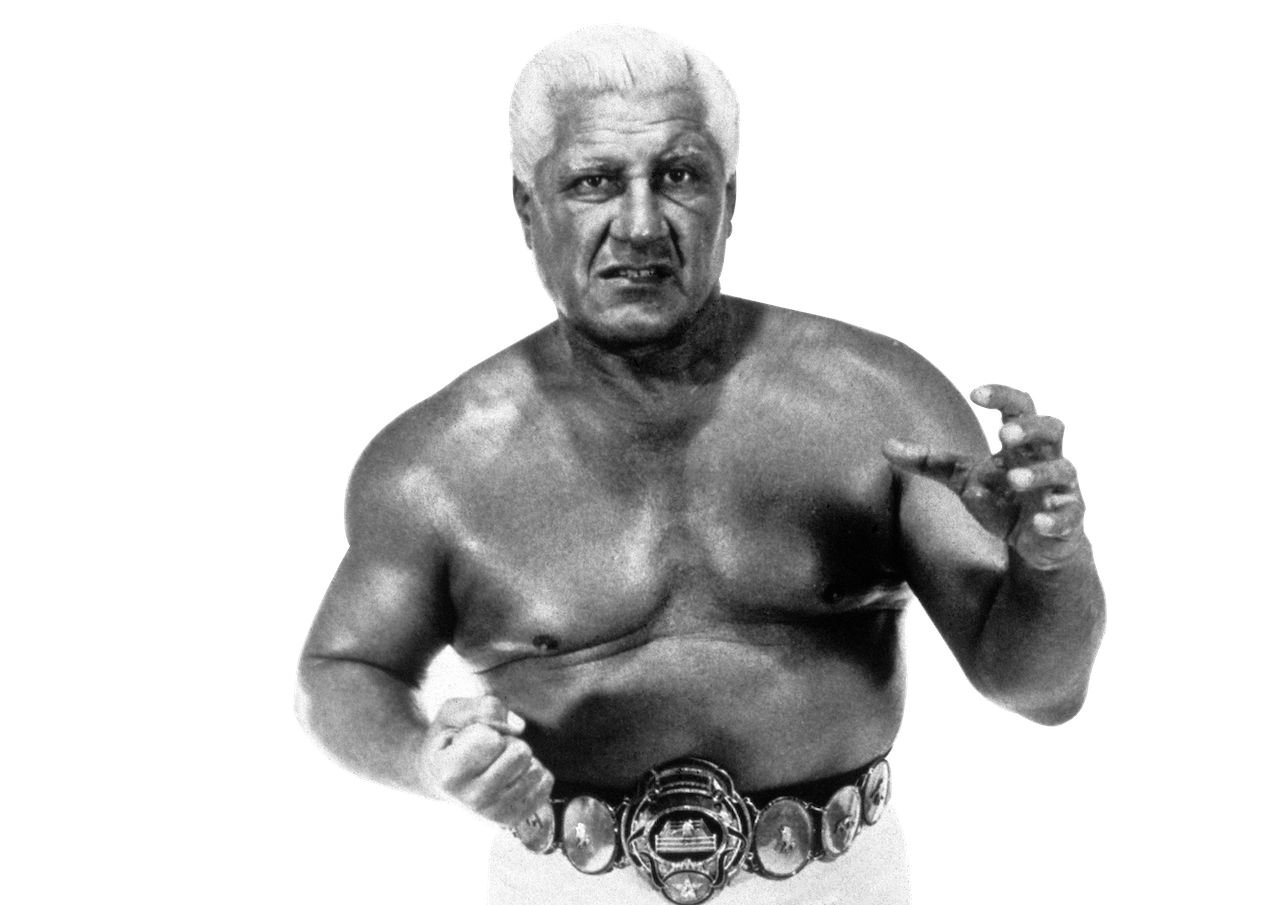 Classy Freddie Blassie –
TV Wrestling in the seventies and eighties –
The Vital Role of managers
The show would begin with ring announcer Joe McHugh informing us all that the following show was sanctioned by the State Athletic Commission. Fans loved how he would stretch the word athletic out like it had seven syllables. The timekeeper was introduced, and the refs as well.
Hughes, of course, would introduce the Dr. at ringside, Dr. George Zaharian, who was said to have a Little Red Riding basket of pain pills, growth supplements, etc…etc. Like the line from the great song, Love is Like Oxygen; some things are better left unsaid.
For his part, McHugh was an older gentleman who tried to sound like MSG legend Don Dunphy but sounded more like Bullwinkle J Moose. Hughes would introduce the talent with the aid of a folded piece of loose leaf paper and would always tentatively look first to the right before stating…and in the corner to my right…
He did not have the presence of a major venue announcer but would have been perfect to host a fundraising Spaghetti supper at a legion hall. And thank you to Mrs. Smithers for that delicious assortment of cupcakes and crullers.
On Saturday night in Montreal, the show would air on a broadcast at 11:15 pm on the local ABC affiliate and the following night at 11:30 on the network of the New as it referred to itself, NBC.
When watching the show, it depended on social escapades and whether or not some were allocated a seat in the friend zone.
Suffice it to say on many a Saturday and fans would watch the 11:15 broadcast accompanied by a parent, who took pleasure in watching the broadcast. He drove a taxi and would work many a Saturday evening and then come home at about 11 and chill with me.
At the start of the show, as soon as the theme music hit, Vince would read the following disclaimer but with the cadence of an auctioneer on a caffeine rush. The following wrestling exhibition requires participatory viewer discretion.
We would all shake our heads and think, what? Look, even Vince is telling us that the results are predetermined; As Murray Head sang, Please Say it Ain't So Joe!
The Dallas Sportatorium
The aforementioned Hamburg Fieldhouse was similar to the Dallas Sportatorium. It was a drab 1500-seat capacity venue that had little buzz. It looked to be perfectly suited to broadcasting 1950 s era college hoops.
One would invariably notice the same faces sitting in the same seats week after week after week. The crowd could have been easily mistaken for the good folks who would turn out to watch the tapings of the Lawrence Welk show.
Anyone who has attended wrestling tapings knows darn well that several weeks of programming are shot together, and the matches as presented in no way reflect the order they would be shown on the programming.
For example, Buck Quartermaine could be stretchered off after losing to Ray Stevens but then appear fresh as the proverbial Summer breeze 5 minutes later to lose to Don Muraco.
A month of programming would be shot at once, this taking several hours and incorporating Union breaks for the tech crew. The great majority of the contests were three to five-minute squash matches.
Not much suspense here, although if, during the course of a match, the enhancement talent performer would string off four consecutive moves, Vince MacMahon would rave about that having been a very competitive match-up.
There was no pumped-in crowd noise either. The challenge was to keep the audience alert and invested in the matches. It was in that quest that the manager would awaken the crowd from its slumber during matches and play the dual role of the mouthpiece for heel wrestlers whose mic abilities were somewhat lacking.
In those days, there were no performance centers nor workshops on how to cut a great promo.
Talent was NOT cultivated, it was there, or it was absent. In the latter case, no worries. Managers would stir the pot and do a fine job at it as well. They would often interfere in matches and distract the officials leading to a face being granted martyred saint status. Losing unjustly hence riling the crowd to no end.
In many ways, the manager was the equivalent of the Tummler, a performer in Yiddish Theater and Vaudeville who was basically called upon to stir up a crowd, liven up the proceedings, and pump life into the house.
For the record, the term translates into one who incites others to action. IE, Captain Lou bellowing at the Hamburg faithful, telling them that they are a bunch of losers who are fortunate to be in the presence of greatness like Mighty Joe Thunder from Great Stone, Alaska. See, now that shows a man dishing out punishment. Then, to be shouted down by the irate masses.
Over the course of this series, we will discuss several managers and how their schtick added to the show, and how many were actually able to make an impact on pop culture as a whole. There is no better example to start with than Classy Freddie Blassie.
Classy Freddie Blassie –
From Blue Collar Roots in the Gateway City to the South Pacific Theater.
Classy Freddie Blassie was born in St Louis in 1918. His parents fled war-torn Hungary; the unAmericanized family name was Blaszi. Blassie s childhood was anything but enchanting. His father had serious alcohol issues and was abusive to his spouse.
As a result, the young Blassie was shunted from family member to family member. There were not many Hallmark moments to be shared or cherished.
Valuable, albeit hard, lessons were cultivated from his home life. As an adult, Classy Freddie Blassie would never put liquor to his lips. He also realized that nothing was going to be handed to him on a silver platter.
Any career or life advancement would come from hard work and ingenuity. He showed no shortage thereof from an early age. This we will discover very shortly.
Upon graduating High School, Blassie found work at a meat packing plant. The young man was contemplating his future when Pearl Harbor was attacked by the Japanese air force, and America was called to war.
Classy Freddie Blassie chose to enlist in the Navy. The Village People and FDR were delighted with the new recruit. Here, in his 2003 autobiography, Blassie details why the Navy was his branch of choice:
On December 7, 1941, Japanese pilots attacked the U.S. Naval Base at Pearl Harbor, killing some twenty-three hundred Americans, capsizing the USS Oklahoma, demolishing the USS Arizona, sinking three other ships, and destroying more than one hundred eighty aircraft.
At the time, I was a member of the Emmets Athletic Club in St. Louis. We staged boxing and wrestling matches, played poker, and, on Saturday nights when I was in town, went to dances together.
On December 8, when President Franklin Delano Roosevelt declared war, all sixteen of us volunteered for service.
I picked the Navy. I already had a couple of cousins in the military, and they told me that, in the Army, you were likely to get stuck out in a tent in a muddy field somewhere, with bombs dropping all around you.
At least in the Navy, you had a place to eat and sleep. I was stationed in St. Louis at first, then shipped out to California. Pretty quickly, I made contact with the other boxers and wrestlers—I'd heard of some of them; none had ever heard of me—and we started putting on exhibition matches for the enlisted men.
Once in a while, I'd go AWOL to wrestle at a little show in a small town.
Keep in mind that back at that time, most wrestling events were staged in carnivals as opposed to arena shows. In St Louis, Blassie connected with notable carnival impresario Ed Wood.
His shows featured an array of human oddities, and Classy Freddie Blassie was hence inspired to coin the term Pencil Neck Geek which became his trademark saying and an integral part of 20th-century North American pop culture.
Classie Freddie Blassie 
The Lure Of The Sweet Science.
Fred Blassie completed a successful tour of duty in the Navy and, unlike Davy from the song Piano Man, was not meant to be in the Navy for life. Nor would the prospect of spending his adult life in meat packing do much to appeal to him.
He was handsome, athletic, and highly motivated. His first choice was to become a Boxer.
At that point, boxing and baseball were the only two sports that had any kind of mass appeal. While hockey, basketball, and football were in the picture, they were looked upon as niche sports with appeal in limited geographic areas.
One could compare any of those three to perhaps Lacrosse today.
The sporting map stopped where Route 66 began, winding from Chicago to L.A.
Boxing was the exception to the rule drawing interest from coast to coast, shore to shore, and border, to quote old friend Ron Trongaard. Championship fights would be held in Yankee Stadium, Comiskey Park, etc…etc.
Blassie, while never short on effort, just didn't have the necessary attributes to succeed in boxing. He was hampered by a short reach. Reach in boxing allows the fighter to strike his foe from a longer distance. It can never be enhanced, only measured.
Classy Freddie Blassie began his grappling career as a dark-haired baby-face military hero. He quickly learned, however, that there was a huge difference between being likable and being wealthy.
The biggest paydays would go to those who could draw the most heat; that lesson would serve Blassie very well throughout his career. He was a fast learner, and it made him a major player in the ever-competitive territories.
….as we are about to see.