Lucha Libre was shocked when the news about Perro Aguayo Sr broke that he passed away. However, it would be compounded when the lucha libre family received more bad news. They now must cope with the loss of Francisco Alonso Lutteroth. This news has impacted the wrestling world.
For those of who he was certainly would be remissed if they didn't discuss this legendary promotor and what his promotion did not only for the talent but the country of Mexico. Francisco Alonso Lutteroth created a company that welcomed talent from all over the world. Whether it be Japanese talents such as Hiromu Takahashi or Canadians such as Chris Jericho, Paco embraced these talents as more than just competitors but as part of his family.
Affectionately known as 'Paco' Alonso was the grandson of the founder of lucha libre in Mexico, Salvador Lutteroth. We talk about what he did for lucha libre, his goals, his challenges, and all that he gave us for the lucha libre culture and the great company CMLL. So, come with me on the path of his career and the great sport that he loved, and he showed it in his job. Rest In Peace, Francisco Alonso Lutteroth.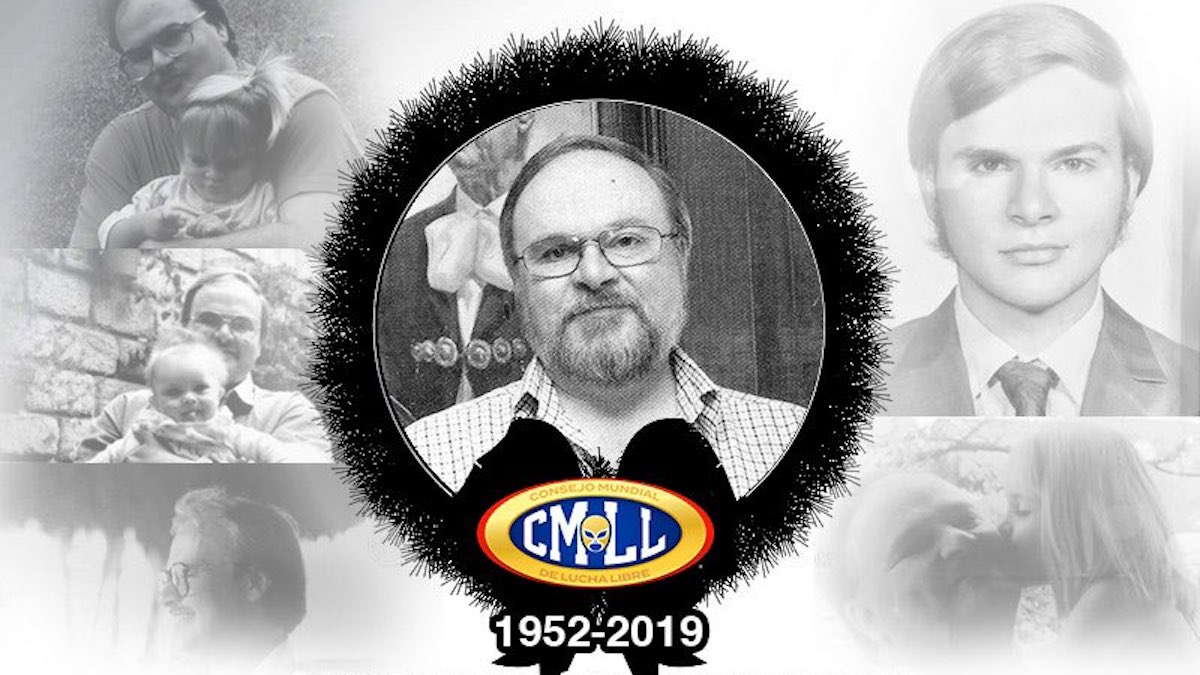 Francisco Alonso Lutteroth
Remembering CMLL's Founding Father
When you are born with a destiny and in runs lucha libre your veins it's something you can't deny. This was the case for Paco Alonso. His grandfather was who started this in Mexico, and he seeds the first basis for this great sport. Thanks to him, we have, and we know lucha libre in Mexico, which a sports representative in the world. Salvador was the one who created EMLL, now known as CMLL.
se fue Un señor de señores mi patrón , gracias por todas las oportunidades
por las enseñanzas
y sobre todo por la gran persona que siempre fue conmigo y mi familia Dios lo tenga en su santa gloria un abrazo muy fuerte para la familia luterotth Rip @SofiaAlonsoCMLL pic.twitter.com/wNPXQu8sYT

— RUSH OFICIAL (@rushtoroblanco) July 8, 2019
Paco Alonso started in this business in 1975, next to his father. The destiny that we talked about before was written in 1987 when he was handed the company. Since that time, Paco was part of the evolution of lucha libre in Mexico. He also lived through some difficult moments in the company. One of them was some luchadors of EMLL who left the company.

They went to UWA or Toreo de Cuatro Caminos. Sadly, that was not the last time this would happen. In 1992, his partner Antonio Peña left and founded AAA, and some luchadors followed him on this project.
However, this isn't all bad because this experience helped him to develop the company and, above all, the development of lucha libre. He gave his all for lucha libre to keep up. Despite having any differences with luchadors when they left the company, he was known as a great leader.
Mi más sentido pésame para la familia Lutteroth. Tuve la gran suerte de trabajar para el Sr. Alfonso. Ya que inicie en su empresa. Gracias por darme muchas oportunidade y así poder cumplir muchos de mis sueños #RIP @CMLL_OFICIAL 🙏🏼 pic.twitter.com/rToWsnR7pR

— "EL IDOLO" ANDRADE (@AndradeElIdolo) July 8, 2019
Rest In Peace, Francisco Alonso Lutteroth
He was important to the business. He was the one to give opportunities to luchadors like Ultimo Dragon, Chris Jericho, Atlantis, Vampiro, Ultimo Guerrero, and many more. The list is so long. It's so long his legacy that he leaves in the ring and in the history of lucha libre.
Lutteroth has helped to make the careers of several men who are long indebted to him, giving them an opportunity that would otherwise not happen. Could we imagine wrestling history not having the likes of Ultimo Dragon or Chris Jericho? The wrestling world is mourning a loss of a man that helped to put these men on the map.
He left us, but we will always remember all the great moments that we enjoyed in the Arenas of CMLL. Thanks for all that he's done, and thanks for his love of this sport. In a world filled with heroes and villains, Francisco Alonso Lutteroth was more. He represented the best the Latin wrestling ring had to offer, and for that, we are forever indebted to him.
Francisco Alonso Lutteroth's contributions to the industry will not be forgotten. The names and faces that have crossed his path are countless. Consejo Mundial de Lucha Libre will never be quite the same, and how could it?
The indelible mark that Paco Alonso made to not only the industry but the country of Mexico speaks volumes.  To lead by example and not be hands-on is a refreshing approach by any operator. Far too often it is a hands-on approach can prove to be detrimental but in the case of CMLL, Alonso's approach, much like the man himself, was beloved.