Legendary wrestling promoter and former promoter the NWA Jim Crockett Jr has passed away at the age of 76. Crockett Jr took over for his father the same year; Crockett Sr had decided his then son-in-law would take over the promotion. Jim Crockett Jr brought in the likes of George Scott to aid with the booking within the promotion. Several notable names were brought in at the time, including Hall of Famer Ric Flair. Crockett Jr had held three separate terms as the NWA President. From 1980-1982, 1985 and then finally in 1987. While facing the risk of bankruptcy, he sold his promotion to Ted Turner in 1988. It was at that point when Turner renamed the promotion World Championship Wrestling.
Former NWA promoter Jim Crockett Jr Passes Away At 76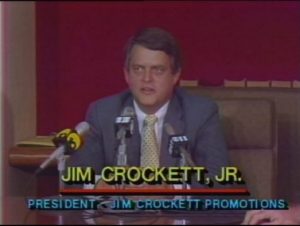 It would be six years before Jim Crockett Jr would run another wrestling event. Between 1994 & 95′, Crockett Jr would even run an event at the hallowed Dallas Sportaturim that was home to the likes of the Von Erichs and the Fabulous Freebirds. Once Crockett Jr's time with wrestling came to an end, he pursued real estate as his vocation in his home of Texas. According to the Wrestling Observer, Crockett Jr was 'gravely ill' at the end of February. He would later succumb to liver and kidney failure.
Despite his short tenure running JCP, Jim Crockett Jr's impact is still felt but those he either employed or those who watched his product in the early to late 1980s. He will be missed.
*****
Be sure to stay tuned to the Pro Wrestling Post for this and additional stories from the wrestling world. Readers can rely on Pro Wrestling Post to be their daily source for all things inside the squared circle. As a result, readers can expect daily news, history, and so much more. Please visit the National Wrestling Alliance's official website here for upcoming news and notes.