On one side of the ring, we have a former WWE Universal, Two-time NXT, and Intercontinental champion. On the other side, a former multi-time NXT tag team champion as part of the Undisputed Era. While both men engaged in a six-man tag team match with one another nearly a year ago, they never have at any point in their careers faced each other in singles action. On October 4th, 2020, as part of NXT TakeOver, that will change. Finn Balor & Kyle O'Reilly will go face to face against one another for the NXT Championship. How did this all come about? How did both of these men ultimately come to be and face each other? These questions will be answered in the latest edition of Never Crossed Paths.
Winning the first ever #GauntletEliminator was possibly the greatest challenge of my NXT career… until next Sunday at #NXTTakeOver 31. #new #undisputed #champ https://t.co/dakRKinYo9

— Kyle O'Reilly (@KORcombat) September 25, 2020
On the September 23rd edition of NXT, Kyle O' Reilly outlasted four other men to become the number one contender for the NXT Championship. The opportunity presented is a pleasant surprise as O'Reilly now navigates himself from not only being a threat in the tag team ranks, to now becoming a threat for the NXT Championship. Some may question whether or not O'Reilly should be taken seriously as a legitimate threat for the title. Those that don't should take note. O'Reilly has held singles championships in the past. Before coming to WWE and joining the NXT brand, O'Reilly achieved singles success in Ring of Honor.
Finn Balor & Kyle O'Reilly
O'Reilly is a former Ring of Honor World Heavyweight Champion. Before he achieved this, he was a Pro Wrestling Guerilla Champion. The native of Delta, British Columbia, Canada, and St. Louis resident is mostly known for his tag team achievements. However, before he can work in tandem, you must be able to work alone. For O'Reilly, his singles' success traces back before even his time in ROH or PWG. During his time on the Canadian West Coast, O'Reilly competing for Extreme Canadian Championship Wrestling/Elite Canadian Championship Wrestling. He held their championship and the Junior Heavyweight Championship on three different occasions.
He is one-half of the duo, once known as reDragon in Ring of Honor and New Japan Pro Wrestling alongside Bobby Fish. Together O'Reilly and Fish seemingly were unstoppable. They would use speed, strikes, and technique to defeat all challengers. Before their pairing, O'Reilly teamed with long-time friend Adam Cole as Future Shock. Together they too saw success as a tandem. So while he has achieved success as a singles competitor, it is his time within a tag team that fans are most familiar with.
The Path of The Prince
In comparison, Finn Balor has added a new layer on the Prince persona. It is less about what he was and more about who he has become. For fans unaware of Balor's time in Japan as part of New Japan Pro Wrestling, he originally led and created the Bullet Club. With Karl Anderson, Bad Luck Fale, and Tama Tonga, the Prince led the group. He has seen singles success, but much like O'Reilly, Balor had tag team success as well. He captured the IWGP Junior Tag Team Championship on six different occasions. The majority of those wins as a member of Apollo 55 with Ryusuke Taguchi.
For Balor, while the 'Prince' has returned, what hasn't is his associations. He carries with him the presence of the leadership that made him a figurehead of Bullet Club. The only recognized difference is that he is alone. However, do not alone oneself to believe that simply because he is alone, he is vulnerable. In the ilk of many 'cool heels' that are able to be on the receiving end of a beating and come out unscathed, the same is said for Balor. Fans may be familiar with his feud against IMPERIUM and how he has come out unscathed by it all. There has never been a need for allegiances with this newly invigorated Finn Balor. He approaches the ring, much like everything. Balor demonstrates a continued desire to be on top.
FACTS pic.twitter.com/B7eK0EaDEj

— Finn Bálor (@FinnBalor) September 27, 2020
Finn Balor & Kyle O'Reilly | A Tale of Two Careers
As evident above by the graphic, it is easy to see how successful he is during his time in WWE. Despite facing injuries leading to setbacks, Balor has pushed through and persevered. The rebirth of the Prince was a long time coming. It wasn't until he could embrace his past that he could genuinely shape his future. During his time in NJPW, Balor emerged after his split Ryusuke Taguchi as the Rock N'Rolla, the brash young Prince.
When looking at both men's careers and where they have been, it's pretty amazing to think they have never faced each other before. For Balor, his career is now going on for nearly twenty years, injuries notwithstanding. In the case of Kyle O'Reilly, his career has seen him competing for now nearly fifteen years. O'Reilly has long been remembered for a singles feud with Adam Cole. A bloody war between the good friends and better enemies pushed Kyle into a whole new stratosphere when it came to singles competition.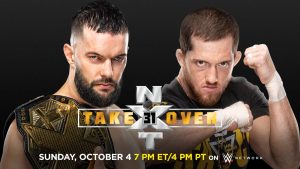 While both men's stories to come to where we are today are different, they are similar. Both men bring with them a pedigree of success. They have either been a part of a tag team or factions. Both men have achieved singles and tag team success outside of WWE. However, on this night, fans will witness two men who have yet to exchange blows with one another in singles competition. While Balor is the favorite, the journey throughout the match is likely the most compelling.
Face To Face
Now comes the time for Kyle O'Reilly, the long-time tag team specialist and the current NXT Champion Finn Balor, to bring the fight to one another. He has a great deal to prove for one man, and for the other, he faces a test, unlike anyone else in NXT. Fans are assured they will see strike after strike in this match. They are likely also to witness no members from the Undisputed Era taking part in this match either.