I listen when the late, great Roger Ebert gives a wrestling doc 3 1/2 stars and raves about it.
In his review of 2011's Fake It So Real, Ebert writes, "Robert Greene, the documentarian, is a cousin of (wrestler) Chris Solar. He likes these guys and doesn't take cheap shots. The Rourke film (The Wrestler) contained a lot of painkiller use and illegal steroids. There are no drugs seen or referred to in this film, and my guess is they can't afford them. There is a rough nobility in the way they strive for fame and success. The film is alive at every moment."
And Ebert was right.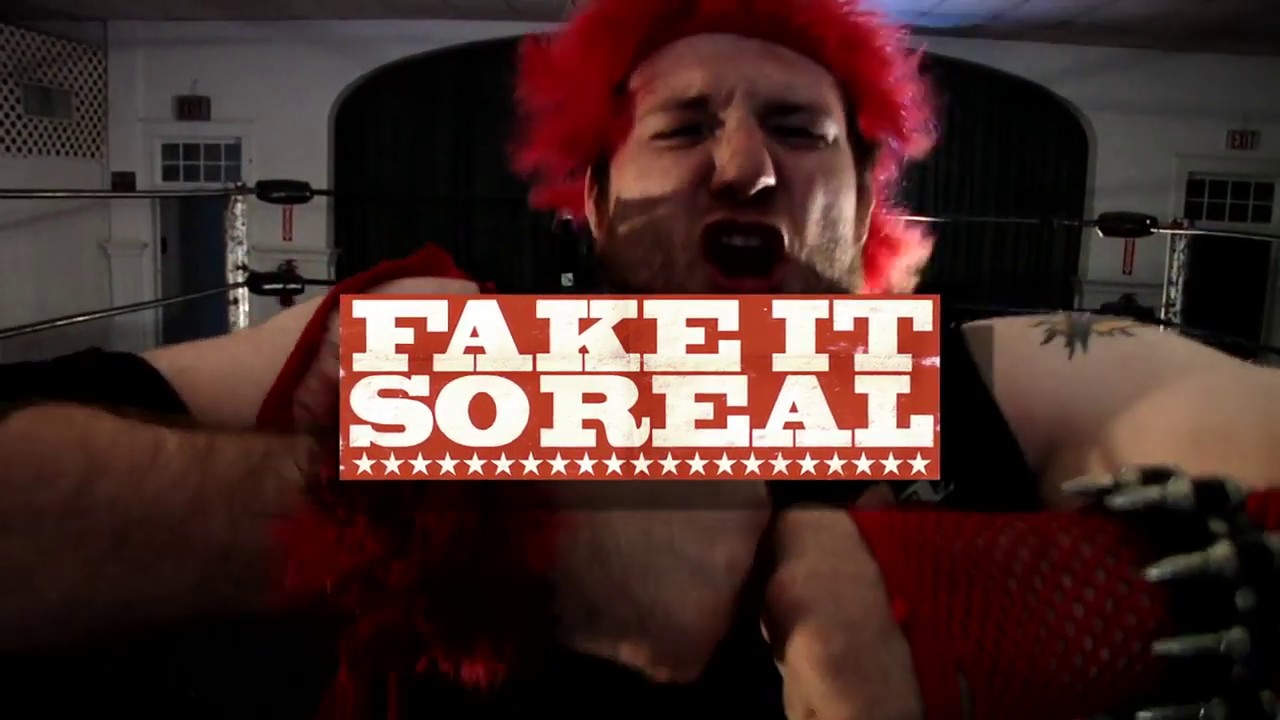 THIS is one of the five best wrestling documentaries I've EVER seen.
From the heart, you get to know a ragtag bunch of wrestlers, The Millenium Wrestling Federation (MWF) out of Lincolnton, North Carolina.
Most are out of shape; they realize they don't stand a chance of making the big time and have never made a dime wrestling.
While they train in the ring and at the gym, they also train on cigarettes and cheap beer.
But they believe that "wrestling is the great American Art form" and are passionate about it. It's their "escape" from various dead-end jobs and personal problems that are addressed in the film.
You meet the "characters" and like them.
Hey, they wear their hearts on their sleeves.
There's "J-Prep" with something to prove. Bullied as a child because of a disproportionately big butt, he notes, "God, you gave me this big ass, now show me how to use it," He's got a bit of Dusty Rhodes in him, and on the back of his tights are bright red lips inviting his opponent to kiss his ass.
He's totally "over" with the fans, and you can read the joy in his face as he walks down that aisle despite a minuscule crowd.
But when he blows a spot in one match, he's just devastated. This is his be-all and end-all.
There's also Chris Solar, a grappler with a laundry list of birth defects and ailments that he's overcome; he's even missing a navel.
Then there's the wide-eyed rookie, "The Archangel Gabriel," who has an order of protection against him from an Ex.
And most of the crew do indeed seem to have a laundry list of ex-wives and girlfriends who fully realized that wrestling and being on the road came before they did.
"If I didn't wrestle, I'd have to pay for a therapist," one grappler openly admits.
They're underdogs who know just who they are.
Even the promoter, "Outlaw," deals with various physical ailments that could make him miss his first show in ten years. He gets out of his sick bed to be with his surrogate family.
It means the world to all of them.
They get their self-identity from being pro wrestlers. So, missing a show is not an option.
The backbiting, jealousy, nepotism, and cronyism rampant in the indies are, however, missing from the film.
Instead, this plays more like best buddies putting on a show. It's The Little Rascals or Judy Garland and Mickey Rooney, but they're triumphing on their unique stage, the wrestling ring.
Nonetheless, Fake It So Real is thoroughly poignant and exceptionally well done.
By the film's end, you feel like you know the boys and do indeed care and pull for them.
Bravo to all involved.
To watch the documentary Fake It So Real, readers can access it on Mubi films here. To watch an additional review by the late Roger Ebert, readers can do so by visiting here.
Fake it So Real – Trailer