At Unforgiven on September 12, 2004, Triple H defeated Randy Orton for the World Heavyweight Championship, and as a faction, evolution would need to adapt or perish. Unfortunately, he did not do it by himself; the rest of Evolution interfered.
Randy Orton had been cast aside by Evolution but was embraced by the fans. Triple H's World Title reign came to a brief halt when the title was vacated due to a double pin. To be fair, the title was put up for grabs at New Year's Revolution in the Elimination Chamber.
The Game, Batista, Chris Jericho, Edge, Chris Benoit, and former champion Randy Orton were all locked inside the Elimination Chamber, with the winner becoming the new champion. Shawn Michaels was even named special guest referee.
Evolution – Adapt or Perish This Game is Forever
Triple H gave Dave Batista strict orders to ensure that he did whatever it took to protect him. Randy Orton's main goal was to stop HHH from becoming champion at all costs. He even began to get in Batista's head, telling him to think for himself, pointing out that Triple H created Evolution for Triple H's benefit.
The match itself lived up to the hype. After Edge unceremoniously got super kicked by HBK and eliminated, the three original Evolution members were left. Randy Orton had to survive against both The Game and The Animal. It was an Evolution Revolution. The Animal was unleashed as he punished Randy Orton. After that, evolution would take turns dismembering him.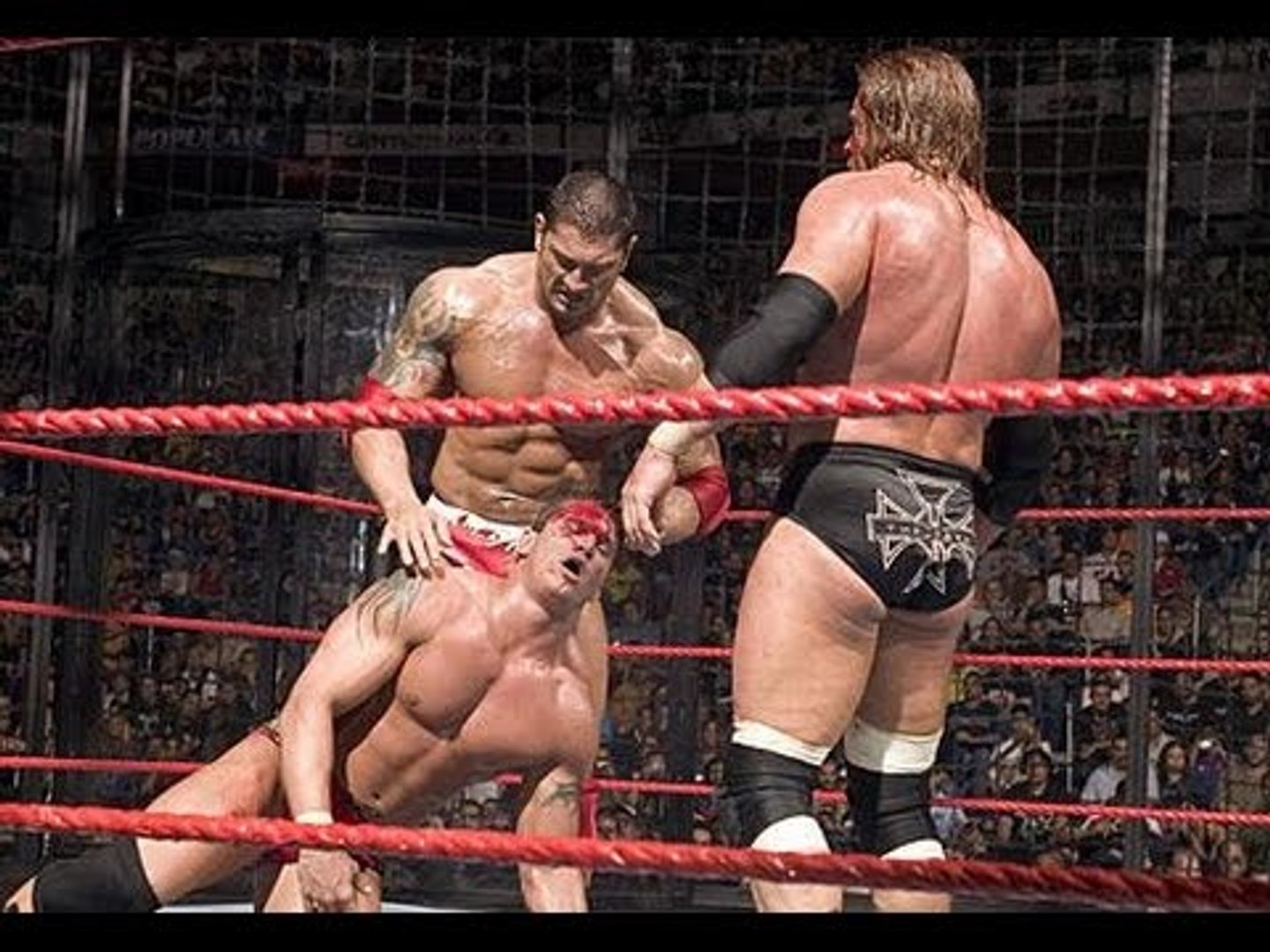 Finally, Orton began to fight back. He caught Batista off guard with a thunderous RKO and eliminated him. Triple H looked like he was going to save the Evolution enforcer but instead stayed in the corner. Indeed this was all about the Game.
Later on, Orton, RKO'D Triple H, but Batista and Flair grabbed Michaels before the cover. As Michaels chased away Ric Flair, Batista gave Orton a vicious clothesline. The Legend Killer was dead in the water. HHH took his opportunity and pedigreed Orton to get the win and the championship.
Batista lifted Triple H on his shoulders like a king. The Game was now a 13-time Heavyweight Champion. The night after, on Raw, Evolution celebrated their victory when Randy Orton pointed out that Batista had Triple H's back, but Triple H did not have his. From that time on, Batista no longer fully trusted Hunter.
Evolution – Adapt or Perish The Animal Unleashed
Dave Batista is 6'5 300 lbs of pure monster. Triple H knew that he would not survive if The Animal turned on him. On January 30, 2005, at the Royal Rumble, Triple H faced Randy Orton in a rematch for the World Heavyweight Championship.
Triple H retained the World Heavyweight Title. Later on in the night, Batista was scheduled to participate in the 30-man Royal Rumble Match. The winner would get a Championship match at WrestleMania. Batista decimated everyone in his path. Elimination after elimination, the animal was determined.
After the smoke cleared, Batista stood face-to-face with John Cena. The two powerhouses traded blows. Both superstars were determined to make a name for themselves. They had risen up in the ranks from Ohio Valley Wrestling to the WWE. Both were future Hall of Famers.
Batista powered up Cena for a Batista bomb, but the momentum caused both superstars to tumble over the top rope and hit the floor at the same time. The finish was so controversial that even Vince McMahon ordered the match to be restarted. After using Raw power, Batista, Batista bombed Cena and threw him over the top rope. The Animal was going to WrestleMania.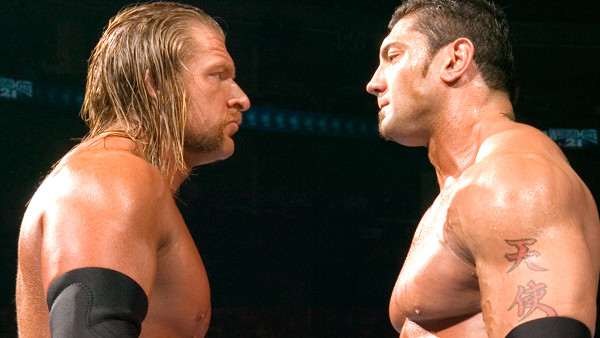 The Game vs. The Animal
The next night on Raw, Batista had a decision to make. Was he going to face the WWE Champion JBL on Smackdown, or would he do the unthinkable and challenge HHH for the Raw World Heavyweight Championship?
The Cerebral Assassin tried to persuade Batista to face JBL; then, Evolution could take over both shows. In reality, Triple H was just scared of Batista. The fans knew what they wanted. Deep down, Batista did too. He said he knew what he wanted to do for a long time. He signed the Raw contract to face Triple H at WrestleMania.
Not only did he sign the contract, but he also put Hunter through the table to seal the deal. Like the sands in the hourglass, Triple H's time as World Heavyweight Champion was running out.
At WrestleMania 21, the two collided. Triple H was as ruthless as he ever was, but the Animal was victorious. Batista was the new World Heavyweight Champion. The next night on Raw, Jim Ross asked Batista if he was concerned that as World Heavyweight Champion, he was now an animal being hunted. Batista smiled and responded.
"No, I'm not concerned. I knew as World Heavyweight Champion, I'd be a hunted man, but I refuse to be anyone's victim. I'm the man; I'm the predator. I'm the World Heavyweight Champion.
I'm at the top of the food chain. So if anyone wants to take away what I worked so hard to get. I will chew them up, spit them out, and enjoy doing it."
Triple H was not finished with Batista. He freely admitted that Evolution was all about him.
"His sweat, his hard work, his blood."
He only used Batista and Randy Orton to stay at the top. Dave Batista was not a man that liked to be used. Their rivalry ended at Vengence 2005 in Hell in a Cell. Arguably one of the most brutal Hell in a Cell matches in history. Both superstars used everything they had. HHH bought his trademark sledgehammer. Batista bought a steel chair wrapped in barbed wire. It truly was hell as both men bled all over the mat. Triple H came within seconds of defeating Batista, but it was not to be. Batista almost broke HHH's back with a Batista Bomb on the steel steps. The Game was over….temporarily.
Evolution – Adapt or Perish –  The Game vs. The Dirtiest Player in the Game
Triple H left the WWE for months. The beating he suffered at Hell in the Cell was almost career-ending. In his absence, his former Evolution teammates were making history. Batista went onto Smackdown and had wars with Booker T, JBL, and The Undertaker.
Randy Orton also returned to Smackdown, as well as his heel ways,  and challenged the Deadman. He almost defeated him at Wrestlemania. Even the Nature Boy Ric Flair added to his legacy and won the Intercontinental Championship on Raw.
Triple H returned as Ric Flairs Partner at WWE Homecoming on October 3, 2005, against Carlito and Chris Masters. For most of the match, Flair got destroyed by the two young upstarts. Triple H, on the other hand, hadn't lost a step. He pedigreed Carlito for the victory.
As Ric Flair welcomed back his friend, The Cerebral Assassin had other ideas. In one of the most merciless attacks in pro wrestling history, Triple H attacked Flair with a sledgehammer.  The Game truly was back. Will it be a case of adapt or perish for the rest of Evolution?
Return of Evolution Adapt or Perish
In 2014 a group known as the Shield arrived in the WWE. The Shield was a three-person team comprised of Roman Reigns, Seth Rollins, and Dean Ambrose. This triple threat seemed to be unstoppable.
That was until they played the Game. On the April 14, 2014, episode of Raw, Evolution returned. Triple H, Randy Orton, and Batista set their sights on the Shield. At WWE Payback, Evolution vs. The Shield in a No Holds Barred Elimination Match.
In one of the most memorable moments of the match, Triple H pedigreed Seth Rollins face-first on a steel chair. All three members of Evolution then returned to the ring to tear apart Roman Reigns. Out of desperation, Reigns got a spear on Batista for the first elimination.
This was followed up with a Dirty Deeds DDT on a chair to Randy Orton by Ambrose. Triple H was now left all alone. As he grabbed his sledgehammer, he was cut off by a massive Roman Reigns spear. Reigns pinned the Game allowing the Shield to take the victory. Evolution had a Reunion on the 1000th episode of Smackdown on October 16, 2018.
In his time away from the WWE, Dave Batista became a highly sought-after actor with his Guardians of the Galaxy character Dax. Randy Orton, also by this time, had as many World Championships as Ric Flair and Triple H. But Batista was there for business.
Triple H has done it all except beat Batista.
A few months later, Batista announced his return to the WWE. The first thing on his agenda was Triple H. Batista knew that to get to Triple H. He would need to take out Ric Flair. That's exactly what the animal did. He attacked Flair. This led to Triple H vs. Batista at WrestleMania 35.
Much like their last match at Vengence, the steel step was a deciding factor. However, this time it was Batista who was slammed back first onto it. Triple H pedigreed Batista, but the Animal kicked out. Knowing already what Batista was capable of, he grabbed his equalizer, the sledgehammer.
Batista saw this coming and hit the Game with a DDT. However, both men were spent. Ric Flair, now at ringside, handed Triple H the sledgehammer. The Game used the steps to leap at Batista with the sledgehammer.
The Reality of Evolution Adapt or Perish
Evolution was about Triple H using his mentor and two rising superstars to protect his legacy as per the storyline. However, that wasn't necessarily the case. Triple H and Ric Flair took two upcoming mega-talented rookies and molded them into champions. Who would not jump at the chance to learn from arguably two of the best heels in the business?
Without Triple H, there would be no Viper or Apex Predator. Without Ric Flair, there would be no Animal or, for that matter, the opportunity to be cast in a major movie. Both Randy Orton and Dave Batista have gone on record stating that they owe a debt of gratitude to Triple H and Ric Flair. Recently on Stone Cold Steve Austins Broken Skull Podcast, Randy Orton had this to say about his Evolution days.
"I learned so much from riding with Ric and Hunter. Looking back I'm the first one to admit how lucky I am. Hunter always had an answer about business.
He would get your mind going in the direction it needed to go. Ric showed me how to survive after the show ended. That brotherhood we had is still there. I enjoy the hell out of it."
Batista also voiced a similar opinion on Talk is Jericho with Chris Jericho. It was his idea to come back and face Triple H at Wrestlemania 35 as a final farewell to the business.
"The only thing I was interested in was coming back to work with Hunter. That was my retirement. There is no one in the world I would have wanted to end it with more than him. Hunter is just awesome."
Batista on facing Triple H for his final match (h/t talksport)
Ric Flair also spoke of his time in Evolution on an ESPN Sportscenter Interview.
"It was phenomenal. One of the best times of my life. Triple H is my best friend. He was there for me. That's someone who cares."
Ric Flair on Evolution (h/t Skysports)
To Triple H, aka Paul Levesque, Evolution meant giving back to the business. In his role running NXT, he gives back to the business daily. He mentors the stars of tomorrow so the business can continue. Ironically enough, Evolution can be looked at as the first developmental project he has been a part of. In an interview with Fox Sports, he went into that in more detail.
"Ric had a point in his career where he sort of lost his confidence, and I was trying to get him back to being Ric Flair. Evolution became a thing between him and I. If he was with me it would boost his confidence.
If we had some young guys to be around, we would make new stars at the same time. It helped us all in some ways & it rebooted Ric to being Ric Flair & it put a fresh coat of paint on my career.
It gave a platform for Randy Orton and Dave Batista to become some of the biggest stars ever in the business & It was successful all around."
Triple H on the creation of Evolution (h/t Sportskeeda/Fox Sports)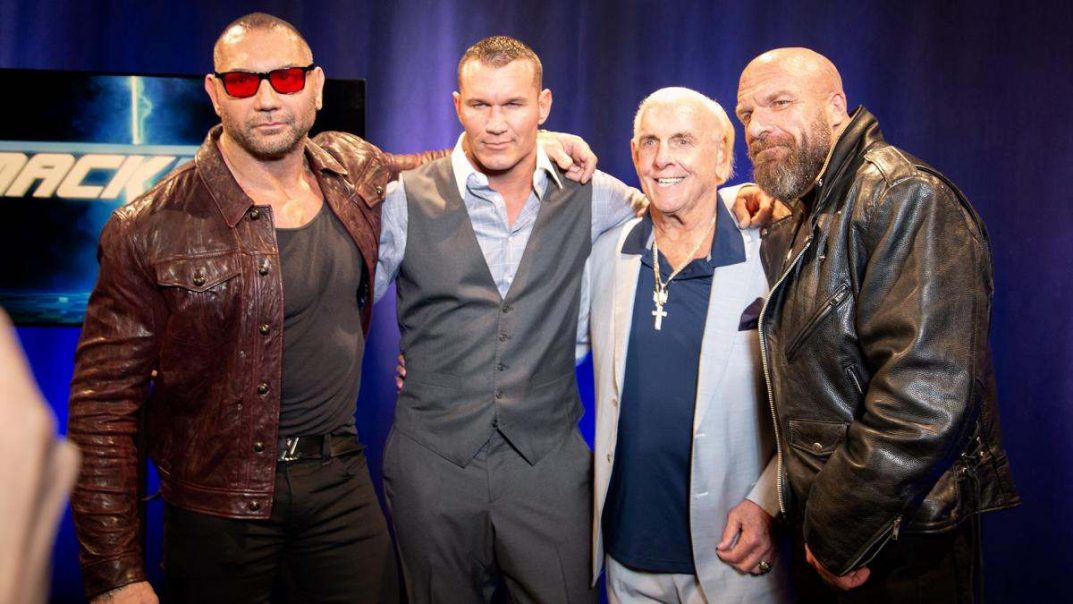 It's no mystery that Evolution was the solution in the ruthless aggression era. Triple H and Ric Flair did exactly what they said they would. Randy Orton and Batista not only survived but thrived. What started as a way for Triple H to protect his World Heavyweight Title turned into a mini-developmental program.
When you look back at the history of the business, few factions can boast that there are 50 total championships between all the members through the span of their careers. Triple H was right. In life, everything evolves, but don't let it pass you by. For Evolution, you either – adapt or perish. Paid, Laid, Made ..Evolution.