As the days of winter wane and the snowbanks and ice sheets subsided across Western New York, the local wrestling scene will heat up alongside the weather when ESW presents Spring Breakdown.
Spring Breakdown will be Empire State Wrestling's (ESW) first event of 2022 when it takes place at Frontier Fire Hall in Niagara Falls, N.Y. this Saturday. The event will be loaded with prime independent wrestling talent supplemented with wrestlers from throughout the Upstate New York region.
The headlining match will be ESW Heavyweight Champion "The Aesthetic Crippler" Kevin Blackwood against "The Remix" Kevin Bennett. The match was set up at the end of Wrestlebash in November. After celebrating capturing the belt from "Red Death" Daniel Garcia in the main event, Blackwood was called out by Bennett to put the strap on the line at the next show. The two Kevins are former close friends, known nationally for their time as part of the "Buffalo Brothers" faction. However, after Bennett's turn to treachery over recent times, the tension between the two was evident.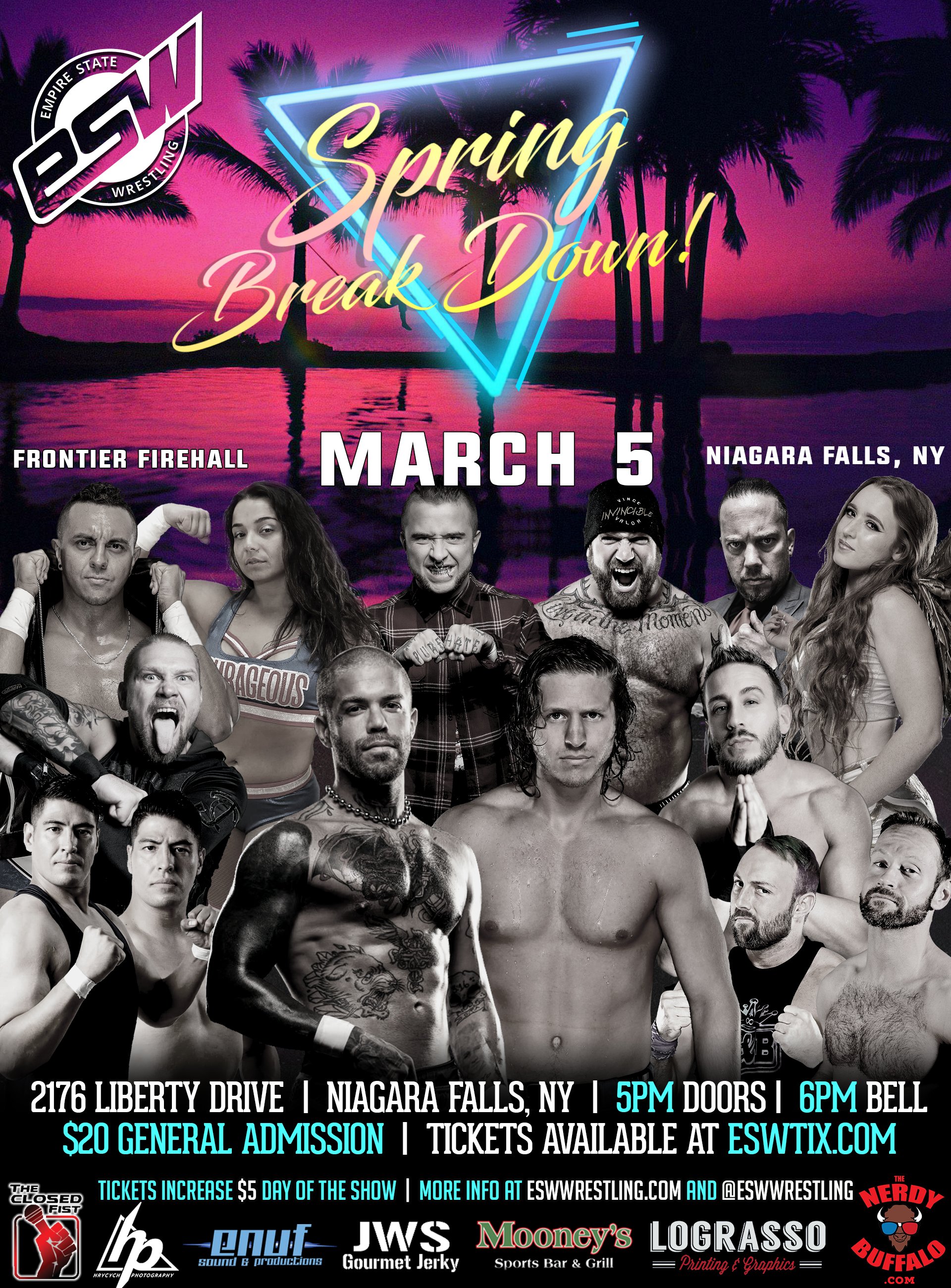 With some help from his personal protector Roscoe, Bennett warded off an upset at the last event versus childhood friend Vinnie Moon. Now Moon will aim to return to the win column against the debuting former IMPACT Wrestling X-Division Champion Jake Crist.
"To be in the position that I'm in right now in ESW is something I'm very blessed for," Moon said. "It's something I've dreamt about as a young kid growing up, going to its shows. It's something I've worked very hard for.
2021 was a big year for me in ESW and to be starting 2022 against a guy like Jake Crist is truly special. He's been all around and is one of the best cruiserweights in the world today. So this definitely is going to be a true test for me, and one I'm looking forward to a lot."
Also making their ESW debut will be a tag team from All Japan Pro Wrestling: the Saito Brothers. They are set to face To Infinity & Beyond. With their latest victory over Money Shot in November, To Infinity & Beyond are on a 5-match win streak in ESW and looks to extend it against the Japanese-based duo currently on an excursion.
There will be a triple threat match featuring three prominent indie wrestling stars making ESW returns. The well-traveled New England-based J.T. Dunn, ex-Ring of Honor (ROH) star LSG, and deathmatch savant Atticus Cogar will be a part of this highly anticipated bout. Dunn last wrestled in ESW against "Hybrid" Sean Carr in an Ilio DiPaolo Memorial Cup qualifier match in October 2018. LSG's previous ESW bout was also in a three-way match in 2019 against Eric Emanon and "A Cut Above the Rest" Gavin Glass. Cogar was a regular for ESW in 2019 with his last match for the promotion being a win over Space Monkey in January 2020.
ESW presents Spring Breakdown
"Blue Thunder" Jay Freddie will be in action against former ROH Television Champion "The Last Real Man" Silas Young. This will be Young's second match in ESW after facing Braxton Sutter (now The Blade in All-Elite Wrestling) in January 2017. This will be Freddie's second consecutive match versus a former ROH talent in ESW, after defeating Tony Deppen at Wrestlebash.
Another wrestler making his ESW return will be "Big League" John McChesney. The last time he stepped foot in an ESW ring was in February 2019 when he challenged "The Patron Saint of Professional Wrestling" Brandon Thurston for the ESW Heavyweight Championship. He is set to face the 2021 DiPaolo Cup winner "Invincible" Vince Valor who outlasted five other competitors in November to win the cup in his hometown of Niagara Falls.
"I've wanted this match for awhile," Valor said. "But I don't want the John McChesney who's always on the shelf. I want the John McChesney who's on top of his game. Bring me that fire I know you still have in you, so come Saturday night there's no excuses. Get ready, John. Because I stay ready."
In tag team action, "The Big Bang" Jerk Cockins will team with "Courageous" Christina Marie versus the debuting Joseline Navarro and a mystery opponent. Cockins was on the winning team of a 6-person tag match at Wrestlebash, while Marie won in her ESW debut against Dani Mo on the same night. The Ohio-based Navarro teamed with Megan Meyers in against Ruby Soho and Thunder Rosa on an episode of AEW: Dark Elevation in January.
A 6-person tag match is scheduled for Spring Breakdown, as well. Fresh off a victory over PME in November, the villainous High Seas will compose one of the squads with Glass. They will face an ensemble of the longest-reigning ESW Interstate Champion Frankie Feathers, former ESW Tag Team Champion James Sayga and "The Highlight of Every Night" T.J. Epixx. In November, Glass was on the winning side of a 6-person match that saw Sayga and Epixx score the loss.
ESW presents Spring Breakdown
After nearly securing the Interstate title from Feathers at Wrestlebash, the massive Jeremiah Richter will be in action at Spring Breakdown. One-half of the ESW Tag Team Champions Gregory Iron will also be returning. His last appearance saw him and R.J. City successfully defend the Tag Team titles versus Bennett and "None of Kind" Anthony Gaines in January 2020.
First and second-row tickets are sold out. General Admission tickets are still available for a pre-sale price of $20 at ESWWrestling.com. General Admission tickets purchased at the door are $25. Doors open at 5 p.m. with a bell-time set for 6 p.m.