ESW presents Brawlfest 2021
Hello, everybody!
It is great to finally write about being a referee again. My roughly year-and-a-half hiatus concluded last weekend when I donned the stripes once again at Empire State Wrestling's Brawlfest at Buffalo RiverWorks. After months of wondering about when I would enter the ring again and my daughter asking me if I was still a referee, it felt fantastic to be in front of wrestling fans, around my wrestling friends, and doing what I love to do again within the squared circle.
Here are my thoughts and experiences about my time at Brawlfest:
First off, I would like to thank everyone for reading my pieces throughout the pandemic. Without any wrestling shows for me during this period, it forced me to innovate my writing ideas – from my series on my pre-referee wrestling life to my mock World Cup idea. They kept my writing skills sharp and hopefully provided my readers a brief respite from pandemic life.
Through the pandemic, I renewed my focus on improving my health. I consumed a cleaner diet and did my best to improve my physical fitness. When ESW announced the Brawlfest date, it made me even more determined to my body back in shape. I did not want to enter my first match back, get blown up, and embarrass myself. So I returned to my old gym and started lifting weights and doing ab workouts again. With now two children, and one being less than a year old, it was difficult to figure out a regular workout schedule. I started going on weekend mornings before the children began waking up – not ideal, but better than nothing. During the week, I took my dog for a walk first thing in the morning (weather permitting) for 30 minutes as a baseline for my cardio workouts. One morning a week, I ran 100-yard dashes at the football field near my house to get in some hard cardio. On rainy days, I switched things up and did some Wrestling Yoga Studio routines on IndependentWrestling.TV.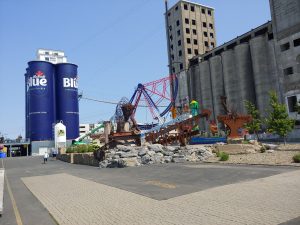 I was pumped when ESW announced they were coming to Buffalo RiverWorks. For those of you unfamiliar with this venue, RiverWorks opened in 2014 as a  multipurpose entertainment complex. It is located in downtown Buffalo on the banks of the Buffalo River near the waterfront. It is on the site of a former grain elevator with many renovations undertaken to it to provide boating activities, ziplining, rope walks, an arcade, plus a full bar and restaurant. RiverWorks also hosts a variety of other events, including concerts featuring major-label recording artists, various festivals and fundraisers, roller derby bouts, ice hockey, curling, indoor football, and of course, pro wrestling cards. There are some amusement park rides currently under construction, including a Ferris wheel, to create more future family-friendly activities.
This was not my first rodeo at RiverWorks, but it was my first on an ESW-branded event. I refereed on two of the 'TID The Season events (Buffalo hardcore band Every Time I Die's annual Christmas show). Along with the ETID rock 'n' wrestling shows, a World Wrestling Entertainment NXT house show and several Ring of Honor cards were held at RiverWorks. It feels awesome knowing ESW can claim to run at the same venue as these major promotions.
My solo drive to RiverWorks ranks as one of my easiest commutes to a booking. It was about a 20-minute drive from my house on the same route I drove to several of my day jobs.
ESW presents Brawlfest 2021
I arrived a few hours earlier than usual to the show as it was ESW's second pre-show tailgate party. There was a dunk tank where, for $10, fans could throw 10 balls plus get discounts on the other RiverWorks attractions. Unlike last time, I did not partake as a target. I used the extra time to talk to several people I haven't seen in person in a long time. It felt great to see and be a part of the local wrestling community as a whole again. I missed everyone, but I did not realize how much. I also took time to leisurely walk around RiverWorks and absorb the atmosphere. My previous visits were during parts of the year where it was too cold for outdoor activities. It was nice to see firsthand how many renovations RiverWorks made to create such a fun atmosphere in the heart of the city.
Although there were a couple of wrestling shows in the Western New York area beforehand, this was the first one within Buffalo city limits. Brawlfest also drew significantly more than the other ones that occurred earlier in the month.
Brawlfest took place on the ice rink portion of RiverWorks, which allowed for chairs to be set up around the ring plus a bleacher section. The last time a wrestling event took place in this area of RiverWorks was put on by a now-defunct promotion. I did not attend any of their shows, but ESW told me Brawlfest well outdrew the prior promotion. NXT, ETID, and ROH held their shows inside the main area of RiverWorks in front of the main stage.
With several sporting event spaces on hand, there are also numerous locker rooms at RiverWorks. One, in particular, has a sign on its door stating "Referee Room." I took it upon myself to change in here as it seemed appropriate (I also the room to myself. Woohoo!).
Normally entering a show day, I am cool, calm, and collected. I stay loose and either take a "business-minded" approach or stay laid back and even have a little bit of a goofy attitude. However, I felt a bit nervous going into it. I never experienced such a long layoff in between cards, and I did doubt my abilities a little. Sure my conditioning was doing better than even before the pandemic, but I was concerned about the amount of referee rust upon me.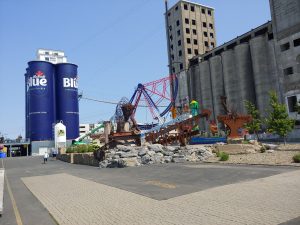 ESW presents Brawlfest 2021
ESW assigned me three matches for the night. My first was "The Remix" Kevin Bennett versus "The Neon Ninja" Façade. I refereed Bennett several times over the years, but this was my first Façade match. It was a good cardio test for me, and I happily passed it. Both of these guys did a good amount of high-flying stuff, and it was a lot of fun. When I returned backstage after the match, I began feeling like my old referee self again, and my confidence levels rose.
My second match was "Big Time" Bill Collier against "Blue Thunder" Jay Freddie. It was a battle of two of ESW's hardest hitters. The match went well over its time allocation, but that was fine because the fans loved every minute of it.
Sometimes referees need to perform odd jobs on wrestling shows. One occurred right before my third match. A chair was needed at the end of it. There were none available backstage, and we could not remember if there was one underneath the ring. So during the "Hybrid" Sean Carr versus "Invincible" Vince Valor match before us, I went under the ring and looked for one. I went as quickly as possible because I did not want to be a distraction for any reason. I did not see one and came backstage to inform people. However, they asked me to check again because they felt it was unusual that there was not at least one under there. So I went back out, crawled all the way under the ring, and searched. I found one under some crash pads. My next dilemma was how to get out from under the ring without being a distraction. The last thing I wanted to do is pop up from under it, holding a chair during the match and having fans think, "Oh no! The ref is out here with a chair!" So I decided to just slide the chair from underneath and wait until the match finished. It was a weird experience hearing the boards slam so close above your head and needing to keep from hitting your head on them or the metal beams. I was relieved when the three count hit and felt more comfortable sneaking my way backstage with the chair. Another funny part at the end, two production hands went under the ring because I still was not out yet. So after I got backstage, I went back out and told them to come back.
ESW presents Brawlfest 2021
My last match was "None of a Kind" Anthony Gaines versus "The Cut Above The Rest" Gavin Glass. Originally, ESW scheduled KTB to face Gaines, but KTB canceled the morning of the show. Gaines and Glass brawled around the outside of the ring and within it. Glass was ready to put Gaines through a door when Roscoe Black hit the ring and scared Glass off. Bennett came out with the chair (the one I searched for!) and looked as if he was going to defend Gaines from Black. However, Bennett smacked Gaines with the chair instead, and I ruled the match a no contest. This proceeded into Bennett and Black, beating Gaines down further and tossing him through the door – leading to a cut on his elbow. At this point, I pulled my medical gloves on before helping Gaines to the back, but they ripped immediately. At least I tried to be sanitary.
For the main event, I hung out on a balcony and watched To Infinity & Beyond have a banger with InZanely Rude. I got a nice night view of downtown Buffalo while enjoying the perfect temperature for a summer night. It was a good way to end the show.
I went back to my locker room and took a quick shower – something not common at wrestling shows – before mingling some more with people and helping out with teardown. There was no official afterparty spot, and I was pretty tired at this point (my daughter woke me up at 6:30 am, and it was now midnight). So I ventured home happy with how the day went.
ESW presents Brawlfest 2021
So what is next for me? My next scheduled booking is at ESW's 4th and Gold event back at Buffalo RiverWorks on Sunday, October 10. It is an afternoon event, and ESW will be the lead-in before the Buffalo Bills Sunday Night Football game against the Kansas City Chiefs. The marquee matchup will be ESW Heavyweight Champion Daniel Garcia makes his return against former IMPACT Wrestling star Davey Richards. I do not currently have any bookings for August or September. So if you need a fully vaccinated referee that will write blogs about your event, contact me!
I hope to never experience over a year-long gap in between bookings. It seems like an unnecessarily hard thing to want nowadays, but if we all treat this pandemic smartly and seriously, we can ensure independent wrestling events remain here to stay in the near future and beyond.
As always, thanks for reading!