The main difference between wrestling and sport-entertainment is that one is a personality-driven business. It doesn't always matter to a promoter how much skill or strength you have. They want showmen who can entertain. Ernest "The Cat" Miller prided himself on being someone who had the skills to back up his showmanship.
Ernest was born in Atlanta, Georgia, in 1964. As hard as it may be to believe now, he was a painfully shy child. He often preferred to stay inside by himself rather than play with local kids. This shyness made the self-confessed "Momma's Boy" an easy target for bullies.
This is perhaps why he was so drawn to pro wrestling. His favorites were Bobo Brazil, Thunderbolt Patterson, Ernie Ladd, and Bob Armstrong. It is not hard to see why a kid like Miller would be fascinated with them. Brazil was a pioneer for African-American wrestling. Patterson was blacklisted for several years due to him speaking out about the mistreatment of black wrestlers, and still had a solid career.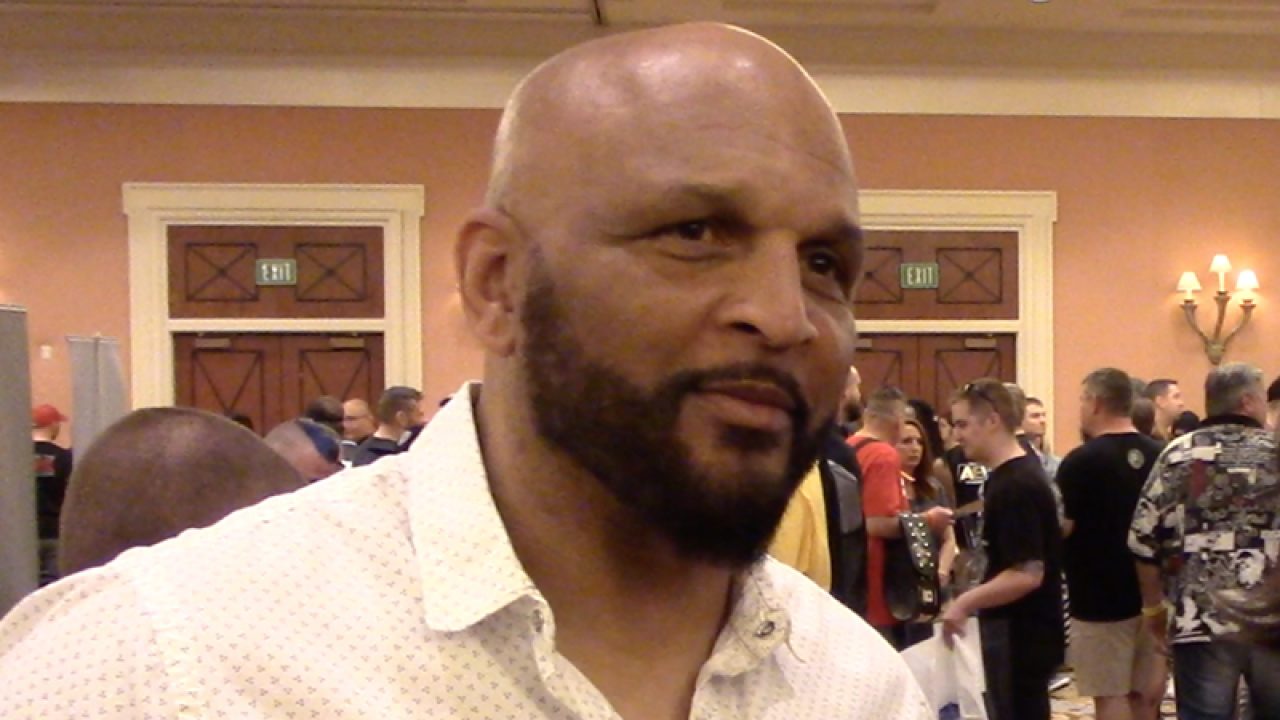 Ernest Miller – The Cat That Got The Cream
In contrast, Ladd embraced the mistreatment and dished it back in the form of being one of America's first black heels and achieved unseen success. Armstrong was small by wrestling standards but overcame opponents with his speed, skill, and toughness. All four of them had larger-than-life personalities. They all talked big and backed it up.
What isn't surprising is that Miller is a huge fan of singer James Brown. He loved to watch and imitate "The Godfather of Soul". Miller once pretended to be sick and forfeited a family trip to an amusement park just so he could stay home and watch Brown on TV.
His Momma encouraged him to learn karate so he could defend himself from bullies. He proved to be a natural, and it helped him build his confidence. He alleges that he was the youngest person in his region to earn a black belt and was teaching glasses by age 13.
When he was in high school, he joined the football team largely because some of his favorite wrestlers played professionally. He was a linebacker for his school and college, where he played at the All-American level. He graduated from Savannah State University with a degree in electrical engineering.
After finishing college, he decided to go into competitive karate. When he wasn't training or competing, he made ends meet by teaching classes. His interests in wrestling disappeared over time. Records of his competitive career are difficult to find but were partly documented in martial arts magazines. He won four ISKA World Championships, three in karate, and one in kickboxing.
Miller taught thousands of kids in his wrestling school, but one would indirectly change his life. Garett would learn something in one class and then added an extra flourish when he practiced them a week later. Miller knew Garett's father had to be a martial artist in order to teach his son these things.
He did not get this impression when he saw Eric Bischoff for the first time. Eric sat in on a class, and then complimented Miller afterwards. Miller began trash-talking and showed off his quickness and control. Bischoff told him he could make a lot of money in wrestling. Miller balked at the idea because he now considered wrestling to be fake.
Bischoff continued to try and recruit Ernest Miller. One day, Bischoff brought up his own competitive karate background. Miller dared him to spar with some of his instructors. He did not expect Bischoff to have such skill and intensity. This demonstration convinced Miller to give wrestling a shot.
He was trained by DeWayne Bruce at WCW's Power Plant training facility. There was immediate tension between Miller and some of the other prospects. He was unsure if it was because of his association with Bischoff, or if they didn't see him as a real wrestler due to his martial arts background, or if they felt he was too old (he was 33).
"When you're wrestling, you know you're going out there for five-to-ten minutes, if that. So it is easy to prepare a match for five minutes. But you know it's hard to prepare for the unknown. So the preparation and working out, of course it was harder for kickboxing."
– Miller explaining the difference between training for wrestling and for competitive martial arts.
Ernest debuted as part of the "Blood Runs Cold" storyline. Bischoff had tried to capitalize on the popularity of the Mortal Kombat video game franchise. They had invested a lot of money into Glacier, who was heavily based on the Sub-Zero character. It had already become a joke before Glacier ever debuted because they had spent several months hyping his arrival.
Fans were blown away by his elaborate ring entrances, but underwhelmed by his poor matches. Mortis (Chris Kanyon) and Wrath (Bryan Clark) were introduced as enemies for Glacier. At Slamboree 1997, Miller jumped the guardrail to save Glacier from a two-on-one assault.
After initially claiming it was a fan (which was a common occurrence in 1997), commentators identified him as "3-time World Karate Champion Ernest 'The Cat' Miller".
Miller became Glacier's tag team partner for the rest of the story. He was out of place because was still inexperienced and, unlike the other three, competed as himself instead of using an outlandish character. After Glacier suffered an injury, he turned on Miller, ending the BRC story arc in the process.
He then took on Sonny Oono as a manager, turning heel in the process. Up until this point, Oono only managed Japanese or Mexican wrestlers who did not speak English well. Miller was given a lot of freedom over his own character. He modeled himself after his childhood heroes, particularly James Brown and boxer Muhammad Ali.
He started calling himself "The Greatest", like Ali did, and danced like Brown. He coined multiple catchphrases, including "Somebody Call My Mama". He introduced a cape into his entrance gear, and started using ruby dancing shoes. Commentators could not decide if the shoes were weighted or had a steel toe cap.
In either case, he would either use them as a weapon or wear them to make his kicks even deadlier. As his popularity grew, he was involved with more onscreen comedy. He parodied Billy Blanks Tae Bo infomercials, and mimicked Chris Tucker's various characters on the mic. His finishing move was 'The Feliner', or simply a martial arts kick to the chest.
Some of Miller's feuds lasted so long that he could take a break from one and come back to it later. He feuded with Hayashi, who wanted revenge for Oono ditching him. He got into a rivalry with Disco Inferno over who was the better dancer, and with Jerry Flynn over who was the better martial artist.
He had a brief alliance with Perry Saturn which turned sour quickly. His longest feud would be with nWo Hollywood member Scott Norton. Miller would issue open challenges, promising to knock out his opponents inside three minutes. A running joke saw other members of nWo Hollywood tricking Norton into believing Miller called him out specifically.
If Norton did win, Miller would sometimes call him out to avenge the loss. The feud was supposed to end at The Great American Bash 1999, but Norton was not cleared to compete, so Miller wound up beating Horace Hogan instead.
He got into a genuine fight with Buff Bagwell before their match at Road Wild. Contrary to myth, Ernest was not furious over a segment on Thunder where Bagwell dressed in blackface to mock Miller and insulted his Momma. The scripted plan was for Miller to win the match using his finishing move.
But Bagwell and Kevin Nash argued that Bagwell had been losing too often and needed to go over. The writers went back on fourth on plans. When Ernest confronted Bagwell, things turned heated, and Bagwell slapped Miller. Miller took Bagwell to the ground and a brawl ensued.
The two men put aside their differences for the match, and Miller let Bagwell win. The tensions were obvious there as the two had no chemistry during the slow contest. Bagwell was taken off a tour as punishment for instigating the fight. Miller firing Oono after the match was always part of the plan due to Oono departing the company.
"I'm sure it didn't last long. I'm sure it wasn't much of a fight or Bagwell wouldn't have been around to talk about it. But I did hear about it. I wasn't too concerned about it. Stuff unfortunately happens occasionally.
As long as nobody gets hurt and doesn't involve personnel other than the two principals – it's not something I condone but it's not something I'm going to go beat my head on a rock over either – they just go about their business."
– Former WCW President Eric Bischoff giving his perspective on Miller and Bagwell's fight.
The incident let Miller see why he was not climbing the ladder in WCW. Half of the people he worked with loved him. Those who disliked Miller never told him to his face. He found out who he had heat with after WCW closed, and they slated him in podcasts and shoot interviews.
Some of his opponents hated how Miller sometimes hit them with stiff kicks during matches. Others, such as Yuji Nagata, encouraged him to use real kicks to make matches look better. This was also how he learned how much influence the bigger stars had. He learned through Bischoff that some refused to work with him because they didn't believe Miller to be on their level. He was relegated to being a jobber when Bischoff was fired from WCW.
Bischoff put things right when he was reinstated. Miller began leaning much heavier into his James Brown obsession. He started boasting that he was friends with the musical legend. Then at Slamboree 2000, the "Godfather of Soul" went to the ring to give Miller his blessing. Miller achieved a childhood dream of getting to dance alongside his hero.
WCW reportedly paid Brown $250,000 just to stand there and say very little. He didn't sing and wasn't asked to. They felt that Brown was such a big name that non-wrestling fans would buy the pay-per-view just to see him. However, Brown's own team didn't publicize the appearance in any way. And fans familiar with WCW had no reason to expect him after they repeatedly advertised his appearance and had someone dressed as Brown appear instead.
Miller was then made Bischoff's (onscreen) assistant before quickly being promoted him to Commissioner. This in part meant that the bigger stars who didn't want to work with Miller now had to. He would sometimes use this to take unscripted shots at them. At one point, he made a reference to not wanting to suspend certain stars as their contracts meant they would still be paid not to work.
As a running joke, he hired the Jung Dragons to ambush him so he could practice his self-defense skills. He also took on Tygress as his assistant. She would help him win matches by preventing his opponents from cheating.
In July 2000, Miller got into a rivalry with Scott Steiner. Steiner had gone through a phase where he refused to release his Steiner Recliner submission hold after he had already won his matches. Miller outlawed the move, ruling that it would lead to an automatic disqualification if it was used. This concluded at Bash At The Beach when he applied the hold to Mike Awesome. Miller disqualified Steiner and stripped him off the WCW United States Championship.
He began a rivalry with Lance Storm and his Team Canada stable that lasted until WCW closed. While Miller respected Storm as wrestler and a title-holder, but disliked Storm's anti-American rhetoric in his promos. Storm didn't respect Miller because he was American. Mike Sanders dared Miller to put his Commissionership on the line.
He did so in a kickboxing match, in which Miller had the easy advantage until Shane Douglas interfered. He feuded with Douglas, enlisting Mrs. Jones to counteract Torrie Wilson. Once this rivalry ended, they were targeted by Team Canada once more. Miller then regained the Commissionership from Sanders.
Sanders had hired Kronik to soften Miller up before the match. However, Miller hired Kronik to help him win. Storm then beat Miller to win the role for himself. Then Miller regained it to become Commissioner for the third time inside a year.
His final WCW feud was against Kanyon. Kanyon hospitalized Jones. Miller gave up his role as Commissioner to get a match against Kanyon. He employed his limo driver M.I. Smooth as a bodyguard to protect Jones. The storyline ended without a conclusion.
In March 2001, Vince McMahon bought out WCW. They did not acquire any new wrestlers with this as the contracts were with AOL Time Warner. McMahon bought out twenty-five contracts, but allowed the more expensive ones to expire before chasing those talents. With exception of one appearance for World Wrestling All-Stars, Miller opted not to go into the indie circuit at that time. He spent the time focusing on his family.
Miller signed a contract with WWE after a series of dark matches in October 2002. He was then brought in as a colour commentator on Velocity alongside Josh Matthews. Miller hated being in the WWE because he did not have the creative freedom he enjoyed in WCW. After failing to catch on with fans, the WWE decided to repackage him as an in-ring talent.
They put a heavier focus on the "James Brown" aspects of his character and teamed him with a hype-man Lamont. He had a short run on the SmackDown brand. His highlight was being quickly eliminated from the 2004 Royal Rumble when he chose to dance instead of take advantage of his downed opponents. He was released in early February. Miller chose to retire from wrestling. He had a one-off match in Pro Wrestling Evolution in March 2006.
"The initial reason to bring Ernest in was a lot of the guys from WCW, when we were looking for on-air talent / colour commentators, they all recommended Ernest. He was brought in with this high expectation of being a great colour commentator.
He had never done commentary before. Ernest is an entertaining son of a b***h. He's funny. He's very entertaining. But to his defence, he had never done f**king colour commentary before. And he's thrown in, and he's having everybody tell him what to do. And he was confused."
– Bruce Pritchard on why Ernest Miller was put on commentary.
After leaving wrestling, Miller returned to karate. He did poorly at first due to the weight he had gained since WCW closed, and wrestling required a different style of training. But it didn't take long for him to get back into shape. Miller had good habits instilled in him since he was a child. He practiced and trained hard for most of his life.
He ate right and avoided alcohol, tobacco, drugs, hard partying, and promiscuity. Ernest Miller would compete in several tournaments over the age of 40, winning at least one of them.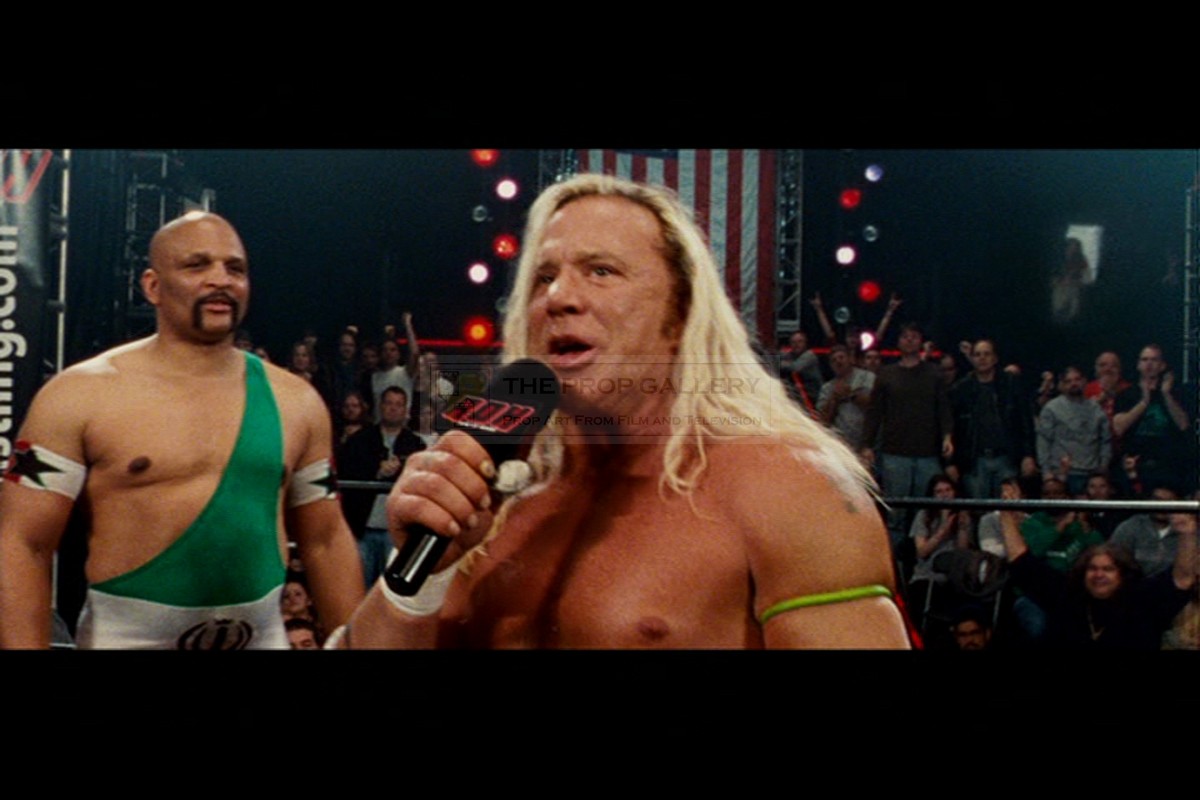 Getting back into fighting shape helped Miller land acting roles. His most important role was as The Ayatollah in 'The Wrestler' (2008). The movie was about aging wrestler Randy "The Ram" Robinson, played by Mickey Rourke, struggling to deal with life now that he was no longer famous.
He signs on to do an anniversary rematch against his biggest rival, the Ayatollah. Rourke would do actual wrestling training for the role and worked matches at indie events with genuine wrestlers for some scenes. Miller also appeared in 'The Legend of Bruce Lee' TV series, and the movie 'Blood and Bone'.
"One of the reasons why Darren Aronofsky, one of the greatest directors in the world, said 'The reason I am going to give you this part because I think you can make Randy the Ram look like a wrestler'. They don't understand that that was our job in wrestling."
– Ernest Miller on why he was cast in The Wrestler.
Miller came out of retirement in November 2015. He competed in a battle royal at WrestleCade. From there, he toured various indie promotions and frequently teamed with former ally Glacier. In October 2018, he realized another dream when he got to work a tag team match alongside his childhood hero Bob Armstrong.
He took a break along with most of the industry during the government's response to the COVID-19 pandemic. He returned to wrestling last year. Miller made his first appearance of Impact Wrestling in January, just days after his 59th birthday.
The Cat is living proof that if you work hard and live right, you can achieve your dreams. There is nothing wrong with being confident as long as you have the skills to back it up.