On May 9, 2021, Oklahoma's own All-Star Pro presented "Live Stream 13". Emanating out of Bethany, Oklahoma, this event consisted of five great matches. Despite these five matches, however, the sole title change from this event did not come in the form of a legitimate match. At ASP Live Stream 13, the All-Star Pro All-Time Championship was put on the line in an impromptu… game of musical chairs? Uh oh, we may need a bit of backstory for this one. To understand the events surrounding this title change, you first need to know the stories of Red, Brandon Barricade, and C.M Burnham. As Erica wins ASP All-Time Championship.
Legendary vs. Brandon Barricade
For context, All-Star Pro has had some slight managerial issues since its inception. At the beginning of the year, Legendary (a faction consisting of Brawler Morrison, The Saints of Pro Wrestling, and leader C.M Burnham) owned half of the championship gold within All-Star Pro's entirety. At the time, Legendary claimed ownership of the ASP Mid-American Champion, the ASP Tag Team Championships, the ASP 5-Star Championship, and the ASP All-Time Championship. Soon, a new character is introduced to the All-Star Pro audience – Red. At the time, Red served as manager C.M Burnham's personal legal counsel. However, he would soon drop a bombshell on the ASP faithful that would change the landscape of the company.
Red would reveal to All-Star Pro fans that there was a certain clause in every ASP contract. This clause was simple. If a faction gained control of half of the companies titles, it provided the stable power equivalent to that of ASP owner, Brandon Barricade. This would lead to months of co-ownership between Legendary and Brandon Barricade. After the first few months, it became obvious that this working relationship could not last in the provided state.
Brandon Barricade would soon provide a solution to this quarrel. Burnham and Barricade would be required to put together a team to compete against each other; the winning team's lead man would earn 100% control of the company. This was a huge match with major implications for the future of All-Star Pro. Burnham would go on to choose his Legendary team to consist of The Saints of Pro Wrestling and Brawler Morrison. Barricade would select wrestlers Thrash, Johnny Kove, and Father Padge. In this match, it appeared as though Barricade's team would move on to victory. However, Father Padge would betray Team Barricade in this match (allowing Legendary to win.)
A Secret Deal
Two weeks ago on All-Star Pro, Red arrived at the arena with an ace up his sleeve. While Father Padge may have betrayed Brandon Barricade (and the fans of All-Star Pro,) Padge had no idea of Red's new deal. Red would reveal that he had made a secret deal with Barricade, who had sold him 50% of the company. This means that, in reality, Burnham and the rest of Legendary gained absolutely nothing out of their match against the establishment.
Now the CFO of All-Star Pro, Red is making life difficult for Burnham through his persistent taunting and flaunting of power (much to the joy of the All-Star Pro faithful.) This leads us to this past Sunday where we would witness further development of this story.
Erica wins ASP All-Time Championship – All-Star Games
This past Sunday at Live Stream 13, Burnham angrily stormed the ring (flanked by his son, Father Padge,) and demanded that Red make his way to ringside and re-instate Burnham's control in the company. Burnham wanted Red to restore his position of "half-commissionership," but Red had other plans. Red proposed something else instead – a series of contests dubbed "the All-Star Games." The All-Star Games, according to Red, is a series of four competitions; and all Burnham has to do is win one. If Burnham wins one competition, he would gain full control back of All-Star Pro. However, if Burnham fails, then he has to leave well enough alone for the rest of his time in the company.
Red announces that Burnham's first competition would be a Musical Chairs match and would consist of five individuals: C.M Burnham, Father Padge, ASP All-Time Champion Brandon Barricade, Jeff The Ref, and Erica. Barricade is more than willing to put his ASP All-Time Championship on the line (a championship with 24/7 rules,) and the match is set for one fall! (I don't know if "one-fall" applies for this match, but I'll say it anyway.)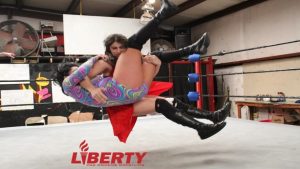 Erica wins ASP All-Time Championship
ASP All-Time Championship Musical Chairs Match: Brandon Barricade (c.) vs. Father Padge vs. C.M Burnham vs. Jeff the Ref vs. Erica
The music begins, and we are off to the races. All five competitors begin circling the four chairs set up in the middle of the ring. As the music comes to a halt, Barricade and Jeff the Ref struggle lightly for a seat before Barricade manages to capture the chair first. Jeff the Ref is eliminated first from this match-up. We are now down to four competitors and three chairs.
The music begins once more, and the four competitors circle the chairs awaiting a second record scratch. As this musical rest occurs, Erica and Burnham easily find seating. However, Father Padge and Brandon Barricade struggle over the same chair, only for Padge to land a superkick on Barricade, stealing his seat in the process. We are down to three competitors and two chairs.
Now that Barricade is eliminated, we are guaranteed a new champion. The music begins and ends just as you would expect it to in a match of this style. Erica easily snags a seat, leaving Father Padge and C.M Burnham to argue over the same chair. This disagreement would be nanoseconds, however, as Padge would give the chair up to Burnham. It is down to the final two competitors – Erica vs. C.M Burnham.
Just as they had the three previous rounds, Erica and Burnham circle a singular chair in the middle of the ring waiting for the music to cut. As the music does so, Erica circles to the back of the chair, allowing Burnham to make a visually verbose sitting motion into… well, into the canvas! Just as Burnham was sitting down, Erica snatched the chair out from underneath him and sits down himself, effectively ending the match. Erica is your new All-Star Pro All-Time Champion! More importantly, C.M Burnham is not your new ASP owner. Congratulations as Erica wins the ASP All-Time Championship.
*****
Be sure to stay tuned to the Pro Wrestling Post for this and additional stories from the wrestling world. Readers can rely on Pro Wrestling Post to be their daily source for all things inside the squared circle. As a result, readers can expect daily news, history, and so much more. Please visit All Star Pro's official Facebook page here for news on the promotion and upcoming events.