In the main event of Tuesday night's IMPACT Wrestling, Eric Young defeated Eddie Edwards and in the process wins the IMPACT! Wrestling World Championship. Edwards had been defending the IMPACT Wrestling World Championship in each TV appearance against mystery opponents. However, Edwards offered Young a match last week after his open challenge match against Rob Van Dam. The World Class Maniac came out to respond shortly after, saying they would have their match on the next episode. Well, that night was tonight, and we have a breakdown of how Eric Young captured his second IMPACT Wrestling World Championship.
The match opened with both men trading blows before Edwards sent Young rebounding off the ropes into an atomic drop. He followed that up with an overhead belly to belly suplex in a strong opening. After Edwards beat him around the ring, Young slung over the turnbuckle to the apron. Young then catches a charging Edwards with a gutshot and a guillotine off the top rope as they went to commercial. Back inside the ring, Young took some more punishment before delivering a picture-perfect neckbreaker onto the ring apron. Young decided to keep picking at Edwards's neck, choking him and hitting several more neck breakers. He then traded blows with the champion until Edwards made some separation with a blue thunder bomb.
A back and forth affair
Edwards managed to keep some distance with The World Class Maniac before setting him up for a backpack stunner that netted him a 2-count. After sending Young into the turnbuckles again, Edwards seemed to be setting up for a superplex when Young shoved him to the mat, following up with an elbow drop off the top rope for a 2-count. After wresting control back, Edwards sent Young over the top rope as he did before.
Only this time he capitalized on it, sending Young onto the outside with a Yakuza kick. He followed up with a crossbody to the outside but seemed to tweak his left knee on the landing. After sending Young back into the ring, Edwards got him with a Tiger Driver for a 2-count. He might have gotten the win had he hooked Young's leg. Instead, he held his own knee.
Eric Young Wins IMPACT! Wrestling Championship
Despite the injury to his leg, Edwards continued the beatdown on his opponent, sending Eric Young staggering outside. As Young got his bearings, he saw Edwards coming for a suicide dive. Edwards crashed into him, doing more damage to his knee in the process. Back in the ring, Young grabbed the title belt, looking to smash his opponent with it. The referee saw this, though, and confiscated the belt from him. As the referee handed the belt off to the outside, Eric Young bashed Edwards across the head with his hockey mask. He followed up with a piledriver, then pinned Edwards for the championship. Following the match, the new champion attacked Edwards's injured knee until referees and security pulled him out of the ring. Eric Young wins the IMPACT! World Heavyweight Championship.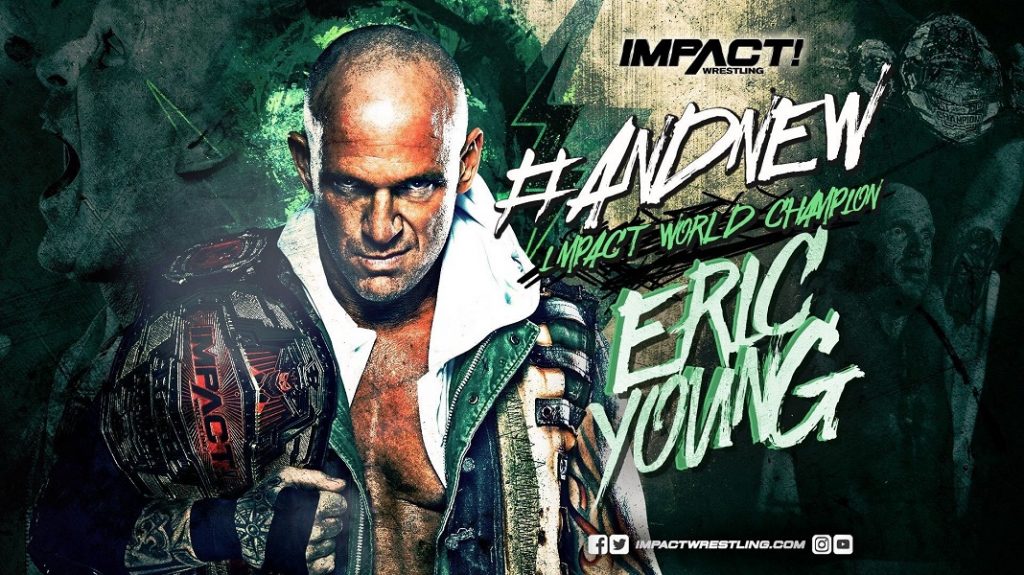 This match had been in the works since Slammiversary, where Young was the surprise 5th entrant in what was billed as a 4-way match. In that match, Eric Young brutalized Rich Swann's ankle, forcing Swann to announce his retirement on the August 4th episode of Impact. Since then, Young had been a presence hanging over Eddie Edwards as he conducted his open challenge for the IMPACT! Wrestling World Championship. While this match was a suitable TV main event match. However,  it could have been better if given more time and build. Hopefully, this leads to a program between the two. Their unhinged chemistry could deliver many memorable moments in this new beginning for IMPACT! Wrestling.