Hello, everyone; here is my blog on my time at Empire State Wrestling's Brawlfest 2022 on Saturday, May 21, at Buffalo RiverWorks. I am proud of how well this show went off and with how many people I shared the euphoric atmosphere with. 
Brawlfest was a bright spot in a span of tragedy that gripped our nation, and with one of these terrible events striking close to home. The mass shooting in Buffalo the week before the event broke my heart, and before the healing process began, the school shooting in Texas just confounded these awful feelings. Yet, wrestling is an escape for many people, myself included. For several hours, the focus for everyone in attendance is the action in the ring, and we gain a brief respite from the pains we endure in everyday life. Brawlfest served that purpose.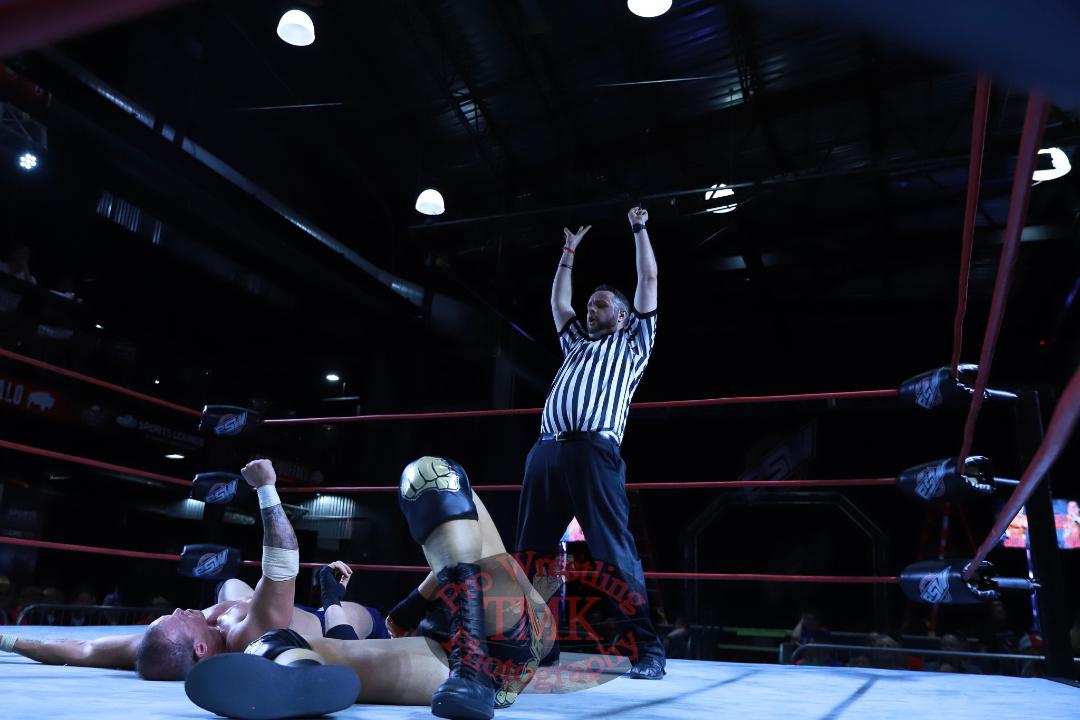 Empire State Wrestling's Brawlfest 2022
With that being said, here are my recollections of the times before, during and after Brawlfest:
There was a major adjustment to the Brawlfest card leading up to it. Buddy Matthews was the original headliner but pulled out because of other commitments. I feel Jay Lethal was more than adequate as a replacement. Some of the fans I talked to felt he was an upgrade in prominence. I scrambled to send out updated press releases because of the change, which was picked up by several of wrestling news outlets.
In the wake of the Buffalo massing shooting, I felt compelled to do something to help some of the people most affected by this horrific incident. One of the shooting's consequences is the Tops grocery store on Jefferson Avenue will be closed for the foreseeable future. With that, many East Side residents are experiencing difficulty obtaining basic grocery items on a reliable basis.
Thus, I approached ESW promoter Brett Mednik about doing a food drive at Brawlfest. After coming up with a few ideas and looking up some local charitable organizations that are assisting in this cause, we decided that members of the ESW roster and staff would match any food and hygiene product donations that fans provided at the show. We also picked FeedMore WNY as the charity after noticing how involved it was in the distribution of these items to affected residents.
For RiverWorks shows, the ring and equipment are setup the night before the show. Normally, Friday night ring crew is hard for me to do because I am alone with my children. However, I needed to pick up some extra tickets for Brawlfest so I packed up my daughter and son and headed to it. While waiting for the tickets, I taught my daughter how to set up chairs while my son slept in his stroller.
To my surprise, she liked it so much that she told me to stop putting them up because she was going put them all up by herself (so much she forgot about the race car game and The Mandalorian pinball machine in the arcade section). Wow! Eventually, my son woke up. I got him out of the stroller and discovered that at just the age of one, he can push an empty dolly by himself. It was a handful trying to do ring crew with my two kids, but somehow it worked out.
When I arrived at the show on Saturday, I was informed to not go inside the designated referee locker room I sometimes use because Frankie Feathers's mystery opponent was in there. I tried to guess who it was but after my 10th attempt, I quit and tried to not spoil it for myself.
My first assignment for the night was the opening match on the kickoff show that was broadcast live on the Facebook page of The Closed Fist podcast. The Saito Brothers were set to face the debuting Landon Hale and Gregory Iron. As the match started, Iron left and was replaced by Mattick. The match showed off the Saito Brothers' skills well and started the show off on the right foot.
The opening match on the main card was Feathers' match against the mystery opponent. It was ex-Extreme Championship Wrestling and current Impact Wrestling star Johnny Swinger. After the bout, A native of Niagara Falls, N.Y., Swinger gave an inspirational speech that was touching in front of all the fans.
After that was a 6-man scramble match between Brayden Lee, Gavin Glass, Levi Everett, Mike Skyros, Vinnie Moon and the mystery opponent of Kevin Bennett. Everett was incredibly over simply by working his butter churn in the ring. Lee was impressive with his aerial moves.
Bennett, who is still healing from an ankle injury, deceitfully scored the pin-fall after spending the entire match sitting outside the ring with Roscoe at his side. Bennett was a late substitute as the mystery opponent because the person intended for that spot experienced issues crossing the U.S.-Canadian border.
My second assignment was a match I highly looked forward to in Vince Valor defending the Ilio DiPaolo Memorial Cup against "The Prize" Alec Price. Over the last several months, I watched a fair amount of Wrestling Open and saw how good Price is in between the ropes. He also hypes himself up before his matches in a super intense way which was awesome to watch.
I felt Valor held his own with Price in the ring and the match went well with Valor retaining the DiPaolo Cup. Later on, a backstage angle aired with Price confronting Feathers for a potential match for the Interstate title. I think that would be a cool match and was glad to see Price may return to ESW soon.
Christina Marie faced Shazza McKenzie after that. Not shockingly, Christina received a huge pop when she came out wearing a Buffalo Bills jersey – easily one of the biggest babyface things you can do in the Queen City.
Right before intermission was the Jay Lethal-Trey Miguel match; originally, this was supposed to end the night but was swapped later on with the ladder match. I caught the beginning and ending of the match but I could still tell it was fantastic. At intermission, several people I know who regularly attend shows said it was the best indie wrestling match they ever witnessed.
It would take too long to list all the people I caught up with during intermission and before and after the show. It was so much fun talking with everyone, and especially great to see people who attended their first-ever indie wrestling show having a blast. It was most special to me to see my son enjoying himself. Before one of my matches, I saw him sitting on my stepdad's lap, pointing at me, and that meant more to me than anything.
My next assigned match was right after intermission between Bill Collier and Jay Freddie for the No. 1 contender for the ESW Heavyweight Championship. These two locked horns last summer at RiverWorks and tore the house down. They delivered once again, with Freddie scoring a quick pin-fall after some debauchery from Bennett and Roscoe.
My last duty for the night was being outside the ring for the ladder match between High Seas and To Infinity and Beyond for the vacated ESW Tag Team Championships. As expected, this was an intense match, with Nick Ando cutting open part of his arm near his elbow. With the blood exposure, I pulled on my medical gloves as a precautionary move. The right one went on without an issue, but the left one took me nearly five minutes to wiggle on with even a fan in the crowd taking note of my struggles.
After the show wrapped up, I went to the entranceway and saw all the grocery items donated by the fans and counted and boxed them up. Over 200 items were donated which obliterated my expectations. Somehow, I fit them in my car along with the donations provided by the roster with help from Referee Ronnie Haun through a torrential thunderstorm.
After cleaning myself up and helping a little with tearing down the setup, we all enjoyed some good food provided by RiverWorks and socialized with everyone that remained there. Spirits were high afterward and rightfully so – we just put on an absolute banger of an event. A few people went out afterward but I went straight home with the donations and to be with my family.
All the donations stayed in my garage until Brett and I dropped everything off at FeedMore on Friday. Brett collected some additional money from the roster and purchased the matching amount of items that morning which led to us donating over 400 non-perishable food and hygiene items. I am so happy how it turned out and proud of our fanbase for being so giving to those experiencing hard times in our community.
That sums up my times before, during and after Brawlfest 2022. Brawlfest is available to stream now on IWTV and I highly recommend watching it there as it was an all-around great event. In reflection, this might be the best wrestling show I ever refereed on. Over the last 20 years, the Buffalo indie wrestling scene has come a long way and everyone that contributed to its growth should be proud of themselves.
My next event is coming up fast when ESW returns to the Frontier Fire Hall in Niagara Falls on Saturday, June 18. With a shorter amount of time than usual in between events, check out ESW's social media outlets for match announcements in the near future. As usual, I plan on writing an event preview as we get closer to the event day.
As always, thanks for reading.