Western New York's top independent wrestling promotion, Empire State Wrestling, returns with Brawlfest this Saturday. When the opening bell rings on Saturday to kickstart Brawlfest, it will mark the end of a 525-day event hiatus for ESW. But Brawlfest represents more than just a return for Empire State Wrestling. The comeback event on July 31 will be the first ESW event held at Buffalo RiverWorks. It is the first ESW show within the City of Buffalo in 16 years.
"It's been a long 18-months since there was wrestling in the Buffalo-Niagara region," said ESW promoter Brett Stymus. "I haven't been this excited in a very long time leading into a show. The icing on the cake is we get to make our return to Buffalo RiverWorks, which creates an atmosphere like no other venue in Western New York," said Stymus. "If you're a wrestling fan and never been to one of our events, you're truly missing out on something special happening in the Western New York area."
The Card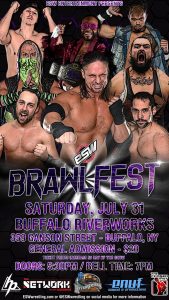 Brawlfest will feature a mix of high-quality wrestling talent from the Buffalo-Niagara region and the Northeast United States. Some of these names will be familiar to ESW fans, while others will be making their debut with the promotion.
Former ROH star Cloudy will face the debuting Tre Lamar, a native of Canton, Ohio. Lamar is a staple of Game Changer Wrestling (GCW) and Cleveland, Ohio-based promotion Absolute Intense Wrestling. He also appeared on programming for All-Elite Wrestling (AEW) and Impact Wrestling.
Another wrestler making his debut is Façade, who is set to face "The Remix" Kevin Bennett. Although based in the Pittsburgh, Penn. area, Façade is a world-renowned wrestler who worked for promotions in Canada, Japan, India, the United Kingdom, Singapore, and Mexico.
A third debuting star is KTB, who is set to square off versus "None of a Kind" Anthony Gaines. The New Jersey-based KTB made a name for himself working in GCW and wrestled for AEW in the last two years.
To Infinity & Beyond (ex-WWE star Colin Delaney and former ROH star Cheech) are scheduled to face the debuting Connecticut-based InZanely Rude (Zane Bernardo and R.J. Rude).  While To Infinity & Beyond are established as one of the top independent tag teams in the United States, InZanely Rude are looking to crack into that tier.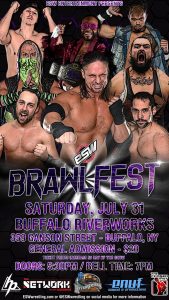 Empire State Wrestling returns with Brawlfest
In a battle of two of ESW's hardest hitters, "Big Time," Bill Collier will face Jay Freddie. Over the last year, Collier wrestled Jon Moxley and "Hangman" Adam Page for AEW. Meanwhile, Freddie will be looking to regain his pre-pandemic momentum in which he was a regular for Beyond Wrestling.
"Invincible" Vince Valor will take on "Hybrid" Sean Carr. While both men have wrestled for years in the New York area, Brawlfest marks the first time they've crossed paths.
Longtime ESW mainstay "The Patron Saint of Professional Wrestling" Brandon Thurston will face "Your Captain" Nick Ando. The last time Ando was in an ESW ring, he faced off against AEW star Orange Cassidy.
ESW Interstate Champion Frankie Feathers will defend the title in a 6-way match. The bout will include ESW regulars "Shattering" Gavin Glass and "The Big Bang" Jerk Cockins, local up-and-comer Jeremiah Richter, debuting Rochester, N.Y. native Keenan Moore and longtime indie wrestling veteran Eric Corvis.
This will be Cockins's fifth shot at the Interstate Championship, the most in ESW history. All four previous title shots were unsuccessful. Cockins aspires to finally get his first taste of ESW gold on this attempt.
"Five dudes and a Jerk? Really? How in the world does this seem fair when all I want is to win that Interstate Championship? I really hope the bar is open," Cockins said. "The celebration when I win is going to be glorious."
In another matchup featuring local talent, North Tonawanda, New York's own Vinnie Moon is set to wrestler former ESW Tag Team Champion James Sayga. Both youngsters will be yearning for a victory to move up the ranks in the ESW singles division.
Brawlfest will see the return of ESW's tailgate party. Prior to the opening bell, fans will get 10 dunk tank throws for $10. It was featuring some of ESW's top villains like Cockins and Moon. Tank throwers will also get 25 percent off all other RiverWorks attractions that day, such as the ropes course, kayaks, silo climbing, and the zip line.
"Jerk ain't scared of your little balls hitting a button," Cockins said. "Hell, I'll be enjoying myself with a candlelit dinner nice and dry."
About The Venue
Since its opening in 2014, Buffalo RiverWorks is one of Western New York's premier entertainment venues. Situated near the Buffalo waterfront along the Buffalo River on the site of a former grain elevator, it regularly hosts sporting events of many types. Buffalo RiverWorks also offers onsite boating, concerts featuring major label recording artists, and other activities.
Buffalo RiverWorks also hosted prior wrestling events featuring World Wrestling Entertainment (WWE) NXT, Ring of Honor (ROH), and Every Time I Die's 'TID the Season. With Brawlfest, ESW will be able to include itself among these prominent wrestling promotions in running at RiverWorks.
General Admission tickets are $20 and are available at ESWtix.com. Act now because the first and second rows have already sold out. The tailgate party starts at 3:00 p.m. Doors for the wrestling show open at 5:30 p.m, with a bell time of 7:00.