Bullet Club member El Phantasmo participated in an interview for NJPW's website where he had some choice words about his peers. During said interview, El Phantasmo gets venomous.
The interview began with a discussion about something the Canadian Junior Heavyweight posted to social media in mid-April. The tweet in question features a photo of ELP showering himself in thumbtacks and calling El Desperado a little bitch. "Desperado missed BOSJ because he got injured in a deathmatch the week before," El Phantasmo said in explanation.  Well I wrestled in a TLC match in the UK one day before I flew to Japan to be in Best of the Super Juniors last year. There were tables and thumbtacks, and I had a gash on my head, but I didn't complain. NJPW gave Desperado a big platform to talk about the bitch he is, and that's not fair. I didn't get hurt, because I'm tough, and then went 5-0 in my first matches."
The interviewer asked about what it was like to debut for Bullet Club. "It was definitely the most pressure I'd ever had in my career," El Phantasmo said. "I'm debuting in the f***ing BULLET CLUB, in the best wrestling promotion in the world and most people didn't know who I was. But I thrive on that. When I came back through the curtain, they told me I got a bigger reaction than AJ Styles did five years earlier."
El Phantasmo Gets Venomous In NJPW Interview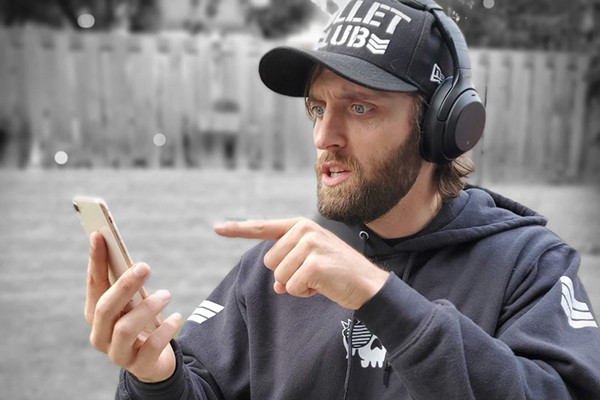 The interviewer then asked if ELP was glad he was in Bullet Club. "Of course I'm glad," He began. "Look, BULLET CLUB is the single greatest faction in the history of professional wrestling. Look at the members that we have here in NJPW, and the members that were here and are now all over the world. We run everything in this business. I'm absolutely glad that they saw that attitude in me, and decided to give me a shot. I mean, if I went into CHAOS, I would have been just a guy like they all are. I would have been a Robbie Eagles."
The former Junior Heavyweight Tag Champion then broke into a tirade about Robbie Eagles. "He wasn't a good fit in Bullet Club. He sucks," Said ELP. "I was winning matches, and he wasn't. I didn't want to fight Robbie, I wanted to bring him up to my level, so that the junior heavyweights in BULLET CLUB could be elevated.  Robbie has done absolutely nothing that compares [to me]. He's worried about what the fans think and if they like him, and because of that he hasn't achieved anything. He's never beaten me and he never will. With him now in CHAOS in Ospreay's shadow, Ishimori and I can both concentrate on being IWGP Junior Heavyweight singles and tag champions."
Read the full interview here.
Be sure to stay tuned to the Pro Wrestling Post for this and additional stories from the wrestling world. Readers can rely on Pro Wrestling Post to be their daily source for all things past and present inside the squared circle from around the globe. As a result, readers can expect daily news, history, and so much more. Please visit New Japan Pro Wrestling TV's official website to access content here.