Edge and AJ Styles. Two wrestlers known the world over for their exploits inside the squared circle. Both were former world champions who have carved their own unique legacies in the world of professional wrestling.
On Sunday, April 3rd, 2022, during night two of WrestleMania, these two bonafide legends would meet one on one for the very first time. This stands out as the true dream match between two of the biggest names in the industry in the last quarter century.
Edge and AJ Styles – You Think You Know Phenomenal?
One fans have fantasized over for years. Especially after Edge made his triumphant return at the 2020 Royal Rumble that night, fans got their first tease of what could be when Edge entered the match. After delivering spears to a handful of superstars, Edge found himself eye-to-eye with AJ Styles.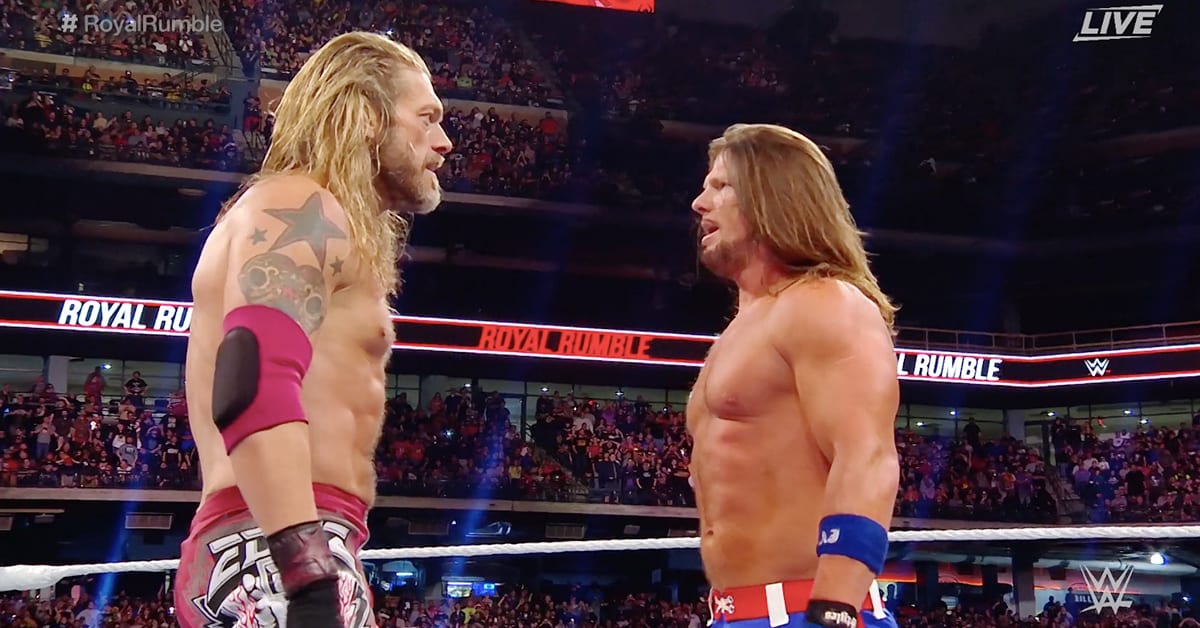 Michael Cole summed up their stare-down perfectly on commentary, dubbing it a Royal Rumble moment. After exchanging blows, Edge gets the upper hand on this brief encounter with a vicious spear.
Now, two years later, we get to see these two try and steal the show at the "Showcase of the Immortals." But before looking into how we got here, let's look at their history at the "Grand Daddy of Them All."
Winning Legacies
When looking back at Edge's WrestleMania history, we need to go back two decades and WrestleMania 2000. That night, Edge and Christian and the Hardy Boys and Dudley Boys revitalized tag team wrestling with their death-defying Tag Team Ladder Match.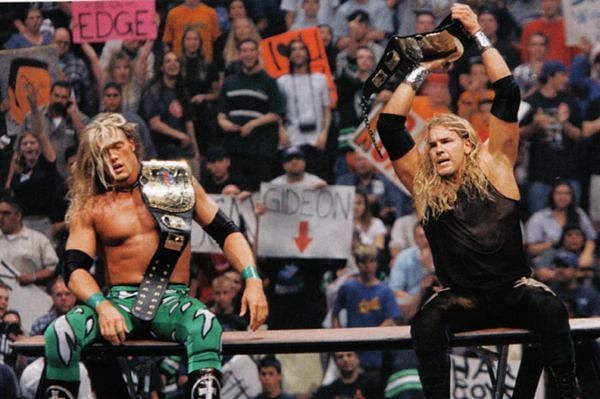 It was the start of a WrestleMania run that saw Edge compete in a varying degree of matches. From triple threat championship matches with the likes of John Cena, the Big Show, Daniel Bryan, and Roman Reigns to competing twice in the Money in the Bank Ladder match.
Edge has done it all on the WWE's biggest stage. Heading their WrestleMania match, Edge holds a WrestleMania record of 7-5; he is 1-1 since coming out of retirement. AJ Styles, while having only competed in half the matches Edge has, enters Sunday with a record of 4-2.
Like Edge, who successfully defended the World Championship at WrestleMania 27, Styles has a successful title defense under his belt at WrestleMania. At WrestleMania 34, Styles held off long-time rival Shinsuke Nakamura to remain WWE Champion.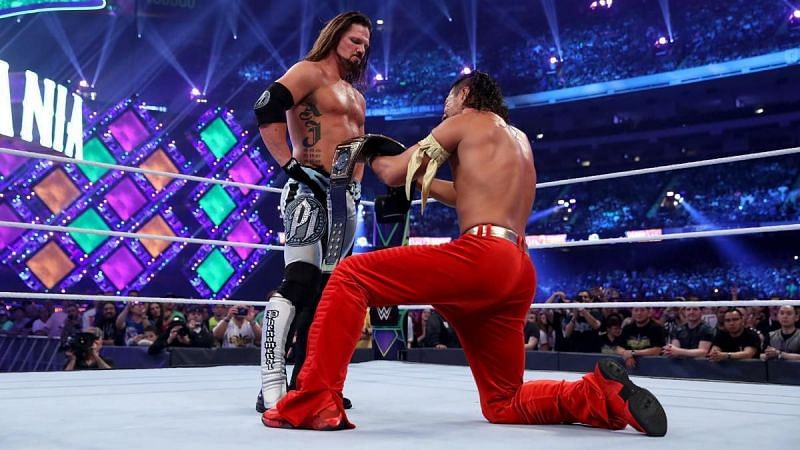 A year before his successful title defense, Styles damn near stole the show with Shane McMahon. Their match had no right to be as good as it was. They were bringing us to last year and Styles walking out of WrestleMania as a tag champion. Styles and his personal colossus, Omos, defeated the New Day and walked out as Tag Team Champions. 
Familiar Foes
Holding winning records at the show of shows isn't the only WrestleMania commonality between Edge and Styles. The two share three similar foes at WrestleMania, and even more interesting is they hold the same record against these three competitors. 
Y2J
AJ Styles made his WrestleMania debut at Mania 32. That night he took on former friend and partner Chris Jericho and, despite his best efforts, fell to Y2J.
Similarly, Edge took on Chris Jericho at WrestleMania 26 for the World Heavyweight Championship. But, much like Styles, Edge fell to the man who would become the first-ever AEW Heavyweight Champion. 
The Deadman
Both men suffered high-profile losses to The Undertaker at WrestleMania. Edge failed to end the streak and capture the World Heavyweight Championship at 24. Twelve years later, Styles fell to the dead man in the first and only Boneyard Match at WrestleMania 36.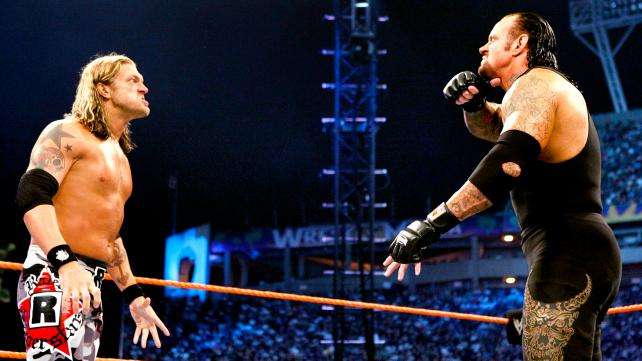 The Viper
The third common WrestleMania opponent between Edge and Styles was Randy Orton. Both men hold victories over Orton on wrestling's grandest stage. Styles picked up a win over the Viper at WrestleMania 35, while Edge defeated him the following year at WrestleMania 36.
WrestleMania 38 – Edge and AJ Styles

Ever since Edge returned at the 2020 Royal Rumble, he's played the returning hero. The WWE Universe was more than ready to welcome him back into the fold. Edge found himself in feuds with Randy Orton, Seth Rollins, Daniel Bryan, and even Universal Champion Roman Reigns during this comeback run. 
While the fans have enjoyed this run, each of them had to know what lies beneath, a dark side that was at the forefront of the majority of Edge's career. The Rated R Superstar was itching to return, and he did so on February 28th at Monday Night Raw. 
That night, after AJ Styles accepted Edge's open challenge for a WrestleMania match, the ultimate opportunist blindsided Styles with a right hand.
The assault continued before Edge finished the attack off with a ConChairTo. Edge proclaimed he assaulted Styles because he wanted the bulldog Styles, not a guy who's been wasting away in the tag team division for the past year.
The following week, under a blue spotlight, Edge thanked AJ for letting him become his real self. Now, he was in control of everything that will ever happen in the ring and within the industry. 
Edge and AJ Styles – First Time Ever
This was a new omnipotent version of the Rated R Superstar, a fact further emphasized by the replacement of his vintage entrance theme. With Styles nursing the injury from the vicious chair attack, Edge cut another promo from the "Mountain of Omnipotence."

This time he blamed the fans for him returning weak, and it was their fault he failed in his quest to become Universal Champion. Two weeks ago, Styles found his match opportunity with Edge in jeopardy when he was in the main event of Monday Night Raw with Seth Rollins. 
Rollins would take his spot against the "Omnipotent Superstar" on night two of WrestleMania if Styles lost. Edge, laser-focused on Styles, interfered, causing a disqualification in favor of AJ Styles. With the match set in stone, Edge cut yet another brilliant promo on the final Raw before WrestleMania. 
Watch Edge's promo below:
This time he talked about how serendipitous it was for Edge and Styles to meet at WrestleMania. That they need each other, Edge pulling off the veil of mediocrity that's covered Styles' career the past few years.  
Edge and AJ Styles – The Rated R Superstar and The Phenomenal One

And Styles helped Edge become the benchmark of the WWE. But, the icing on the cake for long-time fans was Edge's reference to this being judgment day, complete with a scale similar to one in his Judgment Day 2009 poster.
Styles' response was short, sweet, and to the point. He planned to destroy Edge, and if the judgment is coming, the verdict is already in. AJ Styles was set to deliver a beating that Edge and the WWE Universe will never forget. 
---
But you would expect nothing less from two such stupendous competitors.