As a second-generation wrestler, Dragon Lee has emerged as a special talent that both his brothers and father would be proud of. Lee is the son of Arturo Munoz, La Bestia del Ring has been competing since 2013. At 18 years of age, Lee would begin his early training and development under CMLL.
With a style and physique that resembled a hybrid of both Lucha libre and Purosesu styles, Dragon Lee's name, too, doesn't suggest that he's of Mexican descent. But his other brother's much like himself, were raised to become wrestlers like their father before them.
His older brother William (who competes as Rush) first became a professional wrestler five years before he would in 2008. Lee's other older brother Carlos would become a professional wrestler in 2011, two years before he would.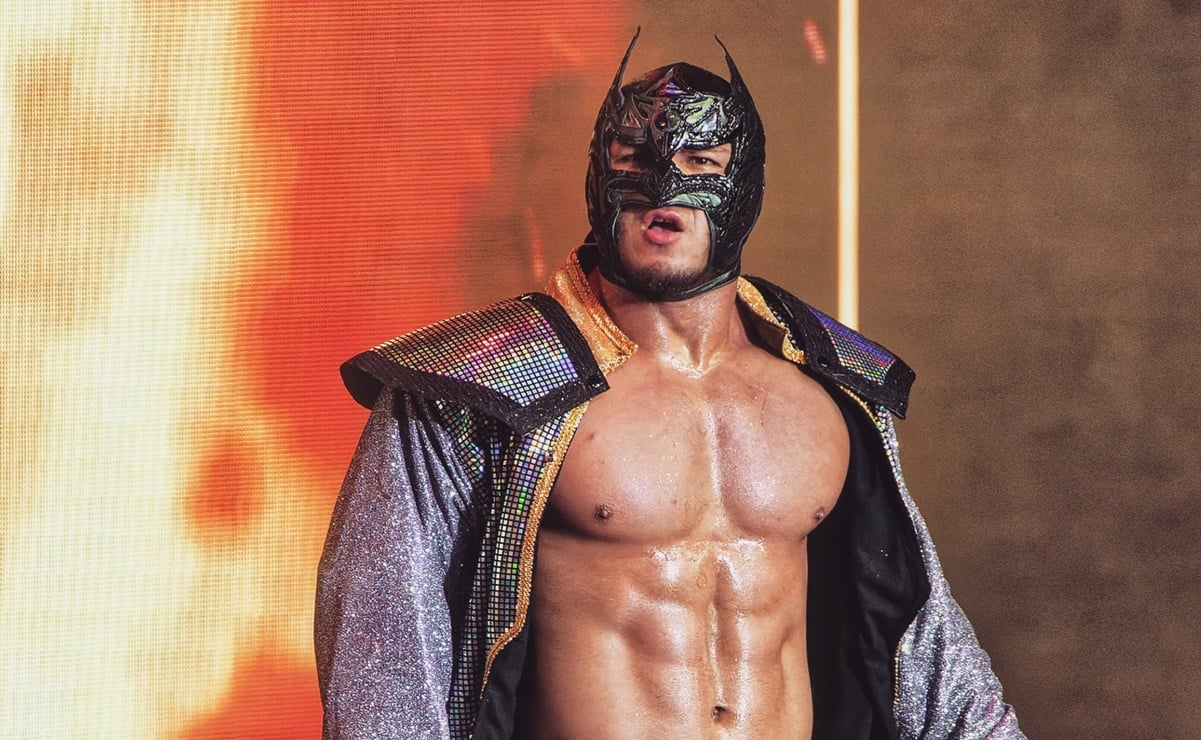 Dragon Lee – The Gem within La Faccion
It is interesting to note that the Dragon Lee name was first used by Lee's older brother Carlos who now competes as Dralistico. So while some may believe that it was Dralistico that would step aside to allow his younger brother to take on the Dragon Lee name, that wasn't the case.
As the story unfolds, Dralistico would drop the Dragon Lee name to assume the Mistico character who had left CMLL as he would continue to wear a mask in the process. Mistico had left the promotion and, in the process, the character. And while the Munoz's were known publicly to be family, the focus of leaving the character behind was fine as well.
Lee has other family that is tied to the sport as well. Pit Bull I, II, and Franco Columbo all played a part in Dragon Lee's early training and development. In. a story as to his introduction into wrestling as a career when being a part of another type of combat sport that he knew that wouldn't be for him.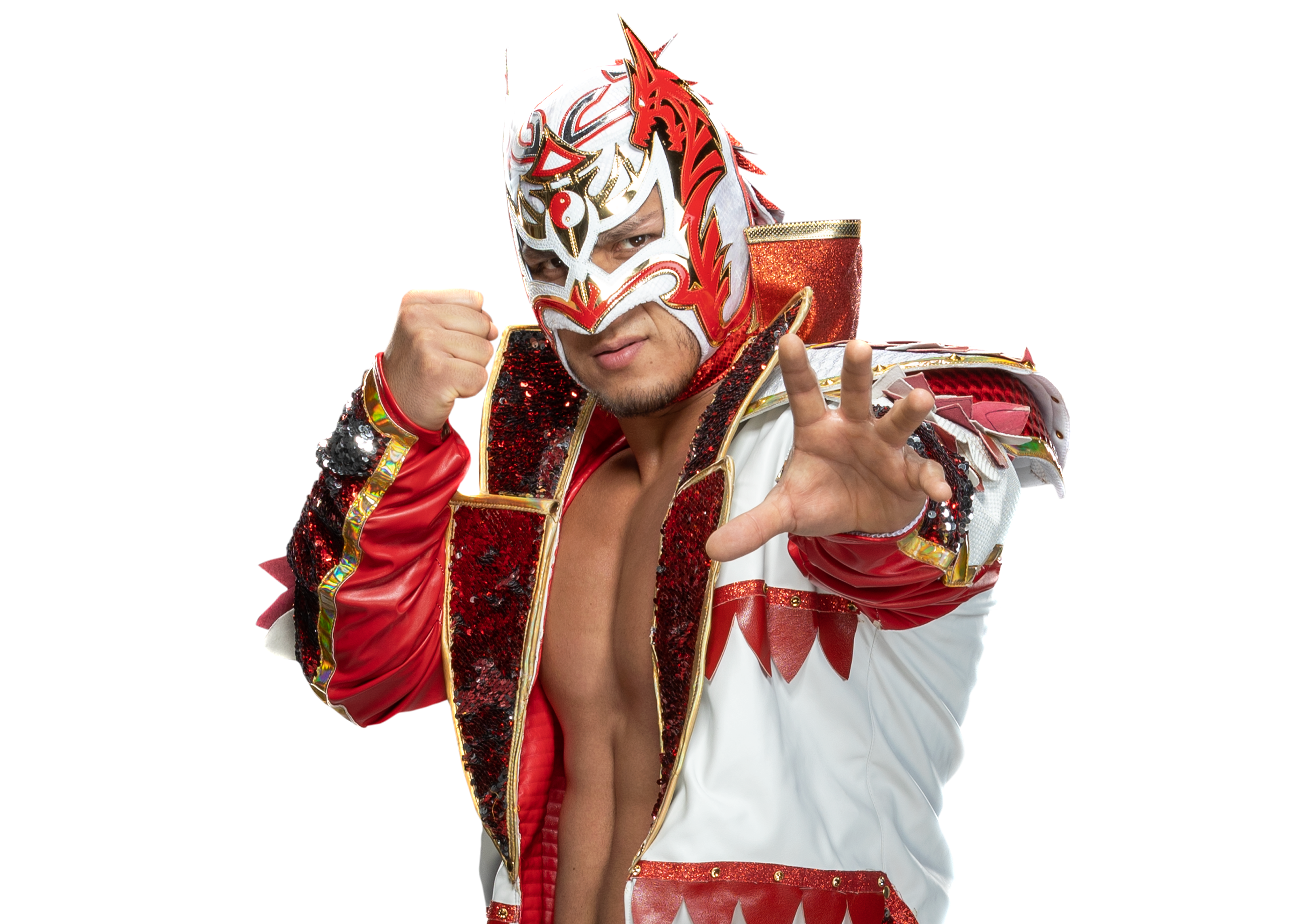 Before Finding His Way Into Wrestling
While he would compete in amateur wrestling exhibitions, it was while competing in a boxing match that he would know wrestling would ultimately be his preference. That and the fact that he decided to suplex his opponent during the match.
Almost immediately, the 'new' Dragon Lee was turning heads and making a difference. His in-ring work was earning him critical acclaim. A year into his career, he was voted by the wrestling publication Wrestling Observer's newsletter as Rookie of the Year for 2014. He would be considered among the future in CMLL when he was among the Generacion 2014.
Success alongside RUSH
These were talents that would be showcasing their talents for the first time. His initial success would come alongside his brother in CMLL. During the promotion's noted Torneo Gran Alternativa tournament, which would pit a more experienced wrestler with a rookie in tag team format. The brothers Munoz would make it all the way to the semi-finals before losing to the eventual tournament victors, Mr. Niebla and Cavanario.
The following month he would qualify for the Tornero Cibernetico, being one of the eight remaining survivors of the match. He would ultimately end up in third place, having an impressive showing in the tournament overall. Then a few months after that, he would appear in CMLL 81st Anniversario as part of a tag team match alongside Cachorro against Tiger and Puma.
Only eight months into his career and Lee has already been a part of major tournaments and CMLL's biggest event of the year. But he would need more in order to grow, and that would come the following year.
Feud with Kamaitachi
Lee would feud with Puro talent, Kamaitachi. Their feud would pit two masked wrestlers in the always popular Lucha de Apuestas match, which would have stipulations tied to them, often akin to a wager or bet. This match would culminate with both men's masks and their identities being at stake here in a best 2 out of 3 falls match. Kamaitachi would ultimately unmask and earn acclaim as one of wrestling top Super Juniors Hiromu Takahashi.
As Lee's career continue to progress, competing in noted tournaments and now noted feuds, it became important to have championships tied to him as was they were often recognized in his family as well. He would capture the CMLL World Lightweight Championship.
Next for Lee would be international competition. As part of the relationship between CMLL and NJPW, Dragon Lee would compete in the Fantastica Mania 2016 tournament. He would lose and regain his CMLL World Lightweight Championship on this tournament against Kamaitachi and, in the process renewing their hostilities between them.
Bandido cannot come close to comparing to Dragon Lee. When they wrestle, Dragon Lee will become the new champion in Ring of Honor. And he will always have LFI, the most dominant faction in wrestling, behind him. – Rush on what his brother Dragon Lee is capable of.
– RUSH sharing his thoughts on his brother, Dragon Lee's ability
The fight between friends and family came to a head in the Summer of 2016. As Lee's oldest brother Rush was engaged in a feud with former Los Ingobernables member Las Mascara, he would proceed to not only battle Rush but Dragon Lee as well.
Lee would then challenge La Mascara to his second Lucha de Apuestas matchup. Once again, Dragon Lee was victorious, and it would once again force his opponent to surrender his mask and his identity in the process.
For all that Dragon Lee and his brothers Rush and Dralistico were achieving in Mexico, it would be in the United States where English-speaking fans would become familiar with them. So in 2019, Lee would announce that he was leaving CMLL and forging his career now in the United States.
It was reported that CMLL wasn't happy about him competing in Pro Wrestling Guerilla's Battle of Los Angeles tournament, which was likely a contributing factor in his departure from the promotion.
La Faccion Ingobernable Lives Again In Ring of Honor
He would dabble with time in Ring of Honor in 2016, but it would become official a few years later. With that said, Lee, along with his brother Rush and join Ring of Honor in 2019. He would defeat Shane Taylor to become the ROH World Television Champion.
By the Winter of 2019, the Munoz brothers, along with Kenny King and under the tutelage of Amy Rose, would form La Faccion Ingobernable and, in the process, become a rudo. Far too often, Lee had been a technico during his career, so this about-face would be a new direction for his character.
The following year he and Kenny King would capture the Ring of Honor World Tag Team Championships and, in the process, make Lee a double champion. At 25 years of age, Dragon Lee continued to excel, whether it be in singles or tag team action. Sadly, Lee's time as champion would come to an end due to injury. King would defend the TV title on Lee's behalf and lose the title and the tag team titles.
Feud with Hiromu Takahashi
As mentioned earlier, Lee competed internationally. However, it wasn't until Lee would attack his long-time rival Hiromu Takahashi in New Japan Pro Wrestling. It would lead to him challenging Takahashi for his then-IWGP Junior Heavyweight Championship. Lee would also compete in the Best of the Super Junior tournament on multiple occasions.
He would also compete in the Best of the Super Jr Tag Team tournament once again sticking it to Takahashi in the process, costing them a win. In easily one of the most frightening moments in his career, Takahashi suffered a broken neck in his match against Dragon Lee.
"(Referee Marty) Asami came over, and I told him to stop the match. But I had so many thoughts going through my head. That this can't be the end, that I can't end my career like this. I think all in about a second…
And just that stubbornness kicked in, not wanting to lose to Lee, or lose the (IWGP Junior Heavyweight) title…And right as I'm thinking that I can't end my career like this, I tried to move my hands and feet, and I had feeling back.
So I told Asami to keep going. I think my actual words were 'just kidding!' Asami had a really worried look on his face, like, 'are you sure?' And I was thinking; this is what strength is. Like you're OK just throwing everything away. I can't describe what it's like, but the feeling someone has when they've decided they can retire, that it can end.

– Hiromu Takahashi shares details of what he was feeling after breaking his neck against Dragon Lee
The rivalry between Hiromu Takahashi and Dragon Lee is a tale best told for another day, while the life and times of Dragon Lee alone speak volumes alone.
And in 2019, Dragon Lee would capture the IWGP Junior Heavyweight Championship becoming only the third Mexican ever to hold the title at the time. It was at this time where he competed under the name Ryu Lee. He would even challenge Jyushin Thunder Liger to be his final opponent upon his retirement.
Departure from CMLL
Despite departing CMLL in 2019, it wouldn't prevent him from competing for Lucha Libre Triple A Worldwide at time over the period of three years. In 2022, Lee would compete in his one and only match for All Elite Wrestling as part of a trios match alongside his brother Rush and Andrade El Idolo.
La Faccion Ingobernables would lose the match, and would result in Lee being beaten up by Idolo and Rush and have his mask removed in the process. He and his brother would defeat FTR for the AAA World Tag Team Championships alongside his brother Dralistico and would announce immediately after the match that he had signed with the WWE.
The Rise of Dragon Lee
There is so much that could be packed into the career of Dragon Lee. Whether it was the mysterious nature of his first name as it's kept away from public records to being part of a reality program that prevented him from competing for nearly four months to having his hearing threatened because of a severe ear infection, Dragon Lee has had such a notable life let alone career.
Dragon Lee's ringwork is unlike that of many of his contemporaries simply due to the sheer danger that is tied to the moves he attempts. The level of danger is as much a risk to him as it is to his opposition. It is likely that level o risk that makes Dragon Lee so special. While he may be addressed as El Nińo Maravilla today, he has proven to be a man far greater than he is given credit for.