When you attend live wrestling events for 37 years and literally around the world, there's not a whole lot of firsts. And it's hard to impress this jaded old-schooler. Well, this was my first live Dragon Gate show. And I was, shockingly, more than impressed. In the opening spotfest, current indie darling Sami Callihan reigned supreme. This was Caleb Konley vs. Flip Kendrick vs. Jon Davis vs. Louis Lyndon vs. Pinkie Sanchez vs. Rich Swann vs. Sami Callihan vs. Scott Reed, wherein they exhibited a barrage of impressively insane moves. This was
Dragon Gate USA
Uprising 2011 and my perspective of the show.
Now, part of me loves this kind of sensory overkill, while part of me doesn't quite get the whole "everybody feigns being hurt and waits while the two guys in the ring get their moves in" type psychology. Nonetheless, a thrilling way to start the evening. This was followed by Brodie Lee's defeat of
Tony Nese
, which was a decent enough match, but in the death slot following the creative chaos of the opener. Frankly, I won't remember this one a year from now.
The third match saw Austin Aries lose to Susumu Yokosuka. Now, with the exception of Nigel McGuiness, Aries is my favorite active wrestler as he's a brilliant technician. Nonetheless, I was disappointed by this one. It just had this uneven feel, going from Aries' total working of the crowd and overly long stalling, into a frenetic couple of minutes of high-quality action. Simply put, I've seen him in far better matches in ROH.
Dragon Gate USA Uprising 2011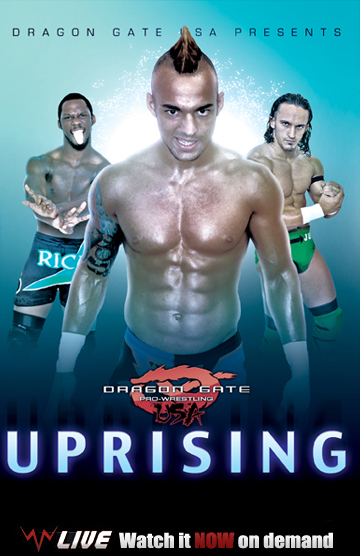 In a freestyle match, it was Open the Freedom Gate champion YAMATO vs. CIMA vs. Johnny Gargano vs. Masato Yoshino. Like the opener, this was heaven for those who love high spots and creative wrestling moves. Yours truly prefers a good storyline and a singles match where you actually care about who wins. But you can't take it away from these guys. This was great, great action, and non-stop at that. I give this 3 ¼ stars and again, I'm jaded as this was tremendously entertaining. Alex Reynolds over Papadon (who I had brought into The Wrestler movie), was a solid enough indy match, but pretty hard to compete with the high-flying mayhem that had already been presented.
Interestingly enough, during this match one Williamsburg hipster type, who incessantly threw out snarky comments throughout the evening, was reprimanded by a fifty-something fan in front of him for being overly critical of all the bouts. When you start throwing out comments like "You've never accomplished anything in the business" to a hard-working athlete, you probably have crossed a line of decency and good taste. Yeah, show some respect, kid; the show's not about YOU. The sheer joy some of these smart mark fans get at critiquing occasional botched moves may, in fact, indicate they need a life.
Truly memorable
On a happier note, Masaaki Mochizuki defeated Arik Cannon in another quality match. In short, I've seen better, I've seen worse, even on this night. Then came the show-stealer. Akira Tozawa is not only a tremendous wrestler but has through the roof charisma, which I can't honestly say about some of the other "wrestling machines and human highlight reels" on the card. But this guy's the "total package." His defeating of the extremely talented AR Fox drew chants of "This is awesome." And it was. 3 ¾* easy. Truly memorable.
In the main-event, Ricochet's surprise victory over the great Pac and Rich Swann was another tremendous match, slightly marred by an abrupt ending. Again, non-stop action and brilliant moves, elevating pro wrestling to art. 3 ½ stars. When you hit my age and have seen it all, including Tiger Mask vs. Dynamite Kid live, you do get that "been there done that" feeling at a lot of indy wrestling shows. Such was not the case tonight with 4 matches over three stars and not a clunker on the show.
Support Independent Wrestling
This is quality wrestling worth supporting any way you can. Inexpensive merchandise and wrestlers readily accessible to the fans for autographs and pictures made this all the more fun and worthwhile. I'd also like to point out that my buddy took his 10-year-old nephew and three friends to the event and each and every one of them said they enjoyed it more than live WWE events because of the fan-friendly nature of it and being up close and personal. It just makes for a better entertainment experience. Dragon Gate, you've made a new fan in this jaded old-timer. Bravo.