Dogg Pound Championship Wrestling originated from the Dogg Pound Wrestling Dojo where wrestling legends Rodney Mack of ECW and WWE, along with his wife two time WWE Women's champion and the longest-reigning NWA Champion of all-time Jazz and Thunder Rosa (AEW, NWA), train people to become the best they can be in pro wrestling. Their motto is, "It's not about the size of the dog in the fight, but the size of the fight in the dog."
"Dogg Pound Championship Wrestling are redefining and leading Texas Wrestling into a new era of sports entertainment, that demands greater standards of performance, ethics, respect, and positivity, as well as inclusive and welcoming to all peoples,"
– Dogg Pound Championship Referee Davina-Jade Coulombe.
The Dojo prides themselves in their diversity, and they welcome all ages, races, and genders to train. They don't discriminate, and they encourage everyone to "join the pack."
"With over 45 combined years' experience in Professional Wrestling, Rodney Mack & Jazz, along with numerous regular and special guest trainers, teach a curriculum aimed at nurturing and developing each athlete's in-ring skills, character development, interview, and promo speaking skills, ring/match psychology, and use of social media to promote self, organization, and events,"
– Dogg Pound Championship Referee Davina-Jade Coulombe.
Sat Sept 25, 2021, is the world debut of Dogg Pound Championship Wrestling. This takes place at the historical Woodlawn Gym 1103 Cincinnati Ave, San Antonio, TX 78201. Their Meet-n-Greet takes place from 6-7 pm Bell Time: 7:30 pm.
Card subject to change
That evening there will be some amazing matches, including some Texas Tag Team action with OMG. The team will be going against The MSFITS. OMG, as many in the wrestling community know, were recently pearl harbored while in the middle of video promo here the video has gone viral, and we must warn viewers this was unexpected. Although enraged after the cowardly act OMG has expressed numerous times on social media, they wish to settle their differences in the ring.
Don "Hoss" Holding, a 60-year-old pro wrestling rookie, has been gaining momentum as a fan favorite in Texas. "Romping and Stomping" is not only his favorite catchphrase but very similar to his style as a wrestler. Like the truck, he isn't flashy, but he is built strong and "Ford Tough." "Defying all the odds, Don is not only proving the odd wrong but also doing it quite successfully, turn heads and making fans along the way," said Davina. He will be going against Caleb accompanied by the loudest mouth in Texas, Mr. Biggs.
The Monster X-Man Xavier Daniels will go against the sharp-tongued monster killer  Mathew Palmer (here).
That evening they will be having an over-the-top battle royal to determine who will earn an open contract with DPCW. Many new faces will appear to test their ability. They will come and see if they have what it takes to be on the Dog Pound Championship Wrestling roster.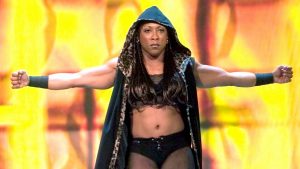 Dog Pound Championship Wrestling Legendary Debut
The main event will be the Soldiers of Savagery of Ring of Honor fame with Frank Stone. They will be going against Da Bullies (wrestling legend Rodney Mack (WWE) & Max Castellanos) and Andrew Law, with Jazz (IMPACT, WWE, ECW). "This is sure to be a hard-hitting main event; the fans will be very vocal during and on their feet the whole time," added Davina.
Some featured superstars that evening will be The Mayan Warrior" Aski, Jax Dane,  Luther Curtis, Big Fitz. Other wrestlers on that card will include Sodapop Hendrix, Midnight Special, Michael Darkheart, Caleb, Mystii Marks, Blue, Whiskey Sauer, Nasty Nate & Many More!!