Before the story between Diamond Dallas Page and Randy Savage could be told, the story traces back to the birth of the nWo.When the New World Order infamously declared war on World Championship Wrestling in the summer of 1996, a line in the sand was drawn.
On the front lines for WCW, ready to meet the invading Outsiders (Scott Hall and Kevin Nash) and eventually Hulk Hogan, were Sting, Lex Luger, and Macho Man Randy Savage. What we would later be reminded of is a feud between DDP and Macho Man Randy Savage.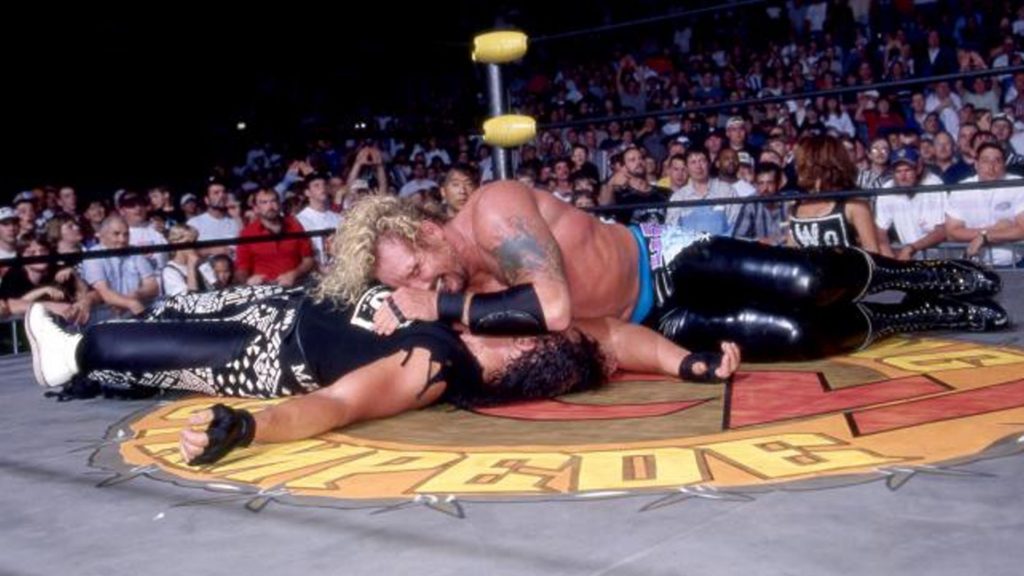 After the WCW trio fell in their six-man tag team match at Bash at the Beach, the WCW locker room was put on notice. If you weren't with the n.W.o, you were against them and no one was safe from their hostile takeover.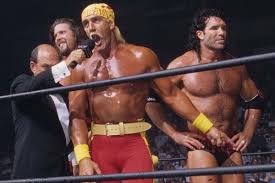 In the Beginning
Savage, who was on the brunt end of the n.W.o's formation, eventually turned his back on WCW and joined the ever-growing faction.
Enjoying the spoils of being a member of the red-hot supergroup outweighed defending WCW's honor. He gave the group an added element of danger with his madness persona. Meanwhile, during the nWo's ascent to power, Diamond Dallas Page was making a name for himself as one of the hardest-working members of the WCW mid-card.
A Television Championship feud with Johnny B Badd and eventual Battle Bowl Lord of the Ring Tournament victory really shined a spotlight on Page. With his momentum growing and his Diamond Cutter finishing maneuver becoming increasingly popular with the fans, it didn't take long for Page to cross paths with n.W.o.
An Attempted Recruitment
Kevin Nash and Scott Hall, the founding fathers of the nWo, were tasked with recruiting Page. Having a history with the man who would become WCW's People's Champion making them the perfect pair to try and bring him into the fold. Page, being the independent and stubborn star that he was, declined their advances in the most dramatic of ways.
After winning a match on Monday Nitro, Page was approached by Hall and Nash. They presented him with their trademark black and white n.W.o shirt. Page accepts the shirt and even throws it on before shaking hands in celebration with Hall. But, as Nash turns his back, gloating to the crowd, Page nails Hall with a diamond cutter, emphatically turning down the offer.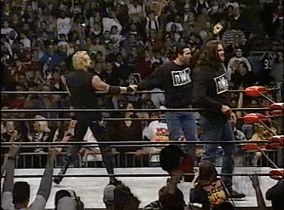 Before Nash can realize what had happened, Page had made his escape through the audience, ready to meet him with open arms. It's one of the loudest crowd reactions in Nitro history and was an iconic moment in the war between the nWo and WCW.
With Page now public enemy number one, the nWo tasked Macho Man Randy Savage with taking out the master of the diamond cutter.
The two engaged in a rivalry on WCW programming that spanned the majority of 1997. There were no titles up for grabs; this was just pure unadulterated hatred. On-screen, their rivalry was as personal as it could get, but behind the scenes, their program together was one built out of mutual respect.
Diamond Dallas Page and Randy Savage
Uncensored 1997
The Pro Wrestling Illustrated 1997 Feud of the Year ignited at WCW's March pay-per-view, Uncensored. After weeks of verbal jousting and a Savage sneak attack on Monday Nitro, DDP was given the chance to address his rival during the event. Angered by the sneak attacks, Page was there to see if Savage would finally answer his challenge for a fight.
Before Page leaves to return to the locker room, Savage, in the crowd with Miss Elizabeth, finally acknowledges his rival. Savage claimed to have misjudged Page and that he is cooler than Savage originally thought.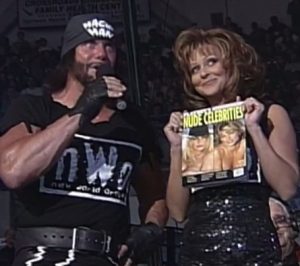 Making Page cooler in Savage's eyes is the fact that DDP's wife, Kimberly, was a centerfold in Playboy's celebrity issue. Savage reveals the magazine to the audience sending Page into a fit of rage.
But, before Page can pursue his rival, Kimberly makes her entrance from backstage. Covered in black spray paint and humiliated by the nWo's actions, this brief distraction allows Savage to attack Page from behind. Adding more insult to injury is when Savage and Liz spray paint n.W.o on an emotionally distraught Kimberly's back.
The next night on Nitro, Page, not one to be deterred, gives a passionate promo about how Savage made it personal and now he needed to take him out.
"You want to snap into the real world? No Problem, because the way I see it, you were born to be chalk outline. That's right, Savage, you're a dead man walking."
You can see that promo in its entirety by clicking here
Diamond Dallas Page and Randy Savage
Spring Stampede 1997
With tensions reaching a boiling point, their first match was scheduled for the main event of WCW's Spring Stampede pay-per-view. It was only fitting that the match was no disqualification as the rivalry had escalated at such a rapid pace. Leading into the show a big deal was made about DDP headlining a show for the very first time.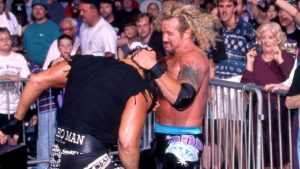 Especially against a man like Savage, a former world champion who had been a main-event player for years. 
This match was to be a star-turning performance for Page. There was something further heightened by the fact he was going to emerge victorious. It was an ending that was Macho Man Randy Savage's idea. 
"We're getting ready for Spring Stampede, Arn Anderson walks into the locker room. It was just me and Randy in there, both putting on our boots. And Arn walked in, and no one told Randy what the finish was; it's Randy; what would you like the finish to be tonight?
Well, pulls up his boots, ties them tight, he goes, "I think I want to take the diamond cutter tonight." I was looking at Arn, and he was looking at me, and he's going, well Diamond, uh, I hope you realize this is an important thing for your career, I was like, yep, I do."
The two stole the show at Spring Stampede. They engaged in a war that had them fighting all around the ringside area.  Page gets the victory late in the match after hitting his vaunted diamond cutter, but the rivalry would continue as Savage was now out for blood. 
Rivalry Continued
Page and Savage did battle again at WCW Great American Bash that June, and once again, they were the main event.  That night in a Lights Out Anything Goes Match; Savage evened the score with a little help from n.W.o cohort Scott Hall.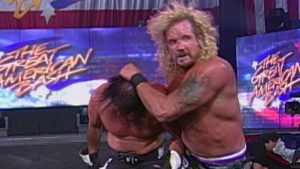 It was a finish that all parties involved thought helped further the feud. Without damaging the momentum, DDP earned by defeating Savage in his first main event months earlier. 
"The whole deal of the feud coming into this match, we had to have a good finish. Savage just lifted me up huge by letting me beat him in the pay-per-view before.  So it was important that when they beat me, they didn't just beat me, and that was it."
DDP & Macho Man Randy Savage
Over The Next Few Months
Over the next few months, Page and Savage faced off on pay-per-view in tag team matches before their third and final confrontation was scheduled for Halloween Havoc. Before their Halloween Havoc tilt, DDP pulled off one of the greatest swerves in WCW history. 
Dressed as masked luchador La Parka, DDP surprised Savage on an episode of Monday Nitro, hitting his rival with a diamond cutter. It's another iconic moment created by this incredible rivalry.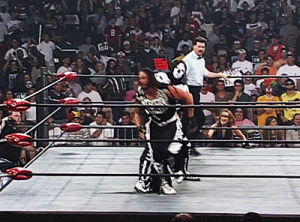 At Halloween Havoc, the nWo numbers game once again overwhelmed Page. This time Hollywood Hogan dressed as Sting cost Page the match with a baseball bat. 
This was the final time Page, and Savage crossed paths in a singles competition. It also capped off a rivalry that not only set the bar in 1997. But has been a standard-bearer for how good a rivalry can truly be.  
---
Be sure to stay tuned to the Pro Wrestling Post for this and additional stories from the wrestling world. Readers can rely on Pro Wrestling Post to be their daily source for all things past and present inside the squared circle from around the globe. As a result, readers can expect daily news, history, and so much more.