Everyone has a past. For Dexter Lumis, his past is as much shrouded in who he was as it is who he is and has become. The rather haunting and frightening nature of Lumis appears to be an assembly of the character Dexter Morgan from the television show of the same name and Dr. Loomis that was as integral a part of the Halloween films as Michael Myers himself. However, to know who he is today in NXT, it is crucial to retrace the journey of Lumis and how he is emerging from the ashes of Samuel Shaw.
A former trainee of Mr. Curtis Hughes, Lumis learned the fundamentals of the ring from the former WWE and WCW talent. His success in this area is as much attributed to the repetition of the action as it was his mastery of it. During this time, he really wasn't sure of what he was as a character and why he was doing what he was doing as that character. Hughes's strength as a trainer was long tied to teaching the fundamentals in the ring. Lumis was able to take this with him and parlay that in his career.
Lumis would transition Hughes's teachings to his learning under Rip Rogers as part of Ohio Valley Wrestling. Under Rogers and OVW, Lumis would gain a strong foundation for his wrestling training and development. Additionally, OVW had a working relationship with IMPACT Wrestling at the time. During this time, Lumis had to roll with the punches. Shaw spoke of how changes were constant during that time. However, he was able to work past these challenging times and develop a character that he has long been synonymous with.
I have all the characteristics of a human being: blood, flesh, skin, hair, but not a single, clear, identifiable emotion, except for greed and disgust. Something horrible is happening inside of me, and I don't know why. My nightly bloodlust has overflown into my days. I feel lethal, on the verge of frenzy. I think my mask of sanity is about to slip.
– Patrick Bateman, American Psycho
Before fans became familiar with the often creepy Dexter Lumis, Samuel Shaw took with him his learning from Hughes and traveled to Ohio Valley Wrestling. It was here where he met John Laurenitis. With each training camp came additional learning and experience to help him develop as a character and a talent. It wasn't, however, until he was a part of TNA/IMPACT Wrestling's Gut Check Challenge that it gave talent a means to being seen that may not have happened prior to this competition.
"I really feel like in the long run, and I feel like the Gut Check challenge, and Tough Enough are really good ways to take a talent that might have not had an opportunity.
Especially with Gut Check, I felt like they were bringing in some talent that somebody might have seen somewhere. They said, 'hey, let's give this guy an opportunity. I don't know if it's always for the right reasons…."
Samuel Shaw on when he first came to TNA/IMPACT Wrestling
He didn't have true direction within TNA at that time. It wasn't until the emergence of his 'Samuel Shaw' persona that evolved that he truly had traction behind him. When 'Big' John Gaburick came to him with the idea, Shaw was able to dive two feet into the character. The persona had legs, and Shaw had the wherewithal to make it come alive. Moreover, he was committed to making it succeed and thrive.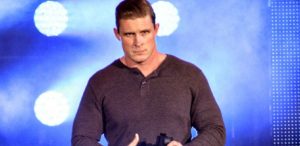 "When Big approached me with that character idea, it was 'please let's get started right away!' I just feel I have a grasp on this that well. I went home that day, stayed up all night, and just went through American Psycho, I paused, rewound and took notes, and just tried to figure out all the mannerisms.
The certain things that he would do to get that character to come alive. Not to mention that it was mentioned to me that my ring attire had to look like you were going out for your kill, sort of like Dexter."
Samuel Shaw on how his character first came about
This excerpt was taken back in 2015 with Samuel Shaw grateful for the opportunity to give the 'creepy b***ard' life. It was a nickname that emerged from a promo by Mr. Anderson in TNA but really gave his character true direction. His character is relentless and has an uncomfortable nature. This is as much a reflection of his passion for this genre of film as it is his character.
One of his most prominent feuds during Shaw's time in IMPACT Wrestling was with a close friend behind the scenes. One that would eventually join the WWE's NXT brand as well. During his time in IMPACT, Gunner (aka Jaxson Ryker in the WWE) and Shaw would engage in a longstanding feud.
"I loved working with Gunner, and he's one of my good friends in the business. We think a lot alike, we are both hungry & we both bust our a** in the gym. We are always thinking of ideas of how to have a great match and little nuances that we can add here and there to just make everything better.
The problem with that whole deal was that we really had no idea where it was going. Our intent was just to come to work; whatever they give us, let's just make the best of it, and I think Gunner would agree; we both were given a ton of backstage acting material to further develop our characters and not just the in-ring work."
Samuel Shaw (Dexter Lumis) on working with Gunner (Jaxson Ryker) in TNA
From 2015-2019, Shaw would appear for Global Force Wrestling, the National Wrestling Alliance, and compete on the independent circuit. During that time, it became as important for him to grow as a competitor plus be able to build the Shaw character truly.
Regardless of the name that it is recognized by today, Shaw would once again be granted an opportunity. This opportunity would present itself competing in the National Wrestling Alliance. Shaw would face off against future AEW roster members Colt Cabana and Sammy Guevara in a fatal four-way. Shaw would later compete for Championship Wrestling from Hollywood briefly not too long after.
Once Shaw's time with these promotions came to an end, a time would come where he would take the persona that he developed over the years and brought it to the WWE's NXT. In February 2019, Shaw signed with the WWE and would report to their Performance Centre.
Samuel would initially compete under his own name, but before long, it would be changed to Dexter Lumis. Lumis, along with seven other rising stars on the roster, would be part of the initial NXT Breakout Tournament.
Over the course of Samuel Shaw's (aka Dexter Lumis) career, he has faced growth. He has faced instability in his working environment and unemployment. He is now easily one of the most promising characters in NXT.
Before his time in the WWE, Shaw's wrestling also lent itself to commissions for his artwork. Fans also became aware of his comics in NXT. It was his artwork also showcased his other skills. As it stands today, Dexter Lumis has risen from the ashes of Samuel Shaw, and far from the American Psycho he was once inspired from.
*********
Before the journey began for several WWE talent, their skills were honed in gymnasiums, auditoriums, and crowds of a few hundred people. Yet, they never wavered in the pursuit of their goals, and those roads they traveled helped them achieve the success they have today.  "Before the E" refers to 'A common nickname for WWE inspires the E.' To understand where talent is today, it is essential to know how they came to be part of the Entertainment side of World Wrestling Entertainment. This week we present Dexter Lumis before The E.