Many talents felt the pain of being released by WWE on April 15th. However, there are also many talents that have been given a second chance with their release. Deonna Purrazzo, for instance, spent 3 years in NXT and WWE and had very little to show for it. Now she is the Knockout's champion and has become a leader of one of professional wrestling's best women's division. Fortunately for Deonna, she only had a 30-day non-compete clause compared to the standard 90-day. This led to her debut on the June 9th episode of IMPACT, and immediately had her sights on the Knockouts Championship. She now must prepare for Smiley Kylie Rae at the upcoming Bound for Glory PPV on October 24th. Deonna Purrazzo talks coming to IMPACT, & BFG clash with Kylie Rae.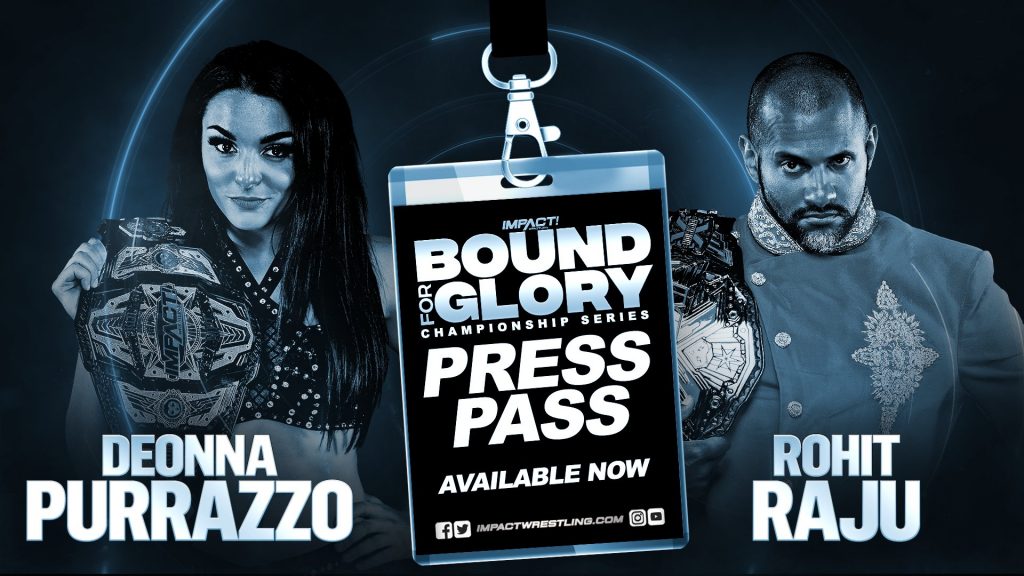 This all started on the September 15th episode of Impact. Kylie Rae and Susie teamed up against Deonna Purrazzo and Kimber Lee. Susie was able to pick up the win over Kimber Lee, but things would only continue the next week. She would go one on one against Kimber Lee with Kylie in Susie's corner and Deonna in Kimber Lee's. Susie would come out victorious once more, but Deonna would attack both Susie and Kylie after the match. The Smiley one would kick the champion out of the ring and made the challenge. Things have only continued to heat up in this feud as Kylie Rae has begun to show a different edgier side of herself.
Deonna Purrazzo talks coming to IMPACT, & BFG clash with Kylie Rae
Kylie Rae recently defeated Kimber Lee with the Smile to the Finish, but she didn't let go once the bell rang. This is easily the farthest Kylie has gone from her happy go lucky self. There is still one more episode of Impact before Bound for Glory, and it'll be interesting.
I got the opportunity to ask Deonna Purrazzo more about how she was able to come into Impact not too long after being released:
"How much would you say that you benefited from only having a 30-day non-compete from your previous employer compared to maybe some of your other peers who had a 90 day because you came in much earlier and made an impact much sooner?"
"Um, it was definitely to my benefit. To have just a 30-day non-compete because I got to be the first person to come into Impact, and I kind of got all of that spotlight. So, I definitely benefited 100% from being ahead of my peers, but you know, even waiting 90 days for The Good Brothers or for Heath or for Brian Myers has benefited all of us. So, to be the first one, I like to be the first of everything and get all of that spotlight for me, so I'm super thankful, but I'm just happy that we've all been able to land on our feet regardless of what that timeline was."
Purrazzo is very appreciative of the opportunity she currently has. She has been the Knockout's champion for 3 months now, and she doesn't see Kylie as the one to stop that. She recently stated on IMPACT television that Kylie Rae can't win the big one.
"The facts are Kylie Rae drops the ball when she's put in high-pressure situations; every pro-wrestling fan knows what I'm talking about. She is talented, she's athletic, and she's earned this opportunity – but she's weak. She falls apart when it matters the most.
"Bound For Glory is going to be the scene of yet another high-profile failure for Kylie. And yet another victory for The Virtuosa!"
Deonna is a confident champion that believes in her abilities. She believes that she's the best technical wrestler in the world. Kylie Rae and her not so smiley self will look to dethrone the Virtusa come Bound for Glory.
****
Be sure to stay tuned to the Pro Wrestling Post for this and additional stories from the wrestling world. Readers can rely on Pro Wrestling Post to be their daily source for all things inside the squared circle. As a result, readers can expect daily news, history, and so much more. Please visit IMPACT Wrestling's official website here for news on the promotion and upcoming events.