The second-ever Mae Young Classic is fast approaching. One of the favorites in this year's field is the NXT signee, Deonna Purazzo. The Virtuosa made her official NXT debut on the August 22nd episode. But before we get too far into Deonna's future, let's look back at what's got her this far.
Deonna was born on June 10, 1994, in Livingston, NJ. She has always been competitive, competing in cheerleading and dance growing up, as well as with her twin brother. Her brother is also how she discovered professional wrestling. Seeing women like Trish Stratus, Lita, Jacqueline, Jazz, and Victoria inspired her to become a wrestler.
Other favorites of hers are the Hardy Boys, Shannon Moore, and John Cena. She was always a WWE fan and began training at age 18. It was then that she discovered independent wrestling.
Deonna Purazzo
Deonna was trained by Rip Rogers and Damian Adams. Her first match took place on December 6, 2013. Deonna described her opponent in a Diva Diaries interview as a bitter veteran. In this match, Deonna ended up with a broken jaw. She never crossed paths with this woman again, as she retired soon after the incident.
In her eighth ever professional match, on May 10, 2014, she competed for TNA at Knockouts Knockdown II. She took on Brooke Tessmacher in a losing effort. Shortly after this, she began working as an extra for WWE. Her first appearance was as one of Adam Rose's Rosebuds on the June 30, 2014, episode of RAW.
In addition to the "Big Two", Deonna has competed in many promotions across North America, the United Kingdom, Puerto Rico, Australia, and Japan. These include but are not limited to D2W (where she made her debut), Excellence Pro Wrestling, Ohio Valley Wrestling, Ring of Honor, New York Wrestling Connection, Queens of Combat, Beyond Wrestling, Women's Wrestling Revolution, RISE, SHIMMER, Alternative Wrestling Syndicate, Revolution Pro Wrestling, and Wonder Ring Stardom. Clearly, ever since the Virtuosa got started, she hasn't stopped.
Deonna is credited in helping spark the revitalization of the Women of Honor division of ROH. She also competed in the tournament to crown the first-ever Women of Honor Champion earlier this year. At last year's Mae Young Classic, she was selected as an alternate. Now, she's set to compete in the tournament proper. Her first-round opponent is Priscilla Kelly.
Adversity forces us to either rise or fall. In the case of Purrazzo, not only did she rise, but she took the challenges she faced in the WWE's NXT brand and forced her to shape her into the wrestler she was to become.
NXT really forced me to hone in on that character development, for better or worse,' she said, reflecting on her time in WWE's developmental division. 'While it was frustrating, it really forced me to become something bigger than I was and really evaluate who I wanted to be moving forward.'
– Deonna Purrazzo discussing her time in WWE's NXT brand.
In-Ring Style
Now that we have talked about where she has been, let's discuss her in-ring style. Deonna herself describes her style as methodical. Like greats of yesteryear such as Ric Flair, Bret Hart, and Kurt Angle, she tends to work on the arm of her opponent early on to set up her finish, the Fujiwara Armbar.
Not many women in wrestling employ this move regularly, and the only other one in WWE is Ronda Rousey. Hopefully, the women of NXT are ready for the Virtuosa, Deonna Purazzo. She is young, talented,and hungry to achieve her dreams. How far will Deonna go? As far as she wants to.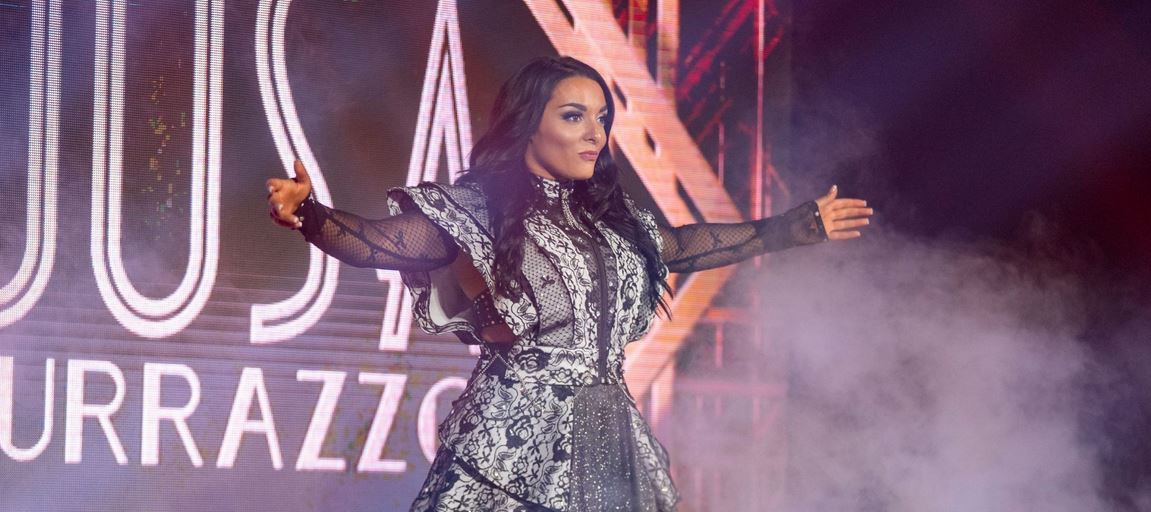 "I'm still hungry. But for all these different reasons..I still feel very much have a chip on my shoulder. Trying to earn my respect. Earn my place in women's wrestling. But Mickie's already there.
"There's just this interesting dynamic I think of generations of she wants respect, and she's earned respect. But I want respect, and I'm earning that respect. There's just this natural butting of heads.
Like I said, I admire her for keeping that hunger about her and never settling for what we're given, always pushing for more for herself, for any company she's in for women's wrestling. I grew up wanting to be in the position I'm in.
– Deonna Purazzo on her place in the wrestling industry.
Purrazzo's career has scratched the surface on what she's done and what she can do. She has earned the respect of her peers and has been both a beloved face and a despised heel. With her future as bright as it is, this former IMPACT Knockouts and Ring of Honor Women's Champion is as committed to her personal growth as she is to the industry. Her feuds with the likes of Jordynne Grace and Mickie James have lent her to opportunity and time to grow. If fans haven't risen for the Virtuosa, they certainly will.
---
Before the journey began for a number of WWE talent, their skills were being honed in gymnasiums, auditoriums and in front of crowds of a few hundred people. They never wavered in the pursuit of their goals, and those roads they traveled helped them achieve the success they have today.
This is the newest series to be found here on Pro Wrestling Post, titled "Before the E". 'The E' is inspired by a common nickname for WWE. In order to understand where talent is today, it is important to understand how they came to be part of the Entertainment side of World Wrestling Entertainment. This week we present Deonna Purazzo.